A Sweets Treasure Trove! Explore Local Tokyo With Toei One-Day Pass
Explore the local side of Tokyo by bus to get a glimpse of traditional lifestyles and taste excellent local treats. Use the Toei One-Day Pass (700 yen) to visit Sugamo, Yanaka, Sendagi, and Asakusa, the best places to enjoy the nostalgic atmosphere of old Tokyo.
Toei One-Day Pass - Explore Tokyo by Bus
One of the most charming sides of Tokyo is the Shitamachi (old Tokyo), where traditional crafts and old lifestyles still flourish. While central Tokyo has mainly department stores where large brands compete for their clientele, Shitamachi is the territory of privately owned small businesses.
These merchants, too, do their best to offer quality products and services that are one-of-a-kind. This is why you'll find such a large variety of local treats in the Shitamachi. In addition to being first of all very affordable, these products are made with dedication by skilled craftsmen who keep centuries-old traditions alive.
This itinerary takes you to areas like Sugamo, Sendagi, Yanaka, and Asakusa, where you can get a glimpse of the old Shitamachi lifestyle.
The best way to tour these areas is by local bus using the convenient Toei One-Day Pass, a cost-efficient ticket that gives you access to areas that are not served by major train lines. Priced at 700 yen, this ticket allows you to freely use the Toei buses, the Toei Subway lines, and even the Tokyo Sakura Tram and the Nippori-Toneri Liner during one day. The pass can be bought from ticket offices and vending machines of any Toei Subway station or when boarding a Toei bus.
10:04 - 10:20 -- Travel from Ikebukuro to Sugamo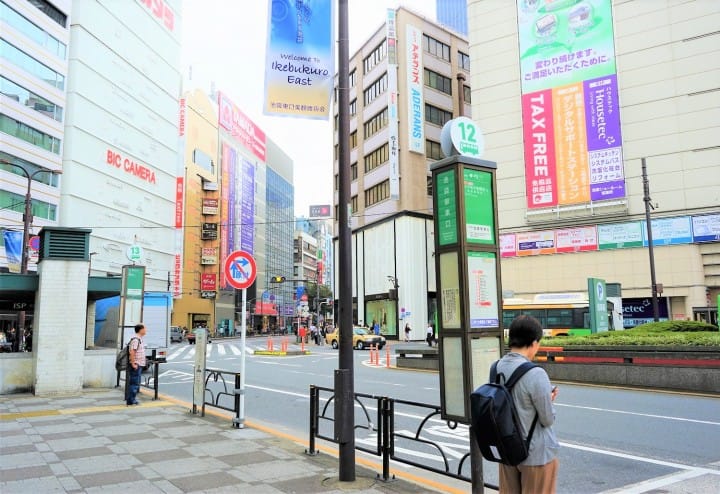 Sugamo can be easily reached from Ikebukuro. Take the Toei bus 草63 from Higashi Ikebukuro Ekimae bus stop, which is located at the East Exit of Ikebukuro Station. You can take the bus that departs from platform 12 at 10:04 or the one departing from platform 13 at 10:10. Both buses go to Togenuki Jizomae, the bus stop we'll get off at.
As you board the bus, purchase your Toei One-Day Pass from the driver. The pass is valid only on the day it is issued on. You'll be showing this pass to the driver each time you'll board a bus during the day.
10:30 - 12:00 - Togenuki Jizo Shotengai and Koganji Temple
Togenuki Jizo Shotengai is one of the vibrant traditional shopping streets in Sugamo. When you get off the bus at Togenuki Jizomae, cross the avenue to the other side and you'll find yourself at the entrance of the shopping street. It's easily recognizable by its cute duck mascot, Sugamon, featured on signboards and posters.
The street is lined with small specialized shops selling confectionery, tea, food products, daily use items, fashion, and even furniture. There are plenty of dining places and cafes, too. Wherever you go, you'll be seeing locals going about their daily business, in which the shotengai plays an important role.
How about tasting some of the local sweets? From sembei rice crackers and sweet, soft daifuku, which are the classic treats you'll find in any shotengai, to seasonal sweets beautifully shaped to reflect the current season, there is a large variety of confectionery to choose from.
Most of them are made right in the store that sells them. They are low priced, in addition to being fresh and very delicious.
The Togenuki Jizo Shotengai developed around Koganji Temple, an important Buddhist pilgrimage site. This temple enshrines Togenuki Jizo, a Buddhist deity that is said to answer prayers for good health.
12:01-12:19 -- From Sugamo to Sendagi
To go to the next destination, take the Toei bus 草63 heading to Asakusa Kotobukicho from the Togenuki Jizomae bus stop. In about 18 minutes, you'll reach Sendagi Sanchome bus stop. This is where we get off.
12:45 - 13:45 -- Lunch at Onigiri Cafe Risaku
If you'd like to enjoy a typical Japanese homemade meal, we suggest having lunch at Onigiri Cafe Risaku. They specialize in onigiri (rice balls), which they make on the spot using carefully selected ingredients.
The Risaku lunch set meal (800 yen) includes two onigiri (one made with glutinous mochi rice, and one with a filling that you can pick from the several ones available), omelette, homemade pickles, and a main dish. On the day we visited, the tasty main dish was salmon with tomato and eggplant curry sauce.
This balanced set meal allows you to taste several typical Japanese flavors and food textures. It is very delicious and satisfying. The onigiri menu at Risaku can accommodate various dietary preferences, so feel free to pick a customized combination of dishes.
*The store will close earlier if it runs out of rice for the day.
13:45 - 14:30 -- Walk around the Peaceful Sendagi Area
Right across the street from Risaku, you'll find yourself in the famous Yanesen area, which comprises the Shitamachi neighborhoods of Yanaka, Nezu, and Sendagi. This is a mainly residential area with unassuming charm and nostalgic atmosphere.
Stroll around Sendagi and you'll see temple after temple, small art galleries and cafes, privately owned shops, and buildings that retain the atmosphere of times past. It's a very peaceful area worth exploring at leisure on foot.
14:30 - 15:15 -- Coffee Break at Yanesen az cafe
Picture courtesy of Yanesen az cafe
Stop for a coffee break at Yanesen az cafe, a spacious cafe with a relaxing atmosphere. The outdoor seats are dedicated but not restricted to pet owners who are welcome to bring their animals. This cozy cafe allows you to feel and appreciate the laid-back local pulse of the Yanesen area.
Yanesen az cafe is famous for its homemade muffins, used in both savory dishes and the dessert menu. We chose the Sweet Muffin + Coffee set (920 yen before tax), which contains a drink, two sweet muffins of your choice, and vanilla ice cream.
This thoughtfully made delicious sweet treat gives you the energy to continue your Shitamachi explorations.
15:15 - 16:00 -- Walk along Yanaka Ginza Shotengai
Yanaka Ginza Shotengai is another shopping street with a nostalgic atmosphere. Many of the stores here opened right after the war and continue doing business supported by local customers who love the quality of their products.
Walk across the hill in the direction of Nippori Station. You'll get a great view of the Shitamachi area from atop the hill.
16:10 - 16:25 -- From Nippori Station to Oku-Asakusa
We'll head to Asakusa, our last Shitamachi stop for the day. Take the Toei bus 都08 (T08) from platform 2 of the Nippori Ekimae bus stop located in front of Nippori Station (North Exit).
Please be aware that there are various bus platforms in front of the station. The 都08 (T08) bus departs from platform 2 located behind the equestrian statue in front of the station. You'll get off at Oku-Asakusa bus stop.
16:30 - 16:50 -- A Local Snack Loved by Everyone! Taiyaki Sharaku
After getting off at Oku-Asakusa, walk for about 3 minutes right ahead then turn left. You'll reach Taiyaki Sharaku, one of the best taiyaki shops in Asakusa.
Taiyaki is a type of traditional confectionery made with flour dough and anko (sweet red bean paste) and baked in the shape of a sea bream, a fish considered auspicious in Japan. This snack gained popularity after the war when there was a scarcity of ingredients and the locals had to come up with creative ways of making the most out of simple ingredients. It is now a typical treat of the Shitamachi area, loved by people of all ages.
At Sharaku, the taiyaki (190 yen) are baked one by one. This results in a crispy, fragrant outer layer that perfectly complements the sweetness and softness of the filling inside. Their azuki shake (450 yen), a healthy, refreshing drink made with sweet red beans, is also very popular.
17:00 - 17:45 -- Marvel at Traditional Crafts! Edo Taito Traditional Crafts Center
Right across the street from the Oku-Asakusa bus stop is the entrance to the Hisago-dori Shotengai, one of the traditional shopping streets of Asakusa.
Walk along the shotengai for about one minute and you'll find the Edo Taito Traditional Crafts Center on the righthand side. This facility is dedicated to the artisanal crafts that flourished in Tokyo, especially in the Shitamachi area. The entrance is free.
The friendly staff speaks English and will be happy to offer details on the exhibitions and events held at the center.
Various types of crafts are displayed on two floors. From kitchenware made using traditional methods and handmade furniture items to decorative objects, accessories, and daily use objects, the exhibition features many Japanese artisanal crafts. Some of the objects are available for sale at the reception.
On weekends, local craftsmen come to the Edo Taito Traditional Crafts Center to hold demonstrations and workshops. It's a great chance to learn more about Japan's traditional crafts, including how to appreciate authentic items.
Enjoy a Stroll around Asakusa
Asakusa is one of the most vibrant Shitamachi areas and exploring around here in the evening will surely become a lasting memory. We suggest stopping by the iconic Sensoji Temple and having dinner at one of the many local dining places. From sushi to monjayaki, tempura, ramen, and other Japanese specialties, you'll be spoiled for choice.

Asakusa Station is on the Toei Asakusa Line, which means that you can use your Toei One-Day Pass to return to major stations like Shinjuku, Oshiage 'SKYTREE' or Shimbashi using the Toei Subway Lines.

It only takes 3 minutes to go from Asakusa Station to Oshiage 'SKYTREE' Station. The station is right at the base of TOKYO SKYTREE, so how about climbing to the Tembo Deck Observatory to enjoy the beautiful Tokyo night view? The observatory is open until 22:00 and the last entry is at 21:00.

We hope you enjoy the nostalgic Shitamachi area of Tokyo and that you come back for more!

Route summary
Ikebukuro (Higashi Ikebukuro Ekimae bus stop) → Togenuki Jizo Shotengai and Koganji Temple (Togenuki Jizomae bus stop) → Lunch at Onigiri Cafe Risaku (Sendagi Sanchome bus stop) → Walk around Sendagi → Coffee break at Yanesen AZ Cafe → Yanaka Ginza Shotengai → Nippori Ekimae bus stop → Oku-Asakusa bus stop → Taiyaki Sharaku → Edo Taito Traditional Crafts Center → Asakusa

Expenses
Transportation: 700 yen (Toei One-Day Pass)
Lunch: 800 yen
Snacks, souvenirs, etc.: around 1,500 yen

For more tips on sightseeing in Tokyo using the local bus and Toei Subway network, please visit this website: https://www.kotsu.metro.tokyo.jp/eng/

The writer visited these facilities on September 5, 2019.

Supported by Toei Transportation

The information presented in this article is based on the time it was written. Note that there may be changes in the merchandise, services, and prices that have occurred after this article was published. Please contact the facility or facilities in this article directly before visiting.