A Day In Hanno - Moominvalley Park, Great Sights, And Charming Desserts
Hanno, home to the recently opened Moominvalley Park, is located just about 45 minutes by train west of Tokyo. This day trip itinerary focuses on Hanno's photogenic attractions: Moominvalley Park, the beautiful Metsa Park, and picturesque desserts.
Hanno - Great Outdoors, Moominvalley Park, and Gorgeous Sweets
Upper right photo © Moomin Characters ™
Until recently, the city of Hanno in Saitama Prefecture was known especially among hiking and ecotourism enthusiasts. With the opening of the Nordic-themed lifestyle complex Metsa Village and its star attraction Moominvalley Park in March 2019, the charm of Hanno as a travel destination has increased even more.
This day trip itinerary from Tokyo features Hanno's photogenic attractions that will make you feel like you've been transported to a fantastical world: Moominvalley Park, Metsa Village, and the elegant local restaurant CARVAAN.
8:30 - 9:43 — From Ikebukuro Station to Moominvalley Park
Your journey begins at Ikebukuro Station. You'll be taking a train on the Seibu line that will take you directly to Hanno.
While you can also take a local train, save time and ride in comfort by taking the Seibu Limited Express Chichibu. The ride costs 970 yen one-way and takes less than 45 minutes. All seats are reserved, but you can secure one on the day of your trip.
As soon as you alight at Hanno Station, you'll see colorful signs promoting Metsa's two attractions: Metsa Village and Moominvalley Park. Head for the North Exit, where, right outside, you'll find buses that go directly to Metsa. The 13-minute ride costs 200 yen. Note that some buses do not accept IC cards and/or large bills.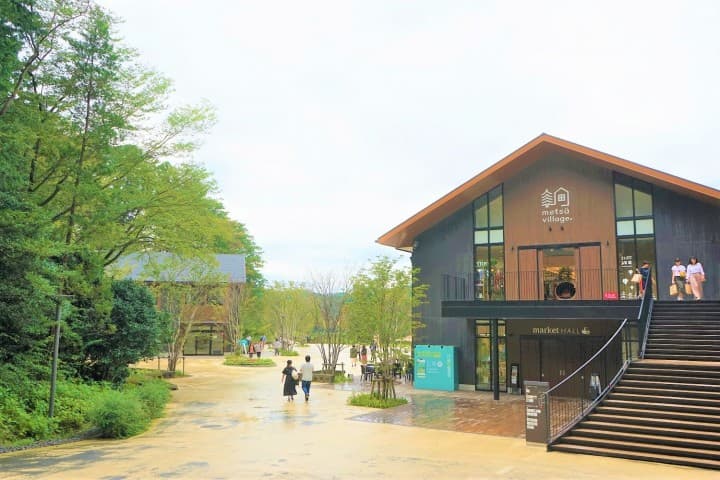 From the Metsa bus stop, it's a 10-minute walk through a forest-like park—very fitting, as "metsa" is Finnish for "forest." You'll then be greeted by Metsa Village, but let's go first to the Moominvalley Park.
9:55 - 12:30—A Fantasy-like World! Step into Moominvalley Park
© Moomin Characters ™
Welcome to Moominvalley Park! Finnish artist Tove Jansson's cuddly creatures and their friends, as well as the park's fairytale-like ambience, are sure to charm you.
For a lovely photo capturing the iconic blue Moominhouse tower, home to the main characters, stand on the little bridge in the middle of the main square.
© Moomin Characters ™
There's no shortage of attractions at Moominvalley Park. You can watch a show at the outdoor Emma Theater, play games and win prizes or get adventurous at the Lonely Mountain area.
© Moomin Characters ™
I chose to learn more about the Moomins by checking out the colorful exhibitions in the Kokemus building.
There, you'll find a replica of the Moominhouse as the centerpiece of an elaborate diorama. The lighting changes to represent different times of the day.
© Moomin Characters ™
There are several photo spots where you can take beautiful pictures with your favorite characters.
© Moomin Characters ™
The park has plenty of merchandise for you to take home. The Moomin plush toys and calendars, as well as the Moomin-themed cookies, are especially popular as souvenirs.
The main shop, Alku Kauppa, has a gachapon (capsule toy) machine that dispenses tiny, park-exclusive Moomin toys that you can attach to a cup. It will look as if the character is drinking along with you.
12:30 - 13:30—Enjoy a Hearty Lunch at Muumilaakso Ruokala
© Moomin Characters ™
After starting the day bright and early, it's time for lunch! At the cafeteria-style Muumilaakso Ruokala (also known as Restaurant Moominvalley), the Lonely Mountain Hashed Beef Rice (1,430 yen) has a rich demi-glace sauce running down a tower of rice that looks like the Lonely Mountain. It is as delicious as it is photogenic.
© Moomin Characters ™
If you're curious about Finnish cuisine, how about trying the salmon cake plate dish? It's a healthy, tasty meal that is also filling.
© Moomin Characters ™
Alternatively, make your way back to the entrance for Lettula Cafe, because who says you can't have fluffy pancakes with a generous amount of toppings for lunch? Don't forget to order tea or coffee as well.
For light, on-the-go meals, check out the stalls dotting Moominvalley Park.
14:00 - 15:45—Explore Metsa Village
With greenery all around and fantastic views of the tranquil Lake Miyazawa, Metsa Village makes for a relaxing stroll.
You can also take time to do some shopping—the P Apartment block and the Market Hall both have a selection of quality Nordic products by well-known brands.
The Market Hall even has an impressive assortment of Saitama Prefecture's specialties such as local confectionery, vegetable and fruit products, as well as pickles, which make excellent souvenirs.
Recharge with Smoothies, Excellent Coffee, and Desserts at Metsa Village
How about energizing yourself with Biokia's organic berry smoothies (680 yen)? This stall in Metsa's Market Hall is the first branch of the Finnish berry company Biokia worldwide.
Berries are said to be superfoods, so Biokia's smoothies are very healthy. You'll also get to try unusual flavors—have you ever heard of bilberry, lingonberry, or sea buckthorn berry? The tartness of these berries makes for a smoothie that tastes like no other.
You can also grab a coffee (367 yen for a small cup) from Metsa Cafe and enjoy it on the terrace seats outside. Or how about some matcha green tea-flavored drinks and sweets from Musashi Rikyu?
Sit down and relax for a bit savoring these excellent treats amid the beautiful natural surroundings of Metsa Village.
16:00 - 16:13—Take a Bus Back to Hanno Station
At around 16:00, we suggest heading back to Hanno Station. There is one more amazing place we suggest visiting afterward!
16:30 - 17:30 — Have an Extraordinary Teatime Session at Carvaan
Our last stop for the day is CARVAAN Brewery & Restaurant, a 12-minute walk from Hanno Station's North Exit. The CARVAAN Craft Beer & Grill, located right outside the station, is a different store of the same company. The main restaurant is in a league of its own and is well worth the walk—you'll see why.
To get to CARVAAN, you'll walk through a quiet residential area, which will give you a glimpse of local life. Once you get to a red bridge, you'll know that you're on the right track.
The bridge overlooks Iruma River, and on a good day, you might see people enjoying barbecues along the riverbanks. Just a bit further, you'll see a rock bearing CARVAAN's logo. Follow the trail until you see the restaurant.
"An extraordinary experience" is CARVAAN's key concept, and it shows. From the design—which incorporates the architecture and art of Messopotamia, the Ottoman Empire, Egypt, and more—to its specialty dishes and drinks, CARVAAN will transport you to distant lands. The facility uses local ingredients to create impressive dishes that are one-of-a-kind.
CARVAAN specializes in craft beer, as well as Mediterranean and Middle Eastern cuisine. This may seem like an unlikely combination, but there's actually a connection! The earliest records of beer-making were found in the Middle East.
Like everything else on the menu, CARVAAN's desserts can't be easily found elsewhere in Japan, if at all. The Arabian Nuts Parfait (1,150 yen) owes its distinct sweetness to nectar rather than sugar.
Meanwhile, the delightful Ghazal Beirut (750 yen) is a dessert that used to be enjoyed by Lebanese royalty. It consists of a spelt wheat cookie and honey ice cream topped with pistachio sprinkles and Arabian cotton candy. Herb tea goes great with these sweet desserts.
Please note that the teatime menu is available until 17:00 on weekdays and until 17:30 on weekends and holidays.
18:06 - 18:47 — Head Back to Ikebukuro Station
Say goodbye to the picturesque world you just visited, as you board the Seibu Limited Express Chichibu (970 yen) to head back to Ikebukuro Station. Take a well-deserved rest after a day full of color and adventure, and dream of the memories you just made!

Route Summary

Ikebukuro Station (Seibu Ikebukuro Line) → Hanno Station → Moominvalley Park → Lunch at Muumilaakso Ruokala → Metsa Village → Bus ride to Hanno Station → CARVAAN Brewery & Restaurant → Hanno Station → Ikebukuro Station

Expenses
Transportation: 2,340 yen
Moominvalley Park entrance fee: 1,500 yen
Lunch, desserts, snacks, souvenirs etc: around 6,000 yen

The writer visited these facilities on September 14, 2019.

For more information on great places to visit in Saitama Prefecture, please refer to this website: http://www.pref.saitama.lg.jp/chokotabi-saitama/eng/
Supported by Saitama Prefecture

The information presented in this article is based on the time it was written. Note that there may be changes in the merchandise, services, and prices that have occurred after this article was published. Please contact the facility or facilities in this article directly before visiting.