Dazzling Blue Water! Outdoor Adventure On Shima Onsen's Sparkling Lake
Take a day trip to Shima Onsen to explore the great outdoors near Tokyo. Explore a serene hot spring town and a shimmering blue lake on a bicycle, go canoeing, and dip into onsen that have been used for centuries. This one-day itinerary offers a balance of relaxation and excitement all can enjoy.
A Day of Nature and Leisure at Shima Onsen and Lake Okushima
Shima Onsen in Gunma Prefecture is known for its bright blue lake, magnificent nature, and historic hot springs. This charming, small-town area makes a great day trip from Tokyo for those looking to get in touch with the great outdoors and experience something new.
This day trip itinerary includes exploring on bicycle, a lakeside lunch, canoeing, and hot springs. It is a full day of relaxation and activity in a quiet, lesser-known destination accessible from Tokyo.
7:48 -- Ride from Tokyo Station to Shima Onsen
Getting to Shima Onsen requires riding the Shinkansen, local train, and bus. However, it is simple to make the required transfers, and you will not feel rushed while doing so. The first part of the journey consists of a Shinkansen ride.
To arrive at Shima Onsen before noon, take the 7:48 departure Joetsu Shinkansen Max Toki 305 from Tokyo Station. Get off at Takasaki Station.
To board the Shinkansen without having to reserve a ticket, purchase the JR TOKYO Wide Pass. This is a 3-day ticket that allows all non-Japanese passport holders unlimited rides on JR lines in the greater Tokyo area. For more information on purchasing and using the JR TOKYO Wide Pass, see the article below.
8:53 - 9:47 -- Take the Local Train from Takasaki to Nakanojo
After arriving at Takasaki Station at 8:38, get off the Shinkansen and switch to the JR Agatsuma Line bound for Omae. The train departs from platform 4 at 8:53. The train may be at the platform in advance, so you can board ahead of time if you want.
The train ride will take you deeper into Gunma, giving you views of the charming rural towns and rice paddies. Although it may be tempting to stay on and watch the scenery, don't forget to get off at Nakanojo Station.
9:55 - 10:35 -- Head to Shima Onsen via Bus
Exit the train and go through the gates. The bus departing for Shima Onsen leaves directly outside of the station from platform 1. Nakanojo Station is very small, and there is English on the bus stop. The adorable bus stop is modeled after a wild serow, which inhabits this part of Gunma.
Board the bus from the back and take a ticket. Keep it with you until Shima Onsen, which is the last stop. Pay the 950-yen fare when you get off. You must pay in exact change with cash, but will have time to make the change for a 1,000 yen bill at the machine before you insert the fare.
10:40 -- Explore by Bicycle! See Scenic Shima Onsen and Mesmerizing Lake Okushima
Riding a bicycle is one of the best methods to take in the sights of Shima Onsen and Lake Okushima. Head to the Shima Onsen Association, located just down the road from the bus stop. Head inside to fill out a form before choosing a bike.
Rental bike users can leave large luggage at the office. Please be aware that you should take any valuables with you and that this service can be used only within the business hours of the office.
Due to the steep hills just beyond the main hotel area of Shima Onsen, rent an electric-assisted bicycle (1,000 yen for two hours).
After getting the bicycle, head out back towards the main area by the bus stop. The streets of Shima Onsen are lined with beautiful older buildings and the town is filled with a charming traditional atmosphere. Be sure to explore with a camera in hand (be careful not to drop anything, though).
Be sure to stop to look at Sekizenkan, a ryokan (Japanese inn) just past the bus stop. Constructed in 1694, this historic inn remains a popular lodging and hot spring destination in Shima Onsen. If its exterior looks familiar, it is because it is said to be one of the buildings that inspired the design of the ryokan in Hayao Miyazaki's "Spirited Away."
There are hot springs available for day visitors as well, so you can enter the building and experience the baths if you'd like to recreate the film.
Another spot to see is Ochiai Dori, a charming alleyway where tiny soba and ramen restaurants line the road, and locals and travelers play Japanese-style pinball. You may even find remaining art pieces from the Nanakojo Biennale, an international art festival held every two years in the area.
Utilize the electric assistance on the bike for the hilly roads that lead out of the Ochiai Dori and Shima Onsen ryokan area. Waterfalls, a shrine, and a foot bath are along the way to the top. Be sure to stop and take in the natural surroundings if you get tired. Continue past the town to reach Shimagawa Dam, which provides a stunning view of the town area and Lake Okushima.
11:40 -- Take in Majestic Lake Okushima Views
After arriving at Shimagawa Dam, find a safe place to park the bike and take out a camera. The dam provides a view unlike anything else--Shima Onsen looks like a miniature town surrounded by lush forest.
In the opposite direction is Lake Okushima, known for its waters that change from deep indigo-blue in spring to dazzling emerald in the late summer and fall. These shades of blue are famous in Japan and are referred to as "Shima Blue." On a sunny day, the vivid blue sky contrasts gorgeously with the emerald water and greenery.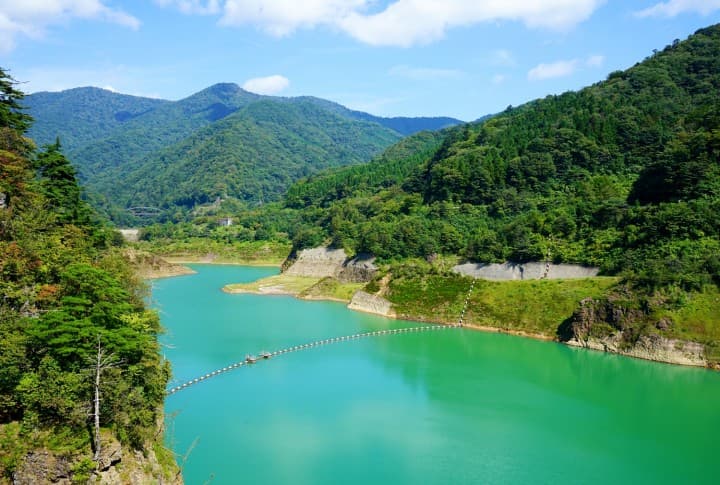 A walking path around the lake starts and ends at the dam. Stroll along to take in different views of the stunning lake and its beautiful waters. It is not known what makes the waters this unique color, but most theories relate to the minerals from the hot springs having an effect.
12:30 -- Enjoy a Lakeside Lunch at L'atelier Blue
L'atelier Blue is a local cafe with a commanding view of Lake Okushima, located right next to Shimagawa Dam. If you come for lunch, you can savor here hearty curry made with authentic spices while gazing out onto the lake. Order at the front counter before taking a seat inside the restaurant, decorated with calm colors.
Curry changes depending on the ingredients available; pictured above is chicken curry (850 yen), which is full of flavor and the right amount of spice.
For a drink, try the Blue Cider (400 yen), a slightly sweet carbonated soda (pictured above). It is a one-of-a-kind drink, made with butterfly pea flour and other natural dyes to create the right blue shade to match the lake. Another recommended choice is the delicious siphon coffee, made with high-quality coffee beans from Kita-Karuizawa, which is also located in Gunma. Take your time to enjoy a leisurely lunch and Lake Okushima.
After eating, check out the front area for more information on Lake Okushima and to look at local souvenirs.
13:30 -- Canoe on Lake Okushima
The glistening waters of Lake Okushima aren't just meant to be observed from afar. Water activities, like canoeing, are a highly recommended way to experience the lake. After lunch, walk down just past the dam to the parking lot to meet an instructor from Green Discovery, a local outdoor experience company. The canoeing activity offered on Lake Okushima is an ideal way of enjoying the Shima Blue waters for a couple of hours.
After brief instructions and introductions, you will head to the coast of the lake, practice paddling with the other participants, and then get ready for the water.
The friendly instructor will help you put on and adjust your lifejacket and advise on how to canoe safely. One of the guide assistants can speak English and is happy to assist you as you need, before and when in the water.
As there are usually no waves or strong currents, canoeing on Lake Okushima is enjoyable and suitable for beginners. Seeing the sparkling waters up-close makes you feel like you're gliding on top of an alternative blue reality. Any stress from the day will fade away as you gently paddle through the waters.
Throughout the ride, the instructor will be close by taking photos (made available to you online shortly after the tour). You will receive a refreshing drink mid-way through the ride, too, in case you've worked up a thirst with the paddling. After the beverage, continue exploring the lake and the gorgeous surroundings, like the moss and bright green trees on the hillsides.
After the canoe ride, participants help load up the van with the equipment, paddles, and boats. After packing up, return to your parked bike and ride back down to the main Shima Onsen area.
15:45 -- Return the Bicycle
Drop by the Shima Onsen Association to return the bike and pick up any luggage you may have left there.
16:00 -- Dip into Hot Springs at Shima Yamaguchikan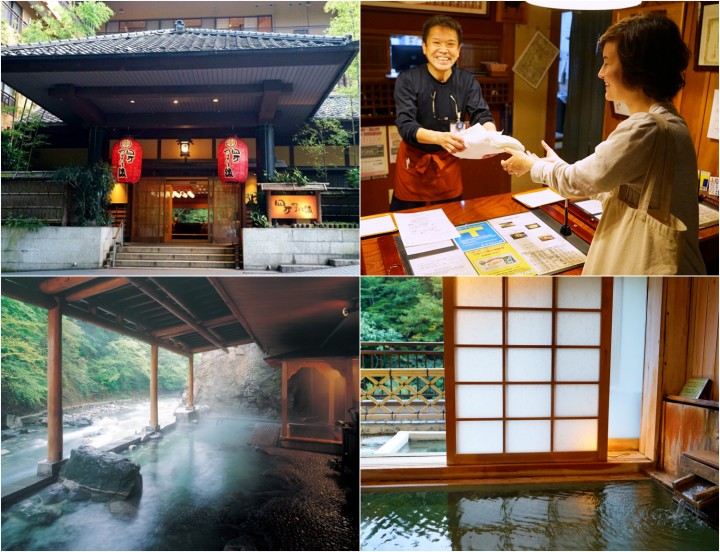 Bottom-left picture courtesy of Shima Yamaguchikan
A visit to Shima Onsen is not complete with trying out the soothing hot springs. One of the best places to take a dip is at Shima Yamaguchikan, a large ryokan with seven types of luxurious baths, along with other facilities, like eateries and a souvenir shop.
There are gorgeous rotenburo here with mountainside views and private baths on the top floor available for rent (ryokan guests only).
Head to the front counter to pay the admission fee (1,000 yen). If you don't have a towel, you can buy a face towel for 100 yen (before tax) and rent a bath towel for 200 yen (before tax).
After putting away your things in the locker, go into the bath and enjoy the soothing waters. The waters are thought to boast a myriad of benefits to the skin, too. Relax and warm up while taking in the beautiful nature.
After the bath, head out to grab a cup of coffee or browse the souvenir shops. Shima Onsen is famous for its onsen manju (red bean paste dumplings steamed with onsen water) and sweets made with sweetened hanamame, a type of large bean grown in Gunma.
17:10 -- Return to Tokyo
Take the bus that leaves right in front of Shima Yamaguchikan at 17:10. Ride it to Nakanojo Station, where the journey began in the morning (the one-way fare is 950-yen). There is a waiting room and a small shop at the station where you can relax and look at souvenirs and snacks before the next train.

At 18:22, get on the train that goes to Shim-Maebashi Station. Change trains to get to Takasaki Station, where you will ride the 19:42 departure Shinkansen back to Tokyo Station.

Route Summary
JR Tokyo Station → Takasaki Station → Nakanojo Station → Shima Onsen → Shima Onsen Association → Cafe L'atelier Blue → Lake Okushima → Shima Yamaguchikan → Nakanojo Station → Shim-Maebashi Station → Takasaki Station → Tokyo Station

Expenses
Transportation: 10,520 yen for train, 1,900 for bus (round-trip)
Bicycle Rental: 1,000 yen/2 hours (*The rental can be extended for an additional 500 yen/hour)
Lunch and Souvenirs: around 2,000 yen
Canoe: 5,000 yen
Hot Springs: 1,330 yen

For more information on beautiful places to visit in Gunma, please check the following website: https://www.visit-gunma.jp/en/

The writer visited these facilities on September 26, 2019
Supported by Gunma Prefecture

The information presented in this article is based on the time it was written. Note that there may be changes in the merchandise, services, and prices that have occurred after this article was published. Please contact the facility or facilities in this article directly before visiting.