Utsunomiya Fall Trip - Bamboo Forest Walk, Fruit Picking, And Gyoza
Utsunomiya boasts one of the most beautiful bamboo groves in Japan! Visit in the fall and you can enjoy chestnut and apple picking, seasonal sweets, as well as the delicious gyoza dumplings this city is famous for.
Utsunomiya - A Bamboo Forest in the City of Gyoza?!
Utsunomiya, located just one hour north of Tokyo by Shinkansen, is best known as the city of delicious gyoza dumplings, as well as for its jazz and cocktail culture.
However, with the opening of Wakayama Farm in April 2018, Utsunomiya has a new attraction: a beautiful bamboo grove that rivals the one in Arashiyama, Kyoto!
This itinerary includes the bamboo grove of Utsunomiya, gyoza dining, local souvenir shopping, as well as fruit picking. It's the ideal course for anyone visiting the city in the fall months.
8:28 - 9:21 -- From Tokyo Station to JR Utsunomiya Station
Take the 8:28 Shinkansen from Tokyo Station and you'll arrive at Utsunomiya in less than one hour. You'll get a great deal on transportation if you use discount tickets such as the Japan Rail Pass or the JR TOKYO Wide Pass on this interval.
9:30 - 9:54 -- From JR Utsunomiya Station to Wakayama Farm
Use the West Exit of Utsunomiya Station and head for the local bus stop. Take the bus no. 56 headed for Nikko Toshogu from platform 8. (Buses 52 and 58 go in the same direction.) You'll be getting off at Nozawatera-mae bus stop. The fare is 490 yen and should be paid to the driver before getting off.
Walk for one or two minutes along the road in the same direction as your bus and you'll notice a bamboo grove. The distance from the bus station to the entrance to Wakayama Farm is about 700 meters.
10:10 - 13:15 -- Chestnut Picking and Bamboo Grove Kimono Walk at Wakayama Farm
Wakayama Farm is an agricultural and tourist facility located in the northern area of Utsunomiya City. The farm grows chestnut trees and bamboo.
The chestnuts harvested here are sold on the market as they are or made into delicious original sweets. During the fall months, from the end of September to October, visitors can enjoy chestnut picking in their orchard.
The bamboo grove is used to produce bamboo shoots in the spring months, as well as bamboo seedlings, which are planted in urban environments as a measure to increase the green areas.
Go Chestnut Picking First!
If you visit in the fall, try the chestnut picking experience. You'll be handed a cardboard box at the reception counter. There is no time limit, so you can pick all the chestnuts you want until the box is full. A full box holds about 1 kg of chestnuts. You can enjoy this experience for 1,500 yen plus the entrance fee.
Chestnuts can be eaten boiled or roasted. If you want to boil them, peel off the skin first, then boil them for about 30 to 40 minutes. To enjoy them roasted, make a small cut on the hard bottom of each chestnut, then place them on the hot grill for a few minutes. Remember to turn them over from time to time. Either way, they are a delicious and filling snack.
Walk through the Bamboo Grove in a Kimono!
If you've always wanted to have a picture of yourself wearing a kimono in a beautiful bamboo grove, you can fulfill your dream at Wakayama Farm!
Pick your favorite from a variety of kimonos with patterns and colors that reflect the season. A trained staff member will help you put the kimono on and even arrange your hair to complete the look.
The kimonos offered at Wakayama Farm are all authentic traditional kimonos, which are different from regular yukatas (summer kimonos). The fee for wearing a kimono here is 12,000 yen (*ladies' kimono). This price includes the staff's assistance in putting it on you and the cleaning fee.
The best part is that, for an additional 3,000 yen, you can actually purchase the kimono you wore! As a kimono lover, I can tell you that this is an amazing deal.
The bamboo grove of Wakayama Farm is very expansive and carefully taken care of. Feel free to explore it to your heart's content. It's alright to touch the bamboo stems.
The grove consists of several types of bamboo: madake (timber bamboo) and mosochiku (tall bamboo cultivated for its shoots), as well as rare varieties such as kinmeidake (golden bamboo), with yellowish stems with green stripes, and kikkochiku, with tortoiseshell patterned stems.
It's very uncommon to find so many types of bamboo in one place!
Enjoy a Delicious Lunch in the Bamboo Grove
If you wish to have lunch in the bamboo grove, please contact the facility in advance and they'll arrange for a delicious bento lunch to be prepared for you. You'll be enjoying your meal in a tent installed temporarily in the bamboo grove.
The bento lunch is created by an experienced chef in collaboration with Wakayama Farm. Reflecting the Japanese consideration for appearance and taste, the meal includes rice with delicious bamboo shoots from the farm, fresh tempura, beef, and pickles. (The content of the bento may differ by season.)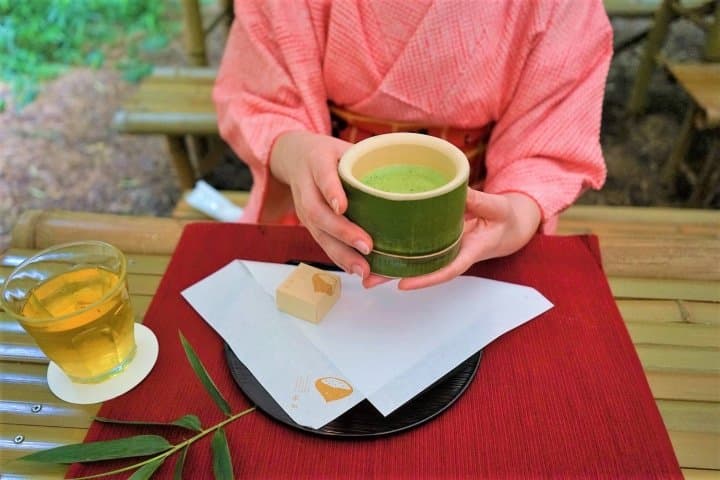 How about concluding your meal with a bowl of matcha green tea? At Wakayama Farm, you'll be sipping your tea from a bowl made of bamboo. The accompanying confection is the signature chestnut sweet made at Wakayama Farm. You can even take the bamboo tea bowl with you!
Wakayama Farm wants to spread the love for bamboo, which can be used in so many ways in daily life.
Picture courtesy of Wakayama Farm
In addition to the activities introduced above, Wakayama Farm holds night illuminations of the bamboo grove on weekends and holidays. Visit after sunset, and you can enjoy a walk through the illuminated dreamlike bamboo grove! The hours for the evening bamboo light-up differ depending on the time of the year as follows:
June - August: from sunset to 21:00
March - May and September - November: from sunset to 20:00
December - February: from sunset to 19:00
13:29 - 13:43 -- From Wakayama Farm to Aramaki Orchard
Leave Wakayama Farm at around 13:15 and return to the Nozawatera-mae bus stop. Take the 13:29 bus headed to Nikko Toshogu and get off after 14 minutes at the bus stop called Sakakizato. The fee is 470 yen.
Aramaki Apple Orchard (Aramaki Ringoen) is located just one minute walk away from this bus stop.
13:50 - 14:50 -- Apple Picking at Aramaki Orchard
Tochigi Prefecture, where Utsunomiya is located, is famous for the quality of its fruit. If you visit in the fall, it would be a waste not to taste local fresh fruit and maybe even take some with you.
Aramaki Orchard is a local farm that offers fruit picking experiences. In the late fall months, apples are in season, so how about picking some apples?
There is no time limit, and you'll pay just for the fruit you picked. The price depends on the type of apples you've picked, but most cost 540 yen/kg.
When you arrive, you'll be offered some sliced apples to taste. After you decide which one you want to pick, you'll be lead into the orchard.
In addition to fresh fruit, Aramaki Orchard also sells juice and jams made with the fruit they produce. These make a nice gift for friends and family.
14:58 - 15:34 -- Head Back to the City by Bus
Return to the Sakakizato bus stop but go on the other side of the road to take the bus in the opposite direction. Try to make it to the 14:58 bus headed for JR Utsunomiya Station. You'll be getting off at Babacho after a 36-minute ride. The fee is 750 yen.
15:45 - 16:15 -- Pick up Local Sweets at Korindo
Korindo is a Japanese confectionery store with history going back to 1877. The main store, located close to Babacho bus stop, has an eat-in space with a cafe menu.
Korindo makes various types of Japanese sweets using local ingredients. From beautiful kneaded wagashi to puddings, dorayaki, rusks, and yokan jelly, you are spoiled for choice when it comes to tasty sweets.
The most famous confection made by Korindo is Kariman, a type of baked manju bun filled with red bean paste. In the fall, they offer seasonal variations made with sweet potato or chestnuts. It's an excellent treat!
16:20 - 17:40 -- Gyoza Dinner at Kirasse Main Store
What would a day trip to Utsunomiya be without gyoza dumplings? Deeply rooted in local history and culture, gyoza are loved by Utsunomiya locals. And it must be said that the city boasts some of the best-tasting gyoza in Japan.
There's no other place to better enjoy gyoza than Kirasse, which is often called a "gyoza theme park." Customers can taste gyoza made by five different local restaurants, as well as the menu of other 35 restaurants that are featured in turn every day.
The best way to enjoy Utsunomiya gyoza is by ordering several types and sharing them with your party.
According to the locals, gyoza and beer are a combination made in heaven, so don't shy away from ordering a bottle. The local craft beer called Gyoza Roman (550 yen/bottle) was made expressly to accompany gyoza meals. It is aromatic, refreshing, and goes amazingly well with the flavorful gyoza!
If you want to take home some gyoza or seasonings for the dish, stop by the Kirasse shop. They also have gyoza-flavored snacks and even stationery designed with gyoza motifs!
Back to Tokyo
After your exciting day trip in Utsunomiya, you'll want to go back to JR Utsunomiya Station and then to Tokyo.

Buses heading to the station from Babacho bus stop depart every five minutes. The earliest Shinkansen for Tokyo after 18:00 is the one leaving at 18:20.

This itinerary is recommended to those visiting Utsunomiya in the fall, but remember that this ever-changing, exciting city is a great destination in every season!

Route Summary
Tokyo Station → JR Utsunomiya Station → Wakayama Farm → Aramaki Orchard → Korindo → Kirasse Main Store → JR Utsunomiya Station → Tokyo Station

Expenses
Transportation: Shinkansen 9,640 yen, local bus 1,710 yen
Kimono wearing at Wakayama Farm: 12,000 yen (bento lunch included)
Chestnut picking: 1,500 yen
Apple picking: 540 yen/1kg
Gyoza dinner: three types of gyoza + beer approx. 1,700 yen
Souvenirs: about 1,500 yen

For more information on places to visit in Utsunomiya and Tochigi Prefecture, please visit the following website: https://travel.tochigiji.or.jp/en/

The writer visited these facilities on October 8, 2019.

Supported by Tochigi Prefectural Government

The information presented in this article is based on the time it was written. Note that there may be changes in the merchandise, services, and prices that have occurred after this article was published. Please contact the facility or facilities in this article directly before visiting.