Edo Era Towns And Farm-to-Table Craft Beer - Just North Of Tokyo!
Head northeast of Tokyo for a day of delicious food, nature, and culture. In Kashima, enjoy natural Japanese craft beer by a famous shrine, then head to Sawara to explore Edo era townscapes and learn about its UNESCO Intangible Cultural Heritage-designated festivals.
Day Trip from Tokyo: Sip on Japanese Craft Beer and Explore Historic Towns
About two hours from Tokyo are the cities of Kashima, Katori, and Itako, located in Chiba and Ibaraki prefectures. This area flourished during the Edo period (1603 -1868), and is easily accessed from Tokyo and Narita Airport.
Kashima, in particular, is famous for prominent Kashima Jingu Shrine, a nearly 2,000-year-old shrine with connections to Nara and other famous areas in Japan.
Katori is best-known for its beautiful canals, which connect it to Kashima and Itako. One of the largest festivals in eastern Japan, the Sawara Grand Festival, occurs here, too.
Visitors can enjoy a day of relaxation in this charming area with farming workshops, delicious food and craft beer, and touring historic towns.
8:00 -- Ride the Bus from Tokyo to Kashima Jingu Shrine
Highway buses that go directly from Tokyo Station to Kashima Jingu Shrine are very convenient for traveling. Purchase your ticket at the JR Expressway Bus building just outside of the Yaesu Exit of Tokyo Station. Go inside and get a day-of ticket from one of the automatic ticket machines (English language setting is available).
Try to arrive and purchase your ticket early, at around 7:30, as the bus stops taking riders once the seats are full. The ticket costs 2,000 yen.
The bus leaves from platform 1 at 8:00. Get on from the front door and hand the driver your ticket. The bus ride is about two hours long and the inside seating is comfortable.
Be sure to get off at Kashima Jingu; push the stop button once it is announced. If you are worried about alighting correctly, let the driver know your stop.
10:30 -- Farming Experience at Kashima Paradise
One unique experience in Kashima is farmwork with Kashima Paradise, a company in the organic, natural food and beverage industry in Japan.
Kashima Paradise grows crops using organic farming, a Japanese agricultural method in which no chemicals, fertilizers, or additives are used in the farming process. As a result, the wheat, soybeans, vegetables, rice, and other items grown at Kashima Paradise contain the natural flavor, color, and texture of the crop. They are full of nutrition, delicious, and safe to eat.
In the fall, you can sow wheat used for brewing craft beer at Paradise Beer Factory, the brewery and restaurant of Kashima Paradise. The work is simple, but participating firsthand will make you appreciate food and drink even more.
Organic food in Japan is not widely available, and Kashima Paradise is the only organization in the world that uses all-natural farming for its beer.
Water from the grounds of Kashima Jingu Shrine is used for brewing the beer. Hard water is required for ale; this pure water with a high mineral content is one of the few places suitable in Japan for making this delicious beverage.
Kashima Jingu is one of the prominent shrines in eastern Tokyo, boasting a history that goes back more than 1300 years.
Please inquire directly about participating in farming work at Kashima Paradise. The type of work you can do is dependent on the season.
If you took part in the sowing experience, how about coming once again the following year to taste the beer made with the wheat that you sowed?
12:00 -- Delicious Craft Beer and Pizza
For lunch, visit Paradise Beer Factory, a restaurant located in front of the main entrance of Kashima Jingu. Diners can enjoy dishes made exclusively with natural farming-grown ingredients, and also sample craft beer brewed at the restaurant. The food menu consists of pizza, pasta, salad, and other side dishes.
You can also choose from a selection of craft beer on tap. Pictured above is 5daughters, a white ale which uses sake lees instead of traditional yeast. It has a light, refreshing taste, and a unique aroma similar to that of Japanese sake.
The craft beer produced at Paradise Beer has been awarded the silver prize in the W-10 International Beer Cup 2018 so it's well worth trying.
I had the Margherita pizza (1,680 yen for a set with salad and beer); my dining partners enjoyed other varieties of pizza, like whitefish and lotus root, and Bismark. Everything tasted fresh and delicious. Inquire about options if you are vegetarian or vegan and the restaurant will try to accommodate your request.
13:23 -- Head to Sawara via Train
The next destination is Sawara, a town in Katori City in northeastern Chiba. Sawara prospered in the Edo period as trade and transport via boat was possible on its rivers and canals. In Sawara, visitors can appreciate the idyllic scenery, museums, and many adorable shops and cafes.
To get there, take the 13:23 departure train from JR Kashimajingu Station to Sawara Station on the Kashima line, bound for Sawara (330 yen one-way). The ride takes about 21 minutes.
13:45 -- Explore a Historic Town on Bicycle
Renting a bicycle is a fun and efficient way of getting around Sawara and the surrounding areas. After leaving the station (above), walk straight across the street and head to the Sawara Tourism Information Center to rent one.
It costs 700 yen for a regular bicycle (1,000 yen for an electric-assisted bike). Before leaving, be sure to take a map of the area. English maps are available.
Ride on the left side of the road and on the sidewalks when it is safe. Be sure to go slowly and be careful of vehicles and pedestrians.
You will ride by the canal and charming shops in traditional buildings along the way.
14:10 -- Learn History at the Suigo Sawara Float Museum
The first recommended stop is the Suigo Sawara Float Museum, which houses several-meter-tall festival floats used in the famous Sawara Grand Festival, or Sawara no Taisai.
The festival is recognized on UNESCO's list of Intangible Cultural Heritage and has been practiced for around 300 years. It occurs twice a year for three days in the summer (mid-July), and three days in the fall (mid-October). If you can't visit Sawara during the events, browsing the Suigo Sawara Float Museum will help you imagine what the festivals are like.
Pay 400 yen for admission at the entrance. Some English information is available, and there is also a short educational film about the festival and the Sawara area on the first floor in English to enjoy.
You can walk through a room that provides you a close-up look at the intricate carvings of the dashi (a type of festival float) on the first floor.
In the festival, dashi are pulled along by rope by participants from each town in the area. The floats are made elaborately and have mannequins on the top, which represent different deities and prominent historical figures.
After seeing the floats up-close on the first floor, climb to the second and third floors to see more exhibited items. Several important cultural properties and historic artifacts are on display. You'll be mesmerized by the detail and craftsmanship put into each piece.
14:50 -- Visit the Serene Katori Jingu Shrine
Katori Jingu Shrine is a prominent shrine accessible via bicycle from the Sawara historic district.
After about a 15 to 20-minute ride, you'll arrive at the front entrance to the shrine. There are many shops and cafes on the main approach to the shrine. Dango (skewered mochi) is available at many places, so be sure to try some if you are hungry.
Continue along the main road until you get to the front torii gate. You'll walk a little more, past stone lanterns before getting to the inner shrine grounds.
Katori Jingu Shrine enshrines one of the deities who appears in the "Nihon Shoki," one of the oldest history chronicles of Japan. This cultural value, along with the gorgeous forest surrounding the structures, will astonish you.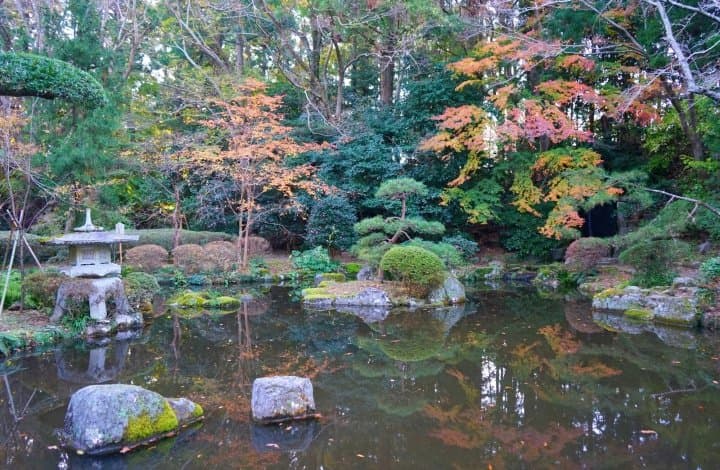 There is also a pond by the entrance that reflects the seasons. In the fall, during my visit, the surrounding trees were painted in bright shades of red, orange, and yellow.
Be sure to head back to the Sawara Tourism Center to return the bicycle on the early side to avoid missing a train back. Simply go inside and hand the staff member the bicycle key.
15:56 -- Return to Tokyo
After a full day of nature, food, and cultural experience, go back to Tokyo from JR Sawara Station. Ride the 15:56 departing train bound for Chiba. At JR Narita Station, where you'll change to the express Narita line bound for Kurihama. It takes around two hours to return to Tokyo. During the ride back, you can reflect back on the day and the fun you had.

For other great places to visit in Kashima, Katori, and Itako, please visit this website: http://www.suigosanto.com/en/index.html

Route Summary:
JR Tokyo Station→ Kashima Jingu Shrine → Paradise Beer Factory → JR Kashimajingu Station → JR Sawara Station → Sawara Historic District →Suigo Sawara Float Museum → Katori Jingu Shrine → JR Sawara Station → Tokyo

Expenses:
Travel: 2,000 yen (highway bus), 330 yen (Kashima Jingu to Sawara), 1,690 yen (train back to Tokyo)
Food and Drink: around 2,500 yen
Entrance Fee and Rental: 1,000 yen

The writer visited these facilities on November 29, 2019.

Supported by the Suigo Santo Tourism Promotion Agency

The information presented in this article is based on the time it was written. Note that there may be changes in the merchandise, services, and prices that have occurred after this article was published. Please contact the facility or facilities in this article directly before visiting.