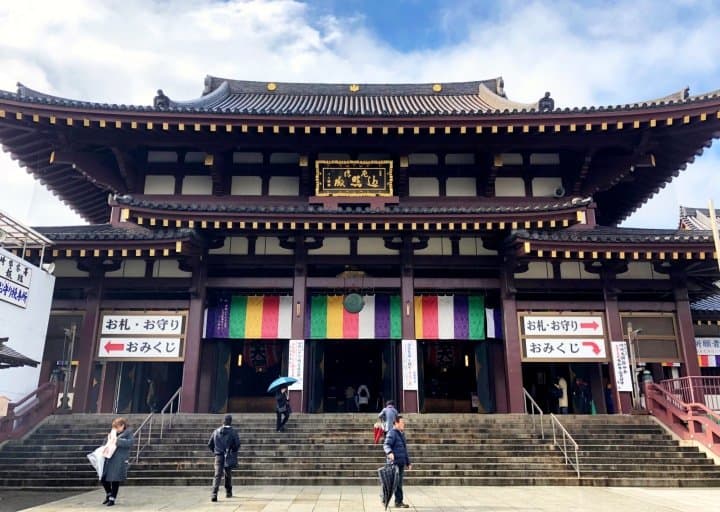 Sightsee Near Haneda Airport! Kawasaki Daishi Temple And Hot Springs
Head directly from Haneda Airport for cultural experiences and delicious food nearby. Visit Kawasaki Daishi, a famous temple just south of Tokyo, enjoy soba noodles, and browse a lively traditional shopping street. Unwind with a relaxing evening at excellent hot springs in Tokyo.
Temples, Soba, and Hot Springs - Attractions Near Haneda Airport
Traveling to Japan, whether it's your first time or tenth, is an exciting experience. Those landing at Haneda Airport, or Tokyo International Airport, have the advantage of being close to the Tokyo metropolis and a number of attractions.
The trip itinerary included in this article is the ideal first day for those arriving in Japan, or anyone looking for ideas of things to do near the airport.
It starts from Haneda Airport, goes to Kawasaki Daishi, a famous temple with a lively shopping street, includes a delicious lunch of in-house made soba noodles and local snacks, and a leisurely afternoon soaking in hot springs in Tokyo. Read more to learn how you can enjoy this activity-filled, relaxing day, even right after arriving at Haneda.
10:00 -- Get Travel Tips from the Keikyu Tourist Information Center at Haneda Airport
Picture courtesy of Keikyu Corporation
Before setting out for the day, pick up some maps and information at the Keikyu Tourist Information Center at Haneda Airport.
Located in the International Terminal on the second floor, this information counter and its employees offer English language guidance on travel. If you have any questions about how to ride trains, where to transfer trains, or how to get to your desired destination, don't hesitate to ask. You can also get assistance purchasing tickets here, too.
The employees here helped me determine which train to board and where to transfer to get to my first destination, Kawasaki Daishi.
After consulting with the staff and purchasing your train ticket, take the 10:34 departure train from Keikyu Line Haneda Airport International Terminal Station (*1), located right next to the counter. Transfer to the Keikyu Daishi Line (bound for Kojima Shinden) at Keikyu Kawasaki Station and get off at Kawasaki-Daishi Station. The entire ride takes around 30 minutes.
*1... The official name of Haneda Airport International Terminal Station will be changed to Haneda Airport Terminal 3 Station on March 14, 2020.
11:15 - 12:15 -- Kawasaki Daishi Heikenji - Explore a Highly-Regarded, Centuries-Old Temple
Shingon Chison Sect Daihonzan Kongozan Kinjoin Heikenji Temple, commonly abbreviated as Kawasaki Daishi, is a Buddhist temple with its origins dating back to 1128. The temple is about an 8-minute walk from Kawasaki-Daishi Station (make a right from the south exit). Along the walk, you will pass by several small shops and a shopping street, before getting to an entrance.
The hondo (pictured above), or main temple building, reveres Kobo Daishi, a traveling monk known to have spread the teachings of Buddhism throughout Japan long ago.
Kawasaki Daishi is thought to ward off evil. Many people come here to pray and make offerings. Throughout the temple grounds, you will see elaborate buildings, like a pagoda, statues, and several smaller buildings. The temple also distributes omikuji (paper fortunes), and omamori, or good luck charms, which would make a nice souvenir from your temple visit.
12:30 - 13:30 -- A Classic Lunch - Delicious Soba Noodles and Tempura
After exploring Kawasaki Daishi, head down the street to the nearby soba restaurant. We recommend dining at Shogetsuan (Japanese), a restaurant specializing in soba (buckwheat noodles).
Established in 1884, it is a well-known, highly-regarded restaurant particular about the way they prepare their food. The store is famous for its shrimp tempura, which comes in a very large size.
There is an English menu and free Wi-Fi, making it easy for international visitors to enjoy a meal here.
Pictured above is the tempura soba set, a simple, but delicious meal of soba with an aromatic broth, topped with shrimp tempura. Shogetsuan is known for its irresistibly-delicious broth, containing high-quality bonito, kelp, and other classic Japanese ingredients. The soup is simmered and prepared over a long time before being ready to serve to customers. The restaurant has been featured in newspapers and magazines for the excellent flavor of the broth.
The noodles are a delicious match for the soup. Soba at Shogetsuan is handmade using classic techniques, producing a springy and flavorful noodle. Light and crispy, the tempura adds another tasty element to the dish.
After a satisfying meal, feel free to try dessert if you still have an appetite. Shogetsuan makes delicious kuzu mochi, a traditional Japanese treat. The sweet and flavor-filled kuromitsu used is made from high-quality dark brown sugar from Okinawa.
*Kuzu mochi consists of cakes made of fermented wheat starch and covered with kinako (soybean powder) and kuromitsu (a dark brown sugar syrup).
13:30 - 14:00 -- Pick Up Daruma and Senbei Souvenirs
After lunch, take a few minutes to explore the Omotesando, the main street leading to the temple, which contains many small shops selling souvenirs, food, and other trinkets. It is the ideal place for picking up a special memento from Kawasaki Daishi.
You will see numerous stores selling colorful figures known as daruma, which people in Japan customarily buy when they want a wish or long-term goal to be fulfilled. After you choose your daruma, make a wish and draw in one of the eyes (it doesn't matter which one) with black marker. When your wish has come true, fill in the other eye.
The shops by Kawasaki Daishi sell all sizes and colors of daruma. I purchased a small, red one that was easy to carry with me for the rest of the day.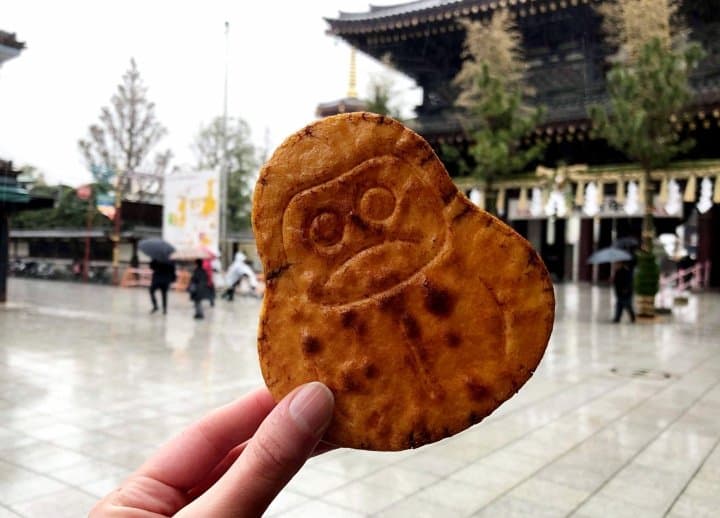 Another item Kawasaki Daishi is famous for is senbei, or rice crackers. Simply made of rice and seasoning (for example, soy sauce), senbei is a crispy and delicious. Vendors here sell all sorts of flavors and shapes, baked fresh. I decided on a daruma-shaped rice cracker, which I ate as a snack.
14:10 - 15:00 -- From Kawasaki Daishi to Heiwajima Hot Spring
To get to our next destination, Natural Hot Spring Heiwajima, leave the shopping area and take the train you used earlier, Keikyu Kawasaki Daishi Station. Board the train at 14:10, heading to Keikyu Kawasaki, and transfer to the Keikyu Main Line at Keikyu Kawasaki Station. Ride for around ten more minutes to Heiwajima Station.
From the train station, you can either ride a bus or walk to Natural Hot Spring Heiwajima. The bus ride costs 100 yen and takes just five minutes. Exit left from the station and make another left to the path on the side of the station.
15:00 - 16:30 -- Bathe and Lounge at Natural Hot Spring Heiwajima
Picture courtesy of Natural Hot Spring Heiwajima
Natural Hot Spring Heiwajima is a bathing facility where visitors can experience 12 types of baths and sauna, including authentic onsen, a carbonated bath, and stone saunas. There are also lounges ideal for unwinding and a restaurant serving Japanese food. The facility is located on the second floor of Big Fun, an amusement and shopping facility with businesses like Don Quijote and a bowling alley.
We recommend the Relax Plan, which allows you to stay at the facility for up to seven hours. You will receive comfortable loungewear to put on when you are inside the facility, towels, and a wristband. You will use the wristband to enter certain rooms, like gender-separated lounges, and to pay for any extra purchases you make.
Walk into the locker room, change out of your clothes, and try out the hot springs! The natural hot spring baths are very soothing, containing high levels of sodium and properties thought to help with fatigue, muscle pain, and other health issues. Dip into the carbonated bath for a surprising, but relaxing sensation as tiny bubbles will form all around you when you enter the water.
Picture courtesy of Natural Hot Spring Heiwajima
Another option is trying the stone saunas and relaxation areas. Heiwajima uses natural stones in their saunas, creating Lolyl Finnish-style saunas. The facility is state-of-the-art and very comfortable.
Employees can support basic English, and there is also English written throughout the facility to guide visitors who don't speak Japanese.
When you leave, return your towels and loungewear to the front desk and pay for your stay. Be sure to ask for a return bus voucher, which all guests at Heiwajima receive for free. The bus going to Heiwajima Station departs in front of Big Fun on the street level.

After 16:30 -- Head to Tokyo for the Night!
After a full day of travel from Haneda to Kawasaki, and to the soothing hot springs at Heiwajima, take the train from Heiwajima Station to your lodging. It is a direct ride to Asakusa from Heiwajima Station, as the Keikyu Line turns into the Asakusa Line. Relax during the train ride to the center of Tokyo and get excited for the rest of your journey!

For other great places to visit along the Keikyu Lines, please refer to this page: http://www.haneda-tokyo-access.com/en/

Route Summary
Haneda Airport → Keikyu Haneda Airport International Terminal Station → Keikyu Kawasaki Daishi Station → Kawasaki Daishi Heikenji → Shogetsuan → Kawasaki Daishi Shopping Streets (Omotesando, Nakamise areas) → Keikyu Kawasaki Daishi Station → Keikyu Heiwajima Station → Natural Hot Spring Heiwajima → Keikyu Heiwajima Station → Asakusa, Tokyo

Expenses
Transportation: 1,180 yen (trains and buses)
Lunch and Snacks: around 2,000 yen
Souvenirs: less than 1,000 yen
Hot Spring Facility: 2,000 yen (on weekdays, for the Relax Plan)

The writer visited these facilities on January 8, 2020.

Supported by Keikyu Corporation International Tourism

The information presented in this article is based on the time it was written. Note that there may be changes in the merchandise, services, and prices that have occurred after this article was published. Please contact the facility or facilities in this article directly before visiting.