Explore Stylish Tokyo With Toei One-Day Pass! Roppongi, Ebisu, And More
Those who wish to experience the stylish side of Tokyo will want to explore areas like Roppongi, Azabu-Juban, Hiroo, and Ebisu. Use the convenient Toei One-Day Pass (700 yen), which allows unlimited rides on Toei buses and Toei Subway lines, to travel efficiently while having fun in central Tokyo.
A Day of Charming Shops and Exquisite Japanese Cuisine in Central Tokyo
Tokyo's glamorous side can be experienced in districts like Roppongi and Ebisu. In addition to stylish shops, which can be found in other districts as well, these areas also have art museums, charming little shopping streets with rich history, beautiful parks, and an overall relaxed, elegant atmosphere.
The most convenient way to explore this area in Tokyo is using the Toei One-Day Pass. This ticket allows unlimited rides on Toei Subway lines, Toei buses, the Tokyo Sakura Tram (Toden Arakawa Line), and the Nippori-Toneri Liner for a day. We introduce a sample itinerary with recommended places to visit on a day out in the sophisticated districts of Tokyo.
10:00 - Purchase the Toei One-Day Pass at Shinjuku Station
Shinjuku Station, one of the major transportation hubs in Tokyo, is the ideal departure point for this itinerary. Head to the entrance to the Toei Oedo Line and purchase your Toei One-Day Pass (700 yen) from the vending machines. From "Value Ticket," select "Toei One-Day Pass."
The Toei One-Day Pass can be used on all Toei Subway lines (Toei Oedo Line, Toei Asakusa Line, Toei Mita Line, and Toei Shinjuku Line), as well as on all Toei buses, the Nippori-Toneri Liner, and the Tokyo Sakura Tram.
10:09-10:18 -- Travel from Shinjuku to Roppongi
Take the Toei Oedo Line to reach Roppongi. From Shinjuku, the ride takes only 9 minutes. Remember to pick up your Toei One-Day Pass after inserting it into the ticket gates. This will be your transportation ticket for the whole day so please handle it carefully.
10:45-13:00 -- Shopping, Dining, and Amusement at Tokyo Midtown
Those who wish to experience high-end Tokyo shopping and amusement should head to Tokyo Midtown. Tokyo Midtown houses shopping and dining facilities, galleries, and museums amid green spaces.
The Suntory Museum of Art, which hosts carefully curated contemporary and traditional art exhibitions, and the 21_21 Design Sight, a facility that showcases the latest trends in Japanese and international design, are located on the premises of Tokyo Midtown.
The Galleria is a four-story shopping area with stores by major Japanese and international brands. Shops that handle high-quality Japanese craft items that combine traditional techniques with modern design are also located here. If you're looking for a special souvenir from Japan, take a look at lacquerware or textile items.
The posh restaurants and cafes at Tokyo Midtown can satisfy all tastes. If you'd like to have sushi for lunch, head to SUSHI TOKYO TEN for quality sushi. At Tempura Yamanoue Roppongi, you can enjoy another popular Japanese dish called tempura, which consists in deep-fried vegetables and seafood served with rice. Another restaurant that we warmly recommend is Ibukiudon, which serves delicious Sanuki udon noodles, a specialty of Kagawa prefecture.
Tokyo Midtown is a facility that's worth exploring at leisure. It is the ideal place to feel the pulse and the trends of contemporary Tokyo.
13:34-13:35 -- From Roppongi to Azabu-Juban
Our next recommended destination is Azabu-Juban, the next station on the Toei Oedo Line after Roppongi Station.
13:45-14:30 -- A Walk around the Charming Azabu-Juban District
Azabu-Juban is a lively residential area known for its many traditional shops and restaurants, galleries, and stylish cafes. The area has thrived as a commercial district since the Meiji period (1868-1912) and the roots of many well-established shops here can be traced back to those days.
Even just taking a walk along these streets is a very pleasant experience. The alleys are lined with public art by domestic and international artists, and every piece of artwork has a story to tell.
Take, for example, this statue of Kimi-chan, also known as the girl with red shoes, displayed in Patio Juban, a green rest area in the heart of the district. This statue was erected in memory of a girl who was given up to adoption to an American family in the Meiji years but died of illness before leaving Japan. A symbol of hope, this statue tells one of the many stories related to Azabu-Juban.
After exploring the area for a while and peeping into some of its charming shops, how about taking a rest in a cafe? Many of the cafes here have a classic, retro-style atmosphere and their owners take great pride in the quality of the coffee they offer.
14:30-15:00 -- Taste Delicious Taiyaki at Naniwaya Sohonten
Taiyaki, traditional snacks made with flour dough and red bean jam, are very loved in Japan. Naniwaya Sohonten, located in Azabu-Juban and founded in 1909, is one of Tokyo's famous taiyaki shops.
At Naniwaya Sohonten, the taiyaki (180 yen) are carefully baked one by one, which is the secret to their delicious taste. They have a crispy exterior while being packed with flavorful Ogura red bean jam.
There is always a line at the entrance so be ready to wait for a few minutes. There are eating spaces inside on the first and second floors.
15:30-16:30 -- Play in Beautiful Mirror Worlds at Kaleidoscope Mukashi-kan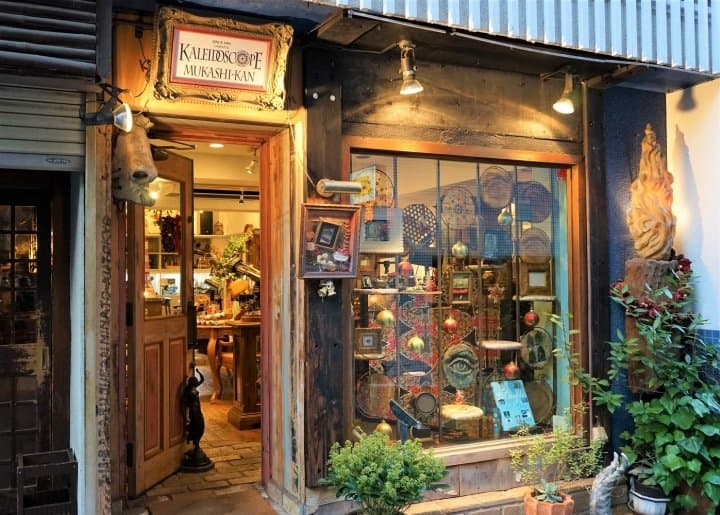 Another must-visit shop in Azabu-Juban is Kaleidoscope Mukashi-kan, which is specialized in kaleidoscopes. It was founded in 1994 by owner Miti Araki.
She became fascinated by kaleidoscopes while playing with her infant daughter when she noticed that these devices stimulate the imagination and the power to look at the surrounding world. She turned her cafe (called Mukashi-kan) into a kaleidoscope shop, the first in Japan at that time.
Step into this shop and you'll feel as if you entered a magical world. There are hundreds of precious, beautiful kaleidoscopes on display. The images that can be seen with some of the larger ones are projected onto the walls.
Many of the kaleidoscopes on display are made in Japan or original items created by Kaleidoscope Mukashi-kan in collaboration with Japanese craftspeople. They make splendid souvenirs from your visit here. Remember that the mirror images seen through a kaleidoscope are never the same. They are a truly inexhaustible source of wonder and enchantment.
17:04-17:22 -- From Azabu-Juban to Ebisu
We recommend heading to Ebisu for the evening. Take a Toei bus on the 都06 line heading to Shibuya from Azabujuban Ekimae bus stop. The bus stop is located right across Azabu-Juban Station on the other side of Azabu-dori Avenue. Remember to show your Toei One-Day Pass to the driver when boarding.
The ride takes about 18 minutes, though it depends on the traffic conditions. Get off at Ebisubashi bus stop. From here, it takes about 7 minutes to reach Yebisu Garden Place on foot. Yebisu Garden Place is an elegant public space flanked by shops, cafes, and museums. It's a beautiful place to visit at any time of the year.
18:00 -- Refined Japanese Cuisine! Dinner at Mai
Enjoying dinner in Ebisu is the perfect way to end a day spent exploring the stylish areas of Tokyo. We recommend Mai, the Japanese restaurant within The Westin Tokyo. The entrance and the lobby of this hotel are gorgeous and will surely leave an impression.
Mai is located on the second floor. The restaurant has an elegant Japanese atmosphere and is split into several areas. Patrons can choose a counter seat, where they can watch the sushi chefs doing their skillful work, in an area with wide tables that is appropriate for groups also, or in an area that offers more privacy.
There are several dinner set menus to choose from. The main dish can be sushi, tempura (deep-fried vegetables and seafood) or steak. A kaiseki dinner course is also available.
We chose the Tempura gozen course (6,500 yen), which included salad and a side dish as an aperitif (photo above).
The main dish consisted in delicious shrimp and vegetable tempura, which was accompanied by fine sashimi and rice.
The cuisine at Mai is made with an emphasis on the balance of ingredients. Our main dish was not only very flavorful and refined but also light. The meal gave us energy for some more evening explorations of the Ebisu area.
Have a Great Time in Tokyo's Glamorous Districts!
At the end of the day, take a Toei bus on the 都06 line back to Roppongi if you wish to enjoy your night out, or head to Shibuya using the same bus line in the opposite direction. Remember that you can use your Toei One-Day Pass until the end of the day.

To learn about other great places to visit and convenient Tokyo sightseeing tickets, please visit this website: https://www.kotsu.metro.tokyo.jp/eng/

Route Summary
Shinjuku Station → Roppongi Station → Tokyo Midtown → Azabu-Juban Station → Naniwaya Sohonten → Kaleidoscope Mukashi-kan → Azabujuban Ekimae bus stop → Ebisubashi bus stop → Yebisu Garden Place → Nihonryori Mai → night out in Roppongi or Shibuya

Expenses
Transportation: 700 yen (Toei One-Day Pass)
Dinner: from 6,500 yen
Snacks, souvenirs, other expenses: about 2,000 yen

The writer visited these facilities on December 12, 2019.

Supported by Toei Transportation

The information presented in this article is based on the time it was written. Note that there may be changes in the merchandise, services, and prices that have occurred after this article was published. Please contact the facility or facilities in this article directly before visiting.