Underwater Scapes And Tasty Tuna! A Trip With The Misaki Maguro Ticket
Misaki Maguro Day Trip Ticket is a very convenient ticket to explore Misaki, a lovely port town south of Tokyo. The ticket covers transportation by bus and train, a lavish tuna lunch, and a local activity such as riding an underwater sightseeing boat. Enjoy the fabulous ocean views in Misaki!
Misaki - A Charming Port Town South of Tokyo
Misaki, located at the tip of the Miura Peninsula in Kanagawa, is a beautiful port town with exciting leisure activities and excellent seafood dishes. Easily accessible from Tokyo in about one hour, this town is the ideal destination for a day trip, especially if you love nature, ocean views, and seafood.
The Misaki Maguro Day Trip Ticket makes traveling to Misaki extremely convenient. The ticket includes a Train and Bus Ticket (ticket A), which covers a roundtrip train ride on the Keikyu Line and unlimited rides on Keikyu buses in the ticket-designated area, the Maguro Selection Meal Ticket (ticket B), which can be exchanged for a tuna lunch, and the Leisure Facility or Souvenir Selection Ticket (ticket C), which you can use to get a local souvenir or to enjoy an activity.
The Misaki Maguro Day Trip Ticket costs 3,570 yen if purchased at Keikyu Shinagawa Station. We introduce a sample itinerary using this ticket.
8:30 -- Shinagawa Station - Purchase the Misaki Maguro Ticket
The Misaki Maguro Day Trip Ticket can be purchased at the ticket counters and vending machines at Keikyu Shinagawa Station (*1). You'll receive a pamphlet with tips on how to use the ticket and details on all the participating facilities that provide tuna dishes, leisure activities, and souvenirs. While on the train, consult the pamphlet to see which restaurants and activities appeal to you.
The ticket can also be purchased at other Keikyu stations such as Haneda Airport Terminal 3, Yokohama, Keikyu Kamata, and Kekyu Kawasaki (see the official website for details).
8:47-10:45 -- Travel to Misaki Port by Train and Bus
The closest station to Misaki Port is Misakiguchi Station on the Keikyu Line. There is a train departing at 8:47 for Misakiguchi. It reaches the last stop at 10:10.
Once you arrive, exit Misakiguchi Station and head to bus platform 2. Take the 10:30 bus heading to Jogashima. When boarding the bus, show the driver ticket A, your Train and Bus Ticket. The bus reaches Misaki Port (Misaki-ko) at 10:45 so get off here.
10:45-11:15 -- Explore the Area around Misaki Port
First, you might want to take a few minutes to explore the area around Misaki Port. If you don't live in a place near the ocean, this bay with its seagulls and fishing boats will surely look impressive. There is even a small shrine on the shore dedicated to the deities of the sea.
The port area is very peaceful. You may catch sight of fishermen and sailors going about their business. It's the ideal location to feel the pulse of this beautiful town.
11:20-12:20 -- Tuna Lunch at Maguro Shokudo Shichibeimaru
Maguro Shokudo Shichibeimaru, a seafood restaurant located close to the Misaki Port bus stop, is the location we recommend for lunch. In addition to a wide variety of fresh tuna, the restaurant specializes in dishes using fish and all types of seafood.
Exchange ticket B for the Grand Maguro Kaisendon, a bowl of rice generously topped with several types of seafood, including two varieties of maguro tuna. Every piece of this meal is very flavorful, allowing you to taste the bounty of the sea. The set includes miso soup, pickles, and a side dish.
12:40-13:30 -- Underwater Views! A Ride on the Urari Underwater Cruise Boat
Urari is a large facility by Misaki Port that includes Urari Marche, a local market, and a sightseeing service center.
One of the exciting activities available here is riding the Nijiiro Sakana-go, an underwater sightseeing boat. Try to make it in time for the boat departing at 12:40 and exchange ticket C (the Leisure Facility or Souvenir Selection Ticket) for a cruise ticket on the Nijiiro Sakana-go.
After boarding the boat, you'll take a seat by the window. The boat departs soon, allowing wonderful views of the underwater world.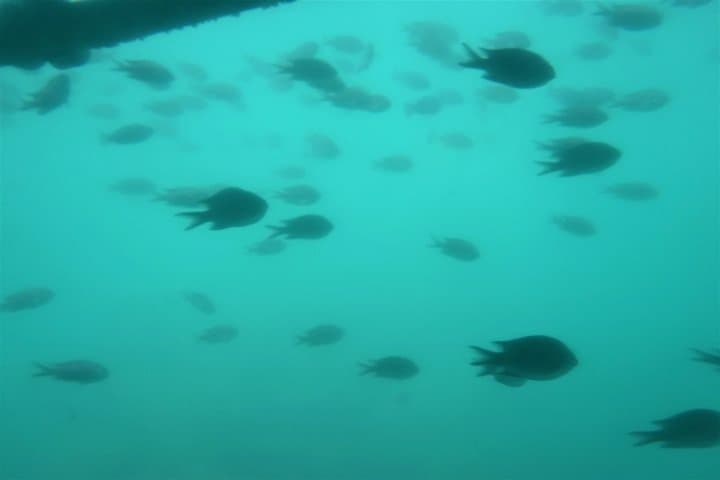 The highlight of the cruise is viewing a fish bank up close. The fish are attracted using special feed and keep swarming around the ship for a while.
The Nijiiro Sakana-go stops for a few minutes at sea. The passengers are welcome to go on the deck and see the views outside. The rocky shores of Jogashima Island can be seen nearby and hundreds of seagulls glide around the ship as if to greet the passengers.
A ride on the Nijiiro Sakana-go will surely become a wonderful memory of your time in Misaki.
13:30-14:00 -- Explore the Urari Marche
Urari Marche is the largest local seafood and vegetable market in the area. Not only does it offer glimpses of local lifestyles, but it's also a great place to find souvenirs.
The first floor has several shops selling fresh seafood, pickles, local snacks, and other specialties.
On the second floor, you'll find vegetables and fruit, as well as handmade items. Many of these items have ocean motifs and are great as gifts from Misaki.
The first floor has an amusement corner with game consoles. Every one of them is sealife-themed, and it's a lot of fun to just look at these games and see how innovative they can be.
14:00-14:20 -- Rent a Bicycle at Urari
To explore a wider area around Misaki Port, including Jogashima Island, we suggest renting a bicycle at the Urari sightseeing center. It costs 900 yen to rent a power assisted bicycle for three hours.
These bicycles are extremely easy to ride and you'll be amazed at their power-assisted function when climbing the hilly areas of Jogashima.
14:20-14:40 -- A Bike Trip to Jogashima Island
Jogashima Island is worth visiting for its picturesque ocean views and lighthouses. To reach the island, you'll need to cross the great Jogashima Bridge. With a power-assisted bike, the ride will be extremely pleasant and you'll find yourself on the island in no time.
14:40-16:30 -- Visit the Beautiful Lighthouses of Jogashima
One of the highlights of Jogashima is Jogashima Park, which covers the eastern half of the island and offers great views of the ocean. The clear waters near the shore have a mesmerizing aquamarine color that will steal anyone's heart.
Awazaki Lighthouse, standing on the eastern tip of the island, can be seen here. The sight of the lighthouse rising above the waves is very majestic and will surely inspire beautiful photos.
If the day is windy and the waves are large, we recommend admiring the lighthouse from the distance. Please do not try to approach it on a stormy day as this side of the island gets easily swallowed by the waves.
Next, head to the westernmost tip of the island to see Jogashima Lighthouse, a large and famous lighthouse. Jogashima Lighthouse stands on a hill in the heart of a town. During your ride, you'll pass by dining places, shops, markets, and hotels so it's a great chance to feel the peaceful atmosphere of this town.
On days with clear weather, the hill around Jogashima Lighthouse is a fabulous place to enjoy beautiful sunset views.
16:30-17:00 -- Return the Bicycle to Urari
Remember to return your bicycle within four hours. Urari closes at 17:00 so it would be a good idea to return before it gets completely dark.
17:14 - 17:29 -- Return to Misakiguchi Station
Buses heading toward Misakiguchi Station leave about every ten minutes from the Misaki Port bus stop. We suggest taking the 17:14 bus, which brings you to the train station at 17:29.
From here, take a train back to Keikyu Shinagawa Station and you'll be back in Tokyo shortly before 19:00.
Have a Great Time in Misaki!
Seafood lovers and those who want to see picturesque ocean views should definitely consider a visit to Misaki in the Miura Peninsula. The most convenient way to explore this area on a day trip is by using the Misaki Maguro Day Trip Ticket.

To find other beautiful areas to explore in Kanagawa along the Keikyu Lines, visit this website: www.haneda-tokyo-access.com/en/

Route summary
Keikyu Shinagawa Station → Misakiguchi Station → Misaki Port bus stop → Lunch at Maguro Shokudo Shichibeimaru → Urari Underwater Boat Ride → Urari Marche → Jogashima Park → Jogashima Lighthouse → Urari → Misaki Port bus stop → Misakiguchi Station → Keikyu Shinagawa Station

Expenses
Transportation + Tuna Lunch + Activity (Underwater Cruise): 3,570 yen (Misaki Maguro Day Trip Ticket)
Bicycle Rental: 900 yen

The writer visited these facilities on November 27, 2019.

Supported by Keikyu Corporation International Tourism

The information presented in this article is based on the time it was written. Note that there may be changes in the merchandise, services, and prices that have occurred after this article was published. Please contact the facility or facilities in this article directly before visiting.