Winter Day Trip From Tokyo! Snow Activities And Hot Springs In Nasu
If you would like to enjoy winter activities like skiing, snowboarding or snow cycling, consider a day trip to Nasu, an area with excellent ski resorts and hot springs. This recommended itinerary includes snow cycling at the Mt. Jeans Ski Resort, lunch at a local dining place, and hot springs.
Nasu - An Exciting Resort Area Easily Accessible from Tokyo
Lower right picture courtesy of Jizaiso
Nasu, located in Tochigi, is famous as a weekend and holiday destination in Japan. People travel to Nasu to enjoy recreational activities in the heart of nature, museums, and hot springs.
If you visit Japan in winter, Nasu is the ideal destination for snow activities and relaxation at the hot springs. Continue reading to learn about a recommended itinerary for a winter trip to Nasu.
6:40 - 7:50 - Depart from Tokyo Station
Nasu can be reached in about one hour from Tokyo. In order to reach the snowy slopes before noon, we suggest departing early. The Shinkansen Yamabiko 203 departing at 6:40 from Tokyo Station reaches Nasushiobara Station at 7:50. Otherwise, coming the day before and staying overnight in Nasu is also a great option.
Holders of the Japan Rail Pass or the JR TOKYO Wide Pass can use these passes to travel very conveniently to Nasushiobara and save money on transportation.
There is a free shuttle bus for Mt. Jeans Ski Resort Nasu departing at 8:10 from Nasushiobara Station West Exit (*1). Please be aware that it is necessary to book a seat on the bus beforehand. The bus runs via the Nasu Garden Outlet and reaches Mt. Jeans Ski Resort Nasu at 9:15.
*1 The free shuttle bus operates from December 21, 2019, to March 8, 2020.
9:30 -11:30 -- Snow Cycling at Mt. Jeans Ski Resort Nasu
Mt. Jeans Ski Resort Nasu is one of the three ski resorts in Nasu. The facility has excellent ski slopes for all levels: one course for advanced skiers, five for intermediate level skiers, and one beginner course. Snowboarding, snowshoe tours, fat bike tours, and other winter activities are also available.
The activity we tried ourselves on this itinerary was Snow Cycling in Nasu. This activity is offered by Ride Experience, a cycling tour company based in Nasu.
The reception desk for the Snow Cycling tour is located at the entrance to the slope. We signed up for the morning tour, which is held 9:30 - 11:30.
Taking part in the Snow Cycling tour costs 6,500 yen (the fee includes gondola tickets, as well as the rental of a fat bike and helmet). If you also need to rent snow wear and boots, the total cost will be 9,500 yen.
You'll be handed a fat bike, which you'll take in a gondola up the slope to the platform at the summit (1,400 m above sea level).
First, you'll practice snow cycling on the platform at the mountain top. Riding a fat bike is very similar to riding an ordinary bicycle, so it's very easy and safe.
There are, however, a few points to keep in mind about cycling on the snow. The instructor explains everything in detail before moving on.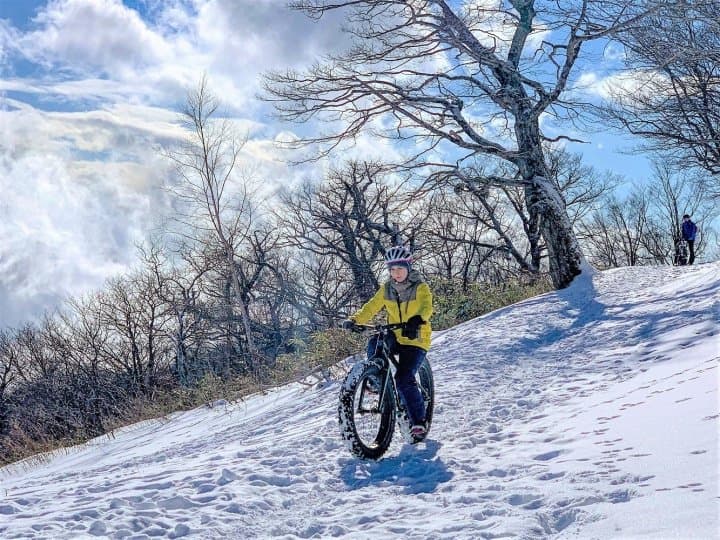 Participants will then head to a forest path that is used exclusively for snow cycling. Going up and down the path is very exciting and the beautiful scenery on the way can only be enjoyed here.
One of the tour highlights is viewing the peaks of Mt. Nasu from the new observation platform. The whole area looks majestic covered in snow.
After cycling for about one hour, the participants will stop for a coffee break. The instructor offers freshly brewed drip coffee made from a Nasu specialty blend. The coffee has a mild, gentle flavor that is very soothing and refreshing after playing in the snow in the crisp air.
Up to eight participants can join the snow cycling tour. To make the activity even more exciting, participants can compete in an obstacle course. Try it and you'll see for yourself how fun it is to ride on the snow!

12:30 - 13:30 -- Lunch at Chaya Usaburo
After playing in the snow, how about enjoyng luch at a famous local dining place? Our recommendation is Chaya Usaburo, which offers home-cooked Japanese dishes.
Chaya Usaburo can be reached by car in about 22 minutes from Mt. Jeans. We suggest calling a taxi at 0287-62-0001 if you're not using a rental car.
Chaya Usaburo is located in a renovated traditional Japanese house (kominka), keeping the original layout and atmosphere of the building. This makes it extremely popular with visitors from the Tokyo area, who come all the way here to enjoy lunch in a place that may remind them of their own childhood.
The menu at Chaya Usaburo consists of various traditional home-cooked dishes made with local ingredients. They use glutinous rice produced locally, which results in the dishes having a soft, slightly sticky texture.
The vegetables are cooked thoroughly in homemade broth and have a very rich taste. The pickles are, of course, also homemade. Some of them are even on sale at the counter as souvenirs.
We tried the Pokopen-zen set meal (1,300 yen), which includes rice, udon noodles with vegetables, boiled vegetables, pickles, mochi topped with azuki red bean paste, and dessert. It was a very satisfying meal that let us experience home-cooked Japanese food - a delight!
Before you leave, stop by the counter where they have local products. They offer local pickles, sembei crackers, traditional snacks and sweets, and other items that are ideal as souvenirs from Nasu.
14:00 - 16:00 -- Relaxing Hot Springs at Jizaiso
It would be a waste to travel to Nasu in the winter and not enjoy a hot spring bath here. The hot springs in Nasu are thought to help in healing fatigue and have a deeply relaxing effect.
Jizaiso is a local ryokan that offers its onsen baths to non-ryokan guests, too.
Enter the facility and stop by the reception counter. You'll be welcomed with a lovely smile by the proprietress. The use of the hot spring baths costs 700 yen (*there is a separate fee for renting a bath towel).
Picture courtesy of Jizaiso
The baths are located on the B1 floor. You can choose from an open-air bath (rotemburo), a large indoor bath, and a private bath fully rented for your own use. Take your time to enjoy the hot springs. The beneficial effects of the bath can be enhanced through a massage, so how about using this service, too?
The restaurant of Jizaiso offers refined kaiseki cuisine so if you feel hungry after the bath, do consider trying it.
If you loved the hot springs and would like to extend your stay, inquire at the reception counter. Jizaiso has excellent Japanese-style rooms that can accommodate families or groups of guests.
17:02 - 18:16 -- Return to Tokyo
Jizaiso is located close to Shin Nasu bus stop, so consider taking a bus back to Nasushiobara Station if you wish to return to Tokyo on the same day. Shinkansen trains heading to Tokyo run every hour. We took the 17:02 train, which brought us back to Tokyo at 18:16.
Nasu - A Fun Destination in All Seasons!
Nasu might be best known for its exciting museums and wide tourist farms spreading over hectares of green fields. The region is extremely fun to visit in the winter, too, thanks to its ski resorts offering snow activities that can be enjoyed by anyone.

If you're looking for fun in the snow, try visiting Nasu for a day trip!

For details on other great destinations in Tochigi Prefecture, please refer to this website: https://travel.tochigiji.or.jp/en/

Route Summary
Tokyo Station → Nasushiobara Station → Mt. Jeans Ski Resort Nasu → Chaya Usaburo → Jizaiso → Nasushiobara Station → Tokyo Station

Expenses
Transportation: Shinkansen roundtrip 11,640 yen (*if you use the JR TOKYO Wide Pass, you get to travel for three days for only 10,180 yen), taxi (about 5,000 yen)
Snow Cycling in Nasu: 9,500 yen
Lunch: 1,300 yen
Hot Springs: 700 yen

The writer visited these facilities on January 13, 2020.

Supported by Tochigi Prefecture

The information presented in this article is based on the time it was written. Note that there may be changes in the merchandise, services, and prices that have occurred after this article was published. Please contact the facility or facilities in this article directly before visiting.