Naritaya: Delicious Halal Rāmen In Asakusa
What is your favorite rāmen flavor?
The basic four types are soy sauce, miso, salt and pork bone broth, which are used in multiple combinations to create the various flavors of rāmen that are available in Japan, which all taste differently depending on what shop you go to.
Even though rāmen is quite an internationally known dish, the ingredients required to make it may include beef or pork, making it impossible for people of many religions to enjoy this ubiquitous Japanese dish.
Luckily, there is a Halal certified rāmen shop in Asakusa, where everyone can enjoy authentic rāmen without fear. Curious? Let's take a look at Naritaya in Asakusa.
 A Halal-certified Ramen Shop: Naritaya
The first thing to catch your eyes is the Halal certificate on the front door.
The certificate is obtained from the Japan Islamic Trust. One of its objectives is the welfare of humanity and Muslims in Japan in particular, and has undertaken to create higher awareness for Halal foods in Japan and overseas.
Another sign,'Kids are welcome!' is next to the certificate. For customers who have children, this is a perfect place to dine.
Not only a restaurant, there are souvenirs like T-shirts and other goods sold in the storefront. If you are in need of souvenir ideas, why not have a bite to eat and shop here?
Order at the Ticket Machine

The ticket machine is on the left side when entering the door; once you have made your selections and paid, take your tickets and find a seat. If the shop is busy, you may need to wait a little while before you can sit.
The shop's recommendation is their Naritaya special maze soba which costs 1200 yen, while the ordinary maze soba is 700 yen. Maze soba is different from ordinary rāmen in that it contains no soup.
Asakusa special rāmen (1200 yen) is recommended for people who are craving ordinary rāmen. It is 700 yen for the ordinary version.
The menu and ticket machine, as well as most of the signs at Naritaya are written in both Japanese and English, making it convenient for those who do not speak Japanese as well.
They also have kid's meals, with a kid-friendly serving of rāmen costing 580 yen.
Furthermore, for 100-300 yen more, you can purchase extra toppings such flavored eggs or spring onions. Or, if you would like to have as many toppings as possible, you can order the 'Crazy Toppings' for 1000 yen. Be prepared though, you will receive a mountain of food if you get this option!
Prayer Room: Inform the Staff
There is a room reserved for prayer on the second floor of Naritaya; if you would like to pray though, you must inform the staff of whether you would like to pray before or after enjoying your rāmen. Rāmen tastes best when it is hot, so letting the staff know means that you can enjoy your halal rāmen at its finest.
This is the prayer room on the second floor, with a sign pointing towards Mecca on the ceiling.
Halal-certified Maze Soba and Rāmen
After you have given your food ticket to the staff, the highly anticipated special maze soba arrives in less than 5 minutes. To eat maze soba properly, please stir the noodles, ingredients, and sauce at the bottom with chopsticks until it's all mixed thoroughly.
This is their special rāmen, which has a flavorful chicken broth and springy noodles.
If you want to add a kick of spice to your food, hot red pepper seasoning is in the red pot.
If you prefer fresh garlic, it's in the blue pot.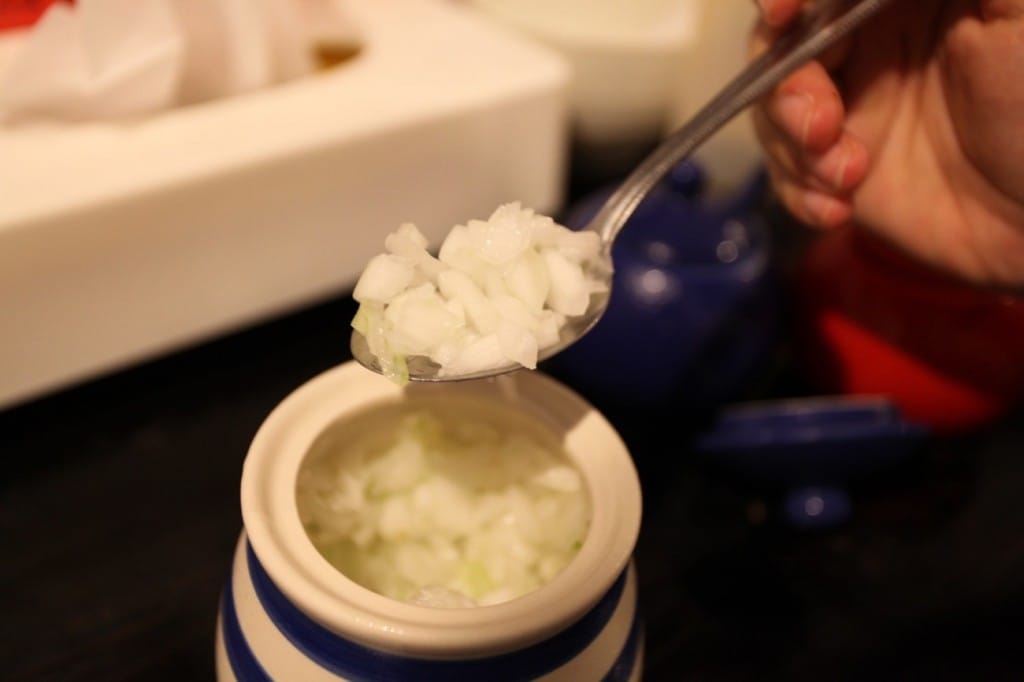 And in the blue and white striped pot, you will find chopped fresh spring onion which adds extra excitement to the maze soba.
In Closing
Doesn't halal rāmen sound great? Though there aren't that many halal-certified restaurants in Tokyo yet, Naritaya stands out as one of the best. If you'd like to try some authentic Japanese dishes without fear, please come to Naritaya in Asakusa.
Information
Naritaya

Address: Tokyo, Taitō, Asakusa 2-7-13
Hours: Mon–Fri 11:00–22:00, Sat/Sun 8:00–20:00
Closed: -
Nearest Station: Asakusa Station (浅草駅), Tsukuba Express Line
Access: 10 minute walk from Asakusa station
Pricing: 200 yen and up
Tel: +81(0)3-4285-9806

The information presented in this article is based on the time it was written. Note that there may be changes in the merchandise, services, and prices that have occurred after this article was published. Please contact the facility or facilities in this article directly before visiting.