Osaka: The Rapidly Rising Level in Ramen Shops
Lately, high quality ramen shops have rapidly opened in Osaka.
There are so many shops that serve ramen you wouldn't see in Tokyo that you'll probably be conflicted on which shop to go to. Therefore, our writer, a ramen super enthusiast who has eaten over 5000 ramen bowls in total and about 900 bowls of ramen each year, will introduce truly delicious ramen shops selected from those he has tried himself in Osaka.
1. Kadoya Shokudo Main Store (Nishi-Nagahori): The Absolute King of the Osaka Ramen World
If you're going to be eating ramen in Osaka, then Kadoya Shokudo is a super famous ramen shop that you definitely don't want to leave out of your list. Our writer recommends the Wonton Men, pictured in the photo above (1130 yen plus tax), out of the several types of ramen available at the shop. Although it's a very simple shoyu (soy sauce) ramen, all things considered, it's immensely delicious.
This dish is handmade using carefully selected ingredients for its noodles, soup, and toppings, and is a model example of ramen. While the price is slightly on the expensive side, it is worth more than its price. The shio (salt) ramen and tsukemen (cold noodles with soup for dipping) are also hard contenders; this is a shop that our writer has to stop by nearly each time he visits Osaka.
The shop's approach in continuing to improve, even till this day, through developing new kinds of ramen to keep in step with the times naturally makes it appropriate to call it the king of the Osaka ramen world. The shop is crowded during the day time, so we recommend visiting at a slightly later time.

2. Ramen Jinsei JET (Fukushima): A Favorite Among Ramen Competitors
The ramen shop that our writer loves the most, located in the fiercely competitive ramen ward of Fukushima in Osaka, is Ramen Jinsei JET. Our writer personally recommends the Chicken Simmered Noodles pictured in the photo above (with added Berkshire pork char siu at 1130 yen plus tax) out of an extremely abundant menu from light ramen to rich tsukemen.
The chicken simmered (*1) soup, which has eliminated its oiliness while still being rich, is, to put it simply, nothing less than a masterpiece. It has great compatibility with the shop's homemade noodles and your chopsticks just won't stop. The Berkshire pork char siu that our writer had as an additional topping is another wonderful dish that is worth more than its price of 350 yen for four slices, so we definitely want you to try this dish.
The tsukemen, a dish through which you can fully enjoy the deliciousness of the homemade noodles, has its own charms as well. However, this rich tsukemen is often sold out by later in the evening, so it would be best to visit early if you aim to order this dish.
*1 Tori-paitan (chicken simmered): a soup of chicken simmered for a long period of time and made into a thick consistency. It looks similar to tonkotsu (pork bone-based soup) but will vary in appearance.

3. Ryukishin RIZE Osaka Namba (Namba): The Leading Figure in the Osaka Ramen World
Here is Namba Ryukishin RIZE, a famous ramen shop that is also said to have a leading figure-like existence in the Osaka ramen world. The main shop is located in Sakai, Osaka and is originally famous for its light shio (salt) ramen. However, a richer chicken simmered ramen is available at the Namba location where the Chicken Simmered Shio Noodles (830 yen plus tax) is served.
Despite being a thick, rich soup that is more along the lines of stew or potage, there is no odor from the chicken nor any oiliness. Furthermore, the plating is extremely beautiful while the shop interior gives off a stylish atmosphere despite being small, resulting in the shop being frequented by fashionable customers. They also have thorough hospitality, making it a very comforting place.
Ryukishin also has a branch at the Kansai International Airport and we recommend it as ramen you can easily eat before you leave the country. However, please understand that the Kansai Airport branch only serves light-flavored ramen.

4. Menya Fukuhara (Imazato): Exquisite, High Quality Free Range Chicken Soup
A ramen shop that is particularly popular and is gaining momentum lately in Osaka is Menya Fukuhara. Its signature menu item is the Mellow Chicken Noodles Shio (priced at 980 yen plus tax with an added marinated soft-boiled egg and char siu as pictured in the photo).
Expensive free range chicken is used liberally in the soup, giving it a solid flavor that you couldn't begin to imagine from its transparent appearance; in any case, it's too delicious. It isn't an exaggeration to say that this is the current number one shio ramen in Osaka. Everything from its toppings, like its beautiful low-cooked char siu, down to its plating is perfect.
It's a slight distance away from central Osaka, but it will be worth going all the way to visit if you love ramen. The line was incredible when the shop first opened but has since calmed down and should now be easy to visit.

5. Menya Takei Hankyu Umeda (in Hankyu Umeda Station): Osaka's #1 Thick Tsukemen
If you start to want to eat tsukemen in Osaka, then we definitely recommend this location. The tsukemen (regular) in the photo is immensely delicious (880 yen plus tax) while combining a standard, rich tonkotsu gyokai (*2) soup together with thick noodles. Although shops with similar types of tsukemen have multiplied in Osaka, this shop is special.
Along with the splendidness of the tsukemen, other parts of the experience, such as staff that never fail to be meticulously attentive even during busy hours, are also perfect. There is always a line outside the door, but that is also expected. Even if you do have to line up for a little while, our writer asserts that this is a tsukemen that is more than worth the wait to eat. Most customers will order the tsukemen, but their light ramen are also great.
This shop is located in Hankyu Umeda Station next to Osaka Station, so its ease of access is also outstanding. However, you will need to pay a 150 yen admission ticket if you aren't using the Hankyu Line due to being in a station.
*2 Tonkotsu Gyokai: seafood soup and powders such as katsuobushi (dried bonito flakes) added to a rich pork bone broth. It is a common type of soup for Japanese tsukemen.

6. Moeyo Mensuke (Fukushima): Perfect in Flavor and Appearance
A ramen shop that is recently rising up in Fukushima, the competitive area for Osaka ramen, is Moeyo Mensuke. There are two types of ramen, duck and shellfish, that are part of their standard menu and our writer personally recommends the Deluxe Gold Shellfish Noodles (990 yen plus tax). The abundant amount of low-cooked char siu is beautiful in appearance while being impactful at the same time.
Despite being lightly seasoned, the soup, from which you can strongly taste the flavor of the shellfish, is amazing. It's so delicious to the point that you'll want to ask for seconds immediately after you finish a bowl. Although there are plenty of ramen shops in Osaka that use shellfish as an ingredient, our writer personally ranks Moeyo Mensuke as his number one shellfish ramen.
The lines may be the only downside to the shop, but the rotation of customers is relatively on the fast side and the time you'll actually be waiting won't be that long. The fact that this is a ramen worth waiting a little to eat is guaranteed by our writer.

7. Resshishoyu Menkobo Sanku (Fukushima): Delicious Sardine-Flavored Soup
Resshishoyu Menkobo Sanku is a popular ramen shop famous for their niboshi (3) ramen in the competitive ramen ward of Fukushima, Osaka. Although their menu can briefly be summed up by saying they serve niboshi ramen, there is quite an abundant variety of niboshi ramen. To begin, you must definitely try the Kake Ramen (800 yen plus tax). The dried sardine placed right in the middle of the dish is a characteristic visual of the shop.
The soup, with flavors drawn out over a long period of time while suppressing the bitterness of the sardines, is simply a masterpiece. It is easy to drink like a suimono (*4) and yet is made to have a solid ramen soup-like flavor. Despite niboshi ramen shops popping up in the multiples in Osaka, this restaurant is top class without a doubt.
The restaurant is quite crowded during lunch peak hours, so it would be best to visit slightly before or after those hours if possible. Personally, our writer suggests aiming for late at night.
*3 Niboshi: small fish (sardines) that have been simmered and dried.
*4 Suimono (clear broth): a soup flavored with salt and soy sauce in dashi (soup stock) and enjoyed together with ingredients such as seafood and vegetables.

8. Muteppo Osaka (Imamiya Ebisu): Osaka's Leading Super Rich Tonkotsu Ramen
If you'll be eating rich tonkotsu (pork bone) ramen in Osaka, then we highly recommend Muteppo. The thick soup, made by boiling a large quantity of pork bones over a long period on high heat, is absolutely something you can't taste anywhere else. Even if you love rich ramens, you'll be surprised at the strong impact the soup has when eating Muteppo's ramen for the first time (with added char siu in the photo, 950 yen plus tax).
However, it doesn't appear heavy as the ingredients of the soup only consists of pork bones without the use of pork back fat. It's said that pork fat comes from the collagen that has dissolved from the bone marrow and is actually good for the body. However, if you want a richer flavor, you can request the staff to add in pork fat like in the photo above so please try it.
Light shoyu ramen is also served at Muteppo for those that can't eat rich ramen. Our writer also recommends the gyoza (pot stickers) on their side menu; it would be great to have together with beer as a light drink before your ramen.

9. Menya Joroku (Namba): Namba's Best Long-Line Ramen
Menya Joroku is a famous top class ramen shop in Osaka located in the busy district of Namba. The shop's signature menu is the Chinese Noodles made in the image of local East Osaka ramen (with added meat in the photo, 800 yen plus tax). Its great value at 800 yen, even with added meat, is something we're very grateful for.
Nevertheless, it's not only cheap, but it also has an exceptionally wonderful flavor. Contrary to its appearance, it's not salty at all and has a surprisingly light flavor that feels slightly sweet and sour in taste. The taste of the homemade straight noodles together with the soup is smooth and truly delicious. The fact that a line is always outside the door is natural.
By the way, a type of mackerel sushi called hayazushi made in the manner of the Wakayama ramen culture, the owner's hometown, is also served at Menya Joroku. It's apparently typical in Wakayama to eat this sushi together wit ramen, so definitely please try ordering it if you have room to eat.

10. Ramen Kasumi Awaza (Awaza): Osaka's Famous Hole-in-the-Wall Shop
Ramen Kasumi Awaza is a ramen shop our writer particularly recommends in western Osaka. Niboshi Ramen, as pictured with thick noodles in a sardine-flavored soup with pork fat, is the star dish of this shop (750 yen plus tax).
The soup, which has a flavorful and elegant taste with no hint of bitterness from the sardines, is something that you can probably gulp down as much as you want. Although pork fat has been added as such to the soup, it doesn't taste heavy. The compatibility it has with its thick noodles is outstanding and its plating is also beautiful while being simple.
Aside from the ramen, the Niboshi Mixed Noodles (800 yen plus tax) is prominently flavored with sardine oils and is also a great dish. Despite having such wonderful ramen, it doesn't appear to get extremely crowded that often and is a ramen shop that can be said to have a wall-in-the-hole shop-like existence in Osaka.

11. Fusuma ni Kakero Nakazaki Iccho (Nakasakicho): Osaka's Best Unique Shop
Fusuma ni Kakero Nakazaki Iccho first opened for ramen enthusiasts but has now become a popular ramen shop said to represent Osaka. Its standard menu consists of two types of ramen consisting of either shoyu or shio ramen. Our writer personally recommends the Shio Ramen (750 yen plus tax) as pictured above.
The soup is filled with a shellfish flavor and is a unique dish with a flavor that is difficult to put into words. It has a strong seafood-like flavor while at the same time being an elegant dish. However, there is no doubt that it is delicious as it has outstanding compatibility with smooth noodles made by a famous noodle factory in Kyoto. An even deeper flavor will emerge when adding in shrimp oil, found on the table, midway through your meal, so please try it out.
The time limited ramens periodically served at Fusama ni Kakero Nakazaki Iccho also have a reputation. They serve many ramen dishes unique to the season made mainly using seasonal ingredients, which has resulted in several firmly rooted fans of the dishes.

12. Teuchimen Yasuda (Shin-Osaka): Rare Handmade Ramen in Osaka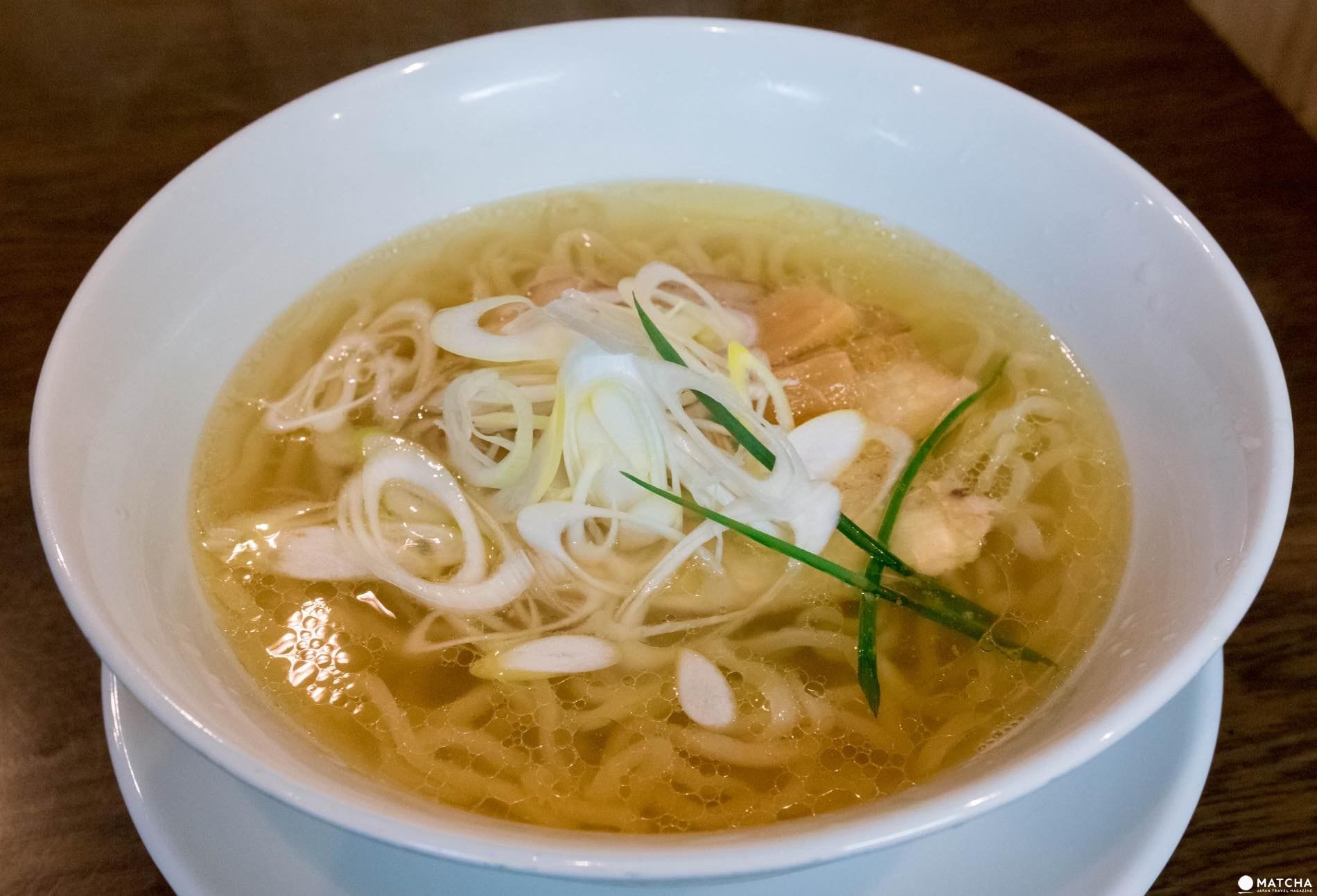 Teuchimen Yasuda is an extremely popular ramen shop that stands out for its handmade noodles as few shops make their noodles themselves in Osaka. Their ramen is available in two flavors, shio and shoyu, but you should definitely try the Handmade Ramen Shio in the photo above if it's your first visit (700 yen plus tax). The soup has a niboshi dashi base with a gentle flavor that would also be useable with udon after removing the oils.
Their handmade noodles, the pride of Teuchimen Yasuda, are delicious just by themselves and have an impressively great smoothness to them. The ramen here, always completely boiled to its best state by the shop owner before being served to you, is something we want you to carefully taste.
The access to the shop is very convenient as it's located near Shin-Osaka Station which is a stop on the bullet train. Please feel free to visit before or after traveling on the bullet train. If you're not full with just ramen, then we recommend adding on dishes from the side menu.

13. Shio-Gensui Nishi-Nakajima (South Nishi-Nakajima): Gentle on the Body Ramen
A popular ramen shop in central Osaka where you can taste a ramen gentle to the body, that is also both MSG and additive free, is Shio-Gensui. Their most reputed dish is the Natural Shio Ramen. It has a wonderfully strong and deep flavor while also being reasonably light enough for you to drink up the soup (700 yen plus tax).
Shio-Gensui is particular about using safe and trusted ingredients to make this ramen and all of their dishes, including their side menu, are homemade. It's surprising as even the mayonnaise used in the side menu is homemade as well.
Shio-Gensui normally has long business hours with no breaks, making it a great place to freely visit whenever you want from lunchtime to when you're having a final meal after drinking. Our writer personally recommends the gyoza and fried rice, so definitely please try them.

14. Chuka Soba Kazura (Honmachi): Osaka's Best in Value
Chuka Soba Kazura is a super popular ramen shop reputed in Osaka for being cheap and delicious. There are normally three kinds of ramen available. If it's your first time, then we definitely recommend the Dashi Soba in the photo above (with an added marinated half soft-boiled egg and char siu, 700 yen plus tax).
A chicken simmered soup and soy dipping sauce has been mixed together, resulting in a frothy finish as seen in the photo above. Just like it's appearance, it has a mild and creamy taste despite being quite concentrated. With the soft-boiled egg, char siu, its great flavor, and even it's beautiful appearance, you'll end up wondering if it's okay for them to only be charging 700 yen.
The side menu at Chuka Soba Kazura also has quite the reputation and the Roast Pork Rice Bowl, made with the owner's experience in French cuisine, is exquisite. The amount of ramen served may seem like it's on the smaller side, so please try ordering it together with your ramen if you're especially hungry.

15. Menya Saisai Showacho (Showacho): A Full, Completely Delicious Menu
Menya Saisai Showacho is a popular ramen shop relatively near Abeno Harukas, Japan's tallest building, in southern Osaka. What our writer personally wishes to recommend out of over ten kinds of dishes is the Karashi Miso Aemen (Mustard Miso Noodle Salad) (*5) pictured above (880 yen plus tax).
Miso that is homemade with the owner's family recipe is used in the dish, making it an addictive, unspeakably unique flavor that even Japanese people have rarely eaten before. This is a dish that you definitely won't find at any other ramen shop and the combination of its great flavor and individuality is magnificent. The amount of noodles given may not be much, the dish is full of vegetables which makes it more than filling.
It isn't unusual for there to be a line of above 20–30 people right after they open on a Saturday or Sunday, but when you consider their meticulous hospitality along with the flavor of their ramen, then you'll think it's natural for there to be a line. It's a bit of a distance from central Osaka but is a location we definitely want you to try.
*5 Aemen: a type of ramen that you eat together with a small amount of dressing in place of soup.

Eat Up the Ramen of Osaka!
There are various types of ramen even in Osaka, but we hope that you now have a better understanding of the dish. If you'll be doing an eating tour in Osaka, how about including ramen into that list as well?

Definitely please use this article as reference and find a ramen that fits your preferences in Osaka.

The information presented in this article is based on the time it was written. Note that there may be changes in the merchandise, services, and prices that have occurred after this article was published. Please contact the facility or facilities in this article directly before visiting.