15 Kyoto Ramen Shops Recommend By A Ramen Enthusiast!
Kyoto: A Treasure Trove of Exquisite Ramen
Kyoto is where famous Buddhist temples and Shinto shrines are gathered. There are likely many people that don't think of ramen when they think of Kyoto, but there are actually several shops where you can delicious ramen.
In Kyoto, especially as of late, new ramen shops have been opening one after another -
to the point that you'll have trouble deciding on where to eat. Therefore, our writer, a ramen super enthusiast who has eaten over 5000 ramen bowls in total and about 900 bowls of ramen each year, will introduce truly delicious ramen shops selected from those he has tried himself in Kyoto.
1. Ginjo Ramen Kubota (Gojo): Popular for Their Unique Miso Tsukemen
A super popular ramen shop in Gojo near Kyoto Station is Ginjo Ramen Kubota. What our writer definitely hopes you try is the Ginjo Tsukemen Miso in the photo above, a dish that many customers order (pictured is the regular size at 870 yen plus tax).
Spices and chili oil are added to fish meal, which are then added to this rich soup flavored with miso sauce that is made to stimulate your appetite. The tsukemen (cold noodles with soup for dipping) has a unique type of flavor we haven't quite seen before and is both delicious and wonderfully original. We have no complaints on the compatibility of the soup with thick noodles.
Ginjo Ramen Kubota is also easy to access from Kyoto Station and is constantly visited by many overseas tourists. Time limited ramens are also actively offered at the shop, so it would be great to eat and compare various dishes when visiting with several people.

2. Menya Gokkei (Ichijoji): Unique, Rich Chicken Simmered Ramen
It isn't an exaggeration to say that the most popular and famous ramen shop in the highly competitive ramen ward of Ichijoji, Kyoto is Menya Gokkei. They serve a unique, rich ramen made with chicken; our writer recommends the Niwatori Daku pictured in the photo if it's your first visit (750 yen plus tax).
The soup not only uses chicken bones, but also a large amount of chicken meat and is characterized by a surprisingly thick and rich finish. However, it is by no means heavy and creates an original ramen that you absolutely won't be able to taste anywhere else.
This is a restaurant that you'll definitely want to visit without limiting yourself to the genres of ramen when you come to Kyoto and is one that our writer can confidently recommend. However, peak hours go by a numbered ticketing system, perhaps due to the extremely long lines. Nevertheless, the rotation of customers is fast, so your waiting time will end faster than you expect.

3. Tsukemen Enaku (Ichijoji): You Can't Miss It When It Comes to Kyoto Tsukemen
Tsukemen Enaku is a popular ramen shop that has gained a reputation for their tsukemen in the highly competitive ramen ward of Ichijoji, Kyoto. Aside from the typical tsukemen, it also comes in spicy and curry flavors for a total of three types of tsukemen. Out of these three, our writer wants you to try the standard tsukemen first (780 yen plus tax).
The tonkotsu gyokai soup (*1) is, though a staple part of tsukemen, in any case delicious. It wouldn't even be an exaggeration to say that this is at a level competing for first or second place among the tsukemen in Kyoto. Its compatibility with the filling and thick noodles is outstanding and the fact that the small, regular, and medium sizes are all the same price is a pro.
There is also a menu called Half & Half where you can choose two out of the three types of tsukemen mentioned above that is limited to the evenings. If you'll be visiting in the evening, it would be interesting to eat and compare the two dishes. Soup wari (*2) would be great to end your meal, but our writer personally recommends throwing some rice inside instead.
*1 Tonkotsu Gyokai Soup: seafood soup and powders such as katsuobushi (dried bonito flakes) that are added to a pork bone broth.
*2 Soup Wari: a separate soup is poured into the remaining tsukemen soup to dilute it so that it's easy to drink while at the same time enjoying the change in flavor.

4. Ramen Toritani (Saiin): Both Delicious and Gentle on the Body
In today's Kyoto, Ramen Toritani is a ramen shop that our writer personally highly recommends. With chicken as the main ingredient, the shop serves an extensive range of ramen from the light to the rich. Our writer recommends the Aged Chicken Soba (with added char siu in the photo for 900 yen plus tax).
It has a moderate richness and depth that is outstandingly delicious. Furthermore, we're happy to note that it is MSG and additive-free, making the ramen gentle on the body. When you add meat for an extra 150 yen, you'll be given a surprisingly large amount like in the photo above. If you're hungry, then we definitely recommend adding in extra meat.
A portion of the ramen served at the shop appear to change depending on their inventory, so that is also another charm of Ramen Toritani. These dishes can be enjoyed without you growing sick of it no matter how many times you visit, so our writer almost always stops by this shop when he's in Kyoto.

5. Ramen Tohichi (Kitaoji): Worth Lining Up for Despite an Inconvenient Location
A popular ramen shop evaluated to be top class in modern Kyoto is Ramen Tohichi. Their most reputed dish is the Chicken Shoyu Ramen in the photo above and, though it may be a simple shoyu (soy sauce) ramen, it is outrageously delicious (850 yen plus tax).
Homemade noodles, made using domestically produced wheat, added to a soup that combines the fragrance of soy sauce with the flavor of chicken raises its level one by one, giving it a perfect balance. Aside from shoyu ramen, there is also tori-paitan (*3) ramen and tsukemen. Our writer personally recommends the tsukemen.
The shop's only downside is its poor access, as even the nearest station, Kitaoji Station, is quite the walk, so it would be best to travel by bus or car. However, though it's true that a line is always formed at this kind of location, that can also be said to be proof of the delicious taste of Ramen Tohichi's ramen.
*3 Tori-paitan: a soup of chicken simmered on high heat and made into a thick consistency. It looks similar to the soup in tonkotsu (pork bone) ramen.

6. Ramen Tsurumusha (Saiin): A Gently Flavored Simmered Chicken Soup
Ramen Tsurumusha is a ramen shop in western Kyoto that has been loved by our writer since long ago. Our writer loves the tsukemen here (with added char siu in the photo for 1080 yen plus tax).
The soup, with added seafood in a chicken simmered stock, is mild for a tsukemen soup. Due to its gentle flavor, you may feel that it's unsatisfactory at first, but you will come to appreciate it as you eat it. Both the homemade noodles and the vivid, low-cooked char siu are wonderfully delicious.
Although there are no Kyoto-like sightseeing spots in the area of the shop, this is a place worth going out of your way to visit if you love ramen. The Ramen with Freshly Made Char Siu, served only on Tuesday and Saturday evenings, is also a masterpiece, so you definitely should try it if you happen to be in Kyoto on either of these days.

7. Menya Sanda (Saiin): Kyoto's Best Thick Tsukemen
Kyoto may have a strong Japanese food image, but somehow the city has several ramens that tend to be on the heavy side. Among these rich Kyoto ramens come Menya Sanda that has recently been highly recommended by our writer. The standard menu consists of only chicken simmered ramen and tsukemen. You should definitely try the tsukemen as pictured above first (with added char siu for 1100 yen plus tax)
Despite being a super heavy chicken soup, there is no oiliness to it and is unexpectedly easy to eat. It's truly delicious. It has such a great flavor that you really won't be able to believe that there is no MSG. Just by how much is spent on the cost price alone conveys how carefully this dish is made. The homemade noodles, made with 100% domestically produced wheat, has a presence that won't lose to the dense soup and is great in flavor.
Even in Kyoto, where rich ramen is aplenty, it's rare to have a dish this rich; you'll definitely want to try it if you love rich foods. Aside from the standard menu, the shop will also sometimes serve limited ramens, so there is nothing but dishes that you can't miss out on.

8. Seabura no Kami Mibu (Shijo-Omiya): Excellent and Refined Seabura Niboshi Ramen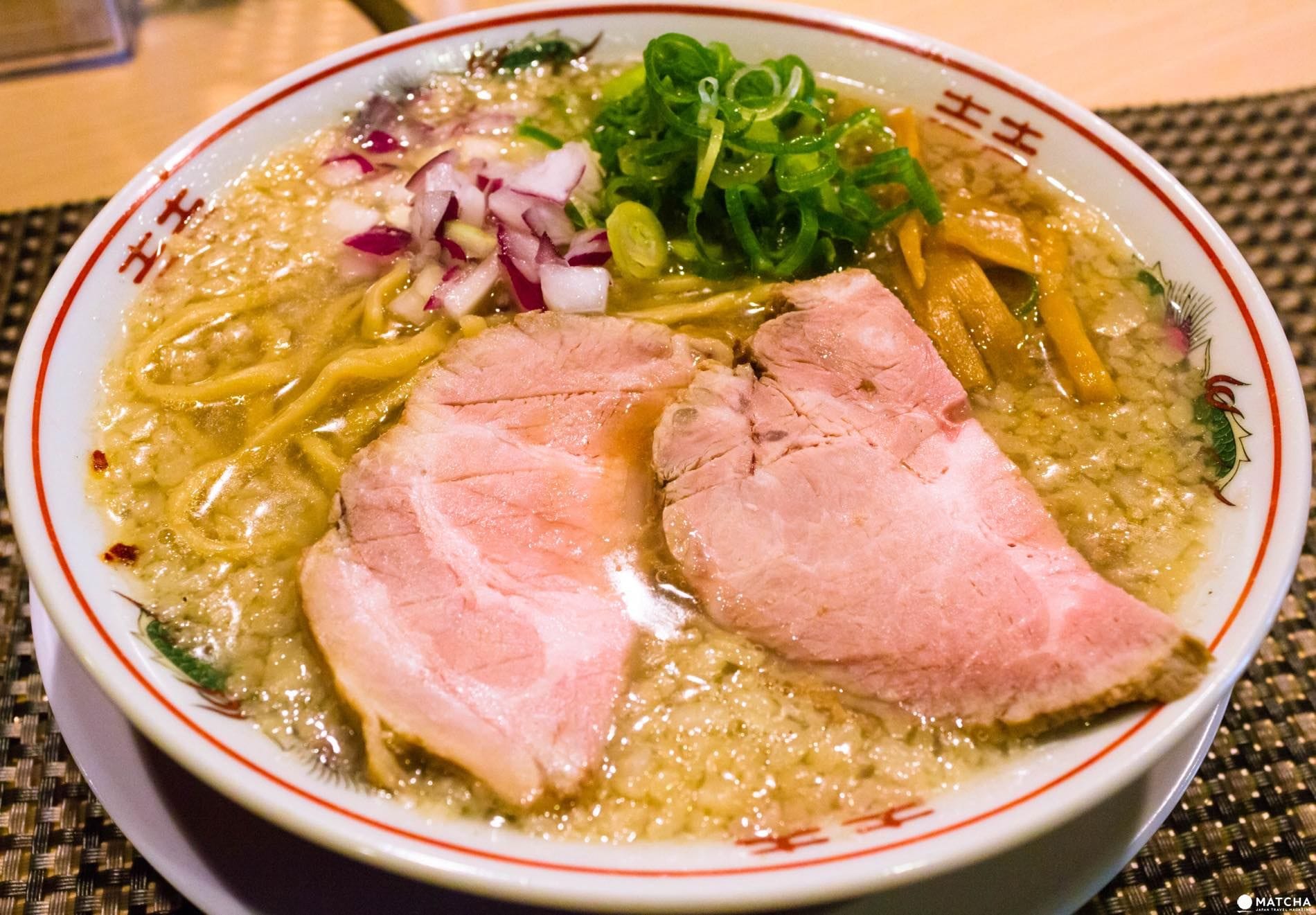 Seabura no Kami Mibu is a shop that boasts top class popularity among ramen shops that use niboshi (*4) as an ingredient, something that is still rare in Kyoto. Their star dish is the Seabura Niboshi Soba pictured in the photo (750 yen plus tax).
With seabura (*5) floating aplenty in the dish, it may seem like a ramen that at first appears oily, but it's actually not like that at all. Perhaps it's due to the abundantly niboshi-flavored soup and the high quality pork fat as the ramen is surprisingly light and easy to eat.
Our writer recommends ordering your ramen as a set with a dish from the side menu, which has several kinds of foods like karaage (deep-fried foods) and rice dishes, due to its great value. Time limited ramens are also actively served at the shop, resulting in several firmly rooted fans of the dishes.
*4 Niboshi: small fish (sardines) boiled with salt, then dried.
*5 Seabura: the fat from a pork's back.

9. Janomeya (Kawaramachi): A Fashionable Shop in the Shopping District
A popular ramen shop in Kawaramachi, Kyoto's best shopping district, is Janomeya. There are two types of ramen available – ramen made using niboshi or chicken simmered ramen – and our writer hopes that you try the Chicken Niboshi Soba first as pictured above (800 yen plus tax). Its beautiful arrangement is very impressive.
It gives the impression of being a ramen made making the best of its quality ingredients, especially the fragrance from the soy sauce, with a truly delicious soup that is mild and easy to drink. This is a dish, out of all the ramen in Kyoto introduced in this article, that our writer can particularly recommend to anyone with ease.
Janomeya also has a complete side menu outside of its ramen; our writer recommends the value set with rice dishes or karaage. The shop also has a fashionable interior, much like modern ramen shops, that is very approachable. We're certain that it'll become even more popular in Kyoto in the future.

10. Kyoto Gogyo (Shijo-Karasuma): Excellent Kogashi Ramen You Won't Find Anywhere Else
Kyoto Gogyo, a branch brand of Ippudo, a popular ramen shops that is branching out overseas, is located in central Kyoto. The shop serves creative charred ramens that you won't find anywhere else in Kyoto. Our writer recommends the Special Kogashi Miso Noodles pictured in the photo (1290 yen plus tax).
This dish is completely different from the usual miso ramen due to the charring of the miso in lard heated over high heat, creating a flavor that has a unique depth to it. On the other hand, it doesn't have any bitterness and the charred parts of the dish have a truly exquisite flavor that is wonderful. The price is on the slightly higher side, but this is a ramen that is well worth its price.
Kyoto Gogyo operates as a ramen dining restaurant and also serves an abundance of a la carte dishes along with alcoholic beverages. There are also several Kyoto-like Japanese dishes along with seasonally limited ramens. The interior is extremely fashionable and has a comforting appearance, which makes it possible to enjoy your meal at your own pace.

11. Tenkaippin Main Store (Chayama): The Headquarters of a Popular Ramen Chain
The headquarters of Tenkaippin, a popular ramen shop that has opened shops all across Japan, is located here in Kyoto. There is a wide variety of ramen available, including those that can only be found at the main shop, but please try the Kotteri first (700 yen plus tax). It can definitely be considered the synonym for Tenkaippin.
The soup, which consists of a large amount of chicken and vegetables cooked over a long period of time, is a mystery as it doesn't feel that heavy despite being surprisingly rich. There are ramen enthusiasts that are gathered not only in Kyoto, but all across Japan that seek this original Tenkaippin ramen.
The side menu is abundant with dishes such as karaage and fried rice; it would also be a great bargain to order a dish as a set with your ramen. Peak hours, like in the afternoon, are crowded, as is expected from the main location of a popular ramen shop, so we recommend visiting slightly before or after these hours.

12. Yamazaki Menjiro (Enmachi): Really Delicious Homemade Noodles
Among the shops that serve light ramen that have been increasing in Kyoto as of late, our writer highly recommends Yamazaki Menjiro. His personal favorite out of the three types available – shoyu (soy sauce) ramen, shio (salt) ramen, and tsukemen – is the tsukemen pictured above (with an added soy-marinated soft-boiled egg for 800 yen plus tax in the photo).
The springy textured homemade noodles are, first of all, outstandingly delicious while the light soy sauce flavor in the soup further enhances its quality. The serving is larger than the usual ramen serving, but with these noodles you could probably eat any amount. If you're hungry, then we definitely recommend ordering the large serving.
Lunch hours are quite crowded, so it would be best to aim for right after the shop opens or at a slightly late hour. However, there are times in the evenings when the shop will close early after selling out, so it's safer to avoid closing time.

13. Kobushi Ramen (Tanbaguchi): A Uniqueness Not Found Anywhere Else in Kyoto
Kobushi Ramen is a popular ramen shop that has a feature that can't be found anywhere else in Kyoto – the use of fresh fish stock and shiogama (*6) char siu. Out of an abundant menu, please try the Kobushi Ramen No first as pictured above (750 yen plus tax).
Perhaps due to the use of fresh fish, the ramen happens to be made to go well with chicken and be easy to eat despite being a slightly peculiar take on the dish. It has a bit of character, but never feels too strong in its quirkiness. It's a type of ramen that originated in Kyoto that you won't find anywhere in Tokyo.
The time limited ramen menu is actively being developed at Kobushi Ramen where they serve somewhat different ramens almost each week. There are also several fans of these types of limited ramens, so it is truly an interesting shop that you can enjoy no matter how many times you visit.
*6 Shiogama: a type of cuisine where fish or meat is covered in a large amount of salt that is then baked in a covered pan.

14. Shinpuku Saikan Main Shop (Kyoto Station): An Established Shop That Represents Kyoto
Shinpuku Saikan Main Shop is an established ramen shop that represents Kyoto and is located near Kyoto Station. The shop will celebrate its 80th anniversary in 2018. There is only one type of ramen available, so please try the Chinese Noodles pictured above (700 yen plus tax).
It may appear like a ramen that feels like it would have a heavy taste, but it's actually not like that at all; you'll be surprised at the difference in image as it has a gentle flavor. Customers will be happy about the fact that there is plenty of char siu even in the normal size; our writer recommends adding in more meat for an extra 200 yen.
The Fried Rice on the side menu is also a specialty of Shinpuku Saikan and several customers order the dish together with their ramen. The shop is always crowded with people, both locals and tourists, but if you wish to avoid the crowd, it would be best to visit ahead of time in the morning.

15. Honke Daiichi Asahi Takabashi Main Shop (Kyoto Station): Great Transparent Tonkotsu Soup
Honke Daiichi Asahi Takabashi Main Shop is similar to the above-mentioned Shinpuku Saikan and is an established ramen shop that represents Kyoto. Only one type of ramen is served at this shop as well. The photo features the Deluxe Ramen with added char siu (850 yen plus tax).
Although the soup has a tonkotsu (pork bone) base, it is different from other cloudy tonkotsu ramen and is characterized by a transparent appearance. Despite that fact, it has a solid robust flavor and is truly delicious. It has great compatibility with its Kujo scallion toppings. The fact that they will give you extra scallions for free when asked is something we appreciate.
The shop opens extremely early at five in the morning. It's a great place where you can freely eat ramen either when you arrive at Kyoto Station in the early mornings or before you travel out of the station. In that respect, we also recommend visiting at an early time as well as the shop will rapidly become crowded once it becomes the peak lunch hours.

Enjoy the Ramen of Kyoto!
We hope that you now have an understanding of the several types of ramen shops in Kyoto. If you'll be going to Kyoto, definitely please consider including a ramen tour during your trip.

You'll surely find a spot that introduces you to the new charms of this ancient city.

The information presented in this article is based on the time it was written. Note that there may be changes in the merchandise, services, and prices that have occurred after this article was published. Please contact the facility or facilities in this article directly before visiting.