20 Must-Try Ramen Shops Near Tokyo Station And Nihonbashi - Chosen By An Expert
Tokyo Station and Nihonbashi – A Ramen Lover's Paradise
The Tokyo Station and Nihonbashi area, also referred to as the center of Tokyo, is filled with businessmen passing by during the weekdays and tourists on the weekends. In this area, you'll find countless ramen restaurants, from the long-established to new shops, as this is a very competitive area for ramen.
As there are so many ramen shops in the area, it is easy to not know where to go. The writer of this article is an avid ramen enthusiast that has enjoyed over 5,000 bowls of ramen and eats around 900 bowls each year. He will introduce his favorite restaurants out of the ones he has been to himself.
1. Soranoiro NIPPON (Tokyo Station) – An Extensive Menu with Vegan Options
Soranoiro NIPPON is a popular ramen shop on Tokyo Ramen Street with an extensive menu. Customers can choose from a variety of noodles, ranging from shoyu (soy sauce-based) ramen to vegan ramen, which is rarely found at restaurants. Tokyo Ramen Street is an area with many ramen shops inside Tokyo Station on the B1F by the Yaesu South Entrance. A recommended menu item of this shop is the Petal Char Siu Men (1,100 yen with tax; pictured above), shoyu ramen topped with a considerable amount of char siu.
The soup is made from a pork and chicken base and extra flavors from seafood. This ramen is seasoned with a soy-based sauce, giving the dish a deeper flavor than typically light shoyu ramen. The many slices of char siu is an amazing item that has an impressive aroma; it's an excellent deal at 1,100 yen.
The Vegan Veggie Soba, filled with vegetables, is a satisfying choice available for vegans.
Morning hours begin at 8:30 at Soranoiro NIPPON, which offers a refreshing ramen for breakfast. Tokyo Station is a major station connected to the Shinkansen and many train lines, so be sure to try to try Soranoiro NIPPON when you have the opportunity.

2. Ramen GYOKU (Tokyo Station) – Niboshi Ramen Specialists
Ramen GYOKU is a famous ramen restaurant in Japan. It is headquartered in Kanagawa Prefecture, next door to Tokyo, and has also expanded to Tokyo Ramen Street in Tokyo Station. All of their ramen is made with niboshi (dried sardines). Our writer's recommendation is the Tokyo Station-limited Outstanding Niboshi Ramen (1,000 yen with tax).
The soup has a strong niboshi flavor despite it being translucent. Even the writer was a bit surprised at his first bite. The soup goes well with the firmness of the noodles, making it truly amazing ramen despite its simple recipe. This ramen isn't recommended to those that don't enjoy seafood ramen, but you should try it if you like seafood flavors.
Our writer also recommends the Melting Katsuobushi Rice, made with katsuobushi (dried bonito flakes) shaved in-house. Try ordering it together with your ramen if you are craving something to go with your ramen.

3. Rokurinsha (Tokyo Station) – A Well-Known Tokyo Tsukemen Shop
Rokurinsha is a famous tsukemen (soupless ramen) restaurant, known throughout Japan. One of this chain's restaurants is on Tokyo Ramen Street. They also serve classic ramen, but most customers order the Tsukemen (pictured above is the Deluxe Tsukemen with an added soy-marinated soft boiled egg; 1,060 yen with tax).
Tsukemen in Japan now typically has seafood flavors incorporated into the rich tonkotsu (pork bone) dipping broth. Rokurinsha was one of the main restaurants that popularized this ramen style in Japan. The thick noodles and soup taste delicious together, making this a dish irresistible to tsukemen fans. When you add shredded pork (180 yen with tax) as a topping, the noodles and soup will meld even more together. We recommend you do so (it is included as a topping in the deluxe).
As Tokyo Station is always filled with people, the shop opens at 7:30. A light version of the tsukemen with slightly less noodles is served in the mornings. It's a great breakfast, so be sure to stop by if you'll be using Tokyo Station to travel somewhere.

4. Hirugao Tokyo Station – Flavorful Shio Ramen
If you want to eat shio (salt) ramen in the Tokyo Station area, then you should visit Hirugao Tokyo Station on Tokyo Ramen Street. The most popular menu item is the Shio Ramen Hirugao Mori pictured with additional toppings (1,080 yen with tax).
The transparent soup contains scallops and various shellfish, creating a very savory flavor. Shio ramen is known for being light, but this soup has a relatively strong flavor. It is easy to eat and has a refined taste, showing the care the owner puts into the dishes here.
Our writer recommends the Hirugao Mori pictured above, that come with a soy-marinated, soft boiled egg. These eggs are common at ramen restaurants and are often made with a soy-based sauce. However, the ones here are seasoned with salt to better compliment the ramen. It has a simple but delicious taste, different from the typical soy sauce flavor.

5. Oreshiki Jun (Tokyo Station) – Tonkotsu Ramen Enjoyable for All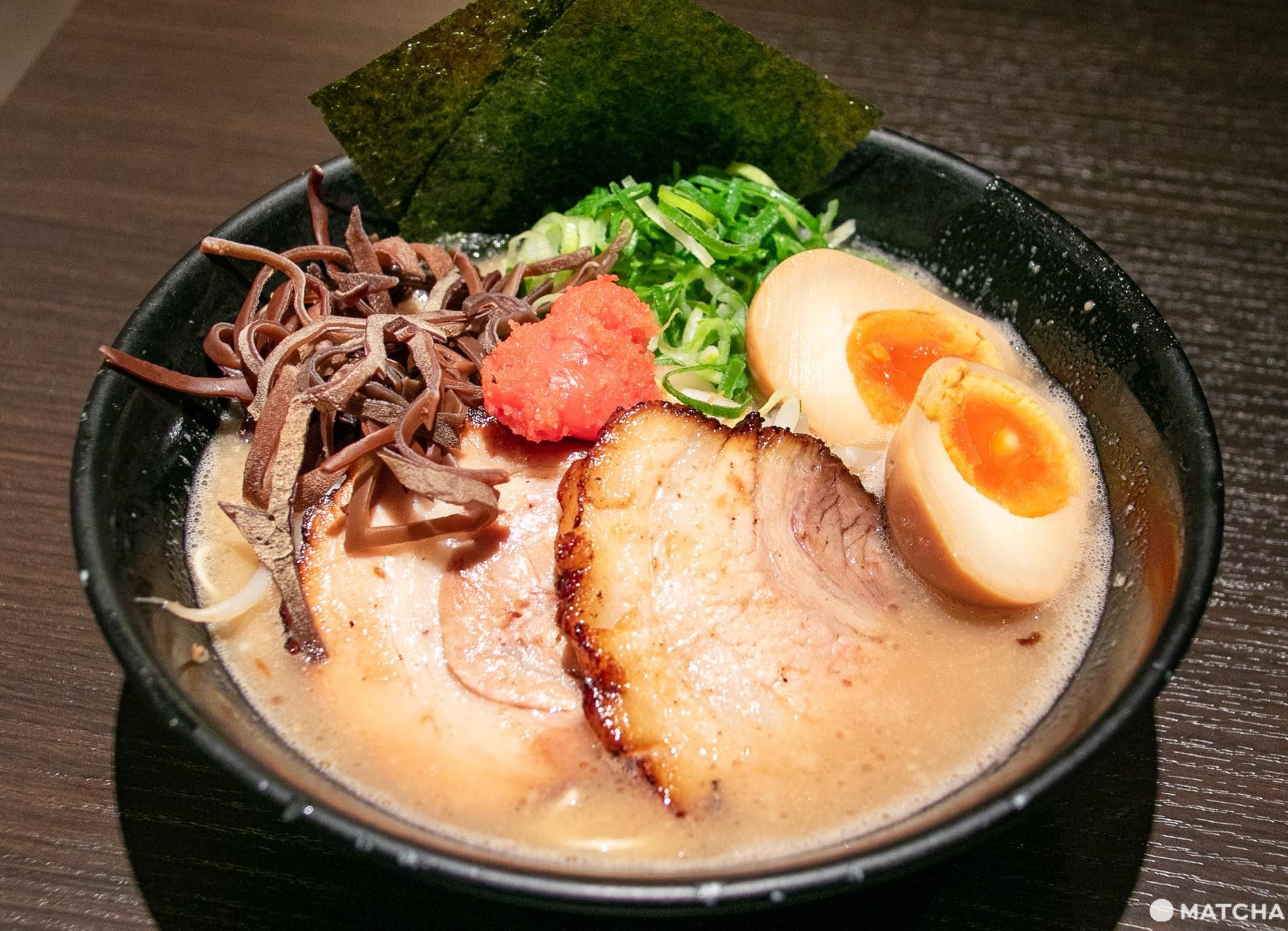 If you want to eat tonkotsu ramen in the Tokyo Station area, then you should go to Oreshiki Jun on Tokyo Ramen Street. We suggest trying the Tonkotsu DX (1,030 yen with tax) pictured with soy-marinated soft boiled egg and char siu.
Due to its distinct smell of pork bone, tonkotsu ramen is a dish that people either love or avoid altogether. However, the tonkotsu ramen here is made to have a mild aroma, making it a dish that can easily be enjoyed by many. The noodles have a nice texture and don't become soggy as you eat.
You can also receive a second serving of noodles, which is a typical way of eating tonkotsu ramen. We recommend the Amazing Second Serving (300 yen with tax). Usually, a second helping is added your leftover soup, but the servings here come sauce, char siu, and green onions.You can enjoy your second serving by either eating it as-is or adding it to your remaining soup.

6. Tsujita Miso no Sho Tokyo Station – Mild Miso Ramen
Head to Tsujita Miso no Sho Tokyo Station when you craving miso ramen. This restaurant offers a total of four types of miso ramen. Their basic dish is Miso Ramen which is shown above (pictured with an added soy-marinated soft boiled egg and a slice of char siu; 1,050 yen with tax).
This dish is a slight variation on miso ramen from Sapporo. The soup itself has a moderate consistency, a healthy amount of oil, and is easy-to-eat. The fragrance of Sansho peppers adds a refreshing accent to the dish. Yellow-colored, curly noodles, characteristic of Sapporo miso ramen, are used, resulting in a satisfying meal.
Raw garlic, cayenne pepper, and other condiments are available on the table for diners to use. Try adding these condiments towards the end of your meal to enjoy the different flavors. The ramen also great with rice.

7. Ebisoba Ichigen Yaesu Shopping Mall (Tokyo Station) – Sapporo Shrimp Ramen
Ebisoba Ichigen, located in the Yaesu Shopping Mall at Tokyo Station, is a branch of a prominent ramen restaurant in Sapporo, where people often wait in lines that go out the door. This unique ramen made with generous amounts of shrimp is available in three varieties: shio, shoyu, or miso. You can choose between two levels of richness for the shrimp. The writer's recommendation is the Just Shio pictured above (780 yen with tax).
The soup is made by boiling Amaebi (shrimp known for its naturally sweet flavor) together with oil seasoning made with shrimp. This process makes the ramen have a great shrimp flavor and aroma. Diners who love shrimp should definitely try this dish.
The restaurant is stroller and wheelchair-accessible. Table seats are also available so that families, who may have trouble going to many restaurants due to lines and limited restaurant seating, can enjoy a meal here without issues.

8. Bangaichi Yaesu Kitaguchi (Tokyo Station) – Famous Tokyo Station Ramen
Bangaichi Yaesu Kitaguchi is a ramen shop in the Yaesu Shopping Mall accessible from Tokyo Station that has been in the area for a long time. The main restaurant is from Asahikawa, Hokkaido, where shoyu ramen is popular, but try the Miso Ramen pictured (700 yen with tax) during your visit here.
There is a slight oil film that lays on the surface of the soup; this is typical in Hokkaido, as it prevents the soup from cooling down during the harsh winters. This ramen has a light and slightly sweet flavor, making it enjoyable by many.
After 17:00, the shop also serves an extensive menu of a la carte dishes, such as stir-fried vegetables and deep-fried foods. The shop is frequented by office workers employed around Tokyo Station, so you'll likely see several customers in suits, eating ramen and enjoying a drink before they go home.

9. T's TanTan Tokyo Station Keiyo Street – A Vegan Specialty Shop
T's TanTan Tokyo Station Keiyo Street is a well-known restaurant that specializes in vegan ramen. It is located inside Tokyo Station. The menu is large, but our recommendation is the White Sesame TanTan & Soy Meat Sweet Vinegar Fry A set (1,150 yen with tax) pictured.
All of the dishes here are made with just plant-based ingredients, so you may be surprised by the satisfying flavor. In fact, if there was no indication of the ingredients, many would think that it contains pork or chicken. The fried soy meat included in the set tastes like typical fried chicken.
This is a well-known restaurant, busy with many international customers. Please note if you aren't using the JR Line, you will need to purchase a 140 yen entrance ticket due to the shop being inside JR Tokyo Station.

10. Tsujita Nihonbashi Yaesu (Tokyo Station) – Also Found Overseas!
Tsujita is a ramen restaurant, specializing in tsukemen. There are numerous branch restaurants in Tokyo, and the business has also expanded overseas to the United States and other countries. There is also a location in the Tokyo Station and Nihonbashi area. Although the shop also serves ramen, we recommend trying the Rich Tsukemen (880 yen with tax; pictured above) first.
The soup is carefully made from several high-quality ingredients, including locally-raised chicken, pork, and seafood. The flavor has a delicate finish with a richness. The combination of thick noodles with flavorful soup is simply delicious. It will surely be satisfying no matter who eats it. Those who have never tried tsukemen before should try this.
To enjoy the tsukemen at Tsujita, add in sudachi citrus, which comes in with your order, and the shichimi (*1) on the table to your noodles during your meal, so try it out. However, the sudachi is very strong in small amounts. Be careful not to squeeze too much juice into your bowl.
*1 Shichimi: a Japanese mix of a variety of spices, such as chili peppers.

11. Matsudo Tomita Menban (Tokyo Station) – Japan's Most Famous Shop Now in Tokyo
Matsudo Tomita Menban is a famous ramen shop in Japan. Its main restaurant is in Chiba and there is also a location in Tokyo Station. There are three choices on the menu: try the delicious Rich Tsukemen (pictured with a large serving of noodles and additional char siu; 1,670 yen with tax).
The soup, made with generous amounts of pork and seafood, is high-quality, and unique and complex in flavor. The noodles are homemade, with a pronounced sweetness and fragrance. The Kashiwagenso pork is used as char siu and costs 600 yen, but is more than worth its price.
The shop is popular and often has a line, but the service is quick, so the waiting time surprisingly short. This order and service makes it a well-known shop.

12. Fukumi Tokyo Station KITTE – Shoyu Ramen You'll Want to Eat Again
If you want to eat shoyu ramen close to Tokyo Station, try a meal at Fukumi Tokyo Station KITTE. They have several types of ramen, the writer particularly recommends trying the Chuka Soba Luxury Serving (1,120 yen with tax).
Soy sauce-based soup is a common type of ramen, but this dish has a mellow fragrance and flavor that is phenomenal. You'll finish the soup to the last drop. The noodles are handmade, with a slightly firm texture and sweet wheat flavor. The char siu and bamboo shoot toppings are also superb, making this a ramen worth trying.
The Mouth-Watering Chicken Curry Rice (580 yen with tax) from the side menu is another famous dish of the shop. This unique dish combines chicken, seasoned Chinese-style, adding a slightly sharp and tingly taste, over curry rice. If you have room for more, then try ordering this dish too.

13. Szechuan Aun KITTE GRANCHE (Tokyo Station) – Great Tantanmen in Tokyo
Szechuan Aun is a well-known restaurant where you can taste great tantanmen (a Szechuan noodle dish that uses sesame paste and chili oil sauce) in Tokyo. There is a location inside KITTE GRANCHE in Tokyo Station. They serve their noodles with either white or black sesame seeds. Customers can order the noodles with or without broth. We recommend the white Brothless Tantanmen (pictured with additional meat; 1,080 yen with tax).
If you order the noodles without broth, be sure to mix the noodles well, as the sauce will collect at the bottom of the bowl. It is an exquisite dish with strong flavors from the strong sesame paste, chili oil, and a tingling sensation from the Sansho peppers. The dish is very delicious. Add an onsen egg (100 yen) to enjoy a mellow flavor that makes the dish even more decadent.
You can adjust the spiciness and tingling flavor from the peppers. The original dish is slightly on the spicy side--this is the writer's recommendation. Sauce and ingredients will be leftover if you order the noodles without broth, so try adding a half bowl of rice to fully enjoy the dish.

14. Hakata Ikkosha KITTE GRANCHE (Tokyo Station) – Classic Tonkotsu Ramen from Fukuoka
Hakata Ikkosha is a ramen shop from Hakata, Fukuoka, a city known for its tonkotsu ramen. It also has restaurants in other parts of Asia. The shop is based on the idea of food stalls selling ramen, which is where Hakata ramen is said to have begun. A suggested dish to order is the Soy-Marinated Egg Ramen pictured above (900 yen with tax).
The pork bone broth is just the right consistency. It is neither too thin nor too rich, making it very easy to eat. It also has just the right depth of flavor. The strong pork aroma associated with tonkotsu ramen is mild. Even those that aren't sure about tonkotsu ramen should give it a try.
Second noodle servings (150 yen including tax), often eaten with Hakata ramen, are also offered. If you order a second serving, add garlic from the tabletop to enjoy the different flavor. Customers who aren't as hungry can try the half-size second serving (100 yen with tax).

15. Taimeiken (Nihonbashi) – Ramen at a Western Restaurant
Taimeiken is a famous Western-style restaurant in the Tokyo Station and Nihonbashi areas. It actually also has a stand-up ramen corner. Ramen is available in two flavors: shoyu and miso. Be sure to order the shoyu ramen if it's your first time visiting (750 yen with tax).
It is a simple but satisfying bowl of ramen, where you can taste the sweetness of the vegetables. Even though a Western restaurant makes this dish, it is worth trying at least once if you are a ramen fan. Lunchtime can become crowded with businessmen from the area, so it's best to visit slightly before or after the rush.
You can also sit inside the restaurant if you don't like standing and eating. The stand-up corner is closed on Sundays or national holidays, so go inside the shop to order and eat.

16. NANA HASU (Nihonbashi/Mitsukoshimae) – Outstanding Handmade Noodles
NANA HASU is the writer's favorite out of all the ramen shops in the Tokyo Station-Nihonbashi area introduced in this article. The menu choices range from light ramen to rich tsukemen. The top recommendation from the writer is the Thick Broth Tsukesoba pictured above (the deluxe with a large serving of noodles and additional toppings; 1,300 yen with tax).
The soup, made with chicken, pork, and seafood, tastes exquisite and is MSG-free. The noodles are handmade and made fresh from a blend of domestic wheat. These noodles are truly a masterpiece. The flavor and chewiness, no matter where you get it, is of high quality and you'll have a blissful time slurping the noodles after dipping it in the soup.
A la carte dishes and alcohol are also served in the evenings at NANA HASU. Come and finish off your night with ramen, snack on side dishes, and relax. The evenings aren't usually crowded, so it is an ideal place to take your time enjoying your ramen and drinks.

17. Yamara (Ningyocho) – Superb Tori-Paitan Soup
Yamara is a ramen shop in the Ningyocho area where you'll find the high-quality tori-paitan ramen (ramen in hearty chicken soup) that can even be considered one of the best in Japan. The menu is extensive and includes shoyu, shio, and miso ramen. We recommend the Shiora (750 yen with tax) pictured above to appreciate the great flavors of the shop's prided tori-paitan soup.
Yamara's tori-paitan soup is made with lots of vegetables in addition to chicken, giving it a refreshing note that compliments the rich creaminess. The medium-thick noodles pair deliciously with the soup. If you like chicken ramen, then you'll definitely love this dish.
Another dish to try is Taiwan Mazesoba, a dish that actually originated in Nagoya. To eat this dish, mix the spicy ground meat, minced vegetables, and egg yolk with the noodles. It's so satisfying that you'll want to eat it again.

18. crab Taifu (Ningyocho) - Unique Crab Ramen
crab Taifu is gaining popularity for its one-of-a-kind ramen made with crab, something rarely seen at other ramen restaurants. There are two ways to order: ramen and abura soba (a brothless, oily noodle dish). Be sure to try the Crab Soba (pictured above with additional meat; 1,200 yen with tax).
The soup, made by combining large amounts of crab to a pork bone base, has strong flavors from both ingredients. This dish may divide peoples' opinion, but fans of crab and pork will love it. It is a dish that can only be enjoyed here and is worth trying at least once.
Once you finish eating your ramen noodles, we recommend ordering the zosui (rice gruel) set for an additional 130 yen. Give your remaining soup to the staff and they will add rice and heat it up before returning it to you. This superb dish is just as delicious, if not more so than the ramen itself.

19. Ramen Thunderbird (Kayabacho) – Find A Ramen For You
Ramen Thunderbird is a ramen shop in Kayabacho, a neighborhood just east of Nihonbashi. They offer a variety of menu dishes from mild ramen to rich tsukemen, abura soba, and more. You will be sure to find ramen you like here. The writer personally recommends the No. 3 Abura Soba (780 yen with tax) pictured above.
This simple abura soba uses a soy-based sauce, which brings out the exquisite taste of the homemade noodles. An onsen egg is served on the side, adding a smooth, rich flavor to the dish. Be sure to try adding in chili oil or vinegar, which is placed on the table for you.
The shop interior is bright, clean, and has several table seats, which is rare at ramen restaurants in central Tokyo. Due to this, you can enjoy your ramen in comfort, even when the shop is crowded. Please note that this restaurant is only open during the weekdays.

20. Shichisai Hatchobori (Tokyo Station) – Homemade Noodles Made to Order
Shichisai Hatchobori is where you can taste satisfying and healthy ramen free of MSG, made with high-quality ingredients. The shop is within walking distance of Tokyo Station. Be sure to try the Kitakata Ramen (Niboshi flavor) for your first dish (pictured with additional soy-marinated soft boiled egg and char siu; 1,220 yen with tax).
The ramen here has made-to-order homemade noodles. Depending on your where you sit, you'll be able to see the cooks making the noodles right before you in just a matter of minutes. In addition to the fluffy texture, the noodles themselves have a sweetness that tastes great with the strong niboshi (*2) flavored soup. The medium and large servings are the same price.
Shichisai is highly reputed for cooking unique, limited-edition ramen. Some selections return to the menu every year, which many customers and fans look forward to. Typically, there are long lines during peak meal times, so visit before or after the rush.
*2 Niboshi: small fish (sardines) that have been simmered and dried.

Dine on Ramen in the Tokyo Station and Nihonbashi Areas!
There are countless ramen shops in the areas surrounding Tokyo Station and Nihonbashi. Be sure to use this article as a reference to find your favorite ramen and satisfy your cravings.

The information presented in this article is based on the time it was written. Note that there may be changes in the merchandise, services, and prices that have occurred after this article was published. Please contact the facility or facilities in this article directly before visiting.