Fukuoka Is Even More Fun with Children!
Pictures courtesy of Kashii Kaen Sylvania Garden (upper and lower left) and Dazaifu Amusement Park (upper right)
Fukuoka, located in the Kyushu Region, is filled with unique amusement facilities that are easily accessible from urban areas.
This article introduces a family-friendly theme park with a fairytale-like atmosphere, an aquarium that allows visitors to dive in the sea, and a retro amusement park supported by locals. All these facilities have rental strollers and breast-feeding rooms, so families with small children can enjoy a stress-free trip.
1. Kashii Kaen Sylvania Garden: A World of Fantasy
Picture courtesy of Kashii Kaen Sylvania Garden
The first stop is Kashii Kaen Sylvania Garden, a theme park featuring a fairytale world. As the name suggests, the park was inspired by the Sylvanian Families, a popular series of dollhouse figurines.
Meet the Sylvanian Families
The garden is full of figurines of Sylvanian Family members, so don't forget to snap photos with them.
They are also awaiting visitors at the attractions, too. The Chocolate Rabbit family is sitting inside the Ferris wheel so park-goers can enjoy this adorable scenery with them.
Have Fun Renting a Costume
Costumes for a photoshoot cost 400 yen per dress after tax. A rental dress costs 500 yen after tax.
Some children who aren't satisfied with just watching these beloved characters may want to join in the fun.
In that case, visit the dress shop Mori no Yofukuya-san (The Forest Tailor), which offers dresses to wear for a photoshoot. There is also a dress rental service that allows guests to enter the garden and attractions wearing costumes.
Look for the Original Items!
The Hanazono Usagi Family (4,378 yen after tax) is a popular figurine set.
There are some Sylvanian items that can only be purchased at the park, such as the Hanazono Usagi Family, an original item released by Kashii Kaen. This souvenir item comes with an adorable set of five figurines with petal-shaped ears and tulip-shaped mouths.
A Must-See! The Flower Gardens
Picture courtesy of Kashii Kaen Sylvania Garden
Kashii Kaen Sylvania Garden is also famous for its flowers. The seven areas in the garden have been designed by Kazuyuki Ishihara, a world-renowned landscape artist. Visitors can appreciate the blooming flowers all year round.
Picture courtesy of Kashii Kaen Sylvania Garden
The garden is lit up during the winter season. From November to February, illumination events are held on the weekends. This is an ideal time to visit with either your family or someone special.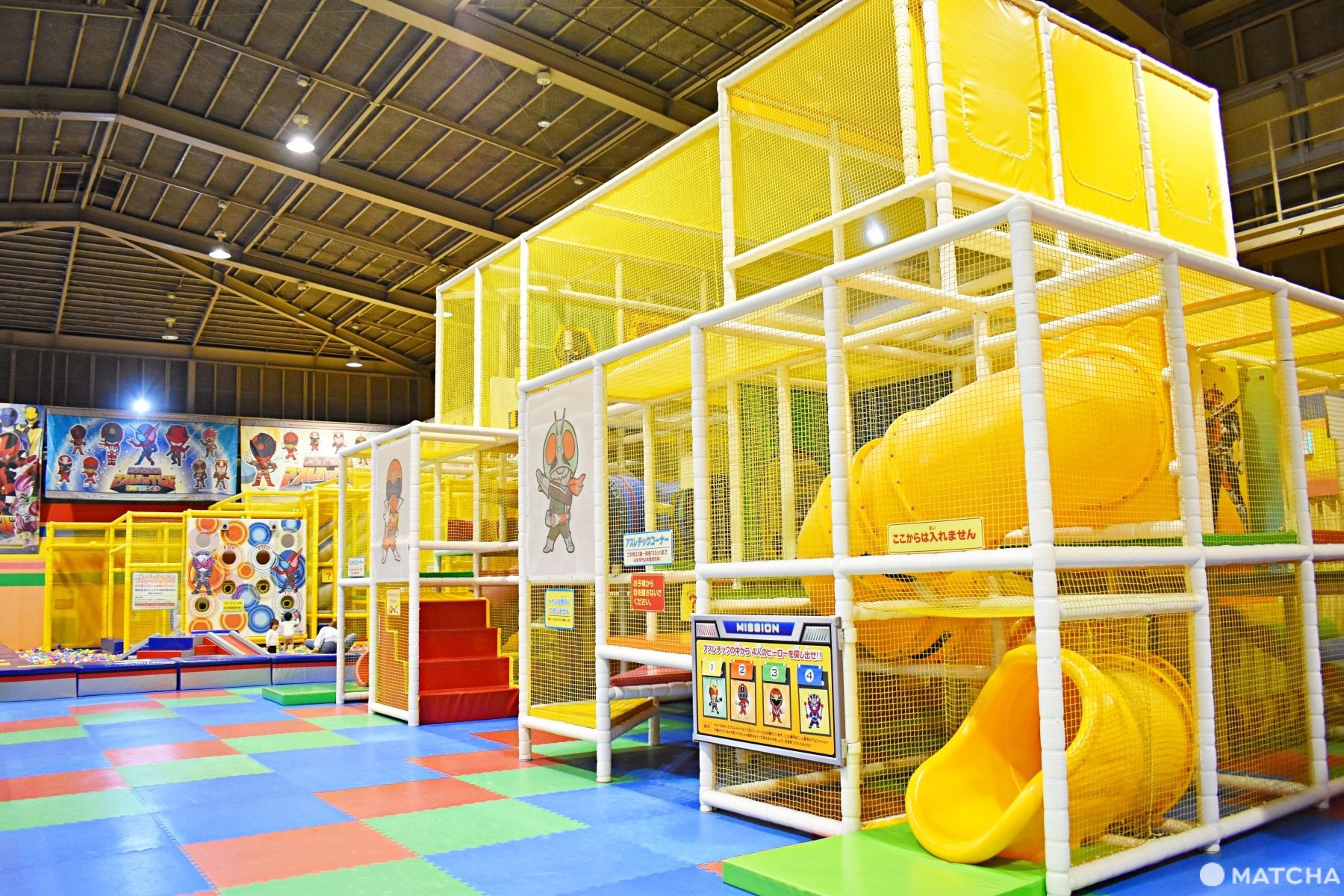 Super Hero Athletic Land NEO
Kashii Kaen Sylvania Garden offers several attractions for active children. These include Super Hero Athletic Land NEO, one of the largest recreational facilities in Kyushu, and Colon☆Booth Dojo Studio & Super Colon☆Booth Dojo Studio, an outdoor adventure playground that requires kids to use their brain and brawn.
Fares and Access to Kashii Kaen Sylvania Garden
The admission fee is 1,100 yen for adults and 700 yen for children from three years old to elementary school students. Children under two years of age can enter the garden for free, but additional fees are required for attractions. A special pass for unlimited rides costs 2,800 yen for adults and children.
The nearest station to the garden is Kashii-Kaenmae Station along the Nishitetsu Kaizuka Line. From Hakata Station, take the JR Kagoshima Main Line to Chihaya Station, and switch to the Kaizuka Line. The ride will take about 30 minutes.

2. Marine World Uminonakamichi: Dive into the Sea!
Marine World Uminonakamichi is an aquarium full of surprises. It will make visitors feel like they're swimming alongside a school of fish in the tank.
Recreating the Underwater Environment of Kyushu
Set up in a dark room, the first tank is a recreation of the Genkai Sea, which borders the northwestern coast of Kyushu.
With its choppy waves, the Genkai Sea is one of the richest fishing grounds in the world. To produce the same effect, 500 liters of seawater is poured into this tank every few minutes. The visitors can feel the waves coming at them.
Marine World is based on the concept of reproducing the sea around the Kyushu Region. All of the exhibitions are prepared with the utmost care.
For instance, the picture above shows a fishing reef, made by humans intending to attract marine creatures. The aquarium asked local fisherpeople to submerge the reef in the ocean for a period of time until it was covered in seaweed—an added authentic touch!
During our visit, the aquarium staff explained that the dim lighting and dark shade of the floor allow visitors to focus on the tanks.
A lot of time and effort was spent on creating this atmosphere that draws adults and children into this underwater world.
QR codes are displayed in each exhibition room. When visitors scan the code, they'll be able to listen to audio commentary in English, Chinese, or Korean to help them understand the exhibited materials (*).
Now, our next stop is Creature Island, a popular outdoor facility.
*The aquarium offers free Wi-Fi service.
Seals Swiming at You!
Something is coming this way...
And growing larger...
It's right before your eyes! This is a spot where seals approach aquarium visitors. These marine animals have become famous on social media with swarms of visitors snapping and sharing photos.
The roly-poly spotted seals will come to greet you. They follow a route that leads them to the viewers, who are excited to see these cuties swimming by.
Interact with Marine Animals
At Creature Island, guests can feed seals and sea lions by tossing snacks (sand eels and small fish) into the sliders built for this purpose.
The feed costs 400 yen (tax included) per plate. Hundreds of plates are sold every day in the morning and afternoon. Visit in the early hours because they are sometimes sold out.
Enjoy a Meal by the Dolphin Pool
When hunger strikes, head to the restaurant on the basement floor. It's located next to the pool where dolphins and whales swim.
The picture above shows the Dolphin Parfait (700 yen after tax). This popular dessert is topped with raspberries, bananas, and a dolphin-shaped cookie.
The restaurant serves other dishes as well. The rich-flavored hamburger steak is made with domestic beef. The steak is cooked rare, so use the sizzling iron plate to sear it to your liking.
Fukuoka is famous for its style of cooking hamburger steaks on a hot plate. While people typically wait in line at famous restaurants for this specialty, visitors at Marine World can enjoy this signature dish without the queue and in front of an aquarium. The bottom photo shows the Domestic Beef Hamburger Grill Set (1,590 yen after tax).
The Dolphin Curry Plate (700 yen after tax)—served with a mound of dolphin-shaped rice—is another recommended dish.
The Cutest Fish-Themed Items!
Tote Bag 1,500 yen, Zippered Flat Pouch 1,000 yen
Be sure to take a look at some original souvenirs on your way home. The fan-favorite tote bag and pouch (upper left-hand photo) can only be purchased at the aquarium. The humorous designs on the merchandise will make you want to use them every day.
Fares and Access to Marine World Uminonakamichi
The admission fee is 2,350 yen for adults and 1,100 yen for junior high and elementary school students. For children over three years of age up to preschool age, the admission costs 600 yen. Those under two years of age can enter for free.
There's a bus operating from the Tenjin district in central Fukuoka to Marine World. Be sure to purchase a special ticket (2,940 yen including tax) that covers both the bus fare and aquarium admission fee. It costs 470 yen less than the normal rate of 3,410 yen.
From Tenjin Chuo Yubinkyoku-Mae bus stop, board the Nishitetsu Bus 21-B route bound for Ohtake. Get off at Marine World Uminonakamichi bus stop. The ride takes about 40 minutes.

3. Dazaifu Amusement Park: A Paradise for Kids
Dazaifu Tenmangu. Photo by PIXTA
Dazaifu Tenmangu is a prominent sightseeing spot in Fukuoka. Did you know that there is an amusement park on the shrine grounds?
Opened in 1957, the Dazaifu Amusement Park has a long history and is the only park in Japan located on the grounds of a shrine.
Infant-Friendly Attractions
The Elephant Family ride can be enjoyed by infants. Picture courtesy of Dazaifu Amusement Park
This park is ideal for families with small kids—who will have no shortage of attractions to ride. Even infants can enjoy their first ride with parents on seven attractions. There are also free rides for toddlers up to two years old.
The Water Coaster
Those who are slightly older should venture further into the park. Attractions like the Water Coaster and the Train Coaster might even give adults a chill. Guests have the option of purchasing a special ticket for unlimited rides. Apparently, some die-hard fans even enjoy more than ten consecutive rides on the coaster.
Picture courtesy of Dazaifu Amusement Park
We recommend heading to the Bikkuri House (House of Surprises). We won't spoil your fun by describing what goes on inside because it's best that you see it for yourself. An adult park-goer said it was an experience that will last a lifetime.
Visitors can also stop by Dazaifu Tenmangu Shrine. A local resident who has been visiting the park since childhood told us that "adults usually visit Tenmangu Shrine while children play in the park. This is a place where two generations can have fun together."
The deity enshrined at Dazaifu Tenmangu is Sugawara no Michizane, the guardian of learning and children. One of the chief priests suggested that a playground should be built on the grounds.
With more than 60 years of history, the park has welcomed families spanning three generations. When these children mature into adults, they'll continue the family tradition of bringing their own kids here.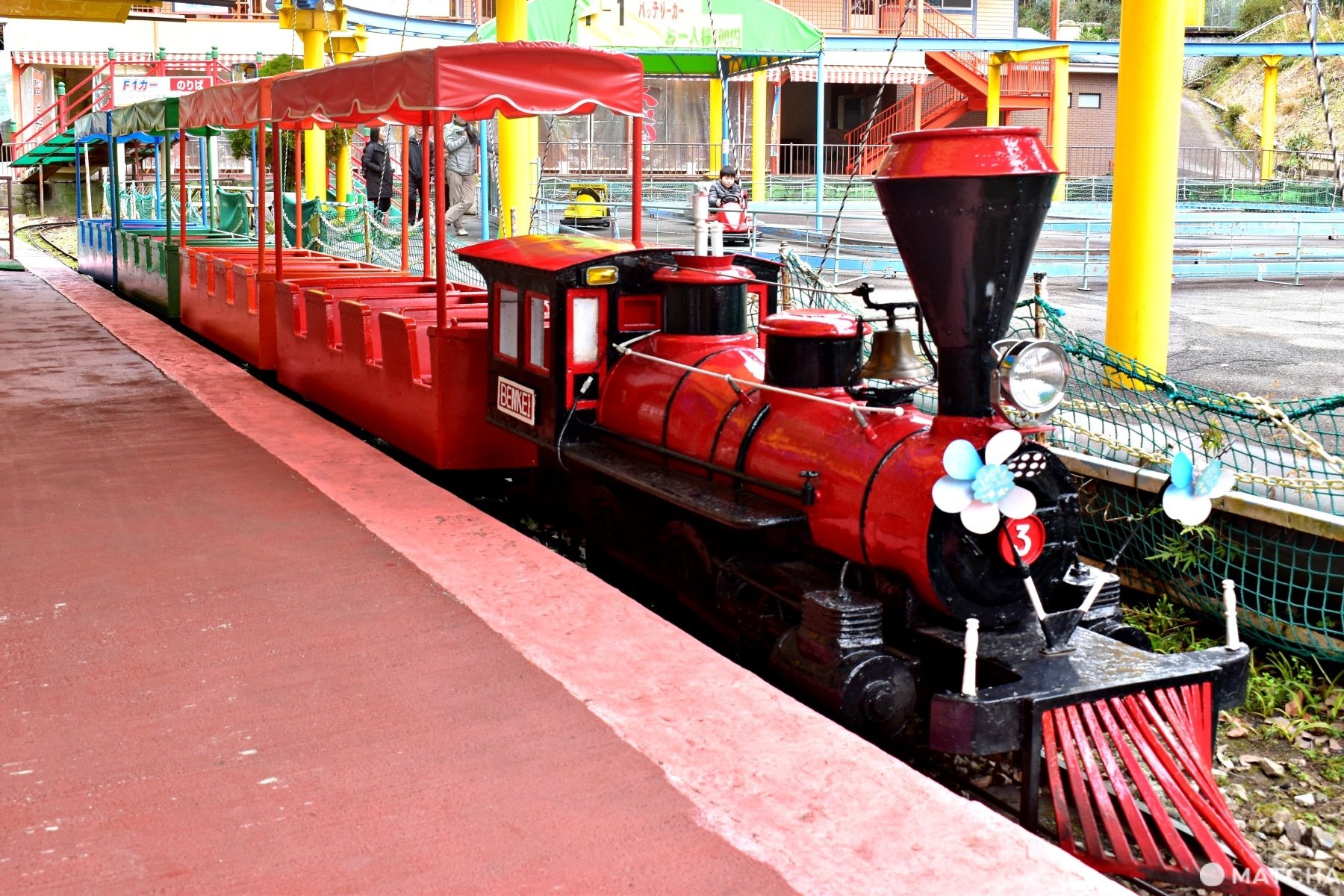 The Benkei Train is a symbol of the park as it's the only attraction remaining since its opening.
The train continues to be well-cared for and is still going strong. Passengers can get a sense of history during the retro ride. Benkei will welcome you on your next visit to the park.
Built within the shrine grounds, this retro amusement park is adored by the locals. Pay a visit to the park with your small children as they experience their first ride.
Fares and Access to Dazaifu Amusement Park
Dazaifu Liner Bus "Tabito"
The admission fee is 600 yen for adults and 400 yen for children (three years old to junior high school students). An additional fee is required for the rides. The special pass for unlimited rides costs 2,900 yen for adults and 2,700 yen for children.
The Dazaifu Liner Bus "Tabito" runs directly from Fukuoka Airport and the Hakata to Dazaifu Tenmangu. It takes about 25 minutes from Fukuoka Airport's International Terminal and 40 minutes from Hakata Bus Terminal.
If you prefer taking the train, board the Nishitetsu Tenjin Omuta Line from Nishitetsu-Fukuoka Tenjin Station. Switch to the Dazaifu Line at Futsukaichi Station and get off at Dazaifu Station. The ride takes about 30 minutes.
Dazaifu Amusement Park is located on the grounds of Dazaifu Tenmangu Shrine. Follow the approach to the shrine and cross the arched bridge shown in the photo above. The main shrine will be straight ahead.
Look for the sign shown in the picture above when visiting the park. It's on the right-hand side of the bridge. Follow it to ensure a smooth entrance to your destination.

Make Family Memories in Fukuoka
Each of the places mentioned in this article has their own unique appeal. When visiting Fukuoka, head out to one of these locations for family-friendly fun and lasting memories.
Written by Kousuke DEKI
In cooperation with Marine World Uminonakamichi, Kashii Kaen Sylvanian Garden, and Dazaifu Amusement Park.
The information presented in this article is based on the time it was written. Note that there may be changes in the merchandise, services, and prices that have occurred after this article was published. Please contact the facility or facilities in this article directly before visiting.