When hearing of Tamba Sasayama, many people will think of their famous shiny black beans, called Tamba kuromame, or the red peony-like color of its fresh boar meat. But that's not all that Tamba is famous for. In this area, a town with a history spanning 400 years, a handicraft with its own 800 years of tradition is still skillfully plied.
Pottery With an 800 Year History? What Is Tamba-yaki?
Tamba-yaki is a type of pottery with a distinctive simple and rustic coloring to it that has been made since ancient times in the area around what is now Sasayama city. Its origins date back to the Heian era of Japan, making it a craft with an 800-year long history. Combined with the Sasayama clan, who formed the government of Sasayama history 400 years ago, the dual histories of the art and city have been intertwined for ages.
Tamba pottery is also famous for being part of the Six Famous Old Kilns of Japan, a point that the locals of Sasayama are particularly proud of.
Visit the Birthplace of Tamba-yaki, and Walk the Potter's Path
The term 'kamamoto' refers to the potter's studio where the pottery is made and fired in a kiln. The Tachikui district, situated in the southwestern side of Sasayama is the hometown of Tamba-yaki, and is where 60 pottery studios are still connected to one another at the base of the mountain. Today we will take a look at some of the finer points of these studios.
Let's go and find our own perfect piece of Tamba-yaki!
Tamba Traditional Crafts Park: Tachikui Sue no Sato
Our first stop is the Tamba Traditional Crafts Park, at the studio, Tachikui Sue no Sato. Here you will find many decorations made from pottery all over the park, and Tamba-yaki exhibitions held throughout the year.
Works produced in these kilns are of course sold in the Kamamoto Yokocho, or Potter's Alley, so we recommend visiting this shop first, in order to learn the names of the pottery studios and see if one in particular catches your eye. If one does, you can head right to that studio and see their other works for yourself!
Another great reason to start your pottery explorations at Sue no Sato is that you can rent a bicycle here! The full size of the park is about 4km, but if you have a bicycle, you can easily travel about at your own pace, and stop wherever, whenever you like to check out a studio. By bike, you can elegantly travel about this pottery-lover's paradise!
Rent-a-cycle fee: 500 yen for one day, deposit 1000 yen per bike (returned when bike is returned).
Hop on Your Bike and Head Out!
One spot you should definitely not miss on your bike journey is the oldest Tamba-yaki climbing kiln in Japan, located up on the slope.
120 Year Old Tamba-yaki Kiln: The Oldest Climbing Kiln in Japan
A climbing kiln is a type of pottery kiln which starts at the base of a mountain or hillside and travels its way uphill. Just by looking at it, you may assume that it is one very long, continuous kiln, but the interior is actually divided into several different chambers, which is another defining point of this type of kiln. As it looks somewhat like the joints on a bamboo stalk, this type of kiln is sometimes referred to as a waridakeshiki, or 'split bamboo style' kiln in Japanese.
This climbing kiln is 47m long, and thanks to its surface texture, which resembles the pattern of a snake, it is affectionately called the 'Snake Kiln' by the locals. With a history spanning 120 years, this is the oldest kiln in Japan, and is a recognized Important Prefectural Cultural Property in Hyogo prefecture. Not only that, but this kiln is actually still in use to this day.
Next to the climbing kiln is another interesting sight: a huge Chinese cork oak (a deciduous oak tree belonging to the beech family). It is believed to be the oldest Chinese cork oak in Japan, and it is designated as a local monument. This historic climbing kiln and cork oak have had a long history together and in relation to Tamba-yaki, and hopefully one that will continue for years to come as well.
Cycling About the Pottery Shops Searching for Treasure
There are more than 60 potteries in the Tachikui district, and each has its own unique characteristics. You can feel the history of the craft and of the area in each of the pottery studios that stretch along the foot of the mountain. The sight of the smoke gently wafting up from the kilns against the natural landscape here is very impressive.
Signboards with each studio's name are placed at the entrances to each building, with tables overflowing with their wares sitting alongside them. If you remembered to pick up a map to the Kamamoto Yokocho when renting your bicycle, you will be able to find the shops that drew your attention earlier, or you can stop and see the pieces on display and head right into the shop along the way!
Looking at each studio, each piece one by one in the alley; it almost feels like you're on a treasure hunt. Just wondering what you will see next is very exciting.
As you continue along though, you may find yourself starting to get hungry. There are not many restaurants or cafes here, so it is a good idea to check them out in advance. There are two places I would like to recommend. First, let's take a look at the creative Japanese restaurant, Miyama.
Artful Japanese Cuisine: Enjoy Seasonal Local Vegetables at Miyama
A five to ten minute ride away from Sue no Sato, this Japanese restaurant is located a short distance up on the mountainside. Miyama is a popular spot, known for its dishes that exclusively feature seasonal ingredients and locally produced vegetables.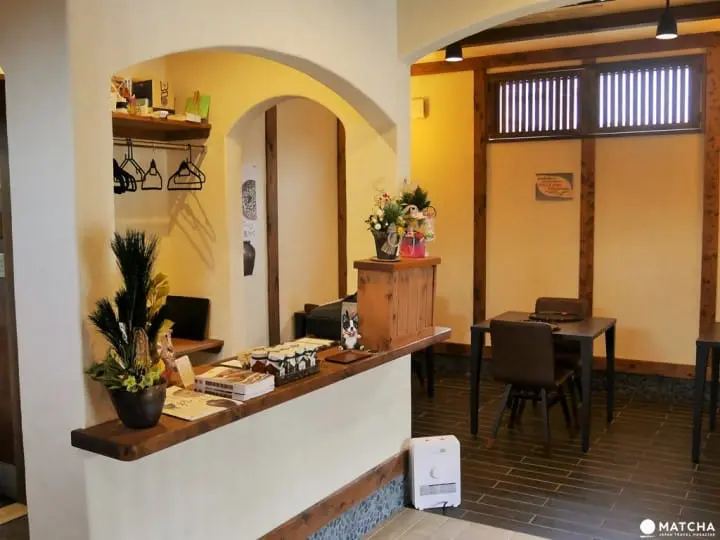 Although it is a Japanese restaurant, the interior is very stylishly decorated with a combination of both Japanese and European fixtures. Here you can enjoy inventive dishes that go beyond the limitations of traditional Japanese cuisine and mix in some Western-style elements.
As a restaurant surrounded by pottery studios, they of course make use of Tamba-yaki pieces in their shop, making this a great place for those who want to test out the pottery for themselves before making any purchases. This shop is sure to make an impression on you, thanks to its unique fusion of tradition and modern elements from Western and Japanese cultures.
The second restaurant you may want to visit is Colissimo, a cafe built in a renovated old building, located a bit of a trek away from Sue no Sato.
Cafe in an Old Building: Colissimo
This building, which looks very Western in comparison to others in the area, is where you will find the cafe Colissimo. In fact, this building is the former post office for the area. Thanks to the passage of time and the construction of a new bypass road, the post office moved to a new home and this building was left standing as it was. The owner of Colissimo, with the idea of 'waste not, want not' in mind, took it upon themselves to renovated and transform this historical building to a very popular cafe.
The interior of the cafe has been left as-is for the most part, helping it to retain the authentic feel of an old Japanese post office. The front counter, which your eye is immediately drawn to when entering, is the former main service window of the post office. In fact, the alarm under the desk is still the original one that has been preserved as well.
The second floor is an exhibition space, and occasionally special events are held here. When there are no upcoming events, you will find musical instruments or dried flowers adorning the space, both of which are hobbies of the cafe's owner.
Here they offer simple lunches, as well as homemade desserts and drinks, making it an ideal place to stop for tea or to take a break from cycling. In the evenings, with the soft lights illuminating the cafe, you will almost feel as though you are visiting a hut from a fairy tale when stopping here.
After having a nice meal and taking a rest, you will surely be feeling energetic and ready to get back out on your bike to continue treasure hunting. If you haven't been able to find the right piece of Tamba-yaki for yourself just yet though, you might be interested in trying to make some yourself!
Make Your Own Tamba-yaki
Let's head back to Tachikui Sue no Sato on our bikes. At Sue no Sato, there is a pottery classroom where their experienced lecturers will help you to make your very own Tamba-yaki piece. You can select the size of pottery that you would like to make, and freely create your own custom piece. Your work will be shipped to the address you provide once it has been fully fired in the kiln.
Under the careful guidance of the instructor, our works gradually neared completion. Every so often they would come by and make slight adjustments to the shape, and give advice on what to do next. You can truly see the skill and heart of these artisans from the look of their fingers and serious expressions.
After working your hardest to complete your piece, the next step is to bake it in the kiln. This task is undertaken by several of the workshops here, so just how your piece will turn out depends on the studio - you will find out in about a month!
Are you feeling tired after cycling about all day? If you, it sounds like a good idea to rest your tired muscles in a warm hot spring!
Cure Your Fatigue at Konda Yakushi Onsen Nukumori no Sato
Konda Yakushi Onsen Nukumori no Sato is a gensen-kakenagashi onsen, or a free-flowing hot spring. Free-flowing hot springs are those where the water is directly drawn from the source into the bath, and the water that overflows from it is drained away as is. Unlike at a junkan onsen (circulation hot spring), the water is not purified and reused at a spring like this.
Here you will find a comfortable indoor hot spring, an indoor hot spring bath, and a rotemburo, or open-air bath. The open-air bath is especially popular as its surroundings change seasonally; cherry blossoms in spring, fresh greenery in summer, bright colors in fall, and white snow in winter. Every time you come to this hot spring you can enjoy different sights as you relax in both mind and body.
After luxuriating in the hot spring, it's time to fill up your stomach in the dining room!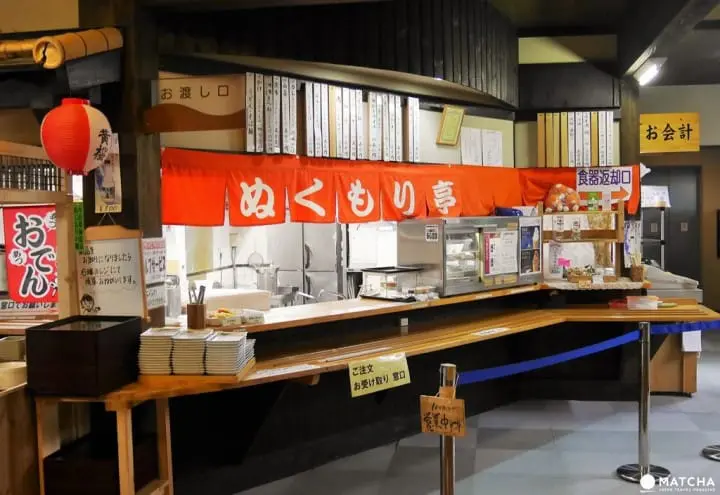 There is a free rest area where, after warming up in the hot springs, many people stop to take a break. In addition to soft drinks, tea, and alcohol, they also sell popular Japanese dishes like oden and udon noodles here as well.
This is a special Japanese style lunch box that I ordered in advance. Made from local ingredients, this bento lunch box set was amazing - especially the black bean tofu you can see in the lower right section of the box. The aroma and rich flavor of this thick black bean curd was so delightful that it didn't need any soy sauce at all. Known casually as Tamba black, these black beans have a deliciousness to them that everyone should enjoy at least once in their lives!
Before leaving, you should make sure to stop by the souvenir shop in the lobby here as well. Other than the amazing desserts and sake they have to offer, you can also purchase special Sasayama produce in their designated agricultural section. Not only that, but you can purchase more of the Tamba black beans and even wild boar meat here too.
There are many old traditional houses located throughout Sasayama, the majority of which have been refurbished into new businesses, such as inns. Today, we will be staying at Maruyama Village, located in the mountains, where you can fall asleep alongside the flora and fauna of the area.
A 150 Year Old B&B in a Farming District: Maruyama Village
A fifteen minute drive from the heart of Sasayama, this mountainous area has many traditional homes in it. Although it may feel as though you are in a different place, you are still located in Sasayama city here.
Maruyama Village is a small farming settlement. Of the twelve houses here, all of which have a history of about 160 years to them, two have been refurbished and are now used as bed and breakfasts. The remaining seven farming families work in co-operation with these inns it seems.
While these are 150 year old homes, they have been very thoroughly preserved and renovated, giving them a distinct rustic charm and warmth. Of the many features of old farm houses preserved here, one that is particularly interesting is the Goemon bath, which you can experience for yourself!
Enjoy a Bath with Totoro: Goemonburo
I'm sure there are many who have seen the Studio Ghibli movie Totoro, right? If you recall, there is a scene where Mei and Satsuki take a bath with their father; this scene takes place in an iron bathtub, known as a Goemonburo in Japanese.
Iron is a very effective conductor of heat, and once heated, water that is poured into the tub will stay warm for quite some time afterwards. Back in the times when there were no gas-water heaters in houses, first a fire was started to warm the iron bathtub, water was poured into it, then the fire was occasionally stoked while bathing to keep the water at a steady temperature.
Because of their heat retention however, iron bathtubs are too hot to be touched directly. This is why you must sit on top of the wooden seat to enter one. There is also a floating thermometer in the water, so that you can keep an eye on the temperature of the water to prevent overheating or scalding yourself.
There are no televisions in this inn. This was intentionally done so that travelers can experience an authentic stay in a real farmer's home. At night, you can hear the sounds of nature outdoors, the crackling of the charcoal fire and the scent of the black beans simmering in the pot as it drifts throughout the house. Here you can sit at the kotatsu or on the sofa and think about your day, organize your itinerary for the next day, or even just think about what life was like 150 years ago - a very peaceful time can be had at this inn.
When you wake up in the morning, one of the grandmothers in the community will have prepared breakfast for you. Although you may want to stay in bed longer, the lovely aroma of breakfast as it drifts from the kitchen will have you throwing off the futon and settling down to eat in no time. It's time to enjoy a hearty breakfast and start your day.
In addition to this bed and breakfast, there is also a French restaurant in the village called Hiwa no Kura. This restaurant is also located in a renovated old home, and it is quite the experience to sit and enjoy French cuisine in a Japanese style home.
In Conclusion
From 800 year old Tamba-yaki to 150 year old traditional houses, traces of the past have both survived and thrived throughout Tamba-Sasayama. The combined wisdom of the ages have crystallized together to create the distinct culture and characteristics of modern Sasayama, which will hopefully continue to enthrall for generations into the future as well.
If you have the opportunity to come to Sasayama, by all means, please rent a bicycle and cycle about to see the many different Tamba-yaki pottery studios. If you think that it might be too far or difficult for you to cycle all the way around Iwaya Maruyama Village, then we also recommend traveling by car in this area. You are sure to see sights that you will have never seen before and enjoy aspects of Japan's natural landscape that not many have witnessed before too.