Try to visualize a cluster of traditional wooden Japanese houses where the tallest building you can see around you is an old castle. This image resembles a Japanese city dating back 400 years ago.
Just around the corner, you'll spot a kimono-clad samurai and woman while listening to their wooden sandals echoing off the road. If you would like to enjoy the sights and sounds of ancient Sasayama in Hyogo, this is the place for you. With a history spanning over 400 years, the city of Tamba Sasayama has is registered as a Japan Heritage site.
About Tamba Sasayama
Tamba Sasayama, located just east of central Hyogo, was formerly called Tamba no Kuni. Travelers had to pass here when heading to Kyoto, which was the former capital of Japan at the time.
In the 16th century, Sasayama Castle was built here under orders of the famed shogun Tokugawa Ieyasu. The oshoin (*1) of Sasayama Castle is very similar to that of Nijo Castle in Kyoto. In fact, it's quite rare to see examples of such grandiose castles built outside of Kyoto.
*1 Oshoin: a type of architecture used in the construction of upper-class mansions or castles.
In 2015, the entire city, including its architecture, regional songs, and overall culture was recognized as a national heritage site of Japan.
Simply stepping into the streets of Tamba Sasayama will have you wondering if you have headed out on a journey back through time.
Put on a Kimono and Stroll Back in Time
If you would like to relish the historical atmosphere of Tamba Sasayama on a deeper level, then there is nothing better than strolling through the city in traditional garb. By putting on a kimono and traveling about through the city, you will be able to feel the history of the area and will feel like you blend in with your surroundings.
Sasayama's Only Kimono Rental Shop: Hanabishi
Hanabishi, which is located in an old private home in the jokamachi, or castle town area of Sasayama, is the only kimono rental shop in the area. While not a large shop, they have a great selection of kimonos and all the necessary facilities to change into a complete kimono outfit from head to toe.
Once you enter the shop, look about on the first floor and choose the kimono and obi that you like most, as well as the best hair ornaments, bag and zori sandals to complete your look, then head to the second floor, with the staff who will help you to transform into your kimono look!
Once you are in your kimono in this tatami-floored room, they will also help you to arrange your hair and do some simple make-up as well. There is one important thing you should probably ask them before you head out on your journey. How to use the restroom while wearing a kimono can be difficult if you have never worn one before. Don't forget to ask.
The shop employees will watch your clothes and any valuables you might wish to leave behind while on your stroll for free. However, if you wish to leave large luggage with them, there is a 500 yen charge.
After changing, you're all set! Now, let's take a look at some of the must-see spots Sasayama has to offer.
1. The Heart of Sasayama: Sasayama Castle Ruins
Tokugawa Ieyasu, who took control of Japan at its more turbulent time, sought to curtail the scattered power of the warlords and bring about a system of the central government, by instituting the tenkabushin system.
The tenkabushin was an order of public works wherein the feudal lords of other regions were required to send both money and resources to the central government, thus limiting their own financial power. Because of this, castles in various areas were built or restored, and it is because of it that Sasayama Castle was created.
Sasayama Castle was designed by the master architect of Japanese castles, Todo Takatora. This castle was a perfect fortress for war, prepared to withstand battles as fierce as the Seige of Osaka Castle.
Within the grounds of the Sasayama Castle ruins, you will find the tenshudai, a stonewall pedestal upon which the castle tower would have stood if it had been completed. After the age of civil wars in Japan, the ground where the castle tower would have stood was leveled and played a central role in the politics of the time instead.
A Historical Site: Oshoin
The Oshoin is the central building of Sasayama Castle. It is on a spacious plain, and the exquisite appearance and golden interior are very similar to that of the Ninomaru Goten at Nijo Castle in Kyoto. The only difference is that rather than the roof being gold, it is painted with lacquer instead. From here, you can feel the simple, yet elegant, artistry behind the Oshoin well.
Seeing the Oshoin will also reveal the advantage Sasayama Castle held from here, being on higher ground.
Unfortunately, because of a fire in 1944, the original Oshoin was utterly destroyed; the present structure is a reconstruction built in 2000. Many historic documents were used to rebuild Oshoin so that it could retain its original beauty.
In Tamba Sasayama, people are not allowed to build structures taller than Sasayama Castle. This is a measure to preserve the beautiful view of the castle as it stands against the sky.
From its existing tower down to the castle town, Sasayama Castle is not only ranked among the 100 Famous Castles of Japan and is recognized as one of the Top 100 Cherry Blossom Spots in Japan as well.
Every April, a cherry blossom festival is held here when the trees are in full bloom. Around one thousand sakura trees surround the castle, and many people come to view the cherry trees. The castle becomes enshrouded in a fun, lively atmosphere every year.
2. Wandering through the Castle Town: Traditional Kominka Cafes
After walking through the spacious grounds of the castle, you may find your legs getting a bit tired. It's time to find a place to rest where you can also eat something and recharge for some more exploring.
In Sasayama's castle town, you will find many different shops housed in renovated kominka, or traditional-style homes, including shops selling souvenirs and regional specialty products like Tamba pottery. There are many interesting little cafes, as well.
I visited Iwazabo Tamba Kotori, an old private house-turned-cafe, located about a ten-minute walk southwest of Sasayama Castle. It is one of the most popular cafes in the area.
Iwazabo Tamba Kotori is inside a renovated mansion where samurai once lived. One of the charms of this cafe is the warmth added to its original interior with decorations chosen by the young shopkeeper.
In fact, the shopkeeper's father is a Tamba pottery artist, and his work is extensively displayed throughout the cafe. His work is also used as the teaware in the cafe too.
Although this cafe is wholly Japanese in appearance, they offer a rare type of Chinese rock tea (a black tea) and homemade sweets as refreshments. Biscuits and desserts, which are all made using carefully selected ingredients, are also sold here. Many people come back repeatedly because of how great they taste.
3. Samurai Residences and Aoyama Historical Village
Now that we have satisfied our stomachs and rested our legs, it's time to head off to our next stop! Near Iwazabo Tamba Kotori, you will find a group of former samurai residences, known as the Samurai Residence Anma Family Historical Archive Hall. Here, you can glimpse into the daily life of Japan's warrior class.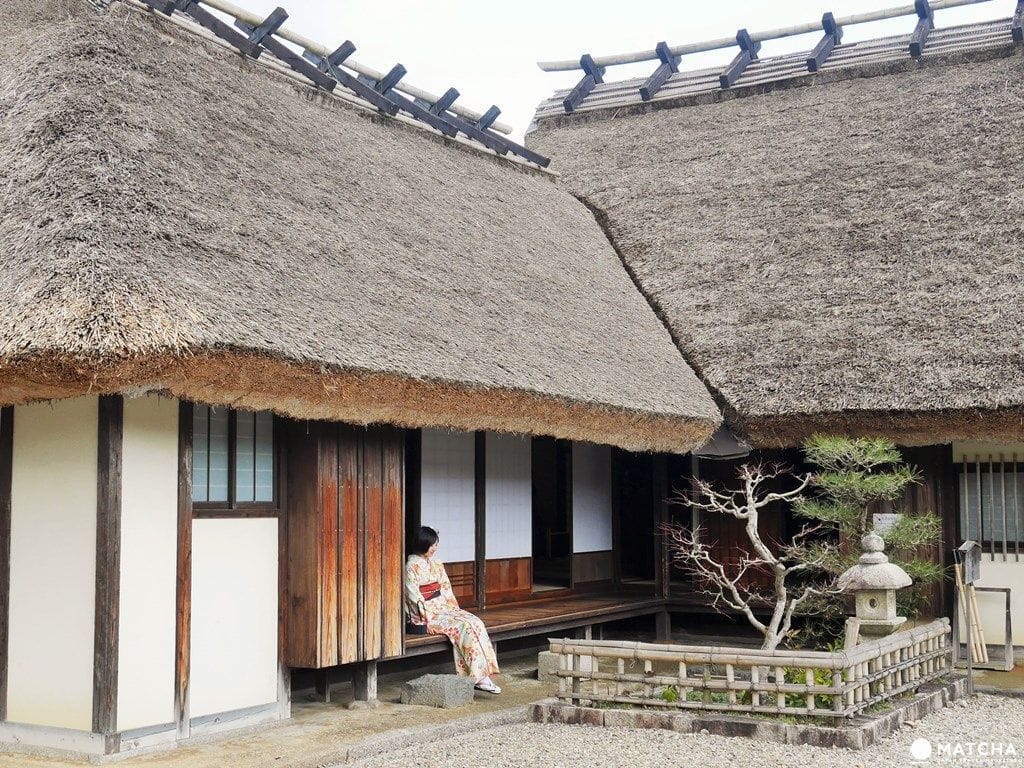 This is also an excellent photography spot, made even more fantastic when wearing a kimono. It almost feels as though you are taking photos of the past, thanks to the well-preserved historical atmosphere of this building.
The Aoyama Historical Museum is in a villa that was owned by the Aoyama family, who once ruled Sasayama. Their former residence was converted into a history museum. Here you will find scores of books about the Aoyama family as well as the Tamba Sasayama Dekanshokan, a hall where the history of Sasayama and the dekansho folk song and festival are exhibited.
In 2015, Sasayama City became certified as Japan Heritage Site when it submitted its traditional folk song.
The Dekanshokan hall was inspired by the folk songs of the Sasayama area dating back to the Edo era. As the farmers, who had to work so hard year-round, were permitted only this day to rest, they passed this time by having fun, relaxing and singing all day long.
By chance, during the Meiji era, a number of students from Sasayama went to the University of Tokyo to study. It is said that this form of entertainment and culture spread throughout Japan as a result.
Sasayama Castle, Sasayama's special products, culture, technology are incorporated in the lyrics of these songs. By listening to these songs, you can understand what life was like at that time and experience its history on a deep level.
These songs that made their way across Japan have been inherited by subsequent generations. The Tamba Sasayama Dekansho Festival is held at the Sasayama Castle ruins on August 15 and 16 every year.
4. Get Tipsy in the Castle Town: Houmeishu Horoyoi Jokakura
After listening to the history of Sasayama, it's time to taste some of its history, too! Houmeishu Horoyoi Jokakura is a sake brewery founded 220 years ago during the Edo era. Its building still retains the original architecture. Here, you can not only appreciate the structure, but also understand the wisdom behind it and the process of brewing sake too.
You can also sample Sasayama sake here. Don't be shy to sip as many types as you like and find the one that suits your tastes perfectly!
5. Another Trip through Time: Kawaramachi Mercantile Houses District
After enjoying Sasayama's local sake, let's go for a walk back in time once again, and visit the Kawaramachi Mercantile Houses District!
Located to the east of Sasayama Castle, this street runs about 500 meters long and has traditional houses from the Edo era running along both sides.
"Tsumairi" is the term for this type of architecture; while the same Japanese character "tsuma" also means wife, in architectural terms it means gable. This is a Japanese traditional architectural style where the main entrance is on the gabled sides of the building.
Historical districts in Sasayama are protected, which means that this traditional townscape is very well preserved. Once you step foot onto the street, you will once again feel as though you have traveled back in time.
Everywhere you look, there are traditional buildings with beautiful white plaster walls and warm wood details. The small shops here, frozen in time as they are, almost seem to be playing hide and seek, just waiting for you to discover them!
One of the shops that will catch your eye right away is Hakutoya, which sells various cute items. Built in a 200 year old former private home, the shopkeeper is a lovely woman from Kobe. She was immediately drawn to this old Japanese style home, so much so that she commutes about three hours a day to come to work here.
Items from around the world––like Europe, America, Africa––and handicrafts from all across Japan are sold here. Tamba pottery from Sasayama is, of course, also sold here.
One of the items most recommended by the shopkeeper is this coffee cup with a cute swallow design painted on it. The soft colors, simplicity, and delicate image of the swallow and camellia flowers are quite eye-catching.
This shop, with its amazing collection of miscellaneous goods that somehow match its historical architecture, is a must-see spot when you visit Sasayama!
After you have shopped, don't forget to take photos of the streets and buildings! The attention to detail and level of conservation of the area is sure to impress even the strictest history buff.
The combination of the setting sun, kimono, paving stones, and old homes are simply stunning and will impress your friends and family. This is the perfect opportunity to capture old Japan.
6. Sasayama Senbon Torii: Ojiyama Inari Shrine
Ojiyama Inari Shrine is close to the Kawaramachi Mercantile Houses District.
Countless bright vermilion torii gates line the pathway of Ojiyama Inari Shrine (also known as Makekirai Inari) that leads to the main shrine building. According to legend, during the Edo era, eight sumo wrestlers took their wrestling names from this shrine and went on to win many consecutive victories. This makes the shrine a popular spot thought to possess spiritual power.
Kimono and torii go well together in photos, so don't forget to take pictures here, too!
A Must-Eat Dish! Tamba Sasayama's Famous Botan Nabe
In addition to delicious Tamba black soybeans, there is another dish that you should try when visiting the area: botan nabe.
Botan nabe is a hot pot-style dish made with wild boar meat. Sasayama is surrounded by mountains and has a huge population of wild boar, which are hunted for food.
The term "botan nabe" ("botan" meaning peony in Japanese) is thought to originate from the arrangement of the meat in the shape of the flower when placed in the hot pot. It looks like the petals of a flower are opening as it cooks. Another possible origin of this name is believed to come from hanafuda, a traditional Japanese card game where players try to match flower patterns.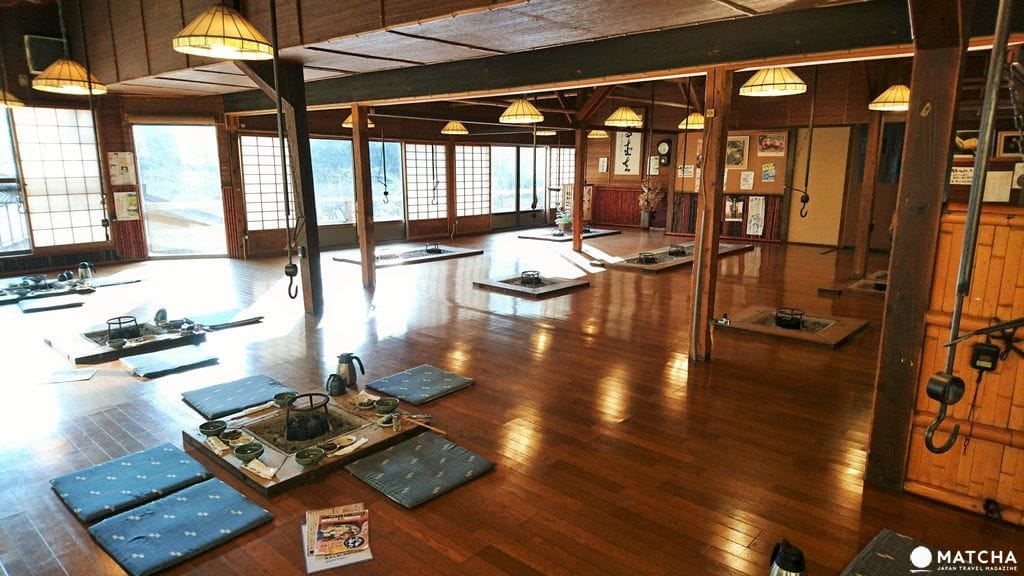 This is the botan nabe served at Iwaya, one of Sasayama's most popular restaurants. With its thatched roof and sunken hearth, this refined restaurant is the place to go to enjoy botan nabe amid the sounds and scents of the dish boiling steadily away over a charcoal fire.
Although fresh boar meat looks to have a lot of fat in it, it isn't oily. The meat, which is boiled in a miso stock, is soft and chewy. It has a delicious taste that is somewhat different from that of other meats.
Here, they serve Tamba Sasayama koshi-hikari rice and seasonal vegetables grown by the shopkeepers themselves. The fresh, natural taste of the dishes served here is what keeps diners coming back for more.
After savoring the wild boar, add a fresh egg to the remaining broth. Then, pour it over your dish of rice to create tamago-nose gohan (flavored egg on rice). The combination of the rich soup, egg and rice is a satisfying way to end the dish.
Explore Charming Sasayama
After changing back into regular clothing from the kimono, your journey to the Edo period is over. Luckily, your trip isn't over quite yet, as you will still be able to see many old Japanese buildings when you go back through the city.
Tamba Sasayama is a rare place where you can fall back in time and stroll through Japan 400 years ago. You may find that your steps become lighter as you wander about, and you will probably want to learn more about Sasayama. If you would like to submerge yourself in the history and traditions of Japan, I recommend a trip to Tamba Sasayama!