Hokkaido Souvenirs You Can Buy at the Airport! For Friends, Family, and More
If you're looking for souvenirs from Hokkaido, the shops at New Chitose Airport offer an excellent selection. We introduce the most popular souvenirs from Hokkaido, from edible items like Shiroi Koibito and Marusei Butter Sandwich to non-edible goods such as lavender cosmetics and others!
This article has been reposted with permission from Hokkaido Love!
While leaving your shopping to the last minute can seem like some pretty bad advice, when traveling through Hokkaido, it's a piece of advice well worth keeping in mind. New Chitose Airport, the region's most well-trafficked international airport and a key destination for many Hokkaido travelers, is a shopper's paradise.
From wine to cheese, sweets, and plenty of other sweet and savory treats, as well as non-edible souvenirs, there's something for everyone. Whether you have to pick up a gift for friends and family or just looking for a little something to bring back to the office, we've crafted a handy little guide to the must-buy Hokkaido souvenirs.
See information on exciting places to visit in Hokkaido!
For One's Family
Rokkatei Marusei Butter Sandwich
Marusei Butter Sandwich is the creation of Rokkatei, a famous confectionery company based in Hokkaido. These retro-designed baked sweets were first released in 1977 and remain to this day the brand's best-selling item. Once you have a taste, you'll know exactly why.
They're little bites of adult decadence. The main ingredient is Hokkaido butter, which is mixed with raisins and white chocolate and sandwiched between two biscuits. An artful combination of savory and sweet, these cookies come in a box set of five and are best enjoyed with matcha, coffee, or regular tea.
Where to find: Hokkaido Honpo General Souvenir Store and other stores within New Chitose Airport
ISHIYA Namara Butter Baumkuchen
Picture courtesy of Hokkaido Honpo General Souvenir Store
From the makers that brought you one of Hokkaido's most ubiquitous souvenir items, Shiroi Koibito (more on that later), meet ISHIYA Namara Butter Baumkuchen TSUMUGI. Originally from Germany, baumkuchen has become a mainstay on the Japanese confectionery scene. Although essentially a layered sponge-style cake, in Japan, the distinctive concentric rings of the baumkuchen are considered symbols of longevity, making the cake a popular item at celebrations and special events.
Its delicate, soft fluffy layers and ring shape make it a cake that's as easy to cut and share as it is to eat. While you can find varieties of baumkuchen all over Japan – even at some convenience stores – this version is special. By using original Hokkaido butter, they've elevated the elegantly simple cake to a whole new level.
Where to find: Hokkaido Honpo General Souvenir Store
Royce' Potato Chip Chocolate
An absolute Hokkaido classic and a real hit when it comes to snacks, Royce' are one of the region's most loved chocolate makers, and their chocolate-covered chips are one of their flagship items.
As the name suggests, these are, yes, chocolate-covered potato chips. If you haven't tried this combination already, we're sure you'll understand its appeal. Crispy, salty plain potato chips coated in a smooth, milky-sweet, but not too sweet layer of Royce' chocolate; they're near impossible to put down. If you're looking for something more adventurous, the chips come in a variety of flavor options, including one that uses white chocolate, a mildly bitter chocolate variety that is less sweet, as well as seasonally exclusive offerings.
Where to find: Hokkaido Honpo General Souvenir Store, Royce'
For Coworkers and Associates
Shiroi Koibito
Picture courtesy of Hokkaido Honpo General Souvenir Store
Shiroi Koibito are unofficially the 'go-to' Hokkaido souvenir choice. They're a piece of smooth white chocolate sandwiched between two thin, crisp langue de chat. Light and sweet, they even won a 1986 Monde Selection award.
Small, beautifully wrapped, easy to share, and delicious with coffee or tea, Shiroi Koibito is a failsafe option, which is why the company sells over 200 million Shiroi Koibito cookies every year! The brand also has an amusement park located in Sapporo.
These incredibly popular langue de chat can be found at gift stores throughout Hokkaido. But if you don't want to lug the box around during your travels, you can easily pick them up at New Chitose Airport on the way back home.
Where to find: Hokkaido Honpo General Souvenir Store
Hori Yubari Melon Pure Jelly
Hokkaido is also known for producing some of the best melons and melon products in Japan. Although shipping an entire melon back home could be a bit risky, there are other ways to enjoy the region's famous Yubari melon. Our recommended product is the Hori Yubari Melon Pure Jelly, an exquisite dessert made with fully ripe, smooth, and aromatic Yubari melon.
The texture and juiciness of these desserts are just like that of a Yubari melon! They come in small, single-serve style packaging, and can stay fresh for up to six months, so you and your friends or co-workers can enjoy the rich, full-bodied sweetness of Yubari melons no matter the season.
Where to find: Hokkaido Honpo General Souvenir Store
Gifts for Friends and Superiors
Hokkaido Wine
In recent years, Hokkaido has started gaining attention both domestically and globally for its delicious wines. The cool crisp climate makes it one of the country's best wine-producing regions.
Recommended by the team at Wine & Cheese is Campbell Sans Soufre from Sapporo's Fujino Winery. It's a light wine with hints of strawberry, raspberry, and cherries and nuanced layers of quince and rhubarb, with a slight acid kick. So, if you want a gift that will surprise, delight, and probably spark some conversation, consider popping my Wine & Cheese Hokkaido Konosha for a bottle of Hokkaido's finest.
Where to find: Wine & Cheese Hokkaido Konosha
Hokkaido Cheese
Hokkaido is a region known for producing some of the best quality dairy in Japan, and given the recent spike in wine excellence, it just makes sense that fine cheese would be next on the list.
The region is home to excellent cheese of all types, from aged cheddars to soft creamy brie. That said, it is worth noting that some countries don't allow cheese products to be brought in from overseas. Luckily, the knowledgeable staff at Wine & Cheese Hokkaido Konosha are well acquainted with all the import rules and regulations and will be able to guide you on whether you can take home a cut of the good stuff.
One safer – and delicious – option is the Hokkaido Processed Cheese in Olive Oil from North Farm Stock. Best enjoyed with beer or wine and on crunchy bread, the leftover, smooth herb-heavy oil can also be used as a dressing for pasta or salad.
Where to find: Wine & Cheese Hokkaido Konosha
Products That Are Exclusive to New Chitose Airport
Chocolatier Masále's Chocolat Brownie (Limited-Edition Design)
Picture courtesy of Chocolatier Masále
Born in Hokkaido, which can be considered Japan's chocolate capital, and using the finest cacao from across the globe, the products made by Chocolatier Masále are not your run-of-the-mill chocolates, but truly sophisticated and delicious.
The brand's Chocolat Brownie is a stand-out product. It's double-baked, coated in sweet chocolate, and featuring original designs, some exclusive only to the New Chitose Airport store.
Don't know which are the limited edition options? Just ask the friendly staff who will point you in the right direction. According to the staff at Chocolatier Masále, their offerings are best enjoyed with coffee, wine, or a deep, rich whiskey.
Where to find: Chocolatier Masále
Morimoto's Hokkaido Haskap Chocolate & Cookies
For most folks, even the fruit lovers among us, the word haskap or haskap berries may not ring too many bells, but up in Hokkaido, they're one of the area's most utilized berries. They're a sweet little secret well-kept by the locals, looking something like a grape with a taste that sits somewhere between blueberry, raspberry, blackcurrant, and elderberry.
Morimoto are haskap masters; these purveyors of fine baked goods have an excellent store in New Chitose Airport selling baked sweets utilizing haskap jelly and jam.
Some of the store's exclusive options using Hokkaido haskap berries require refrigeration. Their sweet and slightly sour Hokkaido Haskap Chocolate & Cookies, which combine haskap chocolate, confiture, and plain cookies, are travel-friendly and, according to the staff, pair very well with tea and coffee.
Where to find: Morimoto New Chitose Airport Store
Homemade Caramel (Almond)
Saving one of the most special for last on the food front, Caramel Kitchen is a Chitose-exclusive raw caramel shop selling some of the freshest, most delicious caramel sweets you'll find in Japan.
The store uses cow's milk and butter produced in Hokkaido to make their unique homemade caramel, which they also produce in the airport. The store makes caramel around five times a day, so if you're lucky, you can see the product being made in real-time.
Ultra-fresh and tasty, they offer a wide selection of caramel sweets. Their caramel biscuits, which consist of biscuits covered in raw caramel, are one of the most popular products.
One staple offering that comes highly recommended by the staff is the Homemade Caramel "Almond". This sweet delight is made with fragrant crushed almonds that have been roasted at the store.
Where to find: Caramel Kitchen
Local Crafts and Cosmetics from Craft Studio
For non-edible souvenirs and keepsakes, visit Craft Studio. This sprawling store offers a wide selection of goods of all types. From artisanal, handmade leather goods to lavender-infused soaps and hand creams, you'll find something here that'll both embody the essence of Hokkaido while enriching your daily life.
Some highlights include the wide selection of hand creams and hand soaps perfect for soothing your skin after a long day in the dry, cold winter air.
Lavender Goods
As the lavender capital of Japan, Hokkaido is home to a wealth of producers crafting cosmetics, interior items, and other goods using generous quantities of lavender. The flower is as versatile as it is soothing; with soaps, creams, oils, and countless other lavender-based products on offer, the Craft Studio covers all the bases. If you have a hard time deciding what to take home, be sure to ask the friendly staff for their recommendations.
Leather Goods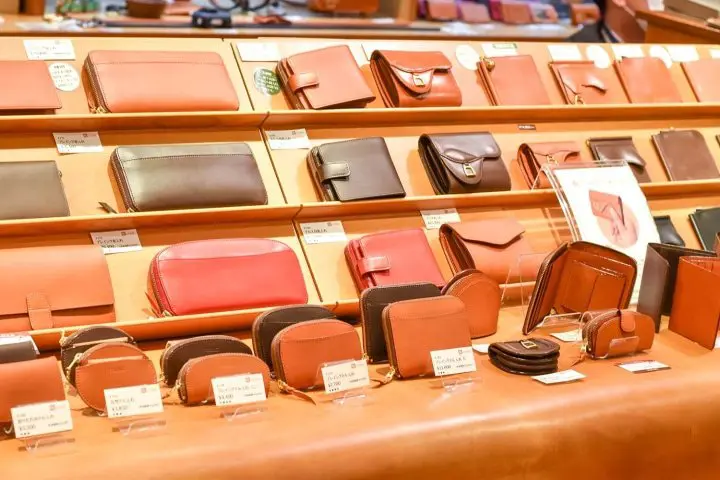 Hokkaido is also a region home to some of the country's most inspiring and innovative leather-based artisans. At Craft Studio, you'll find a wide cross-section of pieces from wallets and bags to key-rings and belts, all crafted using the finest leather by the most talented workers.
One key brand to look out for is Itagaki, an almost 40-year-old local leather brand that loves traditionalism. They use only environment-friendly tannin tanned leather and their products are handmade with care by skilled artisans.
Craft Studio's "Only in Hokkaido" Emblem
The Craft Studio also has a unique collaborative project with the brand Itagaki for those interested in personalizing their products. Customers who buy Itagaki products can choose to have an 'only in Hokkaido' emblem embossed on their item. This emblem is not available at other stores and serves as a unique reminder of your trip to Hokkaido for more information; you can visit the Itagaki website.
Enjoy Shopping for Souvenirs at New Chitose Airport!
Spend more time enjoying Hokkaido and less time worrying about shopping! When you're ready to return, an extra few hours before your flight home is all you need to do to complete your holiday shopping with confidence. Oh, and while you're exploring, be sure to treat yourself to the region's most-loved delicacies: soft cream (soft-serve ice cream) or a cheese tart, or maybe both!

See information on exciting places to visit in Hokkaido!

Written by Lucy Dayman
Main image by Pixta
Supported by Hokkaido Airports Co., Ltd.

The information presented in this article is based on the time it was written. Note that there may be changes in the merchandise, services, and prices that have occurred after this article was published. Please contact the facility or facilities in this article directly before visiting.