Enjoy the flavors of the four seasons! Hiroshima Prefecture's 8 Popular Comprehensive Tourism Farm
We are proud of our rich variety! Hiroshima Prefecture has many tourist farms where you can enjoy fruit picking. There are many farms that grow various varieties and have a rich experience menu, so you can enjoy yourself all day.
①Hirata Tourist Farm
[Fruits] Strawberries, cherries, plums, peaches, pears, grapes, apples
A tourist farm where you can experience fruit picking all year round. Starting with strawberry picking from early December to early June, seasonal fruits such as cherries, plums, peaches, pears, grapes (Delaware, Pione, etc.), apples, etc. In addition to the fruit fields, the 15-hectare park also has a café that was relocated from a 100-year-old traditional house, and a take-out café where you can enjoy drinks and sweets made with fruits. There are plenty of experience menus, such as canned fruit making experience, outdoor cooking experience using Dutch oven, BBQ etc. are also popular.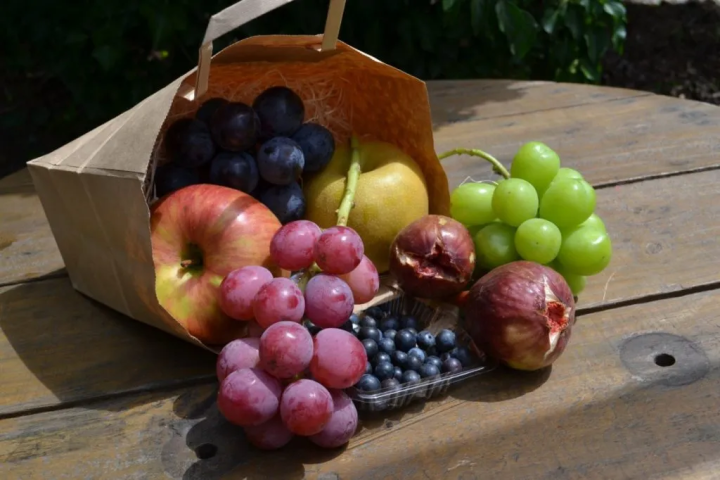 Choose and harvest your favorite fruits "just picking" ~Original fruit picking at Hirata Tourist Farm~
During the season when there are many types of fruits, we also recommend picking just a little bit of various fruits and eating them! Unlike all-you-can-eat fruit picking, the appeal is that you can enjoy a variety of fruits at once. It is held from the beginning of August to the end of October. Please enjoy!
②Fruit Forest Park
[Fruits] Strawberries, cherries, blueberries, pears, grapes, apples, kiwifruit
Strawberries are grown from winter to spring, cherries from early summer, blueberries from summer, and pears, grapes, apples, and kiwifruit from summer to autumn. They also have a wide variety of processed fruit products, such as jams, gelato, and apple pies, which are popular during the apple season, as souvenirs. There is also a large lawn area of about 7,000 square meters, so it is also recommended for families.
③Hakuryu Lake Tourist Farm
[Fruits] Strawberries, cherries, pears, grapes
You can enjoy four types of fruit picking: strawberries, cherries, pears, and grapes. At the pear orchard, we focus on growing safe and secure fruits, such as mowing the grass by hand without using herbicides and growing strawberries using hydroponics, which uses almost no pesticides. At the farm café "Casata" in the park, you can enjoy gelato made with plenty of fruits and strawberry shaved ice (limited to summer). Barbecue set rental is also available.
④ Toyohira Donguri Park
[Fruits] Strawberries, blueberries, grapes
A tourist farm where you can enjoy seasonal flavors almost all year round, cultivating many varieties such as 10 varieties of strawberries, 7 varieties of blueberries, 16 varieties of grapes, and 8 varieties of tomatoes. In addition to the harvesting experience, fruity shaved ice, smoothies, and homemade jams are also popular.
⑤ La Sky Farm
[Fruit] Plum, chestnut
At this tourist farm in Sera Kogen, you can experience picking plums in the summer and chestnuts in the fall. All of them are organically grown, so you can eat them with peace of mind. Chrysanthemums and 100,000 Astragalus bloom in spring, cosmos bloom in autumn, and you can enjoy walking around the flower garden. *Depending on the weather and crop growth conditions, it may not be possible. Please check in advance before going out.
⑥Sera Kosui Farm/Birneraden
[Fruits] Strawberries, pears, grapes
A fruit farm located in Sera, where fruit cultivation is thriving even within Hiroshima Prefecture. In addition to red pears that are popular for "Seranashi", we also grow strawberries and grapes. The shop also sells processed products that condense the natural sweetness of pears, such as ``nashimitsu'', which is made by boiling down pears, and ``pear chutney'', a jam made without using sugar. We also sell freshly harvested apples, peaches, and vegetables.
⑦ Sera Taiho Farm
[Fruit] Pears, grapes
We grow pears and grapes on the flat plateau at an altitude of 400m. Three varieties of grapes are cultivated, including the rare Honey Venus with high sugar content. The pears are cultivated without bags, which has a higher content of vitamin C and sugar. At night, the entire farm is illuminated by anti-moth lamps, creating a fantastic view.
⑧ Sera Mukai Farm
[Fruits] Grapes, apples, pears
A fruit farm that considers the environment and safety without using any herbicides. You can enjoy picking grapes in summer and apples and pears in autumn. In addition to fruits harvested in the garden, seasonal fruits such as cherries and peaches are also sold at the shop. They also have a wide range of processed products such as tomato vinegar and handmade jams. Check out souvenirs on the way home from fruit picking!

The information presented in this article is based on the time it was written. Note that there may be changes in the merchandise, services, and prices that have occurred after this article was published. Please contact the facility or facilities in this article directly before visiting.