Osaka's Flower Miffy Store: Lovely Bouquets, Drinks, and Character Goods
Hop into Osaka's new Flower Miffy Juice Garden flower shop! Enjoy Miffy-themed goods and delicious food at Kansai's first-ever permanent Miffy Flower shop.
Flower Miffy Has Now a Store in Osaka!
Just in time for spring! Hop into Osaka's new flower shop - Flower Miffy! Opened on April 6, Kansai's first-ever permanent Flower Miffy shop is here and ready to put a spring in your step.
Within the flower shop is the Juice Garden, a stand where you can enjoy delicious bunny-themed drinks and desserts. Some of the treats offered here are Osaka-only!
After a bite to eat why not head on over to the Flower Corner of the shop and create your own unique, elegant Miffy bouquets? Explore the shop for gorgeous spring household merchandise from this popular character and feel excited when seeing all the adorable Miffy-themed items! Keep on reading to find out more about this Miffy paradise.
Flower Shop: Adorable Bouquets and Household Items
Visit the Flower Miffy flower shop and head on over to the flower corner of the store where an array of beautiful colorful flowers can be seen and purchased! Choose and pick a combination of your favorite high-quality artificial art flowers and create your own unique and stylish bouquet from this flower buffet!
The bouquets are wrapped in an adorable Miffy bouquet paper and tied with a silky ribbon, take these gorgeous bouquets home and display them around your house, due to the flowers being artificial these bundles of joy will stay fresh-looking all year round!
The flower shop also sells lovely Miffy home goods such as this beautiful yet simple Miffy Face Silhouette Flower Vase!
Frame brilliant flowers with a charming bunny-themed flower vase to bring joy to your home. This vase can also be used as a candle holder so why not try your favorite scented candle or make nighttime atmospheric and peaceful?
Miffy Face Silhouette Flower Vase: 2,750 yen (tax included)
These pocket-sized embroidered brooches come in packs of three, each brooch has a delightful design from the original artist Dick Bruna sewn into the three-dimensional brooch.
Brooches come in a collection of three badges per packet, and are in a mystery package! See if you are lucky enough to find the brooch with a secret pattern!
Embroidery brooch collection (3 pcs.): 880 yen (tax included)
Flower Miffy Juice Garden
Flower Miffy Juice Garden is a stand within the flower shop where you can indulge in tasty desserts while feeling like you are in her own peaceful garden!
Enjoy special food from limited-time seasonal drinks such as delicious a Strawberry Milk Cherry Blossom beverage with pink blossom dusting on top, or from the standard menu a Tiramisu Bunny Flower Plant Pot! Possibly the sweetest deserts ever, don't miss out and read further to see these irresistibly engaging foods.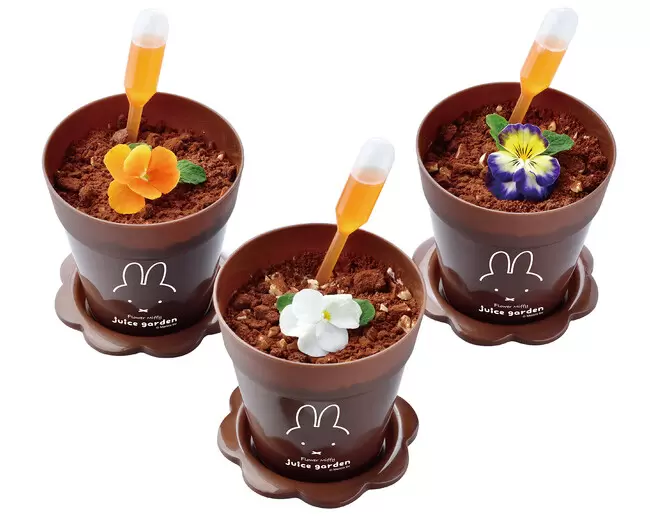 Dig into these mini Miffy flower pots! These adorable tiramisu small flower pots are planted with colorful edible flowers, and topped with a vibrant delicious orange-flavored sauce.
Flower Miffy Flower Pot Tiramisu: 778 yen (tax included)
A sweet duo! These cute best friends, Miffy and Melanie, have been turned into adorable pastries. Perfect for a matching dessert with your best friend, choose from a Miffy tart which is Cheesecake flavored, or a Melanie tart a scrumptious chocolate flavor!
Miffy Tart: 626 yen (tax included)
Colorful and in time for spring, why not try a creamy matcha or strawberry milk beverage while walking through cherry blossoms? Whipped cream sprinkled with strawberry dust and a Miffy biscuit crowned on top, don't miss this adorable season-limited drink!
Spring Breeze Sakura Drink (Matcha milk / Strawberry milk): 756 yen (tax included)
*Ice cream only, season-limited drink
A small flower garden in a cup full of gorgeous edible flowers, this non-alcoholic jelly cocktail comes in three different flavors. Choose from: a deep purple lavender cocktail tasting of apples, a soft beautiful tulip-flavored peach cocktail, or a vibrant, sunny orange-flavored cocktail. Each drink can have either a soda or lemon base.
Flower Garden Cocktail (3 types): 605 yen (tax included)
*Only non-alcoholic ice cream is provided.
Flower Miffy Adorable Orginal Goods
Limited to Osakas Flower Miffy store, you can find endearing and rare Miffy goods, all the more of a reason to visit this store next time you are in Osaka!
Customers who visit this grand opening and purchase 2,750 yen (tax included) or more in the store have the special opportunity to gain one out of six random Flower Miffy Photo Cards! This special event ends on June 6 so make sure not to miss this occasion.
The Flower Miffy Juice Garden Stainless steel tumblers come in three different soft and sweet natural colors. The tumblers can be used as they are or as a sleeve for other cups and bottles, decorating your store-bought drinks they are a cute accessory for your work desk and home!
Flower Miffy Juice Garden Stainless Tumblers (3 types): 3,410 yen each (tax included)
A perfectly themed Miffy Garden mug! Have a sip of coffee in the morning in your own garden or home and start your day feeling cute! This cute design has the Miffy Flower Juice Gardens logo so every time you see it you can be reminded of the fun outing you had!
Miffy Juice Garden Mug: 1,650 yen (tax included)
The Lovable Clear Miffy Bamboo Canisters are multipurpose and sweetly designed Miffy jars that come in both small and medium sizes. Stackable, they are multipurpose and can be used in your home as storage containers from the kitchen to your bedroom! Use these crystal clear jars to store containers for some of your most precious knick-knacks and cosmetics!
Flower Miffy Juice Garden Stacking Bamboo Canister S/Canister M: S size 3,080 yen, M size 3,520 yen (tax included)
These Adorable Mint Green and Orange Eco-Friendly Miffy coasters made from recycled egg shells are well-designed and ideal for picnics and other outdoor activities due to their excellent water absorption!
Flower Miffy Juice Garden Egg Coaster Green/Orange: 1,408 yen (tax included)
A light and easy-to-carry Miffy tote bag! This item can be only purchased when buying other in-store products in the shop; it's a great souvenir and memory for visiting the shop. The simple design is bound to go with anything you are wearing, spot the cute Miffy-themed cup detail on the back of the bag!
Flower Miffy Juice Garden Limited Shop Tote Bag: 770 yen (tax included)
This new shop is easily accessible and in the city center. When you visit Osaka, why not add Miffy Flower Juice Garden to your itinerary and pop by this fantastic shop?
Flower Miffy Osaka Store Details
Location: Osaka, Tennoji, Hiten-cho 10-39 Tennoji Mio Main Building 6F
Opening hours: 11:00-21:00
Official website: https://benelic.com/flowermiffy/
Instagram: https://www.instagram.com/flower_miffy_official/
Flower Miffy online shop: https://www.benelic -flower.com/

Information and photo source: PR Times

Written by Kate_T

The information presented in this article is based on the time it was written. Note that there may be changes in the merchandise, services, and prices that have occurred after this article was published. Please contact the facility or facilities in this article directly before visiting.