Osaka Castle: Highlights, Bargain Tickets, and Cherry Blossom Tips
Osaka Castle is one of Japan's three famous castles and a popular landmark of Osaka. This article introduces the highlights of Osaka Castle and ticket information alongside nearby cherry blossom spots, Osaka parks, and hotels with great castle views.
Osaka Castle: A Must-Visit Location in Osaka
Photo by Pixta
There are many fascinating places to visit in Osaka, including the famous theme park Universal Studios Japan and the neon district of Dotonbori. Osaka Castle is one of the must-visit places in the city. It sits on the expansive grounds of a large park in the heart of Osaka.
This article introduces the highlights of Osaka Castle and popular nearby spots, alongside hotels with castle views, and information to maximize your enjoyable stay in Osaka.
Click Here to Book a Hotel in Osaka on Booking.com
Table of Contents:
1. Osaka Castle: General Features
2. Osaka Castle Highlights
3. Estimated Time Required for an Osaka Castle Visit
4. Hours, Admission Fees, and Bargain Tickets
5. Osaka Castle Area: Cherry Blossom Spots and Other Tips
6. Hotels with Views of Osaka Castle
7. Access Information
1. Osaka Castle: The Symbol of Osaka City
Osaka Castle was built as a residence during the second half of the 16th century by Toyotomi Hideyoshi (*1), who was trying to unify Japan during this time. This immense castle―one of Japan's greatest―took over 16 years to be completed.
With the fall of the Toyotomi clan, the Osaka Castle was destroyed by fire. The stone wall and turret (*2) visible today were restored during the Edo Period (1603-1868).
Presently, Osaka Castle is one of Japan's three famous castles, along with Nagoya Castle and Kumamoto Castle. Today, it maintains a strikingly powerful appearance as the symbol of Osaka.
*1 Toyotomi Hideyoshi: a famous military commander during the Sengoku Period (Warring States Period). He rose from the ranks of the common class to become one of Japan's most influential figures.
*2 Yagura: a tall scaffold-like structure referred to as the castle's turret that served as a watchtower.
2. Highlights: Observation Deck and Lighting Events
Photo by Pixta
The castle tower has a total of eight floors.
Exhibition Area
A museum occupies the first-floor entrance to the seventh floor of the tower.
You'll find displays featuring the castle and documents detailing the era of Toyotomi Hideyoshi, who built the impressive structure. Exhibits feature a restoration model of Osaka Castle, armor, swords, and a battlefield reenactment with miniature figures.
The displays change seasonally, including special and themed exhibitions. For details, please refer to Osaka Castle's official website.
Observation Deck
The eighth-floor observation area is located 50 meters above the ground. It offers panoramic views of the castle area and Osaka. The observation deck is also barrier-free and welcomes visitors in wheelchairs.
Castle Light-ups After Dusk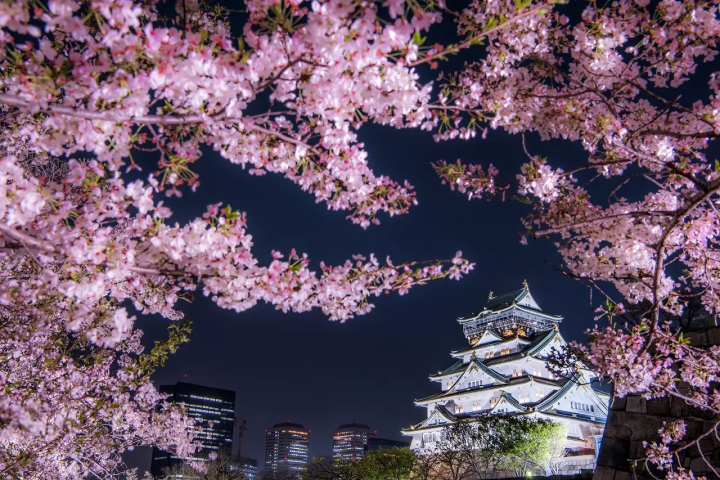 Photo by Pixta
Take note that the castle tower is illuminated from dusk until 24:00. You'll get a close-up of this imposing structure bathed in sparkling white. In addition to the castle tower, indirect lighting is cast upon the gate and the turret, creating a slightly mystical and mysterious space.
3. The Estimated Time Needed To Explore Osaka Castle
In addition to the castle tower, other areas within the castle such as Ninomaru (outer bailey), Honmaru (inner bailey), and Nishinomaru (western bailey) are all expansive. It takes about 90 minutes if you're taking your time to fully explore each section while snapping photos.
The tower―the castle's main section―has various exhibits and a hands-on experience area. Even if you go on a quick tour, you'll still need at least 30 minutes. We also recommend the elevator if you're short on time or it's difficult to move around on your own.
There are also special events at the castle regularly. If you're interested in attending some of these events, be sure to visit when you have plenty of time.
4. Hours, Admission Fees, and Bargain Tickets
Hours of Operation
Osaka Castle is open from 9:00 to 17:00 (last entry at 16:30). Please note that extended hours are in operation during the cherry blossom season, Golden Week, and summer holidays. For the latest updates in 2023, please refer to the official website.
Cherry blossom season (March 25 to April 9, 2023)
9:00 to 18:00 (last entry at 17:30)
Golden Week (Every year from April 29 to May 7)
*2023 extended hours are yet to be decided.
Every year 9:00 to 18:00 (entry until 17:30)
Admission to Osaka Castle's Tower
The tickets for adult visitors cost 600 yen; junior high school students and under enter for free.
Same-day tickets can also be purchased onsite. If you use the travel experience reservation site, Klook, you can buy tickets online beforehand. We recommend this website to travelers who want to avoid waiting in lines and enter the castle smoothly.
In addition to the castle, visitors interested in the Osaka Museum of History can buy a reasonable 1,000-yen ticket that includes both attractions.
There is also a 2,000-yen ticket combining the Osaka Castle tower and the Osaka Aqua mini, a river cruise (*3). Please find the bargain ticket that matches your sightseeing plan.
*3 Osaka Aqua mini + Osaka Castle Tower Set Ticket: unavailable during the busy season from late March to mid-April.
Click Here to Buy a Klook Ticket in Advance
5. Osaka Castle Area: Cherry Blossoms and Other Tips
Be sure to check out sightseeing attractions near the castle when planning a trip to Osaka.
Osaka Castle Park: 3,000 Blooming Cherry Trees in Spring!
Osaka Castle Park is a large city park in central Osaka that's home to Osaka Castle.
In addition to being a famous spot for flowers, visitors can enjoy 1,200 blooming plum trees (January to March) and a stunning view of 3,000 blooming cherry trees (late March until mid-April).
The premises also house Nishinomaru Garden, a popular cherry blossom viewing spot designated as an important cultural property by the city.
The area surrounding the moat, which was built to protect the castle, is covered with greenery. You can feel the calming presence of nature year-round.
The Osaka Castle area is also host to several places where you can experience Osaka's past and present-day history.
We suggest dropping by the Osaka Museum of History to learn more about Osaka's history and culture. Simultaneously, you can visit the Kyobashi area to experience an old-fashioned shopping and entertainment district.
Within walking distance is the commercial facility JO-TERRACE OSAKA and Osaka Business Park (Japanese), known as Osaka's new city center. You'll be able to enjoy shopping and delicious local food here.
6. Stay at a Hotel with Views of Osaka Castle!
Picture courtesy of Booking.com
By staying at a hotel with views of Osaka Castle, you can create some long-lasting memories of Osaka.
Directly in front of Osaka Castle is Hotel New Otani Osaka, one of Japan's leading luxury hotels. Guests are treated to beautiful panoramic views of Osaka Castle from the rooms (*4) and restaurant.
This fully-equipped facility also features a pool, gift shop, and children's nursery! The hotel is renowned for its excellent customer service, so we recommend it for guests who want a luxurious overnight stay.
Book a Room at Hotel New Otani on Booking.com
Book a Room at Hotel New Otani Osaka on agoda
Picture courtesy of Booking.com
For budget visitors interested in views of Osaka Castle from their guest room, please check out the KKR Hotel Osaka.
Not only can guests get stunning views of Osaka Castle from the comfort of their rooms, but they can also enjoy a meal in a tearoom with an extravagant Japanese atmosphere.
There's also a shuttle bus connecting Morinomiya Station (the nearest station) with the hotel. This makes hotel accessibility simple and convenient.
*4 Guest rooms: please note that views of Osaka Castle are only available from rooms that face the castle's direction.
Book a Room at KKR Hotel on Booking.com
Book a Room at KKR Hotel on agoda
7. Access Information: Several Stations Located near the Castle!
There are a total of eight stations near Osaka Castle. Osaka Castle Park is very expansive, so there are several stations nearby. We'll be introducing two stations that have comparatively better accessibility.
Osakajo-Koen Station: Ideal When Departing from Osaka Station
Osakajo-koen Station is along the Osaka Loop Line, with Osaka Station being the loop's starting point and the terminus.
From Osaka Station, which serves Osaka's main entertainment district, it takes about ten minutes to arrive at Osakajo-koen Station. It's only a 15-minute walk to the castle tower area from the station.
Tanimachi Yonchome Station: The Closest Station to Osaka Castle Tower
The Tanimachi Subway Line and Chuo Subway Line intersect at Tanimachi Yonchome Station.
This station is close to Osaka Castle's main gate―Otemon. This is perfect for those who want to enter the castle through the front. It's also only a 15-minute stroll from the station to the castle tower.
Rental Cars Are Convenient When Visiting the Kansai Area!
The Kansai area has many attractive sightseeing places including Kyoto, Nara, and also Hyogo Prefecture's Arima Onsen.
Although it's possible to get around by public transit, a rental car is handy for traveling and exploring the Kansai Region according to your schedule.
MATCHA is currently offering overseas visitors a NIPPON Rent-A-Car 10% Off Coupon. Do take advantage of this great offer!
Get 10% Off Nippon Rent-A-Car!

Take the Next Opportunity to Visit Osaka Castle
We've introduced Osaka Castle Park and hotels with castle views alongside Osaka Castle's highlights and information on nearby spots.

On your next visit to Osaka and the Kansai area, please enjoy Osaka Castle's history and majestic appearance!




Main image by Pixta
*This article is a revised 2023 edition of an article published on March 28, 2018.

The information presented in this article is based on the time it was written. Note that there may be changes in the merchandise, services, and prices that have occurred after this article was published. Please contact the facility or facilities in this article directly before visiting.