Autumn In Japan: Travel, Clothing, And Weather For September - November
Autumn is the season of gorgeous fall foliage, traditional festivals, and delicious food. This guide introduces travel tips, seasonal things to do, and weather information for those planning a fall vacation in Japan.
Autumn in Japan - The Season of Stunning Foliage
Picture courtesy of Kifune Shrine ©Yasuhiro Imamiya
Autumn in Japan means gorgeous koyo foliage, mild weather ideal for traveling around, special events, and delicious food. It begins around mid-September and lasts through November.
If you plan a trip to Japan in the fall, read on to learn what clothing you should pack, how and where to enjoy the autumn leaves, and traditional events and seasonal food that you shouldn't miss.
See our Fall Colors 2020 feature to learn the most beautiful seasonal foliage spots in Japan.
Go To Travel Booking Websites
1. Japan Wonder Travel (*the only website with English support. Please specify that you applied through MATCHA.)
2. HIS
3. JTB
4. AirTrip
5. Ikyu.com
6. Yahoo! Travel
Fall Weather and Temperatures in Japan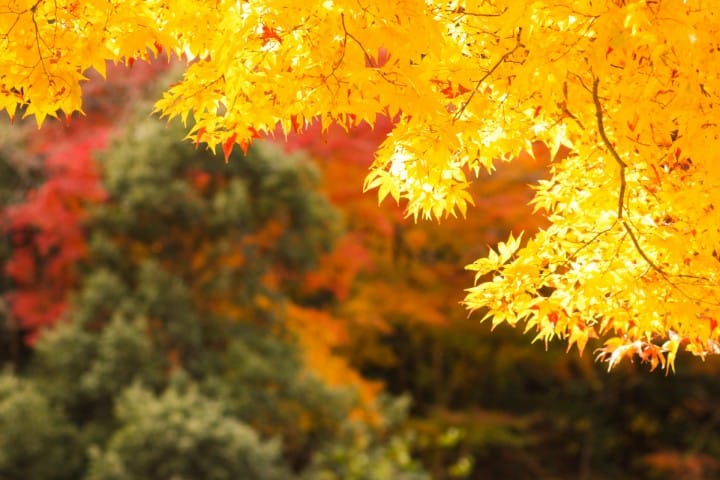 Picture courtesy of Japan National Tourism Organization
Autumn in Japan comprises the months of September, October, and November.
In September, temperatures tend to be around 23ºC to 28ºC (73°F to 82°F) in the afternoon and drop to about 18ºC to 21ºC (64°F to 70°F) in the morning and at night.
In October, afternoon temperatures range from 19ºC to 23ºC (66°F to 73°F), and morning temperatures tend to be around 14ºC to 18ºC (57°F to 64°F).
In November, afternoon temperatures are about 14ºC to 18ºC (57°F to 64°F) while morning and evening temperatures are 7ºC to 12ºC (45°F to 54°F).
Although typhoons may occur between September to mid-October, the weather is comparatively comfortable in autumn.
Fall Travel Highlights in Japan
Here are some of the activities and events you can enjoy during the fall in Japan.
1. Venture Outside and See Autumn Leaves
Picture courtesy of Japan National Tourism Organization
Viewing the fall foliage, or "momijigari" in Japanese, is one of the most awaited activities in Japan. Autumn is the season when the leaves of deciduous trees turn to brilliant shades of red and yellow. The autumn colors gradually make their way from the northernmost prefectures down to the south.
The timing of color change depends on annual climate variations, but on average the best time to see fall leaves in each area is as follows: from late September through mid-October in Hokkaido, from mid-October to mid-November in Tokyo, from mid-to-late November in Osaka, and from late November to early December in Kyoto.
2. Moon Viewing Events - Tsukimi
Picture from Autumn Festivals in Japan
Early to mid-fall, there are various events related to tsukimi (moon viewing). Tsukimi is a traditional custom that goes back to the Heian Period. Groups of friends and family get together to view the moon while enjoying simple desserts like dango, sweet glutinous rice on skewers.
Picture from Sawara Grand Festival - Witness An Amazing Parade Of Giant Floats
Fall is a season with many festivals such as Osaka's Kishiwada Danjiri Festival in mid-September, which is rooted in the prayers for a good harvest. Intricately carved wooden festival floats are paraded throughout Kishiwada in Osaka.
October is the month of the Sawara Grand Festival in Chiba. It was designated an Intangible Folk Cultural Property in Japan, as it boasts a history of at least 300 years.
Halloween has gained popularity in recent years as well. Halloween celebrations are held in all the major cities of Japan. Tokyo Disney Resort and Universal Studios Japan usually have events related to Halloween.
As cosplay is loved in Japan, Halloween is a great chance for everyone to wear their favorite costumes and gather in the streets. Shibuya, Kawasaki, and other large metropolitan areas host large scale Halloween events with thousands of participants.
Autumn Cuisine in Japan - Everyone's Favorite!
Picture from Roasted Sweet Potato Shop Fuji - Choose Between 8 Different Flavors!
The delicious food is one of the major highlights of the fall season in Japan. In addition to the fresh vegetables and other crops, fish like bonito and saury, fruit like persimmons, pears, and chestnuts, matsutake mushrooms, and gingko nuts are some of the best dishes. These seasonal ingredients will most likely make an appearance in the food you eat during your travels.
Seasonal wagashi (Japanese sweets), made with chestnuts persimmons, and kabocha pumpkin, are a must-try in the autumn.
Another sweet snack is yakiimo (roasted sweet potato). Yakiimo are sold in specialty stores and supermarkets but also at food stands on the street during festivals.
The Best Fall Destinations in Japan
Autumn leaves paint the whole country crimson and gold. For those who want to make the most out of their fall trip to Japan, we suggest traveling to the following destinations to enjoy the beautiful outdoors and the leaves.
Kyoto
Picture courtesy of Japan National Tourism Organization
Kyoto is undoubtedly one of the best areas for viewing the spectacular fall landscape. Places like Kiyomizudera Temple and Tenryuji in Arashiyama are very famous for their beautiful fall leaves, which create a breathtakingly beautiful background to the traditional temples and shrines.
Many of the temples hold foliage illuminations at night. Kodaiji Temple is particularly famous for its magnificent display. Venture north beyond the city center, towards the Kitano and Kitayama areas if you want to avoid the crowds.
Hokkaido
Picture from Hokkaido 2018: Ten Best Spots to View The Autumn Leaves

The northernmost prefecture of Hokkaido is home to breathtaking scenery all year round but it becomes all the more beautiful in the fall when the leaves change color. Visit between late September or during October to see the best of the koyo (fall colors).
Since Hokkaido is quite large, you might want to rent a car to move around more easily, though many of the places are accessible via public transportation.
Well-known areas to see fall leaves include the Onuma Quasi-National Park north of Hakodate and Mt. Moiwa in Sapporo.
Tokyo
Picture from Tokyo's Beautiful Autumn Leaves: The Best 10 Spots
The metropolis of Tokyo also boasts many great places to view the beautiful fall colors. Certain areas will be crowded but transportation within the city should not be an issue.
We suggest holding a picnic or reading a book under the gold and crimson shaded trees at Yoyogi Park or Shinjuku Gyoen. Another must-see is the foliage at Rikiguen (pictured above), or Higo-Hosokawa Garden, some of Tokyo's renowned Japanese gardens.
Hakone
Picture from Hakone: Two Spots to Visit During Fall
Hakone in Kanagawa Prefecture, south of Tokyo, is well-known for onsen (hot springs). In autumn, the landscape will be sprinkled with shades of red and gold.
Located around an hour and a half away from Shinjuku in Tokyo, Hakone is ideal for a day trip or a weekend getaway. At Lake Ashi you can get a glimpse of Mt. Fuji with the autumn leaves on a clear day. You can also travel to Sengoku Plateau and surround yourself in an endless field of golden pampas grass.
What to Wear During Fall in Japan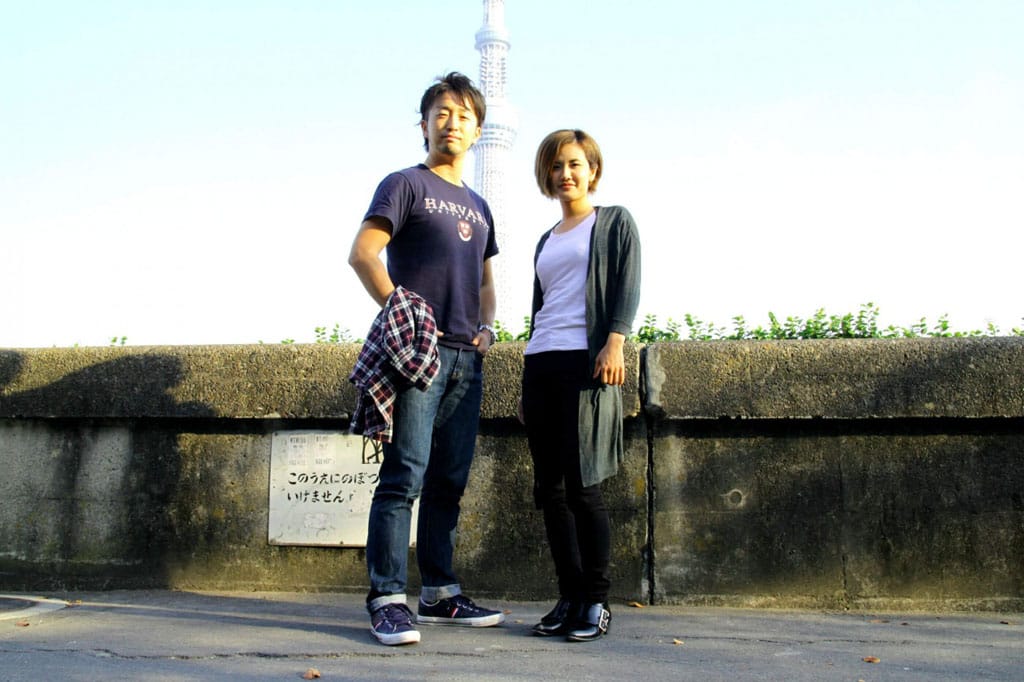 In September, there will plenty of warm afternoons when you can wear short sleeves. However, the mornings and evenings might be cool, so come with long-sleeved shirts or light cardigans.
In October, long-sleeved shirts are ideal for sunny afternoons. Bring a sweater or a hooded jacket for cold mornings and evenings.
November tends to get much colder. We suggest wearing a jacket or sweater during the day. You might also need a coat on windy days.
Relish Autumn in Japan!
Autumn is the season of pleasant temperatures, beautiful fall foliage, festivals, as well as delicious food. It is the ideal time to travel to Japan! We hope the information above helps you to plan and enjoy your trip.

Go To Travel Booking Websites
1. Japan Wonder Travel (*the only website with English support. Please specify that you applied through MATCHA.)
2. HIS
3. JTB
4. AirTrip
5. Ikyu.com
6. Yahoo! Travel

The information presented in this article is based on the time it was written. Note that there may be changes in the merchandise, services, and prices that have occurred after this article was published. Please contact the facility or facilities in this article directly before visiting.