The Temperature In Tokyo And What To Wear
Check out the temperatures of each month in the Tokyo area! This article explains how temperatures vary from month to month in Tokyo as well as what kind of clothes one should wear in order to feel comfortable.
Before packing our bags, it is essential that we gather some basic information on the place we intend to visit. The average temperature, for example, is one of the things that we have to check out before we can decide what clothing we need to pack. In this article, we will explain the weather and average temperatures in Tokyo by season.
The Monthly Average Temperatures in Tokyo
You can get a general idea of the temperatures in Tokyo using this graph. The dark green bars show the average maximum daily temperature, while the light green bars show the average minimum daily temperature.
August Heat
August is the hottest month of the year, especially during the afternoons. We recommend wearing something light such as summer dresses, t-shirts and shorts in the morning because it is humid and hot.
Mid-December to January Frost
From mid-December onwards the coldest time in Tokyo begins, with temperatures sometimes falling below 1.8℃ (35.1°F) in the morning. You should bring a good winter jacket and warm shoes because the average temperature falls to below 10℃ (50°F) from November through March.
From January to March: Keep Yourself Warm
As we have mentioned above, the temperature tends to stay below 10℃ (50°F) from January to March. It sometimes will even fall below 0℃ (32°F), so you will definitely need a thick coat at the very least to keep yourself warm! If you feel especially cold, you could always show your trendy side by wearing a stylish scarf, knit cap or even mittens as accessories too.
January: High 9.6℃ (49.2°F)/ Low 1.8℃ (35.1°F)
The rise of the New Year Sun. Under the clear sky, the breeze is cold and crisp.
February: High 10.3℃ (50.3°F)/ Low 2.7℃ (36.9°F)
In January and February, you will need a down jacket or a coat. You will definitely need gloves and a scarf too. Some say that February feels colder than January or December, but the temperature isn't that different at all.
Read also: Visiting Japan In Winter: What You Need To Know
March: High 16.4℃ (61.3°F)/ Low 7.9℃ (46.1°F)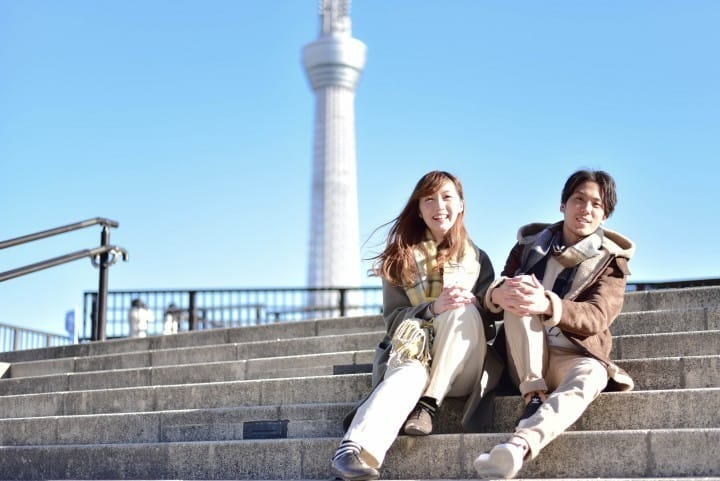 Though the daytime temperatures are quite refreshing in March, you might find yourself undressed come sunset. Having a medium weight jacket (or spring jacket with a liner) would be a good idea during this month. You should keep your feet warm as well in this season.
Read also: Weather Appropriate Fashion For Tokyo In March
The information presented in this article is based on the time it was written. Note that there may be changes in the merchandise, services, and prices that have occurred after this article was published. Please contact the facility or facilities in this article directly before visiting.