Weather In Tokyo And What To Wear
Check out the temperatures in Tokyo for each month. This article explains the monthly temperature variations in Tokyo and what kind of clothes you should wear to feel comfortable in each season.
Weather and Temperatures in Tokyo
Checking the weather before traveling to a place is essential, especially when wondering what clothing to pack.
This article explains the monthly temperature variations in Tokyo and offers tips on appropriate clothing for each season.
Monthly Average Temperatures in Tokyo
You can get a general idea of the temperatures in Tokyo using this graph. The dark green bars show the average maximum daily temperature, while the light green bars show the average minimum daily temperature.
August Heat
August is the hottest month of the year, especially during the afternoons. We recommend wearing something light such as summer dresses, t-shirts and shorts in the morning because it is humid and hot.
Mid-December to January Frost
From mid-December onwards the coldest time in Tokyo begins, with temperatures sometimes falling below 1.8℃ (35.1°F) in the morning. You should bring a good winter jacket and warm shoes because the average temperature falls to below 10℃ (50°F) from November through March.
From January to March: Keep Yourself Warm
As we have mentioned above, the temperature tends to stay below 10℃ (50°F) from January to March. It sometimes will even fall below 0℃ (32°F), so you will definitely need a thick coat at the very least to keep yourself warm! If you feel especially cold, you could always show your trendy side by wearing a stylish scarf, knit cap or even mittens as accessories too.
January: High 9.6℃ (49.2°F)/ Low 1.8℃ (35.1°F)
The rise of the New Year Sun. Under the clear sky, the breeze is cold and crisp.
February: High 10.3℃ (50.3°F)/ Low 2.7℃ (36.9°F)
In January and February, you will need a down jacket or a coat. You will definitely need gloves and a scarf too. Some say that February feels colder than January or December, but the temperature isn't that different at all.
March: High 16.4℃ (61.3°F)/ Low 7.9℃ (46.1°F)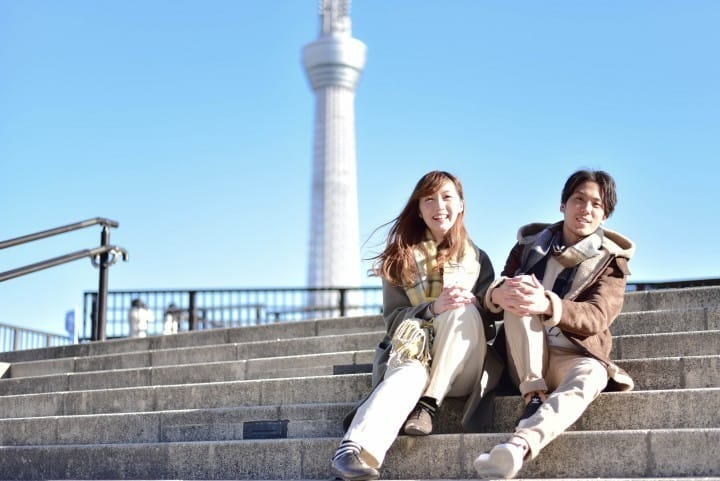 Though the daytime temperatures are quite refreshing in March, you might find yourself undressed come sunset. Having a medium weight jacket (or spring jacket with a liner) would be a good idea during this month. You should keep your feet warm as well in this season.
From April to June: The Most Comfortable Months
From April to May the weather in Tokyo is very comfortable as the average daily temperatures rise to around 20℃ (68°F). However, the gap between the morning low and day time high is larger in April. Since it will get cold during the morning and evening, you should take a thin jacket or hoodie along with you just in case. May and June are typically the most comfortable months in Tokyo.
April: High 19.2℃ (66.8°F)/ Low 10.8℃ (51.2°F)
It is comfortably warm, so you can wear light clothes, like t-shirts with jeans, long-sleeve shirts and pants, light cardigans and the like.
May: High 24.1℃ (75.2°F)/ Low 16℃ (60.9°F)
The season of fresh green.
June: High 26.5℃ (79.4°F)/ Low 20℃ (68°F)
This period is the rainy season in Japan, so you are more likely to feel the humidity rather than heat during this month. It rains quite heavily at times in June, so bringing or purchasing a light raincoat or waterproof shoes would be a good idea.
From July to September: Hot Humid Summer
The morning low in July and August tends to be just below 30℃ (86°F), which means that every single day the temperatures will be above 30℃. We recommend you wear shirt sleeves, skirts, shorts and dresses. There are many fireworks events in Tokyo at this time of the year, so you will often see people wearing the Japanese casual kimono known as yukata. If you have the chance, you should give it a try!
Shake Off The Summer Heat With A Stroll In A Yukata
July: High 31.4℃ (88.3°F)/ Low 24.2℃ (75.8°F)
A summer hat and a light dress.
Light, breezy clothes are the best for July. Try to avoid darker colors as the sun is quite strong.
August: High 33.2℃ (91.9°F)/ Low 26℃ (78.9°F)
If you come to Japan in summer, try on a Japanese yukata!
Just like July, the lighter the better when it comes to clothing in August. Don't forget your sunscreen either!
September: High 28.8℃ (83.9°F)/ Low 21.8℃ (71.1°F)

Because of its thin fabric, yukata are worn mainly during this season. Wear your own yukata while watching the fireworks!
From October to December: Temperatures Drop!
The average day time high is of 23℃ (73.4°F), while the morning low is of 17℃ (62.5°F) in October. This is another nice season to visit in as the weather is once again quite comfortable and there are amazing bright red and yellow leaves everywhere. Even though Kyotois the most famous destination when it comes to momiji (red maple leaves), you can still enjoy beautifully colored leaves in Tokyo's gardens and parks. You may need to carry a thin jacket or sweater with you.
October: High 23℃ (73.2°F)/ Low 17℃ (62.8°F)
The lovely autumn leaves - a yellow carpet of ginkgo leaves.
November: High 17.4℃ (63.2°F)/ Low 9.8℃ (49.4°F)
The days in November tend to get colder so we recommend wearing a jacket or a sweater. Depending on the weather, there may be days when you will also need a coat and maybe even a scarf too. November's weather can change drastically throughout the day, so it's a good idea to be a bit over-prepared when visiting during this month.
December: High 12.1℃ (53.9°F)/ Low 4.9℃ (40.9°F)
A down jacket, knit cap and lined boots.
Check the Local Weather Before Coming to Japan
One thing that may seem a bit odd about the weather in Japan is that, though the summers are quite humid, the winters are very dry. If you are not used to this type of weather, your experiences in Japan might be colored by how you feel, so it's a very good idea to check the weather carefully and plan your clothing accordingly before landing in Tokyo.
When you are dressed comfortably for the weather, you will have twice as much fun on your trip.
References: Japan Meteorological Agency
The information presented in this article is based on the time it was written. Note that there may be changes in the merchandise, services, and prices that have occurred after this article was published. Please contact the facility or facilities in this article directly before visiting.