5 Must-Visit Anime Stores In Akihabara, Tokyo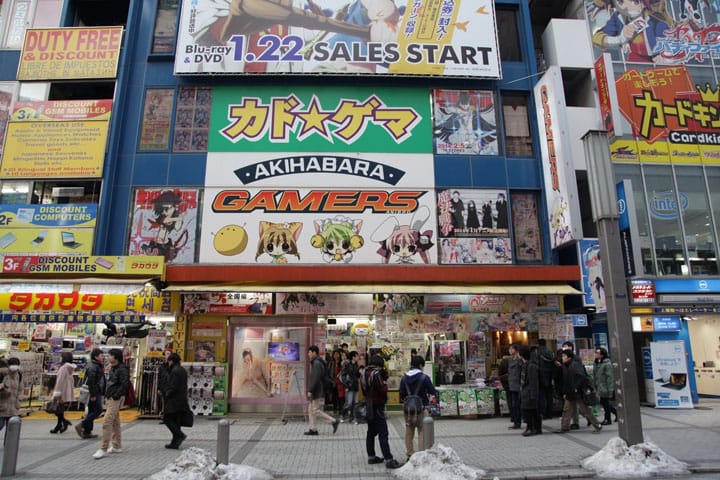 Akihabara in Tokyo is renowned for its shops and culture of Japanese anime, manga, and games. This article features five stores that visitors should definitely check out for shopping and unique souvenirs, from Animate to Kotobukiya.
Stop By Anime Paradise in Akihabara - Recommended Shopping
Akihabara in Tokyo is a very popular district for fans of Japanese anime, manga and games. Visitors will find countless anime- and manga-related goods nearly everywhere, making for great shopping for souvenirs and goods.
Continue reading to learn about the five top places to go to in Akihabara to encounter this otaku culture. Each shop is welcoming to all guests regardless of their knowledge of anime and manga.
1. Akihabara Gamers Main Shop: A Favorite Otaku Stop
At just a 10-second walk from the Denkigai-guchi exit ("Electric Town Exit") of Akihabara Station, the GAMERS store is the first shop to check out upon your arrival. It is well-known in Japan and is a must-see.
GAMERS is ideal for finding seasonal anime, comic books, computer games and other related goods. On the first floor, there is an impressive pile of the latest anime magazines and comics. There are seven floors in total, making it easy to spend hours here browsing and shopping.
Address: Tokyo, Chiyoda, Soto Kanda 1-14-7 Takarada Bldg.
Google Map
Website: https://akihabara-japan.com/shopping/animation/2002/
2. Toranoana: Browse Popular Dojinshi
Have you ever heard of dojinshi? Dojinshi is the Japanese term for self-published manga, which are comic books that are drawn and written usually by amateurs. They are often sold at cheaper prices than professional comics, but the quality is still very high.
Toranoana is located just two minutes along the main street. Toranoana is separated into three buildings: A, B, and C (the picture above shows building A. Building B is just next door). The latest dojinshi, including magazines, comic books, and light novels, can be found in building A. Building B is for CD, DVDs, and Blu-rays. There is no other place like Toranoana for shopping your favorite dojinshi!
Building C is on the 3rd floor of Akihabara Sofmap (a home electronics retailer). They have an extensive collection of amateur anime-related goods.
Pictured above are dojinshi. Can you believe that all of these are created by amateurs?
Address: Tokyo, Chiyoda, Soto Kanda 4-3-1
Google Map
Website: https://www.toranoana.jp/shop/akihabara-a/ (page for Building A - only available in Japanese)
3. Animate: Explore Eight Floors of Anime Merchandise
Animate is another ideal place to obtain seasonal anime goods, magazines, and manga. It is also well-known for catering to "fujoshi"(a self-mocking term for female fans of manga and novels that feature romantic relationships between men) customers.
Pictured above are the "Meiji Tokyo Renka" and "Uta-no-Prince-sama" series.
Address: Tokyo, Chiyoda, Soto Kanda 4-3-2
Google Map
Website: https://www.animate.co.jp/shop/akihabara/ (Japanese)
4. Kotobukiya: Marvel at High-quality Figures
Picture from Kotobukiya Akihabara Store: Amazing Items From Model Kits To Figurines
Kotobukiya in Akihabara is a hobby shop renowned for its artistic, detailed figurines and model kits of anime, manga, and other fictional series. With four floors of merchandise and a fifth floor used for events, customers usually spend an hour or two here browsing and deciding what to take home.
The first floor has a large selection of official merchandise from Pokemon, Studio Ghibli, Square Enix, and other popular franchises. On the second floor, there are more character and series-related goods, and the third and fourth floors have figurines and hobby kits. The goods and figures are mesmerizing just to look at, so be sure stop by even if you aren't shopping!
Address: Tokyo, Chiyoda, Soto Kanda 1-8-8
Google Map
Website: http://en.kotobukiya.co.jp/
5. AKIBA CULTURES ZONE: Come for a One-Stop Shop for Anime and Cosplay Goods
Located just four minutes away from the Electric Town exit of Akihabara Station, AKIBA CULTURES ZONE is a six-level shopping mall with a theater in the basement level. Customers can find figures, cosplay merchandise, other hobby goods.
Look for ACOS, a cosplay shop selling wigs, costumes, and makeup, and ROBOT ROBOT, a store with character figures from Japan and overseas. The theater holds events with anime voice actors and idol groups. Guests are sure to have a fun visit even without much familiarity with otaku culture in Japan.
Address: Tokyo, Chiyoda, Soto Kanda 1-7-6
Google Map
Website: http://akibacultureszone.com/index.php (Japanese)
Enjoy Shopping in Akihabara
Akihabara boasts many more shops in addition to the five introduced above. Walking around and looking for some small stores might be fun, but we also recommend visiting these major shops if it is your first time in Akihabara.

The information presented in this article is based on the time it was written. Note that there may be changes in the merchandise, services, and prices that have occurred after this article was published. Please contact the facility or facilities in this article directly before visiting.