A Guide To Akihabara! From Inexpensive Electronics To Otaku Gifts
An area guide to the electronics and otaku mecca of Japan: Akihabara. Includes information on getting there from around the city, places to buy inexpensive electronics, and specialty stores dealing in otaku goods.
What to Do in Akihabara?
Akihabara is one of the most prominent places in Japan for people to shop for electronics and otaku goods. Because of its proximity to the popular sightseeing area of Asakusa and its easy access from Narita Airport and Ueno, Akihabara makes a great place to go sightseeing as well.
With plenty of electronics available at low prices, as well as figures, toys, and other otaku goods, if you're looking for cool Japanese souvenirs then look no further than Akihabara!! This article will explain all the necessities one will need to make their trip to Akihabara one to remember.
Getting to Akihabara
Visitors can get to Akihabara via all sorts of train lines, including the JR Yamanote Line, JR Chuo/Sobu Line, JR Keihin Tohoku Line, the Tokyo Metro Hibiya Line, or the Tsukuba Express Line. Since so many trains pass through Akihabara, you should have no problem getting there, even without changing train lines.
Here's how to get to Akihabara Station by making the most of Tokyo's trains.
Taking JR lines from Tokyo, Shinjuku, or Shibuya Station is Very Convenient
From the hub of Tokyo Station, one can get to Akihabara Station directly via the Keihin Tohoku Line in about 4 minutes for 133 yen.
If you're coming from the hustle and bustle of Shinjuku Station, taking the Chuo/Sobu Lines is best. First, take the Chuo (Orange) Line from Shinjuku Station to Ochanomizu Station, then transfer to the Sobu (yellow) Line to Akihabara Station.
This route takes about 16 minutes and costs 165 yen.
From the huge Scramble Crossing of Shibuya, one can get to Akihabara by simply getting on the Yamanote Line. This takes about 27 minutes and costs 194 yen.
When Coming from Ginza or Roppongi, Take the Tokyo Metro Hibiya Line
From the luxurious shopping district surrounding Ginza Station to Akihabara Station, one only needs to get on the Hibiya Line for 12 minutes at 165 yen.
You can also use the Hibiya Line from the lively nightlife district of Roppongi. This will take you 22 minutes and costs 195 yen.
From Asakusa, Take the Tsukuba Express
From the olden streets of Asakusa, you can get to Akihabara directly via the Tsukuba Express Line. This will take you 5 minutes and costs 206 yen. However, since the Tsukuba Express Line Akihabara stop is a little removed from station compared to the rest of the train lines, be careful not to get lost on your way to the center of Akihabara's Electric Town.
10 Must Visit Spots For Reasonable Electronics and Otaku Goods
Akihabara, where the cultures of old and new meet, is full of charming places!
Here we will introduce ten of our top places to visit in Akihabara.
1. Electric Town: Electronics and History
The Electric Town is the area of Akihabara located to the east of JR Akihabara Station, where large scale emporiums mingle with small shops that have been in business for many years specializing in electronic components and parts. Akihabara's Electric Town is where one will find a cornucopia of retailers offering electronics.
If you're looking to pick up electronics for cheap or items you can only find in Akihabara, then please be sure to visit these spots.
2. Maid Cafés: Experience the Holy Land of Japanese "Moe"
Maid Cafés symbolize Akihabara otaku culture. Upon entering one of these cafés, patrons (or "go-shujin-sama" in Japanese) are politely greeted by cute maids.
When ordering food or beverages, the maids make sure to provide service that is second to none. If you're into otaku culture, make sure to visit the promise land of "moe" (mo-eh, slang for a crush or cuteness, infatuation) culture.
3. Yodobashi Camera Akihabara: Large Scale Electronics Emporium
Yodobashi Camera Akihabara is an electronics emporium that offers all the electronics one could ever ask for. From rice cookers to beauty products, Yodobashi Camera Akihabara offers tons of electrical and electronic items popular with tourists.
In addition to home electronics, Yodobashi Camera Akihabara also offers brand name fashions, a food court, and several various stores located above the main store on the building's upper floors. With plenty to see and buy, patrons could spend all day in just this one building.
4. AKIHABARA Gamers Main Store: The Best Otaku Goods
AKIHABARA Gamers is a specialty store offering cutesy girl anime and voice actor-related collectables, its walls lined with magazines, CDs, and a plethora of other goods.
Inside you'll find things like cookies and mugs, perfect for souvenirs. Be sure you don't miss this Japanese otaku haven.
5. Don Quijote Akihabara: Affordable Japanese Souvenirs
Don Quijote Akihabara is one of a nationwide chain of discount stores. One feature of the Akihabara branch is that it offers a wide range of cosplay, anime, and "Akihabara" goods.
On the store's 8th floor, one will find a theater, known as the "AKB Gekijo," where the Japanese idol group phenomenon, AKB48, puts on performances. Offering services such as a duty free counter, foreign currency payment, and more, this establishment strives to support customers of any stripe, and is one spot that no visit to Akihabara is complete without.
6. Gundam Café: An Unparalleled Gundam Experience
Upon leaving JR Akihabara Station through the Electric Town exit, visitors will be greeted with the official Gundam Café. This popular café throws guests into the world of Mobile Suit Gundam, one of the most popular Japanese anime of all time.
Starting with Gundam statues all throughout the restaurant, there are a number of other easter eggs for Gundam fans waiting within the cafés doors. Come experience the world of Mobile Suit Gundam for yourself!
7. Akihabara UDX: The Latest Info on Anime
Akihabara UDX is a multifaceted office sending out info on Akihabara culture that also includes restaurants, shops, and a theater. Furthermore, on the screen set on the front of the building, visitors can look for info on all the hottest new anime.
On the building's 4th floor you'll find the Tokyo Anime Center with tons of anime-related goods on display. With all the information on anime one could ever want, Akihabara UDX is quickly becoming one of the go-to spots in Akihabara.
8. Akihabara Gachapon Center: Capsule Toy-Dispensers!
The Akihabara Gachapon (Capsule Toy) Kaikan (Center) is a unique store offering elaborate capsule toys; the whole store lined completely, from floor to ceiling, with capsule toy dispensers.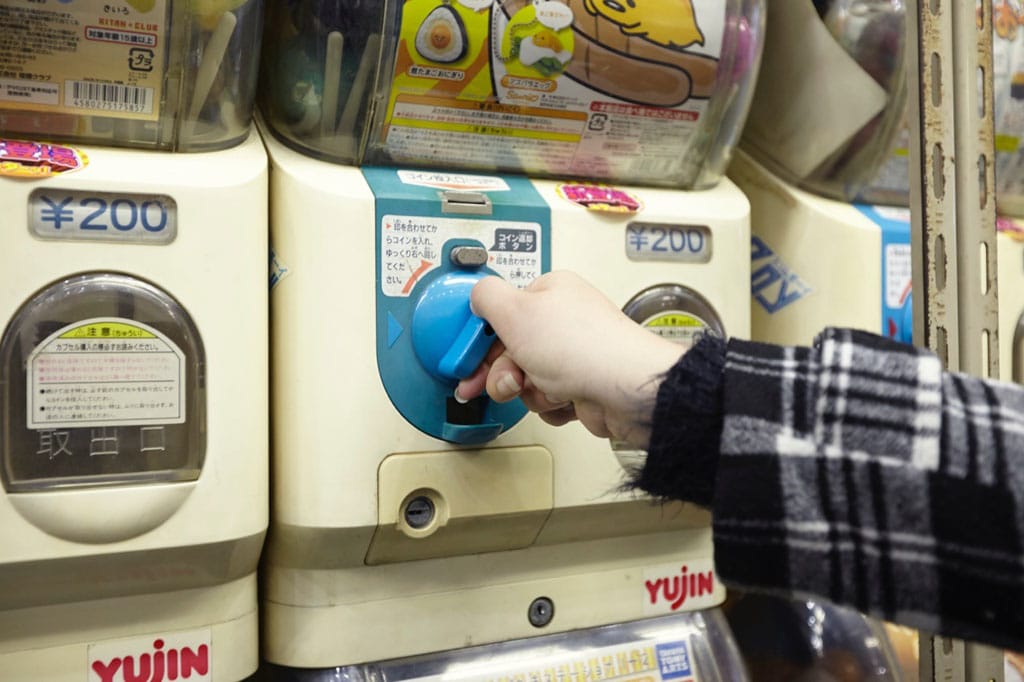 Capsule toys have been a big thing in Japan for many years, but in terms of sheer volume, this store takes the cake. With toys ranging from just a couple hundred yen, pop in some coins, turn the knob, and see what comes out!
9. 2k540 AKI-OKA ARTISAN: Souvenirs with a Japanese-Feel
2k540 AKI-OKA ARTISAN, located beneath the JR rail lines, is a facility offering a number of shops all offering handmade goods. With Japanese handicrafts and other miscellaneous goods on sale, this is a great place to get something Japanese to give to friends or family back home.
Inside this facility, you'll find a Nippon Hyakkaten (Japanese department store) of old, offering traditional tableware, nick-nacks, and other goods; this facility has done much to bring a whole new breed of visitor to Akihabara.
10. AKIBA CULTURES ZONE: Unique Otaku Shops
AKIBA CULTURES ZONE is a building housing a large number of shops catering to those of the otaku persuasion. With shops such as "ACOS," specializing in cosplay goods, and Rashinban and Animate, both offering anime merchandise, this is a unique set of shops you'll only find in Akihabara.
On the 1st floor, you'll find the "AKIBA CULTURE Gekijo (Theater)" where "underground" idols, yet untainted by fame and fortune, hold live musical performances. Who knows? Maybe you'll catch a sneak peek of the next big thing in Japan! Come dive into otaku culture!
Akihabara: a great tourist spot where electronics and otaku culture meet. Don't miss it!