Tokyo's Akihabara - 15 Things To Do: Anime, Gaming, And Electronics!
Akihabara is an area in central Tokyo that is famous for its inexpensive electronics shops, maid cafes and stores with goods for anime and game lovers. This article includes information on access to the city and specialty stores dealing in otaku goods.
15 Must-Visit Spots and Things to Do in Akihabara
Akihabara is one of the best-known places throughout Tokyo as well as Japan for electronics and otaku* goods. Due to its close proximity to Asakusa and its easy access from Narita Airport and Ueno, Akihabara makes a great spot for sightseeing and shopping.
With plenty of electronics available at low prices, as well as figures and toys from anime, manga, and games, it's the perfect place for finding modern Japanese gifts.
This article introduces the necessities one will need to make their trip to Akihabara memorable and entertaining.
*Otaku: A person who is obsessed with computers and pop culture.
1. Check Out Arcades and Game Centers
Picture from Let's Go! 7 Akihabara Game Centers
The streets of Akihabara are lined with numerous arcades and game centers where visitors can have fun playing claw games and arcade games, both classic and new. Claw games have all sorts of rewards, from large plush dolls of anime and manga characters to jumbo-sized Japanese snacks and electronics. Many of these game centers are located close to JR Akihabara Station and are easily accessible via the Electric Town Exit.
Access
Akihabara Electric Town
Tokyo, Chiyoda, Sotokanda 1-chome
Google Map
2. Experience Japanese "Moe" at Maid Cafés
Picture from An Icon Of Akihabara's Otaku Culture: What's A Maid Cafe?
In Japanese, the slang term "moe" describes cuteness, infatuation, and having a crush on someone or something. It is a well-known part of Akihabara's otaku culture. Those interested in seeing this firsthand are recommended to visit a maid cafe. Upon entering one of these cafés, patrons are politely greeted by female staff wearing maid costumes.
When ordering food or beverages, the maids provide service that is second to none. If you're into otaku culture, make sure to visit this promised land of moe and entertainment.
Access
Tokyo, Chiyoda, Sotokanda, 1-11-4, Mitsuwa Bld. 4F - 7F
Google Map
3. Yodobashi Camera Akihabara - Large Scale Electronics Emporium
Picture from The Massive, Global Electronics Shop: YODOBASHI AKIBA
Yodobashi Camera Akihabara is an electronics emporium selling all the electronics one could ever ask for and more. From Japanese rice cookers to beauty products, Yodobashi Camera Akihabara offers electronic items very popular with its customers.
In addition to home electronics, Yodobashi Camera Akihabara also offers brand name fashion, as well as a food court located above the main store. With plenty to see and buy, it is easy to spend all day in this building.
Access
Tokyo, Chiyoda, Sotokanda, Kandahanaokacho, 1-1
Google Map
4. AKIHABARA Gamers Main Store: The Best Otaku Goods
Pictures from Akihabara Gamers Store: A Treasure Trove Of Anime And Voice Actor Goods
AKIHABARA Gamers is a specialty store offering cute anime and voice actor-related collectibles, its walls lined with magazines, CDs, and a plethora of other goods. Inside the store, you'll find merchandise such as delicious cookies and cute mugs which are perfect for souvenirs.
This is a Japanese otaku haven you won't want to miss!
Access
Tokyo, Chiyoda, Sotokanda 1-14-7 Takarada Building
Google Map
5. Don Quijote Akihabara: Affordable Japanese Souvenirs
Pictures from Don Quijote Akihabara: Japanese Souvenirs for Great Prices
Don Quijote Akihabara is part of Don Quijote, a Japan-wide chain of discount stores known for its reasonable prices and interesting merchandise. The Akihabara branch uniquely offers a wide range of cosplay, anime, and other Akihabara-themed goods. Don Quijote also offers services such as a duty-free counter, foreign currency payment, striving to support international customers.
Another special feature is that the store's 8th floor holds a theater, known as the AKB Gekijo, which regularly holds performances by the world-famous Japanese idol group, AKB48.
Access
Tokyo, Chiyoda, Sotokanda, 4-3-3
Google Map
6. Taste Robot-Themed Food and Drinks at Gundam Café
Picture from Must for fans!! Realistic Gundam World Cafe
Directly upon leaving JR Akihabara Station through the Electric Town exit, visitors will be greeted with the official Gundam Café. This popular café throws guests into the world of Mobile Suit Gundam, one of the most popular Japanese anime throughout Japan and overseas.
Starting with Gundam statues all throughout the restaurant, there are a number of other hidden surprises for Gundam fans waiting within the café. Come here to learn more about this popular anime and experience the world of Mobile Suit Gundam for yourself!
Access
Tokyo, Chiyoda, Kanda Hanaokacho, 1-1
Google Map
7. Akihabara UDX: The Latest Information on Anime
Pictures from Akihabara UDX Vision: The Face of Akihabara Announces Otaku News
Akihabara UDX is a multifaceted office sending out info on Akihabara culture that also includes restaurants, shops, and a theater. Furthermore, on the screen set on the front of the building, visitors can look for information on all the latest anime.
On the building's fourth floor, you'll find the Tokyo Anime Center, which contains with anime-related merchandise on display. Providing a plethora of information on anime and manga, Akihabara UDX is quickly becoming one of the go-to spots in Akihabara.
Access
Tokyo, Chiyoda, Sotokanda, 4-14-1
Google Map
8. Akihabara Gachapon Center: Capsule Toy-Dispensers!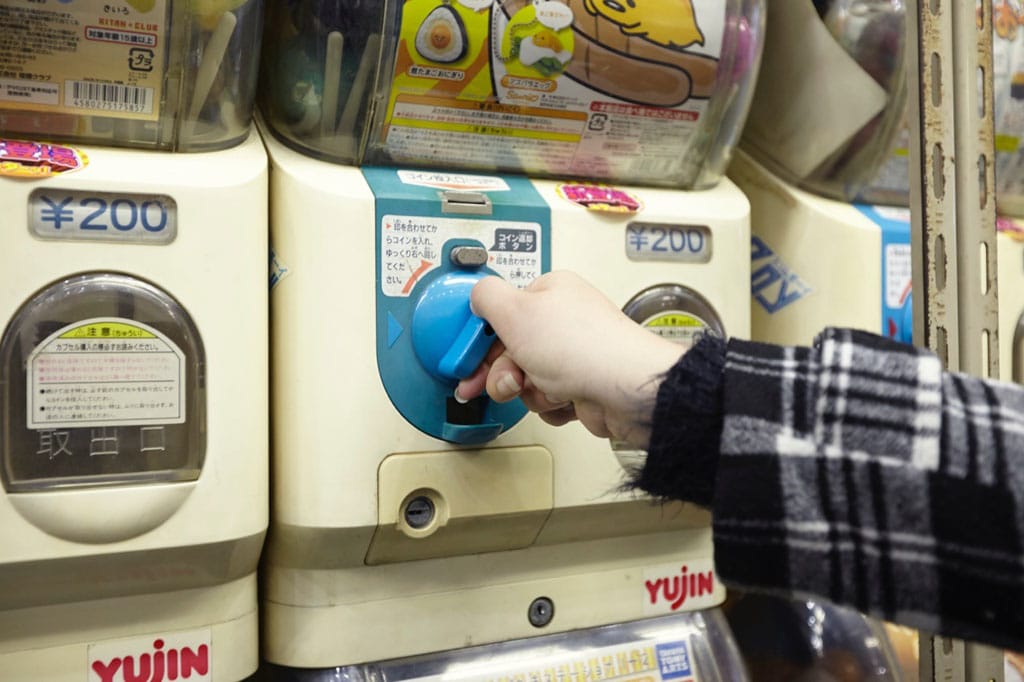 Pictures from Who Knows What You'll Get? Akihabara's Gatchapon Alley!
The Akihabara Gachapon Kaikan , or Akihabara Capsule Toy Center, is a unique store selling elaborate capsule toys; the whole store lined completely, from floor to ceiling, with gachapon, or capsule toy dispensers.
Capsule toys have been popular in Japan for many years, and capsule toy dispensers can now be found throughout the country. However, the Akihabara Gachapon Center is an entire store dedicated to solely to these dispensers. Each gachapon dispenser costs around couple hundred yen. Why not pop in some coins, turn the knob, and see what comes out?
Access
Tokyo, Chiyoda, Sotokanda, 3-15-5
Google Map
9. Find Unique Gifts with a Japanese-Feel at CHABARA AKI-OKA MARCHE
CHABARA AKI-OKA MARCHE, located beneath the JR rail lines by Akihabara Station, is a building housing a number of shops all offering high-quality, handmade goods. With Japanese handicrafts and other miscellaneous goods on sale, this is a great place to get something Japanese to give to friends or family back home.
Inside, you'll find a Nippon Hyakkaten (Japanese department store) of old, offering unique items that offer a twist on traditionalism, including tableware and other goods. The building also houses a small café offering Buddhist cuisine that is vegetarian and vegan-friendly, for lunch and dinner for travelers wanting to have a relaxing sit-down meal.
Access
Tokyo, Chiyoda, Kanda, Neribeicho 8-2
Google Map
10. Shop for Otaku Goods at AKIBA CULTURES ZONE
Pictures from Come to Find Your Favorite Japanese Craft at "Nippon Hyakkaten
AKIBA CULTURES ZONE contains a large number of shops catering to those interested in otaku culture. With shops such as ACOS, specializing in cosplay goods, Rashinban, and Animate, both offering anime merchandise, this is a unique combination of shops you'll only find in Akihabara.
On the first floor, you'll find the AKIBA CULTURE Gekijo, which is a theater where underground idols hold live musical shows. You might be catching a sneak peek of the next big idol in Japan by watching the performance.
Access
Tokyo, Chiyoda, Sotokanda, 1-7-6
Google Map
11. Pray at Kanda Myojin
Picture from
Kanda Myojin - A Famous Shrine Near Akihabara
Take a break from shopping and visit Kanda Myojin, a famous shrine with a long history of around 1300 years, thought to house deities that protect the city of Tokyo. Easily accessible from Akihabara, visiting Kanda Myojin is a great way to experience a Japanese shrine firsthand.
Picture from Kanda Myojin - A Famous Shrine Near Akihabara
Due to its close proximity to Akihabara, the shrine itself offers special anime collaboration merchandise, including Love Live! School Idol Project good luck talisman.
Access
Tokyo, Chiyoda, Sotokanda 2-16
Google Map
12. Cosplay at Studio Crown
Picture fromCosplay Photo Shoot Experience In Akihabara's Studio Crown!
Wanting to try out Japanese cosplay, or costume-play, in Japan but are unsure of how to do so? Look no further than the photo shoots at Studio Crown in Akihabara. Suitable for beginners and veteran cosplayers alike, you can choose from a range of cosplay photography plans, with services including pre-made costumes, personalized makeup support, to choosing appropriate props.
After getting into costume and makeup, Studio Crown will also provide professional photography services that make for a great keepsake. Visitors interested in cosplay should make a reservation, which can be booked via the Studio Crown website.
Access
Tokyo, Chiyoda, Kanda Building Sasage East 5th Floor B Tower
Google Map
13. Dive Into Idol Culture at AKB48 Official Cafe & Shop
Picture from Representing Japan And Akibahara: AKB48!
A visit to Akihabara is not complete without exploring Japan's famous idol culture. At the official store and café of AKB48, Akihabara and Tokyo's representative female idol group with 48 members, customers can browse group merchandise and indulge in delicious AKB48-themed food while watching music videos and special performances in the upstairs cafe.
Located just outside the JR Akihabara Station, the shop is easily accessible. Moreover, it's very welcoming to long-time fans as well as to those unfamiliar with Japanese pop music and celebrities.
Access
Tokyo, Chiyoda, Kanda, Hanaokacho, 1-1
Google Map
14. Discover Rare Collectibles at Kotobukiya
Picture from Kotobukiya Akihabara Store: Amazing Items From Model Kits To Figurines
Kotobukiya Akihabara is a hobby shop specializing in figurines and models based on anime and manga characters. Its three floors of merchandise make it the largest store of its kind in Akihabara, and the elaborate model displays on each floor provide great window shopping opportunities. Whether you are shopping for a specific model of your favorite character or are just browsing, Kotobukiya provides an interesting glimpse into the model and figurine world in Japan.
Access
Tokyo, Chiyoda, Sotokanda 1-8-8
Google Map
15. Pose With Adorable Owls at Akiba Fukurou Cafe
Picture from Perch An Owl On Your Shoulder At The Akiba Fukurou Owl Cafe!
Animal-lovers can take photos and interact with the friendly owls at the Akiba Fukuro Cafe in Akihabara, an owl cafe reviewed highly in Japan. In comparison to other typical owl, cat, and animal-based cafes in Japan, the Akiba Fukurou Cafe uses a reservation-only system that provides customers with an intimate and fun experience. This system also ensures the safety and well-being of the owls. There are also written instructions and close supervision from staff on proper handling of the owls.
Access
Tokyo, Chiyoda, Kanda Neribei 67
Google Map
Getting to Akihabara
Akihabara is conveniently linked to many train lines, including the JR Yamanote Line, JR Chuo/Sobu Line, JR Keihin Tohoku Line, the Tokyo Metro Hibiya Line, and the Tsukuba Express Line. Since so many trains pass through Akihabara, it is easy to access, even without changing train lines.
Here's how to get to Akihabara Station by using Tokyo's trains.
JR lines from Tokyo, Shinjuku, and Shibuya Stations are Convenient
From the hub of Tokyo Station, one can get to Akihabara Station directly via the Keihin Tohoku Line in about 3 minutes for 140 yen.
If you're coming from the crowded area of Shinjuku Station, taking the Chuo/Sobu Lines is recommended. First, take the Chuo Line from Shinjuku Station to Ochanomizu Station, then transfer to the Sobu Line to Akihabara Station.
This route takes about 16 minutes and costs 170 yen.
From the huge Scramble Crossing of Shibuya, one can get to Akihabara by simply getting on the Yamanote Line. This takes about 28 minutes and costs 200 yen.
When Coming from Ginza or Roppongi, Take the Tokyo Metro Hibiya Line
From the luxurious shopping district surrounding Ginza Station to Akihabara Station, one only needs to get on the Hibiya Line for 12 minutes at 170 yen.
You can also use the Hibiya Line from the lively nightlife district of Roppongi. This will take you 22 minutes and costs 200 yen.
From Asakusa, Take the Tsukuba Express
From Asakusa, you can get to Akihabara directly via the Tsukuba Express Line. This will take you just 5 minutes and costs 210 yen. However, since the Akihabara stop on the Tsukuba Express Line is a little removed from JR Akihabara Station, so be careful not to get lost on your way to the center of Akihabara's Electric Town.
Electronics and Otaku Culture Meet in Akihabara
Akihabara is a neighborhood is known as an entertainment hub where high tech goods, electronics, and otaku culture come together. This spot is popular amongst those who are into anime, manga, and niche hobbies, but also has a welcoming atmosphere to all visitors. We highly recommend visiting Akihabara and learning more about the otaku side of Tokyo and Japanese culture.
The information presented in this article is based on the time it was written. Note that there may be changes in the merchandise, services, and prices that have occurred after this article was published. Please contact the facility or facilities in this article directly before visiting.