13 Budget-Friendly Tokyo Souvenir Shops Near Stations
For buying souvenirs in Tokyo, there are many budget-friendly, inexpensive, and convenient shopping spots in the city. You can find Japan-quality items that make great keepsakes and save you money! Read to learn about where to go shopping and what you can find at 13 shops.
Where to Find Souvenirs in Tokyo - Shops Selling Low Cost and Great Quality Keepsakes
Tokyo is full of shops for souvenirs; with so much choice, it might be hard to decide which to pick. In this article, we introduce you to thirteen shops that are budget-friendly and conveniently located close to a train station in the capital. This will help you save on time and money when buying for family and friends.
All of these shops are popular with Japanese customers and travelers alike. Along with the great quality products and prices, many of the shops are duty-free, so you can save even more yen.
Read also:
1. Don Quijote - Japanese Kitkats and More at a Discount
Picture from Shopping in Shibuya? Make the Most of it With These 9 Shops Near the Station!
Don Quijote is a famous discount shop with locations nationwide and around 30 stores in Tokyo alone. This shop carries a variety of items ranging from food, daily items, clothes, toys, small interior items, cosplay merchandise, and other out-of-the-ordinary items that you can only find in Japan. If you are looking for a one-of-a-kind souvenir from Japan, this shop is highly recommended.
Be sure to look through Don Quijote's food section, which contains a lot of snacks and sweets, like Kitkats. You can find regional flavors as well as Japan-only selections, like matcha.
2. Tokyu Hands - Japan-made Items for Someone Special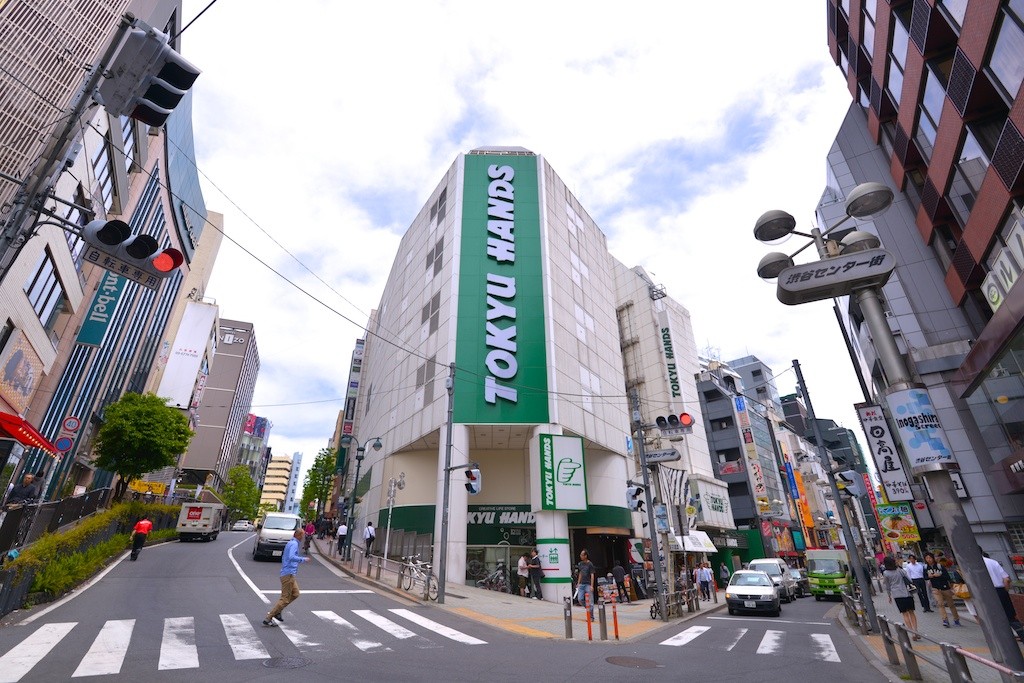 Picture from A Complete Guide To TOKYU HANDS
With useful lifestyle goods, handy Japanese items and cute stationery, Tokyu Hands is a recommended place to go for souvenir shopping. They have shops in Tokyo, Ginza, Shibuya, Shinjuku, and many other convenient locations you can stop by while touring around.
Tokyu Hands have many types of products, but it is all presented neatly and is easy to browse through.
Readers of MATCHA can receive a discount at Tokyu Hands. View this page for more information.
3. LOFT - Stationery and Specialty Goods from Japan
Picture from Loft: Shibuya's Secret Souvenir Store
Like Tokyu Hands, LOFT also carries fancy and handy everyday items, stationery, accessories and all sorts of items. The Japanese casually shop here for themselves or for gifts for special occasions.
With over 25 stores in the Tokyo area, they have locations in Shibuya, Shinjuku and other popular areas, so it would be a convenient place to shop here for souvenirs. Many people appreciate Japanese stationery for their cute designs and great quality.
4. Village Vanguard - Playful Japanese Items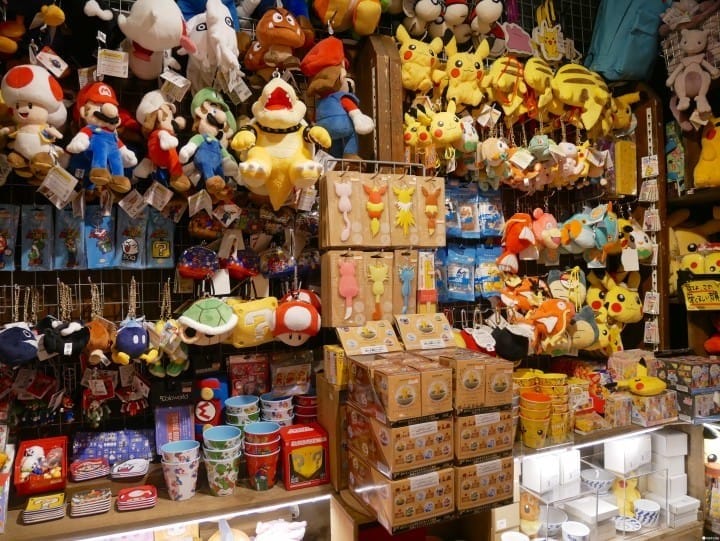 Village Vanguard is a variety goods store popular with the young generation in Japan. There are locations nationwide, but the main branch is in Shibuya. The walls are stocked with books and comics, music, apparel, and novelty items, creating a visual treat for those browsing.
You will also find Japan-made accessories, like backpacks and socks with imaginative patterns on them. Strange snacks can also be bought, like jumbo-sized candies, and even chocolate-flavored soba during Valentine's Day. Items are reasonably priced, making Village Vanguard great to stroll through and search for perfect for gifts for the young at heart.
There are also shops in Harajuku, Ikebukuro, Shimokitazawa, Shinjuku, Odaiba, and other major Tokyo neighborhoods.
5. Yodobashi Camera - Explore a Major Electronics Shop
Picture from Shinjuku's Top 5 Recommended Electronics Stores
As souvenirs from Japan, cameras, watches, and other electrical items are extremely popular. Yodobashi Camera is a large shop dedicated to electronics and appliances. Selling not only cameras and accessories, they also carry a wide range of the latest high-tech Japanese electronics.
Japanese electronics are known for their budget-friendly prices along with their great quality. They may even be a great gift for yourself! Lately, aside from cameras, audio devices or laptops, many people have been purchasing beauty electronics such as facial misters too. If you are visiting from abroad, please be advised of the voltage differences between your country and Japan before bringing any electronics back home though.
6. Matsumoto Kiyoshi - Beauty and Health Care
Picture from Shopping in Shibuya? Make the Most of it With These 9 Shops Near the Station!
Matsumoto Kiyoshi is a nationwide drugstore chain that carries Japanese cosmetics, medical products, and food and drinks at affordable prices. It is a popular shop with an easily-recognizable yellow and blue sign.
This is a shop locals come to regularly due to the large selection and budget-friendly prices. It is a great place to pick up cosmetics, daily items, and other pharmaceutical items. You can find health-focused goods, like protein bars, vitamins, skincare, and other personal goods. Come here to shop for anyone interested in Japanese beauty and self-care.
Stores are located throughout Tokyo; check out large shops in Shinjuku, Ueno, Asakusa, Akibahara, and Ikebukuro.
7. Kiddy Land - Hello Kitty and Sanrio Goods Galore
Picture from Get Character Goods And Toys At KIDDY LAND In Harajuku!
Japanese characters such as Hello Kitty and My Melody are very popular even outside of Japan. At Kiddy Land, you will be able to find rare merchandise you may not be able to find overseas.
In Tokyo, there are eight shops that are full of character merchandise. Young children and collectors are sure to be excited at the vast array of items here. The toys aimed at young children are made with great quality, so children are able to play safely with them. Bringing back a little bit of the "kawaii" culture from Japan though character merchandise may be a great idea for a souvenir.
8. DAISO - 100 Yen, Japanese-Quality Items
At DAISO, a popular 100-yen shop in Tokyo and Japan, shoppers can shop for great souvenirs while saving a significant amount of money. Unlike most discount shops in other countries, DAISO carries relatively good quality items that will last with careful use.
Recommended choices for gifts include chopsticks, keychains, stationery, and small accessories, like Japanese fans. Spend a little time searching through the stock to find something to your liking. DAISO is found throughout Tokyo, with the largest locations in Odaiba and Ueno.
9. BICQLO, Shinjuku - Shop Japanese Fashion and Electronics
BICQLO is a unique collaboration shop between the major electronic shop Bic Camera and the casual clothing shop UNIQLO.
Located conveniently right by the east exit of the Shinjuku station, this shop has turned into a major attraction for international customers, who go in and out from open to close. It is great for people looking for quality clothes with reasonable prices and household electronics. The store is known for its "wonderful mix-up" of merchandise, but it is also a fun place to investigate for stylish fashion and useful electronics.
10. Ameyoko, Ueno - Affordable Souvenirs and Street Food
The Ameya Yokocho shopping district, also known as Ameyoko, is located right by Ueno Station in Tokyo and is a very popular spot with locals and travelers. The streets of Ameyokocho are filled with stalls selling delicious snacks and street food, along with discount shops carrying small accessories, tea, and other Japanese items. It is known nationwide for its reasonable prices and large selection.
Clothing and fashion--in particular, cost-friendly shoes, bags, and even cosmetics can be found here. It may be overwhelming at first, but if you're looking for a great deal on gifts, this is the place to go!
11. Marugoto Nippon, Asakusa - Multiple Shops with Japan-Made Goods
Within walking distance from Asakusa Station, Marugoto Nippon is a shopping facility with many Japanese regional products, crafts, and food.
With the concept of spreading "real masterpieces" and "hidden regional specialties" to the world, they have all sorts of products curated from all over Japan. It is a great place to stop by even just to window shop.
You will be able to feel like you went on a journey around Japan even while staying in Tokyo. If you're looking for a one-of-a-kind souvenir from Japan, stop by to find fresh products from various prefectures or daily household items made using traditional methods. At times, they hold regional events, so you will be able to experience a different part of Japan and possibly even plan your next trip here!
12. Gyomu Super - Fill Up on Budget-Friendly Japanese Snacks
Gyomu Super is a discount supermarket frequented mostly by locals in Japan. There are several stores in Tokyo and around 800 domestic locations. While it is a normal grocery store with produce and perishables, you can find durable and lasting snacks, from Pocky to matcha powder and authentic soy sauce. Merchandise here tends to be sold in bulk, so it is great if you're buying for many.
Convenient locations in Tokyo are in Ueno Hirokoji (within walking distance of Ueno Station), Asakusa, and Shinjuku. Stop by and save yen on delicious, classic Japanese snacks.
13. Narita and Haneda Airports - Convenient Shopping
If you're looking for last-minute souvenirs, you can't forget the airport. From authentic Japanese products or Japanese matcha green tea and red bean jam snacks, you will be able to find a wide variety of fun items at airport shops in Narita and Haneda airports. Please note that prices here will be higher than other stores, as you pay for the convenience.
With so many souvenir shops, you may end up spending more time than expected. Please be careful and give yourself enough time to shop if you have a flight to catch.
Souvenir Shopping in Tokyo
Tokyo has hundreds of souvenir shops with a wide variety of products. You would be surprised how fast time will fly when you are searching for souvenirs or gifts. You can make your search more efficient by knowing in advance where to shop for souvenirs at reasonable prices.
We hope this article helps you to find a great souvenir and to bring a memorable experience back home!

The information presented in this article is based on the time it was written. Note that there may be changes in the merchandise, services, and prices that have occurred after this article was published. Please contact the facility or facilities in this article directly before visiting.