Souvenirs At Gyomu Super - Buy In Bulk And Save
Gyomu Super is a popular supermarket chain with over 800 locations throughout Japan, and offers goods in bulk sold at reasonable prices. With well-known snacks for sale like Pocky and other food items, stop by and explore local shopping in Japan.
Buy Bulk Goods For Less at Gyomu Super
We can't help but feel a sense of thrill when visiting supermarkets in a foreign country, becoming closer to understanding the local lifestyle and exploring questions like "What do people buy here?" and "How is the cost of living here?"
A popular supermarket chain, Gyomu Super has more than 800 locations in Japan as of April 2018. The secret to its success is how it sells wholesale items in bulk at low prices in addition to items for households. The company also owns factories and produces many items exclusive to Gyomu Super. There are also imported products for sale at affordable prices, comparable to domestic goods. Gyomu Super also offers more than 100 halal food products. In this article we went to visit the Gyomu Super in Ueno-Hirokoji in Tokyo. Let's look inside the supermarket and check out of the some items you can buy at Gyomu Super.
* Some products and prices may vary by location and season.
Original Sweets and Interesting Snacks Sold in Giant Bags
Are They Drinks or Desserts? Milk Pack Sweets
An especially popular product at Gyomu Super is the Milk Pack Dessert, an original item produced by Gyomu Super. Mizu-yokan bean paste, custard pudding, cheesecake and other desserts are sold in milk packs for 150 to 300 yen a piece. To eat them, remove the tops of the packs and take out the contents. They are sold in solid or jelly form, but you can dissolve them and fill small containers with them. Mix them with milk to make smoothies or try any other creative ideas you have. Use the pictures on the packs as hints for other ways to consume them.
For People Dissatisfied with Regular-Sized Snacks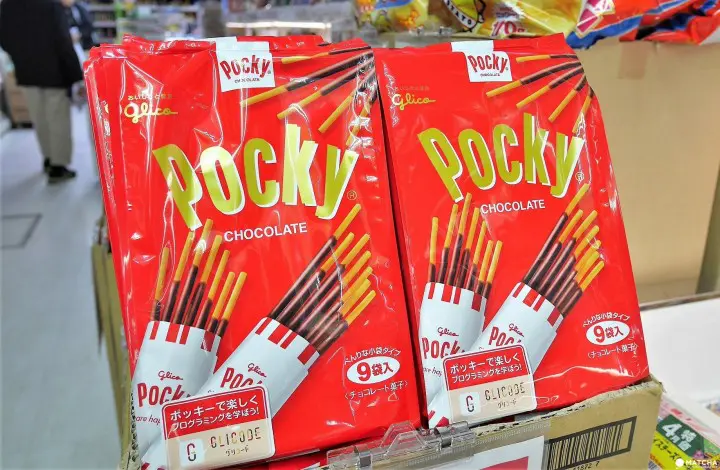 Gyomu Super also sells regular snacks in bigger sizes! Convenience stores sell Pocky boxes containing two bags for 150 yen apiece, but here you can get nine bags for 245 yen. For more information about the snacks sold at Gyomu Super, check out this article.
Long-Lasting Sauces in Large Sizes as Souvenirs
1.8-Liter Bottles of Soy Sauce and Noodle Dipping Sauce
You'll be happy to know that Gyomu Super sells large bottles of soy sauce and mentsuyu dipping sauce at low prices (about 150 to 350 yen a bottle). The price before tax is written in large red letters on the bottom of the item. Soy sauce is best for up a month in the fridge after being opened, so if you are worried about the freshness, heat it before you use it. The savory aroma will surely stoke your appetite.
Different Miso Varieties in Generous Quantities
There are also many varieties of miso for sale here. You can pick up the standard square packs for household use, one-kilo bags or individually-wrapped packages for making miso soup. They cost 150 to 400 yen. A package of 100 servings of miso soup for use at restaurants is 513 yen. We suggest storing this in the refrigerator to prevent loss of flavor. Miso is said to be excellent for your health. You can use it not just for miso soup, but also as a delicious accent to Western-style soups or even mixed with vegetables, so be sure to buy enough and try using it in various dishes.
How Do You Use Sesame Dressing?
You can buy liter-sized bottles of sesame dressing for 400 to 500 yen. Of course, you can use it on salad, and you can also pour it on cold tofu as a condiment for hiyayakko, as a sauce for cooked chicken, or a convenient dipping sauce for pork shabu-shabu.
Two-Liter Drink Bottles are a Bargain!
You can buy 1.5 to two-liter drink bottles for around 150 yen, the same price as a 500 ml bottle from a vending machine. They also sell smaller-sized bottles, so you can buy two to carry around and a big bottle to drink at your hotel and to use for refills.
How about getting some powdered tea or teabags for souvenirs? They also sell tea leaves as-is, or you can buy teabags if you don't have a strainer. They also sell alcohol at Gyomu Super. Traditional sake and shochu as well as other popular drinks are available.

Just Add Hot Water! Ready-to-Eat Food Products are Easy Souvenirs
Customers can buy Gyomu Super-made Otona no Omori Curry for 297 yen for a pack of five 250g pouches. As pre-made pouch curries are usually around 200 to 300 yen for a 210g bag, this product is quite a bargain.
They also sell cups of instant ramen, udon and soba for under 100 yen. They are lighter in weight than the ready-to-eat curry pouches, so you can fill your suitcase without worrying.

More than 100 Varieties of Halal Food
Not many restaurants in Japan are halal-certified yet, so there may be some people who aren't sure what they can eat. If you fall into this category, head to Gyomu Super, which directly imports halal food from overseas. You might think they would be more expensive, but these are also bought in bulk so they are mostly the same price as non-impored items. Gyomu Super has carefully selected many import items that can be enjoyed even by non-Muslim customers.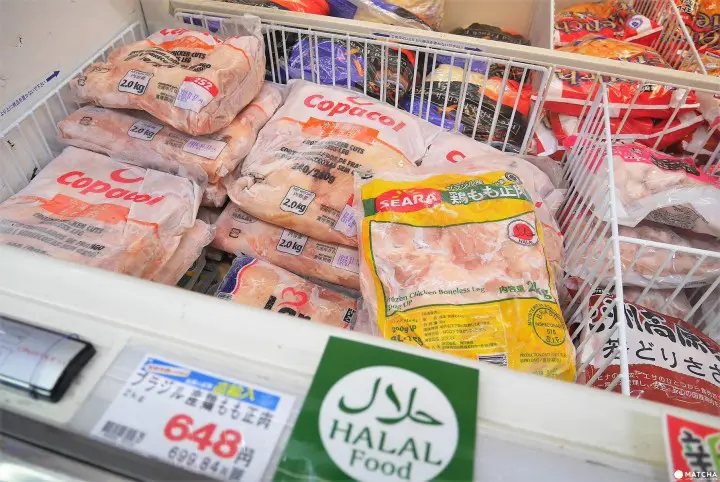 For example, this chicken thigh meat from Brazil is halal-certified, but is consumed by many customers regardless of their religion.
They also sell marshmallows, banana chips and other snacks. Halal-certified products have this green mark, so look for this mark.

Why is Gyomu Super So Popular? The Secret to its Success
What is the reason for Gyomu Super's success? The stacks of cardboard boxes and displays of frozen food stand out. Since frozen food items have a long shelf life, they save on costs and help reduce waste. Also, by displaying goods in cardboard boxes, Gyomu Super can be more efficient and cut down on staffing expenses, offering goods to its customers at a lower price..
Frozen vegetables are sold as well, which can be used in soups and stews, as well as frozen fruit for adding into smoothies, jams and yogurt.
Shop Wisely and Experience Everyday Life in Japan
At many guesthouses or Airbnb accommodations, you can freely use the kitchen, and utensils are available. You may enjoy buying local ingredients at the supermarket, just like a resident. Go around the supermarket and discover your own way to enjoy it.

Other Gyomu Super Locations
We've selected three convenient locations near sightseeing areas. Operating hours and acceptability of credit card vary, so please confirm at each supermarket.

Tokyo
Asakusa
Tokyo,Taito, Higashi-Asakusa 2-21-5 Google Maps

Shinjuku Okubo
Tokyo, Shinjuku, Hyakunincho 2-15-1 Google Maps

Osaka
Nihonbashi
Osaka, Osaka, Naniwa, Nihonbashi-Nishi 1-4-13 Google Maps

Check here for other locations (only in Japanese).

In cooperation with Kobe Bussan

The information presented in this article is based on the time it was written. Note that there may be changes in the merchandise, services, and prices that have occurred after this article was published. Please contact the facility or facilities in this article directly before visiting. Some of our articles contain affiliate links. We kindly ask our readers to exercise careful judgement when making a purchase or booking a service online.