Sumida River Fireworks Festival - 2018 Schedule, Access And Highlights
Fireworks festivals are a popular mainstay of Japanese summers. In today's article, we introduce the most famous of these events, the Sumida River Fireworks Festival, and tell you about its 2018 schedule, access, and more.
Sumida River Fireworks - A 400 Year History!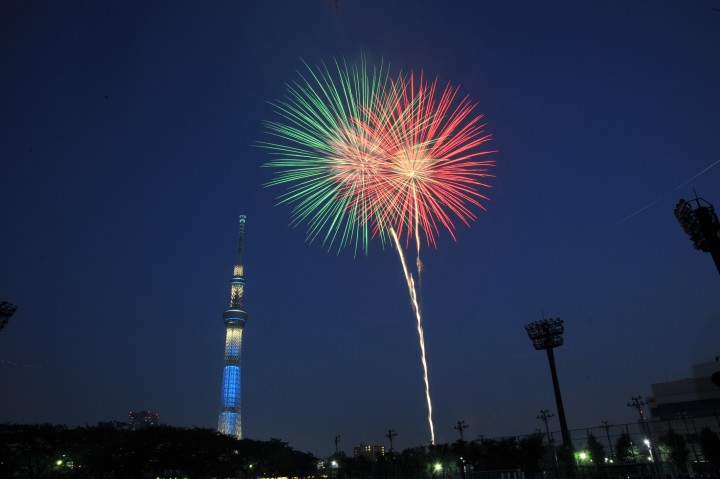 Picture courtesy of Sumida Ward
The Sumida River Fireworks Festival is an annual event held on the last Saturday in July. This is a fireworks festival in which a constant barrage of fireworks are launched from two separate locations: near Sensoji Temple in Taito Ward, and near Tokyo SkyTree in Sumida Ward.
From near Sakura Bridge (location one) about 9,350 fireworks are launched, while from the Komagata bridge area (location two) about 10,650 fireworks are launched, so spectators can see a grand total of more than 20,000 fireworks.
The Sumida River Fireworks Festival dates back roughly four hundred years to the Edo period.
During a terrible famine in 1732, many people died of starvation. The following year, the eighth shogun Tokugawa Yoshimune, held the first ever Ryogoku River Fireworks Festival. This suijinsai (*1) event was held to comfort the spirits of the deceased and pray that those living would be free from famine or other misfortunes in the future.
This festival is considered to be the origin of the Sumida River Fireworks Festival.
During the war and also because of river pollution, the festivities were discontinued on a number of occasions, but in 1978 it was renamed the Sumida River Fireworks Festival, becoming the present-day annual event.
*1 Suijinsai: A water-god festival held to drive away misfortune and disasters during a period in which flooding and plagues often occurred.
2018 Schedule:
Date: July 28 (Saturday) 19:00-20:30
Number of fireworks: About 20,000
Location: Banks of the Sumida River - Location one and Location two
*To refer to a location map, please click here!
Access:
Fireworks Location One: 15 minutes on foot from Asakusa Station and Tobu Asakusa Station (various lines).
Fireworks Location Two: 5 minutes on foot from Kuramae Station (Toei Asakusa Line).
You May Also Like:
Fire Flowers Bloom in the Evening Sky
Picture courtesy of Taito Ward
During this festival, there's a wide variety of fireworks. For example, starmine, which launches a large volume of fireworks in steady succession, and exhibition fireworks (shikake hanabi), which are known for their images of logos and illustrations.
Warimono, or large round fireworks, despite being set off only one time, can really pack a punch and are well worth watching.
In addition, there are fireworks with a seasonal flavor such as snails, fish, and other creatures, all the way up to pop culture types such as a happy face, anpanman, and a pokemon poké ball.
The shape of the images can change depending on which vantage point you're watching from, so walking around to find the perfect viewing spot might be an interesting thing to do as well.
Picture courtesy of Sumida Ward
Something to watch for in particular is the fireworks competition, in which 200 fireworks are launched from location one.
In this competition, a total of ten fireworks companies participate. There are seven companies with a connection to the Sumida River, and three companies who are known nationwide for their pyrotechnical expertise. All feature their latest masterpieces and compete against each other.
The presentations put on by the companies are evaluated by the spectators. The scoring system is used to help improve and advance firework technology in the years to come, so this competition is something you don't want to miss.
During just one day, about one million people converge on the Sumida River Fireworks Festival. Various sightseeing spots are not far away, so visitors to Tokyo can also easily come and join in the festivities.
This is an event that truly gives you a taste of summer, so not attending is simply out of the question!
*This is a revised version (2018) of an article that was written on July 5, 2014.
Author of the original article: Shiori Nakajima