Cherry Blossom Spots Along Sumida River - Part 1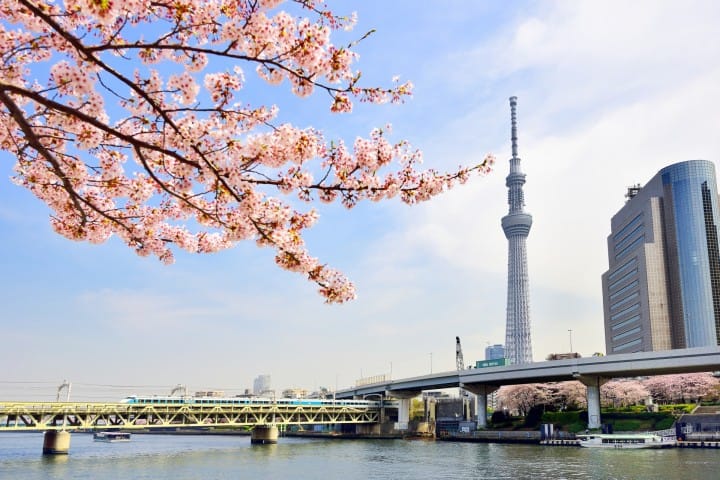 Are you hoping to catch the seasonal blooms of cherry blossoms along the Sumida River? This walking route, near the history-rich Asakura and iconic Tokyo Skytree, is perfect for you!
Best Sakura Spots along Sumida River
The Sumida River flows near famous sightseeing spots, most notably Asakusa and the Tokyo Skytree, in the eastern part of Tokyo.
According to the Japanese literary tradition, Sumida River is said to be where "the emotions of Edo are still alive." Historically, this river was the main transportation artery of old Tokyo during the Edo Period. You'll see numerous buildings and sights that have existed since this era along this route. It's an excellent place to experience the authentic air of Edo.
Nowadays, the area is typically packed with visitors during sakura (cherry blossom) season, the Sumida River Fireworks Festival in the summer, and on weekends and national holidays.
If you'll be visiting Japan in the early spring, one of the most exciting things to do is see the cherry blossoms or have a hanami (cherry-blossom viewing) party in a popular sakura spot. While there are plenty of famous spots throughout Tokyo, we'd like to introduce one that will take you on a journey through Japanese history.
This article is split into two parts and the second half can be found here.
Now, let's embark on our cherry-blossom viewing adventure!
Before We Head Out
To take advantage of the environment, the author decided to use a rental bike service, which is available in many municipal parking areas and services all around Tokyo.
Additionally, bicycles can be easily parked almost anywhere and allow you to access different areas that may not be accessible to trains, buses, and taxis. That being said, bikes are not permitted on the terrace along the Sumida River.
You'll have to ride down other streets instead of directly passing along the river in most cases. On a positive note, you can return the rental bike at any of the related parking areas.
It's always nice to go for a ride on a sunny spring day.
Spot 1: Shiori Park Area
This park is a ten-minute walk from either Sekiya Station (Keisei Line), Ushida Station (Tobu Isezaki/Tobu Skytree Line), or Koroku Shrine. This park was rebuilt over a decade ago, which is fairly new in comparison to other parks mentioned in both the first and second half of this article.
A popular spot with families, you're sure to see lots of people here on the weekends when the weather is nice.
If you walk in the northwest direction of the park, you'll soon find yourself surrounded by cherry trees. There are about 250 trees here, making it a great spot to see a bunch of cherry blossoms at once.
Spot 2: Zuikobashi Park
When you are traveling back towards Asakusa from Shiori Park, you'll also see cherry blossoms near Zuikobashi Park, the second stop on our sakura-packed route.
A six-minute walk from Shiori Park, it is located between two bridges, namely Suijin Ohashi Bridge and Shirahige-bashi Bridge. Both bridges are excellent spots to view the Tokyo Skytree.
If you're traveling in this direction, you can enjoy an annual spring sight with Tokyo's tallest landmark on your left and rows of cherry blossoms planted along the river to your right.
Incidentally, there was once a movie studio owned by the Nikkatsu Corporation in this area. Active between 1913 to 1923, 760 early Japanese films were shot in this studio, which unfortunately burned down after the Great Kanto Earthquake in 1923.
Currently, an elementary school stands on the grounds formerly occupied by this film studio. Nevertheless, this area is still referred to as the home of modern Japanese film.
Spot 3: Sumida Park
Sumida Park is perhaps most famous for its delicate cherry blossom trees that were planted by the eighth shogun of the Edo Period, Tokugawa Yoshimune.
Situated along the bank of the river, Sumida Park is swarming with visitors throughout the short-lived sakura season. Roughly 640 trees are planted along a one-kilometer stretch of the riverside heading towards Azumabashi Bridge in front of the Asahi Beer Corporation—famed for its golden rooftop sculpture.
Here, you can find the Kototoibashi, a bridge between the Sakurabashi and Azumabashi bridges. The bridge's name essentially means "the Asking Bridge," and comes from an old poem by one of the Six Great Poets of Ancient Japan: Ariwara no Narihira. He composed this poem while journeying from his home in the ancient capital of Kyoto to Eastern Japan.
The Sumida Park Sakura Festival is held here at the end of March to mid-April. The cherry blossoms are illuminated from sunset until 21:30 each night. The sight of the Tokyo Skytree contrasting against the backdrop of the night sky and illuminated sakura blossoms is stunning. It's a must-see sight if you're in Tokyo during the springtime.
This concludes the first part of our sakura-filled journey along the Sumida River. To learn more about our cherry blossom viewing adventure, please read the second installment of this article.


The information presented in this article is based on the time it was written. Note that there may be changes in the merchandise, services, and prices that have occurred after this article was published. Please contact the facility or facilities in this article directly before visiting.