FOUR SEASONS
20 Great Cherry Blossom Viewing Spots In Tokyo And Hanami Information
The cherry blossoms in Tokyo start blooming around the end of March, coming into full bloom near the beginning of April. We introduce here great spots all around Tokyo where you can enjoy viewing the cherry blossoms.
Tokyo's Hanami Season
The cherry blossoms in Tokyo start blooming around the end of March and come into full bloom at the beginning of April.
The best time to see cherry blossoms in Tokyo is the first week of April. From the second week of April, the blossoms begin to scatter, leaving behind sprouts on the cherry trees with the most beautiful time of the season having passed.
If you're coming to see the cherry trees, we recommend getting to Japan by the very beginning of April.
In this article, we'll be introducing a number of different places where you can participate in hanami (cherry blossom viewing), so if you plan on visiting Japan in the springtime make sure you keep this guide handy.
Contents:
1. Great Hanami Spots in Tokyo: Shinjuku and Harajuku Area
2. Great Hanami Spots in Tokyo: Shibuya and Meguro Area
3. Great Hanami Spots in Tokyo: Imperial Palace Area
4. Great Hanami Spots in Tokyo: Asakusa and Ueno Area
5. Great Hanami Spots in Tokyo: Northern Tokyo
6. Great Hanami Spots in Tokyo: Outside the 23 Wards
7. The Weather During Hanami Season and Most Appropriate Clothing
8. Hanami Manners (Getting a Spot, Garbage)
9. Helpful Travel Information
Great Hanami Spots in Tokyo
When one thinks of Tokyo, the image of rows upon rows of tall buildings may come to mind, but there are plenty of places where you can set down a tarp and enjoy a picnic under the pink cherry blossoms.
Shinjuku and Harajuku Area
Shinjuku and Harajuku are home to two famous hanami spots, namely Shinjuku Gyoen and Yoyogi Park.
1. Shinjuku Gyoen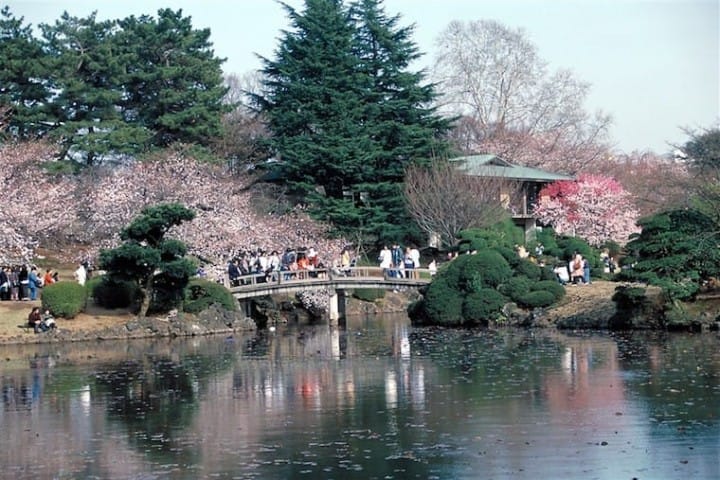 Image provided by: Ministry of Environment, Shinjuku Gyoen Management Office
Located in the heart of the city, Shinjuku Gyoen is a large park where one can relax and take in the sights of the beautiful cherry blossoms. The park prides itself on having over 65 types and over 1,100 different cherry trees. The closest stations to this park are Shinjuku Station and Yoyogi Hachiman Station. The park is also quite beautiful in the fall when the leaves change color, making Shinjuku Gyoen an oasis for weary Tokyoites year round.
Entrance Fee: Regular 200 yen; Junior High and Elementary School Students 50 yen; Infants free
Address: Tokyo, Shinjuku, Naitomachi 11
Website: Shinjuku Gyoen (Japanese)
2. Yoyogi Park
Tons of visitors come every year to enjoy hanami at Yoyogi park. With around 500 trees, primarily of the somei yoshino variety, visitors can come and purchase snacks like yakisoba at stalls or catering carts set up throughout the park and many people also bring their own food and alcohol to enjoy in the shade of the trees.
During the cherry season, the lines for the public bathrooms become quite long, so either make sure you find a toilet near the park that you can scurry off to or keep the libation imbibing to a minimum.
The closest stations for Yoyogi Park are JR Harajuku Station, Yoyogi Koen Station on the Chiyoda Metro Line, and the Meiji Jingumae (Harajuku) Station on the Chiyoda Metro and Fukutoshin Lines.
Address: Tokyo, Shibuya, Yoyogikamizonocho 2-1
Website: Yoyogi Park
Shibuya and Meguro Area
Shibuya and Meguro are also host to a number of beautiful cherry trees. That said, finding a spot to set up a picnic can be a little difficult, so be careful if you're going to be having your hanami party here.
3. Meguro River
The Meguro River is flanked by around 800 cherry trees on both sides, stretching for about 3.8 km. At night, lanterns are lit, making for a very atmospheric hanami experience. Like in Shinjuku Gyoen and Yoyogi Park, it's a little difficult to find a nice plot to set your tarp down, but the blossoms are just as beautiful if you want to simply take a stroll down by the river. The closest stations for Meguro River are JR Meguro Station and Meguro Station on the Toyoko Line.
4. Aoyama Cemetery
This cemetery located in Tokyo's Minato Ward, Minami-aoyama 2 Chome, is a great place to take a walk while viewing the gorgeous cherry blossoms. However, unlike other hanami spots, visitors are not permitted to lay down tarps and imbibe alcohol in the cemetery. Also, the cemetery is closed at night, so if you plan on visiting, make sure to come during the day.
Address: Tokyo, Minato, Minami-Aoyama 2-32-2
Website: Aoyama Cemetery (Japanese)
Imperial Palace (Central Area)
There are lots of places around the Imperial Palace for visitors to take in the beauty of the cherry trees.
5. Chidorigafuchi
Chidorigafuchi Road, which runs along the west side of the Imperial Palace, is home to an assortment of cherry trees that truly speak to the Japanese spirit, with the trees accented by the freshly sprung greenery and the palace's moat. Though there are a number of skyscrapers located in the distance, these shouldn't detract from the cherry blossom viewing experience. The area is also lit up at night, transforming the area's beauty.
Address: 5-minute walk from Exit 5 at Hanzomon Subway Station or Exit 2 at Kudanshita Subway Station
Website: Chidorigafuchi (Japanese)
For more information, see our article: Experience The Stunning Sakura At Chidorigafuchi, Tokyo
6. Koishikawa Korakuen Garden
Built at the beginning of the Edo period in the Tsukiyama Sensui Kayu Style, Koishikawa Korakuen Garden is one of the two big gardens of Edo along with Rikugien Garden. As visitors are not allowed to put down tarps or host picnics, viewing cherry trees here is limited to a walking tour. The closest station to the garden is Iidabashi Station on the Oedo Line.
Entrance Fee: Adults 300 yen; Children free
Address: Tokyo, Bunkyo, Koraku 1-6-6
Website: Koishikawa Korakuen Garden
7. Hamarikyu Gardens
Another garden built during the Edo period, Hamarikyu Gardens have been designated a special historic and aesthetic landmark. If you find yourself in the Shimbashi or Ginza area and want to check out the cherry blossoms, we recommend hitting Hamarikyu Gardens, a vast garden with around 100 cherry trees where one can forget all the hustle and bustle of the big city.
Entrance Fee: Regular 300 yen; Seniors (65 and older) 150 yen; Elementary School Students free; Junior High School Age Tokyo Residents free; Groups of 20 or more 240 yen per person; Groups of 20 or more (seniors citizens) 120 yen per person
Address: Tokyo, Chuo, Hamarikyuteien 1-1
Website: Hamarikyu Gardens
8. East Gardens of the Imperial Palace
Located close to Tokyo Station, the East Gardens of the Imperial Palace (Kokyo Higashi Gyoen) are home to 200 cherry trees. With historical ruins and a free museum displaying precious works of art, this is a great place for visitors interested in Japanese history and culture to check out after a walk under the blooming cherry blossoms.
Address: Chiyoda ward, Tokyo
Website: East Gardens of the Imperial Palace (Japanese)
9. Shiba Park
Shiba Park, located at the foot of Tokyo Tower, has around 200 cherry trees and is a great place to engage in hanami with the bright orange symbol of Tokyo jutting up in the background. Areas around the Maruyama Fountain and Benten Pond, located within the park, are especially popular sites for hanami.
Address: Shibakoen, Minato, Tokyo
10. Hibiya Park
Hibiya Park, located near the imperial hotel, is a great place to view the cherry trees in the sprawling Tokyo metropolis. With 40 cherry trees, Hibiya Park is the first modern park built in the city, and is home to a large fountain, a rarity for Japanese parks.
Address: Hibiya Park, Chiyoda ward, Tokyo
Asakusa and Ueno Area (East Tokyo)
Asakusa and Ueno are popular tourist destinations in their own right, and here visitors will find beautiful cherry trees located in the historical Ueno and Sumida parks.
11. Ueno Park
No article on cherry blossom viewing spots in Tokyo would be complete without Ueno Park. During hanami season, the park is visited by a plethora of families, company workers, and students all looking to take in the beautiful pink blossoms. Since the park can get crowded during this time of year, we recommend meeting up with your party at Ueno Station rather than in the park itself.
For more information on Ueno Park, see our article: Ueno Park Guide: Ueno Zoo, Museums, Temples and Other Highlights!
Address: Tokyo, Taito, Ueno Koen//Tokyo, Taito, Ikenohata 3
Website: Ueno Park
12. Sumida Park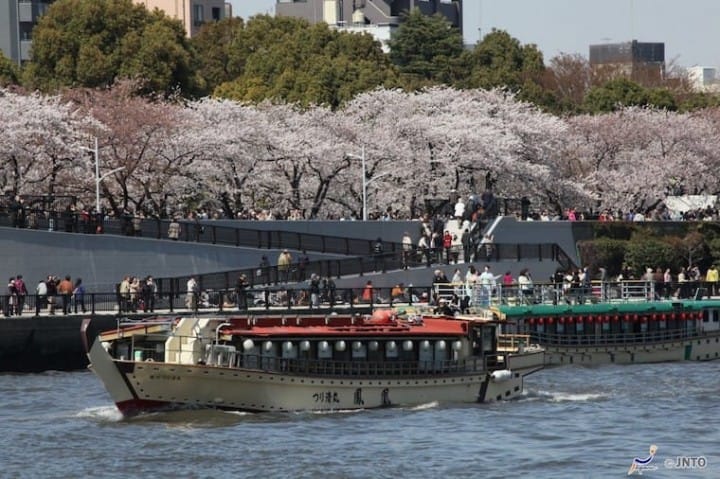 Located a short walk away from Asakusa Station is Sumida Park along the Sumida River, renown as an excellent cherry blossom viewing spot.
Though strolling along the river, viewing the gorgeous cherry trees as their blossoms scatter into the Sumida River is a sight to behold in its own right, we also recommend chartering a pleasure boat where you can view the trees from the river itself. Tokyo Skytree, a symbol of Taito Ward in and of itself, is also close by, affording a view of both the old and the new.
Address: Tokyo, Sumida ward, Mukojima 1, 2, 5-chome
13. Asakusa Hanayashiki
Asakusa Hanayashiki is famous as Japan's first amusement park. Though there aren't very many cherry trees, seeing them lit up at night or viewing them at one of the special events the beer garden holds is a great way to enjoy hanami.
For more information on Hanayashiki, check out our article: Hanayashiki - Enjoy Asakusa's Retro Amusement Park!
Address: Tokyo, Taito, Asakusa 2-28-1
Website: Hanayashiki
Northern Tokyo
There are a number of charming hanami spots such as Rikugien Gardens and Asukayama Park located in Northern Tokyo wards like Bunkyo and Toshima.
14. Rikugien Garden
Along with Koishikawa Korakuen, Rikugien Garden is one of the big two Edo gardens that can be enjoyed in Tokyo. The gardens are beautiful year round, but especially striking in the springtime when the drooping cherry trees come into bloom. With the garden bathed in pink throughout the day, once the sun sets they are lit up, bringing about a whole new beauty to the blossoming buds.
Address: Tokyo, Bunkyo, Honkomagome 6
Entrance Fee: Regular 300 yen; Seniors (65 and older) 150 yen; Elementary School Students free; Junior High School Age Tokyo Residents free
Website: Rikugien
15. Asukayama Park
Built during the Edo period, the beauty of Asukayama Park, located in Tokyo's Kita Ward, has captivated Japanese people for the past 300 years. Visiting the park when all 650 of the park's gorgeous cherry trees are in bloom is a sight to behold. The park's child area, Kodomo Land, also houses a play castle and an old street car, making it the perfect destination for the whole family.
Address: Tokyo, Kita, Ouji 1-1-3
Website: Asukayama Park (Japanese)
16. Toshimaen
An amusement park located in Nerima ward, Toshimaen is host to the annual Toshimaen Sakura Matsuri (festival). With 500 cherry trees, the park also includes a small roller coaster called the Mini Cyclone, that visitors can view the trees from as well, making for a special cherry viewing experience. The trees are also lit up at night, making it a great place to see cherry trees later in the day.
Address: Tokyo, Koyama 3-25-1
Website: Toshimaen (Japanese, no visitors with tattoos permitted)
Outside the 23 Wards
Even in places outside of Tokyo's special 23 wards, one can find large, open spaces offering a wonderful hanami experiences in places like Musashino and Koganei.
17. Inokashira Park
At Inokashira Park, located a short walk from Kichijoji Station, visitors can enjoy the cherry blossoms from the park or from a paddle boat in the park's lake. The park's 500 cherry trees in bloom is simply amazing, drawing in tons of families and couples from around the city. The park's pond is especially beautiful as it reflects the ocean of pink surrounding it.
Address: Tokyo, Musashino, Gotenyama 1-18-31
Website: Inokashira Park
18. Koganei Park
Koganei Park is home to the largest number of cherry trees in the city, coming in at around 1,700 with over 50 different varieties. At the festival held on the first Saturday and Sunday in April, visitors can enjoy events touting traditional performing arts, Japanese dancing, ikebana, and tea houses.
Address: Tokyo, Koganei, Sekinocho 1-13-1
19. Kunitachi University Street and Cherry Street
Daigaku Dori (University Street) and Sakura Dori (Cherry Street) are the main streets in Kunitachi. When springtime rolls around, the 350 cherry trees that line the streets all come into bloom, making for an amazing sight. Along Cherry Street you will find Yaho Daisan Park where the Kunitachi Sakura Festival is held yearly.
20. Showa Memorial Park
Located in Tachikawa, this park is roughly 40 times the size of Tokyo Dome! With 1,500 cherry trees, this is an excellent spot for hanami, especially the Sakura no Sono area of the park. Bring your tarp, some food and drinks, and enjoy a relaxing afternoon under the blossoms.
For more information on Showa Memorial Park, see our article: The Allure of Seasonal Flowers! Showa Memorial Park is a Spot for All Ages! (Japanese only).
Entrance: Adults 410 yen; Children 80 yen; Seniors (65 and older) 210 yen
Address: Tokyo, Tachikawa, Midoricho 3173
Website: Showa Memorial Park
Hanami Weather and Clothing
From the end of March to the beginning of April, it gets to be around 10℃ in Tokyo, a little chilly to say the least.
While you don't need a thick winter coat, you'll definitely need a jacket. Still, once the sun goes down the temperature drops considerably, so be sure to pack accordingly if you plan to be out late.
For more information, see our article: Spring in Japan: Traveling, Clothing and Weather in March-May
Hanami Manners
Lots and lots of people come out to view the cherry blossoms every year, so it's important to mind your manners when picking out a spot for your picnic and when throwing away your garbage so that everyone can enjoy their time outside together!
Manners When Picking Out a Spot (Have Someone Hold the Spot and Don't Take More Than You Need)
The typical way that people set their spot for hanami is to lay out a tarp. However, one thing to keep in mind when doing this is don't take any more space than you'll need. If you end up taking too much space, then other people won't be able to enjoy the flowers!
Also, somebody needs to stay behind after you set down your tarp. If not, security guards may come by and throw away your stuff, so make sure to leave someone behind to hold your spot.
Also, even if you get your spot, the wind can easily blow your tarp away, so either use some nearby stones to keep the tarp from blowing away or use some pegs or stakes to keep it down. However, don't stick pegs directly into tree roots!
Though this differs from place to place and day to day, there are people who may get there first thing in the morning or even the night before to claim their spot for their picnic. Though this may be difficult for guests visiting from out of town, it's usually a good idea to try and get your spot as early as possible.
Manners Regarding Garbage (Sorting Trash and Throwing it Away)
Areas of the city with cherry trees are usually located in parks or along rivers, meaning that the majority of them are located in public spaces. Still, local municipalities are typically conscious of hanami season and set up places for people to throw away their trash, so don't be a litterbug!
Just like with convenience stores and regular trash pickups, these trash boxes will be separated into different types of garbage for recycling, so make sure to abide by the signs and put trash in its proper place. The picture here shows the trash can area at Ueno Park during the Sakura Matsuri (Cherry Blossom Festival, March 21 through April 13, 2014). Typically, trash is separated into the following categories: combustible, non-combustible, glass bottles and metal cans.
Please make sure to put trash in its proper place.
For more information, see our articles: 15 Items To Make Your Hanami Great!, Clean Up The Right Way: Dealing With Trash After A Hanami, and Finding The Perfect Spot: Saving A Hanami Sitess
Helpful Travel Information
If you want to exchange currency, then we recommend either visiting a bank and exchanging there or using an ATM at a 7-Eleven convenience store.
When you're out of cash, look for an ATM with the "PLUS" stamp.
If you're staying at a hotel, it helps to know a little of the local lingo. Here are some handy Japanese phrases.
A nifty Wi-Fi service for tourists coming from abroad: Japan Connected-free Wi-Fi. Start by getting the app.