12 Best Night Cherry Blossom Views In 2021 - Magical Illuminations!
Cherry blossoms look amazing during the day, but you can also experience stunning views of cherry trees at night! Today we introduce some of Japan's most beautiful night sakura illumination spots.
Viewing Cherry Blossoms at Night
Cherry blossoms, or sakura, are the iconic symbol of spring in Japan. Although it is common for people to view the blossoms during the day, the sight of cherry blossoms at night is extraordinary. Major cherry blossom viewing spots are usually lit up at night, showing a magical side of the scenery to visitors.
There are countless places all over the country where you can enjoy beautiful views of the cherry trees, but this time, we've chosen a few keeping in mind the expected dates of the first blossoms.
*Please note that in 2021, many cherry blossom festivals may be canceled in order to prevent the further spread of COVID-19 outbreaks. If you are interested in a particular event, please make sure to check their official website for the latest information.
Table of Contents
1. Maizuru Park, Fukuoka Prefecture
Picture courtesy of Fukuoka City
Maizuru Park is a popular cherry blossom viewing spot in Fukuoka Prefecture. From late March to early April there is a festival that celebrates the beauty of sakura blooming along the castle's stone walls: Fukuoka Castle Sakura Festival.
During this festival, you can admire the fascinating illumination, enjoy the festival stands, watch events, and enjoy the lively atmosphere while seeing the cherry blossoms.
Information on the Illumination Event
Address: Fukuoka, Fukuoka, Chuo, Jonai (inside the castle grounds) 1 Google Map
Access: 10 minutes by foot from Akasaka Station, Ohorikoen Station of Fukuoka City Subway
Official Webpage:www.midorimachi.jp/maiduru/file/panf_en.pdf
2. Mifuneyama Rakuen, Saga (March 20 - April 1, 2021)
Picture courtesy of Mifuneyama Kanko Hotel
Mifuneyama Rakuen is a well-known destination for enjoying cherry blossoms in Saga Prefecture. There are around 2,000 sakura trees blooming within the traditional Japanese garden. In addition to the iconic cherry blossoms, there are also 20,000 rhododendrons blooming, with spectacular and colorful views will make you wonder if you're admiring a painting.
The illumination event lasts from mid-March to early April. The breathtaking views here have earned it the title of Kyushu's greatest cherry blossom night-viewing event.
Information on the Illumination Event
Price: Adults 400 yen, elementary school students and younger 200 yen.
*From March 13 to April 4, the fees are as follows: adults 600 yen, elementary school students and younger 250 yen. From April 15 to May 7: adults 700 yen, elementary school students and younger 300 yen.
Address: Saga, Takeo, Takeo, Oaza Takeo 4100 Google Map
Access: 5 minutes by taxi from Takeo-onsen Station of JR Sasebo Line. About 1,000 yen.
Official Webpage: https://www.mifuneyamarakuen.jp/en/
3. Meguro River, Tokyo
Picture courtesy of Meguro Kanko Machizukuri Association
One of the most celebrated and visited cherry blossom viewing spots in Tokyo is Meguro River. Each year during the cherry blossom season, countless people gather to celebrate this lively event.
You can, of course, enjoy illuminations as well. This area has many chic stores and restaurants, too, where you can treat yourself to a meal or some shopping while admiring the cherry blossoms at night.
4. Mori Garden, Roppongi
Picture courtesy of JAPAN PHOTO LIBRARY ©Yasufumi Nishi/©JNTO
Mori Garden is a Japanese garden located inside the grounds of Roppongi Hills, a complex with a shopping area, restaurants, museums, and an observatory.
In spring, this area becomes very popular due to the wonderful cherry blossoms here, attracting couples on dates, and residents coming to relax after a day of work. This illumination spot lives up to its reputation as an "urban oasis."
Information on the Illumination Event
Period: March 22 to mid-April
Address: Tokyo, Minato, Roppongi 6-10-1 Google Map
Access: directly connected with the 1C exit of Roppongi Station of Tokyo Metro Hibiya Line; 5 minutes by foot from the 3rd exit of Roppongi Station of Toei Subway Oedo Line.
Official Webpage: http://www.roppongihills.com/en/green/
5. Ueno Onshi Park, Tokyo
Pictured: Kiyomizu Kannon-do inside the Ueno Park
The night view of the cherry blossoms in Ueno Onshi Park is, along with Hirosaki Park in Aomori Prefecture, and Takada Park in Niigata Prefecture, known as one of the Top Three Night Views of Sakura in Japan.
During the cherry blossom season, as many as 1,000 bonbori (paper lanterns) decorate the park, lighting up the blossoms beautifully.
Information on the Illumination Event
Address: Tokyo, Taito, Ueno Park 5-20 Google Map
Access: 2 minutes by foot from Ueno Station of JR Tokyo Metro Ginza Line and Hibiya Line; 5 minutes by foot from Ueno-okachimachi Station of Toei Subway Oedo Line; 1 minute by foot from Keisei-Ueno Station of Keisei Line.
Official Webpage: https://www.tokyo-park.or.jp/park/format/index038.html (automatically-translated English page available)
6. Sankeien Garden, Yokohama
Picture courtesy of Sankeien Hoshokai Foundation
Sankeien is a garden in Yokohama, Kanagawa Prefecture. When spring comes, about 300 cherry trees bloom in this garden. A number of buildings of great historic value are found all over the garden and were transported here from Kyoto and Kamakura. The buildings with beautiful cherry blossoms create a unique and harmonious scene.
During the cherry season, the garden closes later than usual, at 21:00, and hosts a special event called Kanou Evenings. The cherry blossom trees and the buildings are lit up, providing an astonishing view for the visitors, much different than the one that can be seen during the day.
Address: Kanagawa, Yokohama, Naka, Honmokusannotani 58 Google Map
Access: Ride the city bus no. 8 or no. 148 from the eastern exit 2nd bus terminal of Yokohama Station, for about 40 minutes; get off at Sankeien-iriguchi bus stop (220 yen); walk for 5 minutes.
Official Webpage: https://www.sankeien.or.jp/en-about/index.html
7. Kawazu Zakura, Izu
Picture courtesy of Kawazucho Tourism Organization
Kawazu Station in Shizuoka Prefecture is well-known in Japan for its lovely cherry blossoms. It is a popular destination for short trips from Tokyo since it takes no more than 2 to 2 and a half hour to reach it. Kawazu also has hot springs. During the annual Kawazu Sakura Festival held from early February to early March, visitors can relax at ashiyu (foot bath) for free at three different locations.
Be sure not to miss the illumination event! You'll be stunned by the amazing view of sakura trees along the river, lit up in beautiful colors.
Official Website: http://www.kawazuzakura.net/ (automatically-translated English page available)
8. Maruyama Park, Kyoto
Picture courtesy of JAPAN LIBRALY© Y.Shimizu/© JNTO
Maruyama Park is the oldest garden in Kyoto, having opened in 1886.
There approximately 800 cherry trees blossoming in spring, but the most popular is the weeping cherry ("shidarezakura" in Japanese), a famous cherry blossom illuminated at night in Gion. This park is very popular with its stunning night scenery of the illuminated cherry trees.
Information on the Illumination Event
Official Website: http://www.kyototourism.org/en/sightseeing-info/33.html
9. Koriyama Castle, Nara
Picture courtesy of Yamatokoriyama City Tourism Association
Yamatokoriyama Castle (Koriyama Castle), constructed in 1580, is a renowned cherry blossom viewing spot in Yamatokoriyama City, a castle town in northern Nara Prefecture.
Its iconic sakura tree, or gotenzakura, has been popular for more than 400 years. Every year, from late March to early April, the Yamatokoriyama Castle Festival is held. Both the cherry trees and the castle are lit up, creating a harmonious beauty.
Information on the Illumination Event
Address: Nara, Yamatokoriyama, Jonai Google Map
Access: about 10 minutes by foot from Kintetsu-Koriyama Station of Kintetsu Kashihara Line
Official Website: https://www.city.yamatokoriyama.nara.jp/overseas/english/kankou/history/001433.html
10. Utsubuki Park, Tottori
Picture courtesy of Tottori Prefecture
Utsubuki Park, situated at the foot of Mt. Utsubuki, is a symbolic park in Kurayoshi, Tottori Prefecure, amazes visitors who come from all over the country with a variety of cherry trees flowering in spring.
During the Kurayoshi Spring Festival starting in late March, 500 lovely paper lanterns of all sizes are illuminated, transforming the park into a magical scene with the beautiful cherry blossoms.
information on the Illumination Event
Address: Tottori, Kurayoshi, Nakano Google Map
Access: Ride the city bus from Kurayoshi Station via Shiyakosho (City Hall) for about 15 minutes (230 yen); then get off at Shiyakusho-Utsubukikoen-mae bus stop.
Official Webpage: https://www.kurayoshi-kankou.jp/2018sakura/
11. Hirosaki Park, Aomori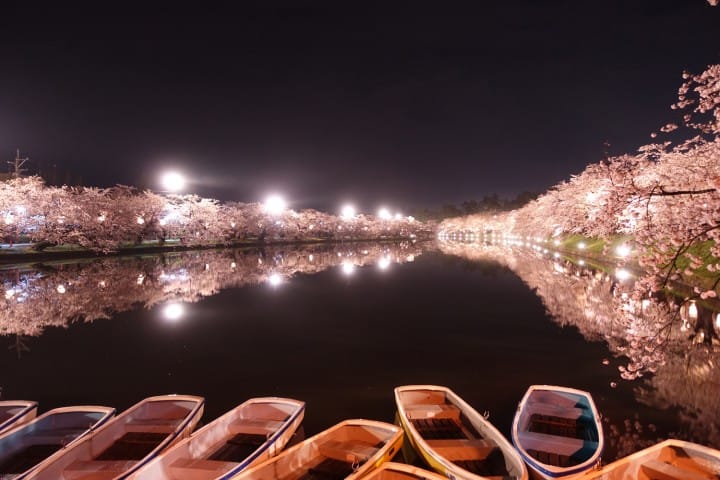 Picture courtesy of Hirosaki Park General Information Website
The gorgeous cherry blossoms of Hirosaki Park are said to create one of the three most beautiful night scenes of cherry blossoms in Japan. The view of illuminated cherry trees is especially stunning during the Hirosaki Sakura Festival, held annually for the past 100 years.
Hirosaki's cherry blossoms each bud into not just one, but several beautiful blossoms.
12. Takada Park, Niigata
Picture courtesy of Niigata Prefectural Tourist Association
Takada Park's cherry blossoms are known as the third best night cherry blossom view in Japan. At night Takada Castle and around 4,000 cherry trees are lit up with paper lanterns. The flowers reflecting on the water around the castle is a spectacular, must-see sight.
Enjoy the Cherry Blossoms at Night
Cherry blossoms are a beautiful part of nature that vanishes in a blink of an eye. Make the most of this wonderful experience and see the flowers during the night too. To ensure you won't miss this uniquely-Japanese opportunity in the spring, we suggest planning where you want to see before you go.
Written by: Mami Wakamatsu
**This article is an updated version of the original article published on February 26, 2016.


The information presented in this article is based on the time it was written. Note that there may be changes in the merchandise, services, and prices that have occurred after this article was published. Please contact the facility or facilities in this article directly before visiting.