Hirosaki Castle, A Famous Cherry Blossom Spot In Aomori
Hirosaki Castle in Aomori has one of the twelve remaining castle towers in Japan, and the castle park is a world-recognized spot for cherry blossom viewing.
Hirosaki Castle
Hirosaki Castle is located in Hirosaki City, Aomori, part of the Tohoku region. During the Edo period, the first castle tower was constructed in 1609 on the orders of Nobuhira Tsugaru, the governor of the region. However, in 1627, a lightning strike ignited a stash of gunpowder inside the castle compound, and the resulting fire completely destroyed the inner citadel and other structures, including the castle tower.
After the fire, Hirosaki Castle remained without a tower for almost 200 years, until reconstruction began in 1810. The current tower is counted as one of twelve extant towers in Japan today, and a designated National Important Cultural Property.
Hirosaki Castle is inside Hirosaki Park, which also contains several watchtowers - Tatsumi (southeast), Hitsujisaru (southwest), and Ushitora (northeast), each named for the words that Japan used to use for cardinal directions. In relation to the castle, each tower is situated according to its name.
Hirosaki Castle Admission And Operating Hours
Admission to Hirosaki Castle (for the inner citadel and the northern quarter): 310 yen for adults and 100 yen for children
Season: 4/1 to 11/23 (closed in the winter from 11/24 to 3/31)
Hours: 9:00 - 17:00 (7:00 - 21:00 during the Sakura Festival)
Hirosaki Castle Highlights
It goes without saying that if you're visiting the castle, the castle park is also worth a look. Hirosaki Park has an area of roughly 49 hectares (the equivalent of 10 Tokyo Domes), which contains the castle, watchtowers, moats, bridges, and playgrounds. The park plays a central role in Hirosaki City tourism as an event venue.
Photo courtesy of: Aomori Tourism Federation
Hirosaki Castle is almost right in the center of the park, and has five moats: the inner moat, the Lotus Pond moat, the central moat, the western moat and the outer moat. These moats are spanned by bridges, numbering nine in total, and the most unique bridge - the detachable Great Cedar Bridge - could be easily dismantled in case of enemy attack. This includes the Gejo (dismount) Bridge, which samurai would inspect by riding horses across before dismounting.
Photo courtesy of: Aomori Tourism Federation
Each of these bridges have their own elegance, but it is said that the most beautiful view of Hirosaki Castle is the one from Gejo Bridge.
Going to Hirosaki Castle
To get to Hirosaki Castle from Tokyo Station, take the Tohoku shinkansen to JR Shin-Aomori Station, then switch to the Limited Express Tsugaru at Ou Station. Get off at Hirosaki Station. The trip takes four hours, and costs 10,480 yen. After getting off at Hirosaki Station, take the city loop bus from the front of the station and get off at Shiyakusho-mae, then walk for four minutes. The bus fare is 100 yen.
Hirosaki Castle Seasonal Events (2017 Sakura Festival)
Photo courtesy of: Aomori Tourism Federation
Hirosaki Park holds their annual Sakura Festival from late April to Golden Week. 2017's festival will be held from 4/22 (Saturday) to 5/7 (Sunday).
2600 cherry blossom trees are planted in Hirosaki Park, which has been named one of Japan's top 100 places to see the sakura. The park is known for its many old trees, which are over a century old; a Yoshino cherry tree planted in 1882 is Japan's oldest cherry tree, and there are 300 more that were planted more than a hundred years ago.
There are sakura trees planted along both sides of the walking path which runs along the western moat. The row of trees is called the "Sakura Tunnel."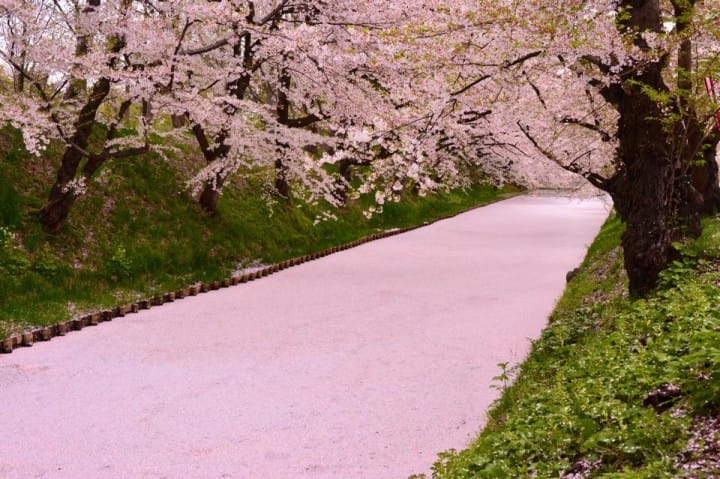 In a 2014 Facebook article, this Sakura Festival was chosen as a scenic world spot to visit once in your lifetime. The sakura carpet formed by fallen blossoms is one of the special attractions. At night, everything is illuminated! With highlights aplenty, Hirosaki's Sakura Festival is an event not to be missed.
Sightseeing Around Hirosaki Castle
Neputamura is a cultural center located in the northern part of Hirosaki Park. Several corners are set up at Neputamura so that you can enjoy local culture and music. In the Tsugaru-zo Studio, which was once used as a rice granary, you can try out the traditional crafts of the Tsugaru region, like Tsugaru-yaki pottery and Tsugaru printing. In the Hirosaki Neputa building, you can see Neputa-hayashi and Tsugaru shamisen performances. At Suguri-an, you can watch performers demonstrate how to use suguri, the unique Tsugaru spinning top.
There are also places to eat and buy souvenirs. After you've gone to Hirosaki Castle, spend some time enjoying Tsugaru's regional art and music.
View Information
Hirosaki Castle
| | | |
| --- | --- | --- |
| | Address | Aomori, Hirosaki City, Shimoshirogane 1 |
| | Business Time | 4/1 - 11/23: 9:00 - 17:00 Sakura Festival: 7:00 - 21:00 |
| | Fixed holidays | 11/24 - 3/31 |
| | WiFi | Not Available |
| | Accepted Credit Cards | Not Available |
| | Nearest station | JR Hirosaki Station |
| | Access | From JR Hirosaki Station, take the city loop bus to Shiyakusho-mae and get off, then walk for four minutes |
| | Telephone number | 0172-33-8739 |
| | Website | Hirosaki Park |
 

The information presented in this article is based on the time it was written. Note that there may be changes in the merchandise, services, and prices that have occurred after this article was published. Please contact the facility or facilities in this article directly before visiting.