Tokyo's Beautiful Fall Leaves - The Best 10 Spots To Visit In 2020
Enjoy fall in Tokyo with the stunning scenery. This article introduces 10 areas with scenic foliage, including Shinjuku Gyoen and the iconic gingko tree-lined streets of Meiji Jingu Gaien. We also introduce the season to visit to make the best of travel in Japan's capital in autumn.
Autumn Colors in Tokyo
Japan goes through remarkable changes throughout the year, and fall brings beautiful foliage throughout the country, including Tokyo. The best time to see autumn leaves in Japan's capital is from November to early December, when the cities and parks are painted in crimson and gold. In 2020, the best time for seeing the foliage is predicted to be between late November and the beginning of December.
In this article, we introduce ten autumn leaves spots for you to visit in Tokyo and the estimated times for when you can see the gorgeous colors.
To find out more about the most beautiful fall foliage spots in Japan, check out our Fall Colors 2020 feature.
1. Meiji Jingu Gaien – Tokyo's Most Famous Foliage Spot
At Meiji Jingu Gaien, an area often used as a film site for television dramas, gingko trees line both sides of the 300-meter road, creating a stunning landscape. This spot is just outside of the Aoyama Dori Street Exit from Aoyama-Itchome Station. Approximately 146 trees on this road turn into a golden color during the peak season, becoming a glimmering tunnel when illuminated by the sun.
At the Jingu Gaien Gingko Festival (Japanese) you can enjoy famous regional products from all over Japan as well as live street performances. In 2019, it is held from Friday, November 15 to Sunday, December 1.
Annual Autumn Leaves Season
Visitors can see the foliage from late November to early December
Meiji Jingu Gaien (Gingko Boulevard)
Address: Tokyo, Minato, Kita-Aoyama 2-1 area Google Map
Access: 3-minute walk from Gaiemmae Station (Tokyo Metro Ginza Line) or a 5-minute walk from Aoyama-Itchome Station (Tokyo Metro Hanzomon Line, Ginza Line, and Toei Oedo Line).
Official Website: http://www.meijijingugaien.jp/english/
2. Shinjuku Gyoen – Enjoy the Leaves at an East-Meets-West Garden
Shinjuku Gyoen is a famous Tokyo garden located at the former residence of the Naito family, a daimyo (feudal lord) of the Edo period. The land became an Imperial garden in 1906 and was opened to the general public after World War II.
This expansive 58.3 hectare garden showcases various garden styles including French, English, and Japanese-style gardens. As a result, even the same autumn foliage will appear differently in each garden. In the French garden, the best time to see the roses in bloom is also during the fall.
The garden closes at 16:30 (final entry at 16:00) and has an admission fee of 500 yen (250 yen for junior high school aged-visitors and under).
Annual Autumn Leaves Season
You can see the foliage from November to early December (the dogwood leaves change during October).
Shinjuku Gyoen
Address: Tokyo, Shinjuku, Naito 11 Google Map
Access: 10-minute walk (Shinjuku gate) from the south exit at JR Shinjuku Station. 5-minute walk (Okido gate) from Exit 2 at Shinjuku-Gyoenmae Station (Toei Subway). 5-minute walk (Sendagaya gate) from JR Sendagaya Station.
Official Website: http://www.env.go.jp/garden/shinjukugyoen/english/index.html
3. Yoyogi Park – Picnicking Under the Golden Trees
Yoyogi Park was used as the Olympic village during the Tokyo 1964 Olympics. It then opened as a park in 1967.
Yoyogi Park is a classic spot to view autumn foliage in the city. Here you can enjoy the fall scenery with six tree varieties, including 1,000 zelkova, 200 gingko, and 100 maple trees in the vast 54-hectare park.
The park has great access from public transportation, and is always full of people bicycling, picnicking, and practicing their instruments on the weekends. Many events and flea markets are also held here. How about spreading out a picnic blanket and enjoy nature and gazing at the autumn leaves?
Annual Autumn Leaves Season
You can see the foliage between November and early December.
Yoyogi Park
Address: Tokyo, Shibuya, Yoyogi Kamizono 2-1 Google Map
Access: 3-minute walk from JR Harajuku Station, Yoyogi Park Station (Tokyo Metro Chiyoda Line), and Meiji Jingu-mae Station (Tokyo Metro Chiyoda and Fukutoshin lines). 6-minute walk from Yoyogi-Hachiman Station (Odakyu Line).
Official Website: http://www.vvdcreative.com/sakuhin/17-3yoyogipark/ (Japanese)
4. Rikugien – Stroll Through a Traditional Japanese Garden Beloved by a Shogun
When in Japan, you may want to stroll through an authentic Japanese garden. We recommend Rikugien.
Rikugien is a Japanese strolling garden (*1) established in 1702. The garden was made by constructing a hill from flat land 8.9 hectares in size, then supplying water to its manmade pond.
Remaining records state that Tsunayoshi Tokugawa, a shogun (general) of the Edo period, visited the park at least 58 times upon its completion. As a result, its high level of completion was certified by the shogun himself.
The park is decorated with autumn leaves of 450 Japanese maple trees, along with 600 other maple varieties and gingko trees. Another distinctive feature is the illumination of the park at night, allowing visitors to enjoy the scenery late into the night.
*1 Kaiyushiki Tsukiyama Sensui Teien: a Japanese-style garden where visitors stroll through the grounds. With a large pond at its center, this style of garden recreates scenic views from various places through an artificial hill, a small islet erected in the middle of the pond, bridges, and exquisite stones that surround the pathways around the pond.
Annual Autumn Leaves Season
You can enjoy the leaves between late November and early December.
5. Hama-rikyu Gardens – A Japanese Garden in the Middle of Skyscrapers
Picture courtesy of the Tokyo Metropolitan Park Association
Hama-rikyu Gardens is located in a surprising spot--in the middle of city office buildings. The water in the garden pond is seawater, which changes in level depending on the time of the low tide. This seawater pond is the only one of its kind found in Tokyo. Trident maple and other maple varieties are planted in the surroundings, allowing you to take in the beautiful autumn leaves.
A Japanese teahouse is also located on the islet, accessible by its two bridges. Here, you can have matcha and eat Japanese sweets. How about enjoying the flavors of Japan while gazing up at crimson trees?
The areas of Tsukishima, renowned for monjayaki, an okonomiyaki-like dish, and Tsukiji, home to the famous sushi market, are close by. Please refer to Visit Hama-rikyu Gardens and Tsukishima when you stop by for a visit.
Annual Autumn Leaves Season
Visitors can see the foliage between mid-November and early December.
Hama-rikyu Gardens
Address: Tokyo, Chuo, Hama-rikyu Gardens 1-1 Google Map
Access: 7-minute walk from Tsukiji Market Station (Toei Oedo Line) or Shiodome Station (Yurikamome)
Official Website: https://www.tokyo-park.or.jp/park/format/index028.html (Japanese)
6. Koishikawa Korakuen – View the Beautiful Pond and Autumn Leaves
Koishikawa Korakuen is a garden made to recreate famous views from all across Japan. The main attraction, the garden pond, is said to represent the large Lake Biwa in Shiga Prefecture.
Near the Oigawa River, modeled after the river with the same name near Arashiyama, Kyoto, is a view that splendidly combines the red Tsuten-kyo Bridge with the autumn leaves. The reflection of the red and yellow trees in the water is simply beautiful.
There are also many other things to see in the garden during the season, such as the Autumn Leaves Forest, which is a tunnel of leaves. There is an autumn leaves festival usually held in November.
Tokyo Dome City, an entertainment complex next to the Tokyo Dome stadium has restaurants, amusement parks, and spa facilities. Why not stop by after viewing the foliage?
Annual Autumn Leaves Season
You can enjoy the fall colors between late November and early December.

7. Inokashira Park – Spend a Day Full of Fall Colors
Inokashira Park is home to many different facilities. These include Inokashira Pond, located at the center of the park, a promenade, Inokashira Park Zoo, and the Ghibli Museum.
In fall, 600 trees dyed in crimson and yellow create a gorgeous scene that is a must-see in person. Parkgoers can ride boats in Inokashira Pond, so you can gaze at the trees from the water, which is another way to enjoy the leaves unique to this park.
There are also other activities that allow you to take in the nature, like leisurely strolling around the pond or sitting on benches and peacefully observing the leaves. Come to Inokashira Park and enjoy the seasonal beauty!
Annual Autumn Leaves Season
You can view the foliage between mid-November and mid-December

8. Showa Kinen Park – See Fall Foliage at Japan's Largest Park
At Showa Kinen Park, the largest park in Japan with a total area of 180 hectares, you can view many different flowers, such as tulips, sunflowers, and cosmoses, throughout the year. In particular, the gingko leaves famous in the autumn.
We strongly recommend visiting the road known as "Canal." It stretches for 200 meters from Fureai (Friendship) Field and is lined with gingko trees on both sides.
Several Japanese maple trees are also located within the Japanese garden at the park. The Japanese garden is definitely worth a visit! Showa Kinen Park also contains teahouses where you can take a break to savor Japanese sweets and matcha.
Annual Autumn Leaves Season
You can see foliage from early to the end of November.

9. Mt. Takao – Go Hiking and See the Autumn Leaves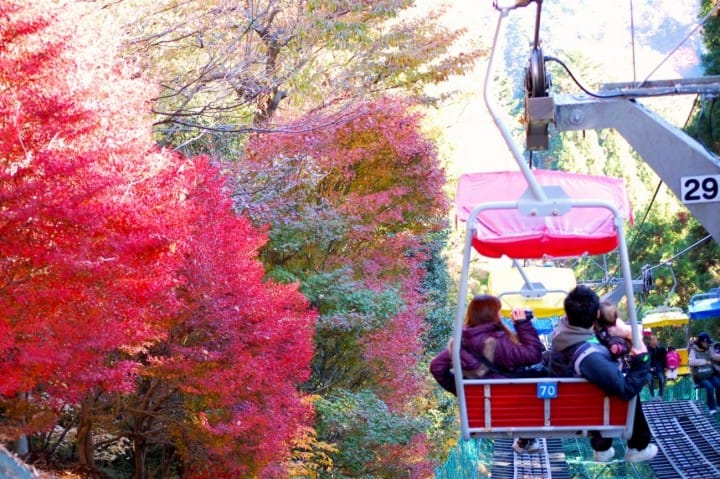 Picture from 5 Spectacular Places To See The Autumn Leaves Near Tokyo In 2017.
Mt. Takao is accessible in about one hour by train from Shinjuku. You can choose from eight different trails based on hiking time and difficulty level. Visitors can observe the Japanese maple leaves on the summit of the mountain as well as along the cable car line.
The Mt. Takao Maple Festival will be held from November 1 through November 30 in 2018. Different events will be held and you'll be able to see concerts, wooden Tokyo kokeshi dolls, and purchase Japanese sake.
Annual Autumn Leaves Season
Visitors can enjoy the scenery from early to late November.
Mt. Takao
Access: Immediately outside Takaosanguchi Station (Keio Line) Google Map
Official Website: http://www.takaosan.or.jp/english/
10. Mitake Valley – Stroll on a Path Surrounded by Fall Foliage
Picture courtesy of Ome Tourism Association
In Mitake Valley, about an hour and a half by train from Shinjuku and upstream from Tama River. Here you can walk through the forest and enjoy the beautiful foliage and fresh air. The well-maintained promenade, stretching about four meters, is located near Mitake Station on the JR Ome Line, is perfect for hiking.
The Ozawa Sake Brewery is located at the end of the promenade. Here you can sample tofu dishes and local Japanese sake. You can tour the brewery as well. How about stopping by after finishing your hike?
Annual Autumn Leaves Season
Mid to late November
Mitake Valley
Address: Tokyo, Ome, Mitake 1 GoogleMap
Access: Immediately outside JR Mitake Station
Official Website: http://www.omekanko.gr.jp/us/us.php?m=sd&k=20
Autumn in Tokyo 2020
In Tokyo, you can relish both historical gardens decorated in autumn leaves, as well as fall colors in the middle of nature. We hope you have a great experience autumn in and around Japan's exciting metropolitan capital.

We hope you enjoy momijigari (admiring the leaves) during this lovely season for travel.

*This article is an updated version of an article originally published on September 8, 2015.

The information presented in this article is based on the time it was written. Note that there may be changes in the merchandise, services, and prices that have occurred after this article was published. Please contact the facility or facilities in this article directly before visiting.