Fukuoka - 8 Spots To Enjoy Fall Foliage In Northern Kyushu In 2019
Fukuoka - 8 Spots To Enjoy Fall Foliage In Northern Kyushu In 2019
Fukuoka is famous for its hospitality, food, and outdoors. It is an excellent destination in the fall with its gorgeous autumn leaves. Learn eight places to visit during an autumn trip where you can take in the beauty of this southern Japanese prefecture.
Located in northern Kyushu, Fukuoka is famous for beautiful nature, friendly people and a variety of delicious cuisine.
If you plan on visiting Fukuoka in autumn, you must go observe the fall foliage. In general, Fukuoka's fall foliage season generally runs slightly later than other parts of Japan due to its southern location. The leaves typically turn from early November to late November (it can last up to early December, depending on location). Be aware that the season may vary slightly depending on the yearly climate and location of foliage, however.
In this article, we introduce eight places to head to in Fukuoka in the fall; included is a mixture of convenient locations close to public transportation, as well as areas in more rugged areas.
1. Maizuru Park - Easy to Access from Hakata
Picture courtesy of Fukuoka City
Maizuru Park is centered around the ruins of Fukuoka Castle. Built during the Edo era, Fukuoka Castle still retains its stone walls and yagura (*1) towers, reminding visitors of its long history. The castle is open to the public as a park area and is a place where residents relax and refresh themselves.
Though the castle is famous for its cherry trees, in autumn the gingko trees change color, turning the area into a great spot for viewing the leaves.
Picture courtesy of Fukuoka City
In the neighboring Ohori Park, you can also see fall foliage in the Japanese garden. Easily accessible from the central area of Hakata via a ten-minute subway ride, visitors can readily drop by as they please.
*1: Yagura towers are command centers and watchposts that were built atop castles.
Annual Autumn Leaves Season
Visitors can see the leaves between early November to late November.
Maizuru Park
Address: Fukuoka, Fukuoka, Chuo, Jonai 1 Google Map
Access: Eight minutes on foot from either Akasaka Station or Ohorikoen Station on the subway
Homepage: Maizuru (Japanese)
2. Yusentei Park - A Spectacular Harmony Of Japanese Gardens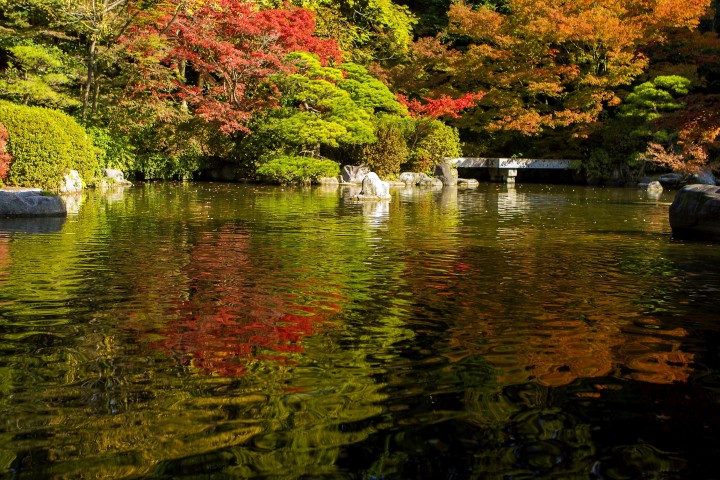 Picture courtesy of Fukuoka City
Yusentei Park is a Japanese garden open to the public, formerly a villa owned by the lord who ruled this domain (*2). The park is filled with all the charms of a Japanese garden, including a large pond, a teahouse, and a cascading waterfall.
*2: These domains were conquered by daimyo in Edo times, and the lords of these domains were known as hanshu.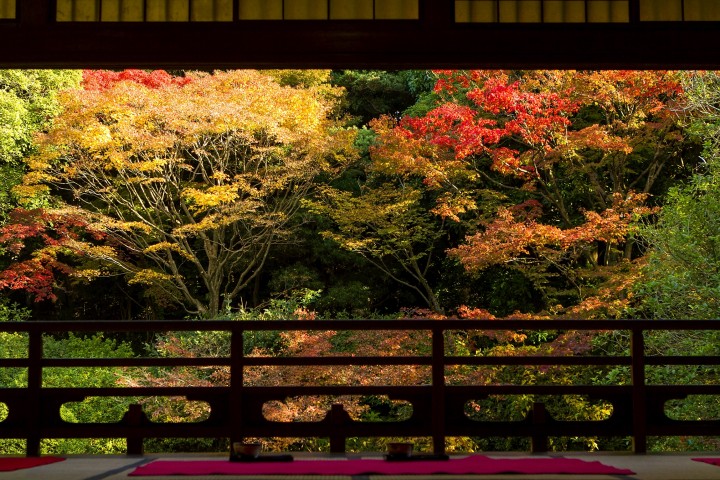 Picture courtesy of Fukuoka City
The view from inside great hall that faces out onto the pond is stunning. The leaves are reflected in the water, making you feel as though you're being beckoned into another world.
Annual Autumn Leaves Season
Visitors can see the leaves typically from mid-November to mid-December.
Yusentei Park
Address: Fukuoka, Jonan, Yusentei 1-46 Google Map
Access: From Hakata Station (Hakata BT 1F), take the Nishitetsu #12 bus to Yusentei (45 minutes, 310 yen) and walk five minutes
Homepage: Yusentei (Japanese)
3. Greet a 400-Year-Old Maple Tree at Raizan Sennyoji Daihioin
Picture courtesy of Raizan Sennyoji Daihioin
Designated as a natural monument, the Buddist templeRaizan Sennyoji Daihioin is a well-known spot for foliage. The temple is around 1,300 years old, and visitors can take in the sight of giant maple tree that is four centuries old and more than 200 Japanese maple trees in stunning crimson and golden colors in the fall.
Located behind Raizan Sennyoji Daihioin, Shinji Park has fragrant sandalwood trees, natural monuments, and more fall foliage for visitors to enjoy.
Between November 1 and November 30, you can enter the grounds for just 100 yen to see the leaves. Pay 400 yen for entry into the main shrine, where you can see designated as Important Cultural Properties of Japan.
Annual Autumn Leaves Season
You can enjoy the foliage from early November to mid-November
Raizan Sennyoji Daihioin
Address: Fukuoka, Itoshima, Raizan 626 Google Map
Access: From JR Chikuzen-Maebaru Station's south exit, take the Itoshima Community Bus bound for Raizan Kan-on Mae and get off at the last stop, Raizan Kan-on Mae (about 20 minutes, 200 yen). Walk five more minutes.
4. Akizuki Castle - Fall Colors and Castle Town in the Mountains
Picture courtesy of Asakura Tourism Association
Akizuki, or Chikuzen (*3), is famous for its historic castle town. It is also referred to as Little Kyoto. Akizuki is at an elevation of 860 meters and is located in a basin surrounded by mountains on three sides. The castle itself no longer exists, but the stone walls, gates, and other features remain intact.
Among those, the Akizuki Castle black gate is famous as a spot for viewing the fall foliage. The contrast between the scarlet leaves and black gate is very beautiful, and many spectators gather to see the sight.
*3: Chikuzen is an old name for the Fukuoka area.
Annual Autumn Leaves Season
Visitors can see the leaves between late November and early December.
Akizuki Castle (Black Gate)
Address: Fukuoka, Asakura, Akizukinotori 663 Google Map
Access: From Amagi Station on the Amagi Railway, take the Amagi Sightseeing Bus to Hakubutsukan-mae stop (20 minutes, 360 yen). The Black Gate is ten minutes away from the bus stop on foot.
Homepage: Akizuki Castle (Japanese)
5. Kamado Shrine - Find a Connection
Picture courtesy of Kamado Shrine
Kamado Shrine is at the foot of Mt. Homan, a mountain venerated as a home of gods. The shrine is known for attracting visitors wanting to deepen and improve their relationships, During the fall foliage season, roughly 300 trees of different species, such as gingko and maple, change colors.
Under the fall foliage tunnel, a road leading to the shrine that transforms during autumn, you can enjoy the gradation of red leaves as far as the eye can see. The beauty of the shrine road, coated by autumn leaves dancing down from the trees above is unlike anything you've ever seen before.
At night, the shrine is lit up during the peak autumn leaves season. The illumination period changes each year depending on the state of the leaves. In 2019, the illumination will occur between mid-November and early December.
To arrive at Kamado Shrine, you'll be making your way through Daizaifu Station. We suggest combining your visit to Kamado Shrine with a stop at Daizaifu Temmangu, one of Fukuoka's most iconic representative shrines.
Annual Autumn Leaves Season
Mid-November to early December
Kamado Shrine
Address: Fukuoka, Dazaifu, Uchiyama 883 Google Map
Access: From the Nishitetsu Dazaifu Station, take the Mahoroba-go community bus to the final stop, Uchiyama (10 minutes, 100 yen).
Homepage: Kamado Shrine (Japanese)
6. Visit Scenic Kokura Castle in Fall
Picture courtesy of Kokura Castle
Kokura Castle is prominent castle in the northern Kyushu area. First constructed in 1602, the current main keep (*4) was rebuilt in 1959. It has a distinct architectural style known as "karazukuri," in which the fifth floor is bigger than the fourth. The castle is respected and a favorite of many people.
While it is well-known for its cherry trees in spring, Kokura Castle's gingko trees also bloom beautifully in autumn. They are a must-see for travelers in southern Japan.
Annual Autumn Leaves Season
Visitors can see the leaves between early November and late November.
Kokura Castle
Address: Fukuoka, Kitakyushu, Kokurakita 2-1 Google Map
Access: 20 minutes from JR Kokura Station on foot
Homepage: Kokura Castle (Japanese)
7.Mt. Hiko Shrine - Make Colorful Pilgrimage to a Shinto Shrine
Picture courtesy of Soeda Town Revitalization Department, Tourism Division
As the only sacred shugendo (*5) site in northern Kyushu, Mt. Hiko was an object of worship and is the location of a shrine. The grounds where Buddhist monks historically practiced ascetics remain in-tact to this day.
When autumn rolls in, the maple trees steadily change color, starting from the summit all the way down to the base of the mountain. As you walk down the road that leads to Mt. Hiko Shrine, you can leisurely enjoy the fall foliage.
You can also ride a monorail up to the shrine, so you can fully enjoy the quintessential Japanese landscape without overexerting yourself.
*3: Shugendo is an ancient school of Japanese asceticism. Adherents would train in the mountains in pursuit of enlightenment. Mountain ascetics are called yamabushi.
Annual Autumn Leaves Season
Visitors can see the foliage from around early November to mid-November.
Mt. Hiko Shrine
Address: Fukuoka, Tagawa, Soeda, Hikosan 1 Google Map
Access:
From JR Soeda Station, take the Soeda Town bus to Donotori (30 minutes, 300 yen). Walk five minutes and take the monorail from Saiwai Station to Kami Station (20 minutes). After a short walk, you'll arrive at the Mt. Hiko Shrine. A roundtrip monorail ticket is 830 yen (400 yen for children). Be aware that you have to change at Hana Station midway through.
Homepage: Mt. Hiko Shrine (Japanese)
8. Shiranoe Botanical Park - Discover Multiple Treasures
Picture courtesy of Shiranoe Botanical Park
At Shiranoe Botanical Park, you can enjoy different plants with the changing seasons. From late November until early December, you can view trees with their leaves turning scarlet and gold all throughout the park.
Three spots stand out for viewing the fall foliage. These spots are the entrance plaza, the komorebi road (road of sunlight glistening through the trees) containing around 800 maple trees, and fallen leaves on the ground with giant Japanese maple trees towering above.
At the teahouse in the park, you can savor zenzai and amazake, among other seasonal Japanese treats. The abundance of nature here will make you feel very relaxed.
Annual Autumn Leaves Season
Visitors can see the fall colors between late November and early December.
Shiranoe Botanical Park
Address: Fukuoka, Kitakyushu, Moji, Shiranoe 2-7 Google Map
Access: From JR Mojiko Station, take the Nishitetsu #41 bus to Shiranoe 2-chome (20 minutes, 290 yen). Walk two minutes.
Homepage: Shiranoe (Japanese)
Enjoy the Fall Scenery in Fukuoka
Fukuoka has plenty of wonderful spots to take in the fall foliage. If you're visiting Fukuoka in autumn, why not take advantage of all the autumn-only sights that the prefecture has to offer?

This is a rewrite of an article originally published on November 8th, 2015.

The information presented in this article is based on the time it was written. Note that there may be changes in the merchandise, services, and prices that have occurred after this article was published. Please contact the facility or facilities in this article directly before visiting.