See Kyoto In Autumn - 11 Places To Visit For Foliage In 2020
Autumn is a stunning season in Kyoto, the ancient capital of Japan and is a must-see while traveling. Read to learn recommendations where to enjoy fall, from the national park Kyoto Gyoen to Arashiyama, and the best times to view the stunning foliage.
Fall Foliage in the Ancient Capital of Kyoto
Rurikoin Temple, Kyoto
Dotted with many historical temples and shrines, the Kyoto area is a very popular travel destination. It is also known for many areas where you can see fall foliage. During this time, temples and shrines hold seasonal events, creating a spectacular sight.
The best time to see the brilliant gold and crimson leaves is between early November and early December. In 2020, the foliage is predicted to peak between late November and early December.
Let's take a look at 11 recommended spots for viewing foliage in Kyoto.
To find out more about the most beautiful fall foliage spots in Japan, check out our Fall Colors 2020 feature.
Where to See Autumn Leaves in Kyoto
Click each link to jump to information about that spot.
1. Kitano Tenmangu
Picture courtesy of Kitano Tenmangu
Kitano Tenmangu is where Sugawara-no-Michizane, the god of learning, is enshrined. It is the headquarters of the Tenmangu shrines in Japan, of which there are more than 12,000. People studying for tests or getting ready to take licensing certification exams often come here to pray for success.
The shrine is considered a sacred spot for those seeking academic achievements.
Be sure to see Momiji-en, where rows of around 350 maple trees run alongside the river. They were planted by Hideyoshi Toyotomi (*1) in concordance with the odoi (*2), which was built in 1591.
From the special observatory, you can get a complete view of the compound. From the vermilion-lacquered Uguisubashi bridge, a designated national treasure, the scenery appears even more stunning. We also recommend going to Baikoken to enjoy wagashi (Japanese sweets) and tea while you gaze out at the foliage.
The surrounding area has a path for strolling. Once the maple leaves begin to change color, this area becomes illuminated.
Best Viewing Time
Momiji-en is open to from late October through early December. There will be an illumination at night from mid-November to early December.
*1: Hideyoshi Toyotomi, a famous shogun who was active during the Sengoku period, ascended from commoner status and unified the nation.
*2: Odoi are earthen fortifications which were built to ward off invaders.
Kitano Tenmangu
Address: Kyoto, Kamigyo, Bakuro, Kitano Tenmangu Google Map
Access: Five minutes on foot from Keifuku Kitano-Hakubaicho Station; From JR Kyoto Station, take the #50 or #101 bus and get off at Kitano Tenmangu-mae (about 35 minutes)
Admission: 1,000 yen for adults, 500 yen for children
Hours: Lights are on from sunset until 20:00
Homepage: Kitano Tenmangu (Japanese)
2. Kodaiji
Picture courtesy of Kodaiji
Kodaiji is popular for its seasonal illumination events. In particular, Karyochi Pond, located inside the Kodaiji compound, reflects the foliage like a mirror, which might cause you to lose track of time as you gaze into it. In previous years, a projection mapping event was held here, and visitors were able to enjoy art made of light beams projected inside the Hashintei garden.
Near Kodaiji is Kyoto's oldest Zen temple, Kenninji. You can get a great view of the beautiful leaves here, so we recommend stopping here too.
Best Viewing Time
The lights in the evening that illuminate the trees and buildings occur usually from mid-October to early December.
Kodaiji
Address: Kyoto, Higashiyama, Kodaiji, Shimogawara 526 Google Map
Access: 15 minutes on foot from Keihan Gion-Shijo Station
Admission: 600 yen for adults, 250 yen for JHS/SHS students (2018)
Hours: 9:00 - 17:30 (last entry at 17:00) Lights are on from sunset to 22:00 (last entry at 21:30) (2018)
Homepage: Google Map
3. Kifune Shrine
Picture courtesy of Kifune Shrine ©Yasuhiro Imamiya
Kibune Shrine, which enshrines the god of water, has long been revered by people in Kyoto as the shrine that protects the prefecture's water sources. The shrines is also very popular for its connection to luck in relationships (*2).
A highlight of the shrine is the vermilion toro (lanterns) along the shrine road. The combination of fall foliage and light from the lamps envelops visitors in warmth.
Best Viewing Time
The shrine is usually illuminated from early to late November, creating a truly magical atmosphere that encompasses the compound.
*2: En-musubi is a divine blessing for better relationships, which includes connections with romantic interests, family, friends, and colleagues.
Kifune Shrine
Address: Kyoto, Kyoto, Sakyo, Kurama, Kifune 180 Google Map
Access: Five minutes by Kyoto Bus from Eizan Kibuneguchi Station (160 yen). Get off at the Kifune stop and walk for five minutes.
Hours: 6:00 - 20:00 (5/1 to 11/30), 6:00 - 18:00 (12/1 to 4/30). Hours are extended while the shrine is lit up.
Homepage: Kifune Shrine (Japanese)
4. Eikando
Picture courtesy of Eikando
Eikando Temple has long been called Eikando of the Maple Leaves. The temple is so renowned that it was written about in the "Collection of Poems of Ancient and Modern Times" from the Heian period.
The roughly 3,000 maple trees inside the spacious temple grounds give the temple a brilliant color in autumn. This is the only place where you can see maple trees together with natural stone walls, planted on the steep slopes near the temple and galleries.
Best Viewing Time
The temple is lit up at night from November 3 to December 2, showing visitors a different side that can't be seen during the day.
Eikando
Address: Kyoto, Kyoto, Sakyo, Eikando 48 Google Map
Access: From Kyoto Station, take the #5 city bus and get off at the Nanzenji/Eikando stop (35 minutes, 230 yen), then walk three minutes
Admission: 600 yen for adults, 400 yen for students (600 yen during the light-up event)
Hours: 9:00 - 17:00 (last entry at 16:00). The temple is lit up from 17:30 to 21:00 (last entry at 20:30)
Homepage: Eikando (Japanese)
5. Tofukuji
Picture courtesy of Tofukuji
Tofukuji is home to Kyoto's largest temple (*3). When it becomes autumn, around 2,000 Japanese maple trees start to paint the temple in golden and crimson colors. The view from the Tsutenkyo bridge, which connects the main temple and the Kaizando temple building, is stunning. Every fall, the temple bustles with many visitors who come for this view.
Every Sunday starting at 6:30 am, there is a zazen meditation meeting held at Tofukuji. After meditation, you can also see the fall leaves in the morning.
Best Viewing Time
The foliage at Tofukuji Temple can usually be enjoyed from mid-November to early December.
*3: The edifice is the general term for the group of major buildings at a temple or shrine.
Tofukuji
Address: Kyoto, Kyoto, Higashiyama, Honmachi 15, 778 Google Map
Access: Ten minutes on foot from Tofukuji Station (JR, Keihan stations)
Admission: Entry to Tsutenkyo and Kaizando is 400 yen for adults, 300 yen for students
Hours: April to late October, 9:00 - 16:00; November to early December, 8:30 - 16:00; December to late March, 9:00 - 15:30
Homepage: Tofukuji (Japanese)
6. Chion-in
Picture courtesy of Chion-in
Chion-in is the head temple of the Jodo Buddhist sect in Japan. It contains many important cultural assets, including Sanmon Gate, the largest two-story wooden gate in Japan, and Mieido, which enshrines the saint Honen, founder of Jodo Buddhism.
Chion-in also famous for the enormous size of its bell, which is rung on New Year's Eve. Standing 3.3 meters tall and weighing about 70 tons, the bell needs 17 monks to ring it.
For foliage, we suggest visiting Yuzen-en garden garden and Hojo garden, right at the east side of the Sanmon Gate. The sight of changing leaves encircling the ponds is simply beautiful. There is also an evening light-up event where visitors can enjoy temple enveloped in a magical atmosphere with the stunning foliage.
Best Viewing Time
In 2018, Chion-in was lit up from November 2 to December 2; visitors can likely experience the same event in 2020 around the same time period.
Chion-in
Address: Kyoto, Kyoto, Higashiyama, Rinka 400 Google Map
Access: Five minutes on foot from Higashiyama Station (Tozai Subway Line)
Admission: Entry to Yuzen-en is 300 yen for adults, 150 yen for children. Entry to Hojo is 400 yen for adults, 200 yen for children. A ticket for entry to both gardens is 500 yen for adults, 250 yen for children.
Hours: 9:00 - 16:30 (last entry at 16:00)
Homepage: Chion-in (Japanese)
7. Kyoto Gyoen
Picture courtesy of Ministry of the Environment, Kyoto Gyoen Management
Kyoto Gyoen, with its 65-hectare area, is a well-known national park in Kyoto. Historically a residential area with rows of estates during the Edo period, the mansions and gardens from that time are still intact, spreading their tasteful aesthetic vibe throughout the area.
There are many trees that are over a century old, and in the fall, Japanese zelkova trees and gingko trees turn brilliant colors. Go at your own pace and enjoy the foliage inside the vast compound to your heart's content.
Best Viewing Time
The fall foliage at Kyoto Gyoen is usually best enjoyed from late November to mid-December.
Kyoto Gyoen
Address: Kyoto, Kyoto, Kamigyo, Kyoto Gyoen 3 Google Map
Access: Three minutes on foot from Marutamachi Station or Imadegawa Station (Karasuma Subway Line)
Homepage:
Kyoto Gyoen (Japanese)
8. Hakuryuen
Picture from Hakuryuen, A Secret Garden in Kyoto
Hakuryuen, which is open only for specific times on reservation-basis, with only allows 100 visitors a day, is a very special place to view fall foliage in Kyoto.
The gorgeous moss that extends throughout the garden combines with the autumn leaves stunningly. In fact, many people want to see for themselves. Tickets go on sale at Eizan Demachiyanagi Station starting at 9:00 in the morning. A lot of people line up in advance of the start time, so we suggest going early. Admission in October costs 1,300 yen and increases to 1,600 yen in November and December (prices are for 2018).
Best Viewing Time
The ideal time to visit Hakuryuen is around mid-November to late November.
Hakuryuen
Address: Kyoto, Kyoto, Sakyo, Kurama, Ninose 106 Google Map
Access: 25 minutes via Demachiyanagi Station, Keihan and Eizan lines (380 yen); seven minutes on foot from Eizan Ninose Station
Homepage: Hakuryuen (Japanese)
9. Ruriko-in
Picture from Kyoto's Ruriko-in Temple: Artistically Tinted Autumn Leaves
Ruriko-in is home to the stunning Ruri Garden, with an amazing carpet of moss, and Garyu Garden, in a shape representing a dragon soaring into the heavens. You can enjoy the gardens in autumn from a variety of perspectives from the study.
On the second floor, the leaves reflected in the glossy black floor are particularly beautiful, resembling a painting. Ruriko-in is open for viewing starting October 1.
Best Viewing Time
The foliage at Ruriko-in is best enjoyed around mid-November to late November.
10. Arashiyama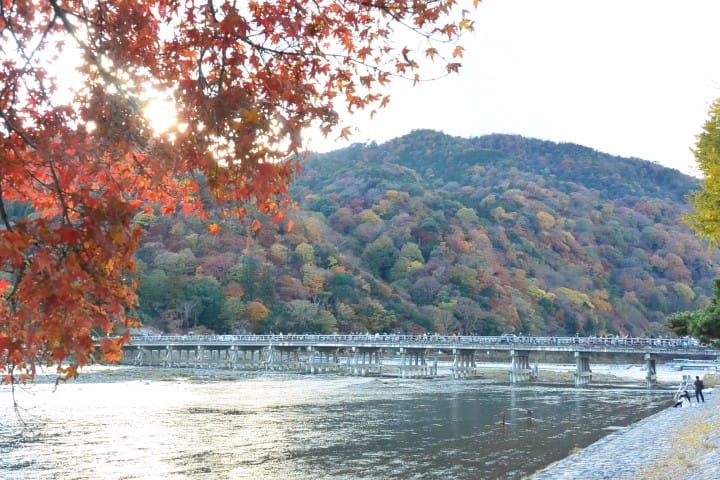 Picture courtesy of (c)Kyoto City Media Support Center
Arashiyama is a popular destination year-round with its cherry trees in the spring and new green leaves in summer. The autumn scenery here is no exception. The area is filled with places to see the leaves. The Togetsukyo Bridge with its mountainous background is especialy stunning, as well as the World Heritage site Tenryuji and the trees surrounding its 12-meter pagoda.
Traveling around on the Sagano Romantic Train to see the foliage is another activity that you can't miss. Be sure to visit Arashiyama when you come to Kyoto!
Best Viewing Time
Visit Arashiyama between mid-November and early December to get the full impact of the fall colors.
Arashiyama (Saga Arashiyama Station)
Address: Kyoto, Kyoto, Ukyo, Saga Tenryuji, Shado Google Map
Access: 15 minutes on the JR Sagano Line from JR Kyoto Station (240 yen)
11. Philosopher's Path
Picture courtesy of Kyoto City Media Suport Center
The 1.5-kilometer Philosopher's Path goes from Ginkakuji Temple and runs in the direction of Eikando and Nanzenji. There are canals (*4) along the road, and when it becomes autumn, the trees by alongside turn brilliant colors.
Once the height of the fall foliage season is over and the red and gold leaves have formed a carpet on the road, creating an inviting path for strolling. When you visit the surrounding temples make sure to take in the scenery with a peaceful walk.
Best Viewing Time
Stroll down Philospher's Path between mid-November and late November.
*4: These canals are built to transport water from water sources.
Philosopher's Path
Address: Kyoto, Kyoto, Sakyo, Shishigatanihonen-in Nishi Google Map
Access: Take the #100 city bus from Kyoto Station and get off at Ginkakuji-mae (40 minutes, 230 yen)
Take in Kyoto's Beautiful Fall Season
Kyoto boasts numerous places where visitors can enjoy the fall foliage, beckoning many tourists during this time. To avoid the rush, we suggest visiting famous locations early in the morning and spending the rest of the day at lesser-known spots. We hope you enjoy autumn in Kyoto!

Main image by Pixta

The information presented in this article is based on the time it was written. Note that there may be changes in the merchandise, services, and prices that have occurred after this article was published. Please contact the facility or facilities in this article directly before visiting.