Top 10 Tohoku Autumn Foliage Spots In 2020
Learn about Tohoku's top autumn foliage spots and when to best take in the season. These nature-filled spots in Sendai, Aomori, Fukushima, and other areas in northern Japan are great for enjoying the outdoors in fall--after a full day, you can also soak in hot springs and enjoy the views.
The Peak Season for Tohoku's Fall Foliage
The Tohoku region is located in northern Japan and encompasses six prefectures (*). This area retains magnificent natural landscapes and historical structures, such as Shirakami-Sanchi—a World Heritage Site in Aomori—and countless cultural heritage sites in Iwate's Hiraizumi. They are especially beautiful in the fall.
While the foliage season varies by each location, it typically takes place each year between mid-October to late November. The region enters its peak season nearly half a month earlier than Tokyo.
In this article, we'll introduce autumn foliage spots in Tohoku, a region brimming with spectacular sightseeing areas and outdoor activities. There's Jozenji-dori Avenue for those who want to simultaneously enjoy the foliage and shopping, or Lake Towada and Oirase Stream for those wishing to be surrounded by nature. Pick the locations that best suit your travel itinerary.
*Tohoku's six prefectures: Aomori Prefecture, Iwate Prefecture, Miyagi Prefecture, Akita Prefecture, Yamagata Prefecture, and Fukushima Prefecture
Table of Contents
Click the spot's link to directly head to the introduction of each corresponding location.
| | |
| --- | --- |
| Spot | Annual Peak Season |
| 1. Sendai (Miyagi Prefecture), Jozenji-dori Avenue | Mid-November |
| 2. Matsushima (Miyagi Prefecture), Entsuin Temple | Late October – Late November |
| 3. Miyagi Prefecture, Naruko Gorge | Mid-October – Early November |
| 4. Iwate Prefecture, Hiraizumi | Early to Mid-November |
| 5. Aomori Prefecture, Oirase Stream | Late October – Early November |
| 6. Aomori/Akita Prefecture, Lake Towada | Late October – Early November |
| 7. Akita Prefecture, Kakunodate | Late October – Early November |
| 8. Akita Prefecture, Dakigaeri Valley | Late October – Early November |
| 9. Yamagata Prefecture, Yamadera | Late October – Early November |
| 10. Fukushima Prefecture, Goshiki-numa | Mid-October – Early November |
1. Sendai (Miyagi Prefecture), Jozenji-dori Avenue
Picture courtesy of Sendai Tourism, Convention and International Association
Coined the gateway to the Tohoku region, Miyagi Prefecture's capital city of Sendai is where visitors can interact with nature while strolling the streets of Jozenji-dori Avenue. With streets stretching with zelkova trees for 700 meters, you can admire the amber-colored trees while taking a walk or simply sitting on the benches.
Nearby, you'll find art galleries, trendy cafes, and the entertainment district of Kokubuncho Street when you come to a forked road. A guesthouse is also close by, which conveniently makes it a great spot to start your autumn foliage trip.
2. Matsushima (Miyagi Prefecture), Entsuin Temple
Photo by Pixta
Matsushima, a sightseeing spot renowned for its beautiful scenery, is just 30 minutes by train from Sendai Station. Entsuin Temple is a famous autumn foliage spot in this scenic area. Its four different Japanese gardens are brilliantly colored in warm red and yellow hues from the trees.
While the seasonal foliage is beautiful in the daytime, do consider visiting the temple during its evening illumination. Starting with Entsuin Temple, Matsushima's sightseeing spots will be illuminated with lights that add to the captivating autumnal scenescape. During this season, concerts featuring traditional Japanese instruments like the taiko drum, guitars, and violins will also be performed.
The fall foliage illumination takes place annually from the end of October to November for about a month. The schedule for 2020 is currently pending.
3. Miyagi Prefecture, Naruko Gorge
Photo by Pixta
Travel two hours by either train or bus from Sendai Station to reach the amazing 100-meter deep Naruko Gorge. Its popularity comes from its autumn foliage that appears to annually color the valley in the shade of crimson. There are several ways to enjoy the gorge. You can admire the autumn view from Naruko Gorge Resthouse's observation deck or walk along the 2.2 kilometer-long Ofukazawa Promenade.
The nearby Naruko Onsen Village is a rare hot spring town that has around nine of the 11 different types of hot springs found in Japan. After viewing the autumn foliage, lessen your travel fatigue by soaking in some baths at Naruko Onsen Village.

4. Iwate Prefecture, Hiraizumi
Chusonji Temple's Kyozo Scripture Hall (Photo by Pixta)
Hiraizumi is known for its many historical structures founded on the Buddhist Jodo-shiso (*1) ideology. Its five Buddhist temples and historic locations, which include Chusonji Temple and Motsuji Temple, are registered as World Cultural Heritage sites by UNESCO.
There are numerous halls on the Chusonji Temple grounds. Built on the premises in 1124, the pathway leading to Konjikido Hall and the simple yet stunning Kyozo Scripture Hall are beautifully colored by maple trees in the fall.
If you love Japanese gardens, then you should visit Motsuji Temple. There, you can enjoy the autumn foliage that decorates Jodo Garden ("Pure Land Buddhist" garden). The combination of the Oizumi-ga-ike Pond—which stretches 180 meters east to west—alongside the autumn foliage is a picture-perfect combination.
Additionally, special visits are allowed in the main hall in October. Events such as Chusonji Temple's Autumn Fujiwara Festival—where ancient dances preserved in the region will be performed—take place from November 1st to the 3rd. We recommend that you enjoy these seasonal experiences that are held once a year!
*1 Jodo-shiso: the ideology of reciting Buddhist sutras with the belief of traveling to the blissful afterlife, otherwise known as Pure Land Buddhism.

5. Aomori Prefecture, Oirase Stream
Picture courtesy of Aomori Tourism Association
Oirase Stream is a mountain stream that flows for fourteen kilometers from Lake Towada in Aomori Prefecture. As if covering the sky, a natural forest surrounding the stream on both sides is where you can take a stroll among the vibrant autumn foliage.
While inhaling the fresh air, walk down the trail and watch the flow of water to refresh both your mind and body. Despite being in a forest, the trails are made up of gently sloping roads that are easy to tread on.
The Asura Rapids and Kumoi Waterfall are gorgeous spots for photography. Take a picture of the beautiful river flowing together with the fall colors!
6. Aomori and Akita prefectures, Lake Towada
Photo by Pixta
Spanning across both Aomori and Akita, Lake Towada is a gemlike caldera lake made from volcanic activity. It is said to have been created over a span of many years dating back nearly 200,000 years ago. Walk along the lake's shore or head up to the observation deck to enjoy the autumn leaves with a lake view.
Take a pleasure cruise and admire the mountains from the lake. Other activities, like canoe or boat tours that visit secluded areas, are also hosted at the lake. We recommend these activities to visitors looking to actively enjoy the scenic outdoors.
7. Akita Prefecture, Kakunodate
Photo by Pixta
Kakunodate, situated in Akita Prefecture's Semboku City, flourished as a castle town in 1620. During this period, the living quarters of samurai and merchants were separated into the north and south. In fact, this separation still exists to this day.
Once autumn arrives, the contrast between historic samurai houses against the backdrop of black wooden walls and crimson-colored foliage is what draws the eyes of tourists.
Picture courtesy of Tazawako Kakunodate Tourism Association
It's also possible to rent a kimono at Aoyagi Samurai Manor Museum—which once was a samurai residence—and a traditional inn located in the area (Japanese). Why not stroll around the historical streetscape while adorned in Japanese traditional clothing this autumn?
8. Akita Prefecture, Dakigaeri Valley
Picture courtesy of Tazawako Kakunodate Tourism Association
Dakigaeri Valley, measuring a total length of ten kilometers, is home to a stunning mountain stream with a lush, primeval forest. Long ago, the valley was a rugged mountain path that people could only pass through by embracing passing hikers. This dire situation gave rise to the name "Dakigaeri," which means "holding on (hugging) to return" in English.
Presently, a pathway into the valley has been built so visitors can freely stroll while safely enjoying the scenery. Similar to Kakunodate, it is located in Semboku City, so how about enjoying a visit to several autumn foliage spots on your trip?

9. Yamagata Prefecture, Yamadera Temple
Risshakuji Temple on Mount Hoju, otherwise known by its nickname Yamadera, is a Buddhist temple constructed on a cliff. You'll find several halls and stone Buddha statues scattered throughout the temple grounds. Just as the sign "Mountain Trail Entrance" describes, you will be climbing up a staircase totaling 1,015 steps to reach the inner sanctuary located deep within the temple.
Picture courtesy of Yamadera Tourism Association
A great spot for autumn foliage is Godaido Hall. The hall was built protruding from the cliff and gives you a view of the nearby towns and slowly reddening mountains below. Be sure to wear comfortable shoes before heading up to Godaido Hall.
Also be sure to stop by the large gingko tree behind Hie Shrine, which is located near the mountain trail entrance. Believed to be over 1,000 years old, this large tree turns a sparkling golden color come the autumn foliage season.
10. Fukushima Prefecture, Goshiki-numa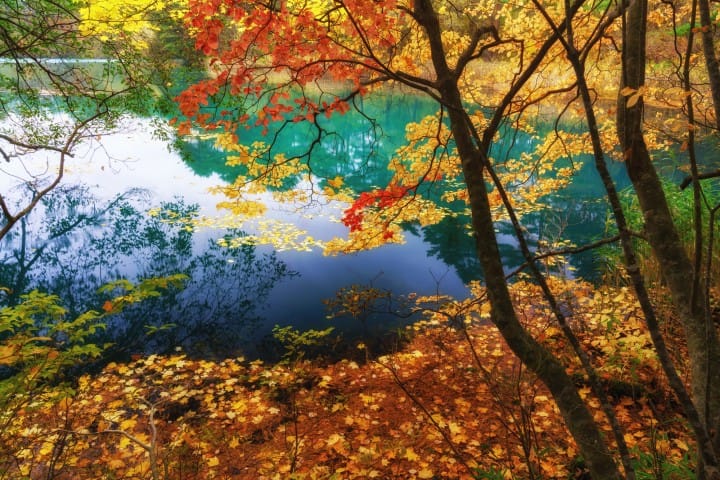 Photo by Pixta
Goshiki-numa, or five-colored ponds, is a group of lakes in Fukushima Prefecture. A phreatic eruption (an explosion of steam and rocks caused by magma) occurred on Mount Bandai in 1888, resulting in the formation of dozens of lakes. The lakes have varying shades of emerald green or cobalt blue, allowing visitors to admire the beautiful contrast of the lakes against the red and golden colors of the autumn trees.
You can enjoy paddle boating on Lake Bishamon, the largest lake in Goshiki-numa. There are also walkways that take between an hour to an hour and a half to finish, so please enjoy each of the entrancing lakes and their various charms.

Relish Fall in Tohoku
Unlike the autumn foliage decorating Kyoto and Nikko, the Tohoku region makes it possible to admire the dramatic color of autumnal mountains and trees in the middle of nature. Additionally, visitors can revel in the annual autumn foliage within the backdrop of historic structures. Head to Tohoku to discover a gorgeous region with an authentic Japanese landscape!

Main image by Pixta
Original Author: Eri Okubo
This article is a rewritten version of an article originally published on October 20, 2016.

The information presented in this article is based on the time it was written. Note that there may be changes in the merchandise, services, and prices that have occurred after this article was published. Please contact the facility or facilities in this article directly before visiting.