16 Things to Experience in Akita - Destinations, Regional Food, And Travel Tips
Akita is filled with natural beauty year-round, cherry blossoms in the spring, festivals in the summer, autumn colors, and snowy winter landscape. This article introduces the best places to visit, food in Akita Prefecture, and a sample travel itinerary to plan a fantastic trip.
Akita - Visit a Land of Colorful Seasons

Akita Prefecture is located on the north of Honshu facing the Sea of Japan. You can spot the prefecture on a map by looking for the Oga Peninsula, which sticks out into the Sea of Japan.
Akita's major appeal is its nature. While Mother Nature's appearance changes beautifully with the four seasons, the winter landscape is particularly exquisite. By experiencing the festivals and tasting the local cuisine, you will notice a culture unlike that of any other prefecture.
Table of Contents
Shirakami
Central Akita and Oga
Towada, Hachimantai, and Odate
Lake Tazawa, Kakunodate, and Daisen
Akita Travel Guide
Akita's 5 Areas and How to Get Around Them
Akita is a vast, mountainous prefecture. In this article, we divided Akita into five areas centered around Akita Station. Though trains are the primary mode of transportation, we recommend hailing a taxi or renting a car from Akita Station when traveling to a location that doesn't have a nearby train station.
Sightseeing taxis and shared taxis are traveler-friendly options as well. You can reserve a tour via taxi from Akita Station.
1. Shirakami Area
The Shirakami area is located in northwest Akita Prefecture, against the border with Aomori Prefecture. Shirakami is home to the World Heritage Site of Shirakami-Sanchi, a mountain range with an old-growth forest of beech trees.
On paved paths, you can explore the old-growth forest of Dakedaibuna or hike up Mt. Futatsumori. We recommend either renting a car or reserving a taxi tour.
Click to learn things to do in Shirakami.
2. Central Akita and Oga Area
Located near Akita Station is a museum where you can learn the history of Akita's traditional Kanto Festival. Meanwhile, the city of Oga is home to popular travel sites, such as the Oga Aquarium GAO, Oga Hot Springs Village, and Namahage Museum.
The JR Oga Line will take you from Akita Station to Oga in about an hour. From Oga Station, you can take a sightseeing taxi or the Namahage Shuttle, provided you make a reservation the day prior.
Click to learn things to do in Central Akita and Oga.
3. Towada, Hachimantai, and Odate Area
The Towada-Hachimantai National Park in the northeast sprawls across three prefectures of Akita, Aomori, and Iwate. The highlight of the park is Lake Towada, located at the border with Aomori. The lake's scenery changes with each season, and for that reason, it is a popular sightseeing destination.
Mt. Moriyoshi has a variety of alpine plants and flowers, and during the winter, you can enjoy the sight of rime-covered trees. Odate, home to the Akita Inu, has the Akita Dog Museum where you can learn more about the breed. We recommend renting a car or hailing a taxi at Akita Station. The JR Ou Main Line will take you to Odate Station in roughly an hour and a half.
Click to learn things to do in Towada, Hachimantai, and Odate.
4. Lake Tazawa, Kakunodate, and Daisen Area
Japan's deepest lake, Lake Tazawa, is in the city of Semboku. Akita Station to Lake Tazawa Station is an hour ride on the Akita Shinkansen (bullet train). In the same city, you will also find samurai residences on Bukeyashiki Street. Visit the neighboring city of Daisen for the Omagari Fireworks Festival, a large-scale fireworks festival with over a century of history and held four times a year.
Click to learn things to do in Lake Tazawa, Kakunodate, and Daisen.
5. Yokote and Yuzawa Area
The southeastern city of Yokote used to be a thriving commercial town. Shops and storehouses from the early 20th century are deemed a Cultural Property of Japan. You can also experience being in an igloo or savor a plate of Yokote yakisoba noodles.
Yuzawa is known for its excellent onsen (*1) and Inaniwa udon (*2), ranked as one of Japan's top 3 udon noodles for their exquisite taste.

*1 Onsen: Hot springs
*2 Udon: Japanese wheat noodles

Access to Akita
Flying from Tokyo
Photo by pixta
A flight from Haneda Airport to Akita Airport takes approximately an hour and 5 minutes (6,800 yen one way). A limousine bus will take you from the airport to Akita Station in just under an hour (930 yen one way). There are no direct flights to Akita from Narita Aiport.
If you prefer taking the train, you will need to get on the Akita Shinkansen Komachi from Tokyo Station. It will take about three hours and 37 minutes (7,800 yen one way).
Access from Sendai Airport
If your international flight lands in Sendai Airport in Miyagi Prefecture, take the JR Tohoku Main Line from Sendai Airport Station to Sendai Station (approx. 30 minutes). At Sendai Station, take the JR Tohoku Shinkansen Komachi to Akita Station. It will take about 2 hours and 15 minutes (10,370 yen one way).
You can also take the express bus from Sendai Airport. This will be about a three-and-a-half-hour ride (4,300 yen one way).
Things to Do in Shirakami
1. Shirakami-Sanchi Mountains
Picture courtesy of Akita Tourism Federation
The Shirakami-Sanchi mountain range, which extends across Akita and Aomori Prefecture, became the first Japanese World Heritage Site in 1993. While the actual World Heritage Site is the untouched old-growth forest, you can still admire the beech trees at Dakedaibuna Natural Forest and Mase Valley.
Another way to enjoy the landscape is from the sightseeing train Resort Shirakami (Japanese), which you can board from Akita Station. The Shirakami-Sanchi mountains, the Sea of Japan, and a beautiful sunset can all be appreciated aboard this train ride. At the counter, you can even order coffee or sake made with water sourced from the mountain range.
In 2016, the beech-forest-inspired Buna-hensei (Beech Carriage) was unveiled. This new carriage uses wood from local beech and Akita cedar trees.
Things to Do in Central Akita and Oga
2. Akita International University, Nakajima Library
The Nakajima Library is made with Akita cedar, a natural high-quality cedar, using traditional architectural methods. It is fantastic space to be in and is made with readers in mind.
Desks are built into the back of the bookshelves along the staircases, making for a great place to study. Since the chairs are desgned for comfort, you can focus for long periods of time with minimal fatigue. Anyone can use the library, and with a wide selection of English and picture books, it is a fun place to visit on your travels, too.
3. Noshiro Basketball Library and Museum
Picture from Noshiro Basketball Library & Museum, Akita: The History Of Slam Dunk
Opened in 2012, the Noshiro Basketball Library and Museum displays a wide array of resources, videos, and items on basketball both within and outside Japan.
Noshiro has long had a history of basketball. Former NBA player Yuta Tabuse used to attend the local Noshiro Technical High School. The school is famous for having produced a number of successful basketball players over the years.
Noshiro Technical High School was even the model for one of the schools in the popular manga series "Slam Dunk." The manga artist Takehiko Inoue is said to have frequented the school to conduct interviews.
Despite its small size, Noshiro Basketball Library and Museum has many rare, valuable items on display.
4. Namahage Museum and Oga Shinzan Folklore Museum
Picture courtesy of Akita Tourism Federation
The Namahage of Oga is an annual New Year's Eve tradition in the town of Oga where locals dressed up as an oni (Japanese for demon) go around people's homes to wish for health, safety, and prosperity. The tradition became an Important Intangible Folk Cultural Property in 1978 and was added to UNESCO's Intangible Cultural Heritage list in 2018.
While the oni is meant to scare the laziness out of children, the tradition is also meant to celebrate the coming year. At the Namahage Museum, you can take photos dressed as a Japanese demon and watch a movie on how the namahage tradition has been preserved by the people of Oga.
Next door is the Oga Shinzan Folklore Museum. Here, you can experience being in a traditional Oga home and grow accustomed to the namahage tradition, too.
5. Oga Aquarium GAO
Picture courtesy of Akita Tourism Federation
Located on the coast of the Oga Peninsula is the Oga Aquarium GAO. Perfectly situated near the sea, the aquarium houses a plethora of sea creatures native to Akita. The highlight is the enormous fish tank inspired by the waters of Oga.
In addition, you will also find Akita freshwater fish and endangered species here.
6. First hybrid hotel "PLAZA EAST CABIN" in Akita Prefecture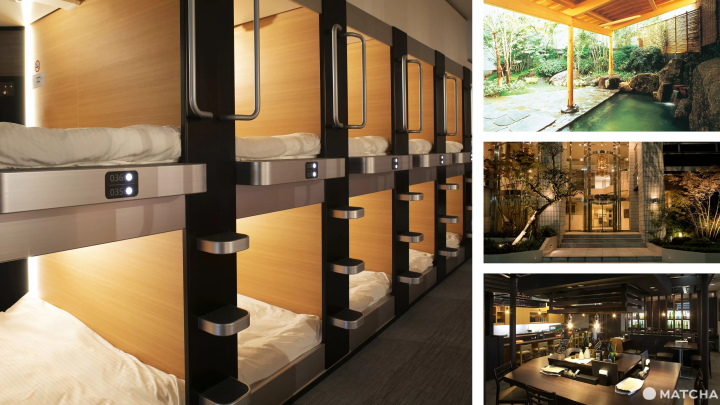 photo by PR Times
The Yokote Plaza Hotel located by the east exit of Yokote station, reopened as a new capsule-type hotel for men, "PLAZA EAST CABIN".
The cabins are designed to be relatively spacious for a capsule hotel and the bedding is equipped with down quilt duvets. There are 6 shower booths and 9 wash basins to avoid having to wait even in peak morning hours.
Also, free tickets for the natural hot spring of Yokote Ekimae Onsen Yuyu Plaza are offered to guests. The salon on the 2nd floor is exclusive to cabin guests where microwave ovens, electric kettles, and vending machines for snacks are available and the workspace on the 1st floor has sofas and a private room for meetings.
Address: Akita, Yokote, Ekimae-cho, 7-1
Access: a short walk from Yokote Station on the Ou Main Line, or direct access to the hotel by Airport Liner from Akita Airport.
Things to Do in Towada, Hachimantai, and Odate
7.Lake Towada
Picture courtesy of Akita Tourism Federation
At the prefectural border between Akita and Aomori, Lake Towada is bursting with seasonal colors throughout the year ranging from wild cherry blossoms, spring greens, autumn leaves, to a snow-covered landscape. Head toward the lake from the south to reach the 631-meter-high Hakkatoge Observatory from which you can overlook the lake.
You can also go to the Shimeitei Observatory for a view of the west side of Lake Towada. From this angle, the lake is shaped like a heart, making it a popular spot for photos.
8. Akita Dog Museum
Photo by pixta
What makes the Akita Inu so beloved is its upright ears, curled tail, and stout physique. The Akita Dog Museum was founded in 1977 to exclusively study this dog breed.
Four centuries ago, when the Lord of Odate popularized dog fighting in the region, hunting dogs were crossbred with native dogs. The resulting Akita Inu was designated a Natural Monument by the Japanese government in 1931.
The city of Yuzawa has a 400-year-old tradition related to dogs. The Inukko Festival is held to protect against spirits of theft.
Historically, an inukko (Japanese for small dogs) statue was shaped out of rice flour and placed at the front doors of homes. Today, snow is used to make both the statue and odokko (little shrine) for offerings. A festival is held to pray for one's pet dog(s) and enjoy fireworks as a community.
9. Nyuto Onsen
Picture courtesy of Akita Tourism Federation
At the base of Mt. Nyuto in Towada-Hachimantai National Park is the Nyuto Onsen Hot Springs Village. Out of the seven baths present, Tsurunoyu has the most history. In 1638, the Lord of Akita visited the bath for a hot spring treatment.
Picture courtesy of Akita Tourism Federation
When the lord at the time visited the hot springs, it is said his samurai guards filled the thatched-roofed buildings—which still remain to this day. Each one of the seven baths has its own spring, and you can visit all for 1,800 yen. Enjoy the therapeutic experience of bathing in an onsen while surrounded by an old-growth beech forest.
10.Snow-Covered Trees of Mt. Moriyoshi
Picture courtesy of Akita Tourism Federation
Famed as one of the 100 greatest flower mountains, Mt. Moriyoshi is also a great location to see snow-covered fir trees called "juhyo" (snow monsters).
Take the Akita Inland Line and get off at Aniai Station. From there, it is a 20-minute ride on the Mt. Moriyoshi Tour Taxi. Head to the Ani Ski Resort, then hop on the Ani Gondola to take you up the mountain, where you'll walk three to five minutes to arrive at your destination. You can also ski between the snowy trees for an offbeat attraction of Mt. Moriyoshi.
Mt. Moriyoshi Google Map
Website: http://www.aniski.jp/gondola/zyuhyou.html (Japanese)
11. Towada Prince Hotel facing the lake
photo by PR Times
Facing Lake Towada, which is designated as a national park and straddles Akita and Aomori prefectures, this hotel has a lobby lounge and main dining room offering views of the lake which change with the seasons, such as a deep green in the summer and colored leaves in the autumn.
There are various tourist spots around the hotel where you can enjoy the great nature such as Mount Hakkoda and the Oirase Gorge.
"Lake Towada himemasu kokanee (landlocked variety of sockeye salmon)", which can be enjoyed at the hotel restaurant, is nurtured in the great nature of Lake Towada, designated as a natural monument of Towada-Hachimantai National Park, and is characterized by its sweet fatty taste and has little or no bitterness.
Address: Akita, Kasuno-gun, Kosaka-cho, West lakeside of Lake Towadako
Access: 1 hr 30 mins from Odate-Noshiro Airport
Transfer bus: prior booking with the hotel is required
12. Kyukamura Nyuto Osenkyo, located in Towada Hachimantai National Park
photo by PR Times
Kyukamura Nyuto Onsenkyo is one of the seven hotels scattered around the foot of Mount Nyuto. Surrounded by beautiful beech trees, this tranquil hotel boasts two kinds of natural hot springs.
Kyukamura Nyuto Onsenkyo offers a buffet that celebrates Akita food culture with a focus on local cuisine. Various dishes using local ingredients are prepared by talented chefs including Akita's specialty "Kirintanpo hot pot", roast beef made from Akita's renown "Akita Yuri beef", Hinai chicken, etc.
Address: Akita, Senboku, Tazawako, Komagatake, 2-1
Access: 45 minutes by bus from the bus terminal in front of JR Tazawako Station
Things to Do at Lake Tazawa, Kakunodate, and Daisen
13 . Lake Tazawa
Picture courtesy of Akita Tourism Federation
With a depth of 423.4 meters, Lake Tazawa is Japan's deepest lake. Parts of the lake that have varying depths reflect sunlight differently, which create shifting patches of stunning blue on the water's surface. The lake is the setting for the legend of Princess Tatsuko, who drank the mountain's water to obtain eternal beauty and became a dragon. The dragon princess is thought of as the lady of Lake Tazawa.
A bronze statue of Princess Tatsuko stands at the lake's shore in Katajiri, Saimyoji, and Nishikicho in Semboku City. You can view the statue aboard the excursion boat that leaves from Lake Tazawa Rent House on the east shore. Another way to enjoy the lake's scenery is by renting a bicycle and riding along the cycling course.
14. Kakunodate's Bukeyashiki Street
photo by Pixta
The "buke" (samurai families) used to be in charge of managing military affairs. Bukeyashiki refers to the home of a samurai family. In Semboku City's Kakunodate, a whole street is lined with samurai residences. This collection of traditional Japanese architecture is one of Japan's Cultural Properties.
Since fires were quite common, a hiyokechi (*1) was created around 1620. The samurai neighborhood to the north of the hiyokechi was called uchi-machi (inner town), while the south's average households were called to-machi (outer town). The streets lined with weeping cherry blossom trees are a popular site for hanami (*2).
In addition, you will find Somei-Yoshino cherry trees at Hinokinaigawatsutsumi Park. A total of 1,500 cherry blossom trees color the town in the springtime.

*1 Hiyokechi is a plot of land to prevent fires from spreading.
*2 Hanami (literally, flower watching) is the custom of viewing Japanese cherry blossom when they're in full bloom.
15. Dakigaeri Gorge
Picture courtesy of Akita Tourism Federation
A five-minute taxi ride from Jindai Station in Semboku, Dakigaeri Gorge is a ten-kilometer-long gorge through which the Tama River runs between Lake Tazawa and Kakunodate. The name, which literally translates to Hugging Gorge, comes from people having to press against each other to pass through.
Photo by pixta
The gorge has a number of beautiful sightseeing locations, including Akita's oldest suspension bridge Kaminoiwa Bridge and Mikaeri Falls. The path is closed during the winter season.
Since it is only about fifteen minutes by taxi from Bukeyashiki Street, we recommend visiting both locations on the same day.
16. Akita Inland Line
Picture courtesy of Akita Nairiku Jukan Railway
The Akita Inland Line runs from Kakunodate Station to Takanosu Station in Kitaakita—a course that measures two and a half hours one way. Start in the famous cherry blossom site of Kakunodate and travel across the marvelous landscape of Akita.
Photo by pixta
During the summer, you will see decorative rice field art created using various types of rice seedlings. In the fall, a breathtaking view of autumn trees stretches from Okashinai Station to Kayakusa Station.
There is a stop at Aniai Station. If you take the sightseeing taxi or local bus to Mt. Moriyoshi, you can admire the alpine plants. Visit in the fall to see the mountain's autumn colors, or take the lift in the winter to view frost-covered trees. At Animaeda Station, you will find lodging complete with its own onsen that is available to both overnight guests and daytime visitors.
What to Eat in Akita
When visiting Akita, you cannot miss the local cuisine that the prefecture has to offer.
Kiritanpo
Picture courtesy of Akita Tourism Federation
Tanpo is a simple snack made by kneading rice and grilling it on a stick.
Picture courtesy of Akita Tourism Federation
If you cut up the tanpo and cook it in a pot with other ingredients, you get kiritanpo hotpot. On the other hand, simply dip the tanpo in a miso-based sauce for miso tanpo. While tanpo can be found in various regions, the kiritanpo hotpot is said to have started in northern Akita.
This local dish uses rice, wild greens, and Hinai chicken primarily sourced from Odate City. The tanpo soaks up the soy-sauce-based broth and umami from other ingredients, bringing together the flavors for a delectable experience in your mouth.
You can savor the hotpot at restaurants such as Hokushu Club. If you visit during the fall, you may attend one of the many tanpo food festivals, where you can taste hotpots using Hinai chicken and freshly harvested rice and greens.
Yokote Yakisoba Noodles
Picture courtesy of Akita Tourism Federation
It is said that a man in the town of Yokote used to ell okonomiyaki (a savory pancake fried with various ingredients inside of it). One day, he came up with a new menu called Yokote yakisoba noodles.
Yokote yakisoba uses straight, thick noodles, cabbage, and ground pork. It is topped with a fried egg and fukujinzuke (a type of Japanese relish). Named after the city, the dish's popularity helped revitalize the community. Today, Yokote yakisoba is a proud B-rank cuisine of the city.
Lake Towada Highlands Pork
Picture courtesy of Akita Tourism Federation
Momo-buta, the Lake Towada Highlands Pork, is a high-quality type of Akita pork raised with the pig's health in mind. The farms are kept sanitary to prevent any risk of disease and to ensure a healthy environment for the pigs.
The pigs drink purified, bio-active water to facilitate healthy growth. Additionally, their meat is extremely tender because they are not fed any chemicals.
A ten-minute walk from Towadaminami Station in Kazuno City, Komomo's Towada store sells ham, sausages, and appetizers such as pork croquettes.
Seasonal Events and Places
A major appeal of Akita is its display of seasonal colors across the prefecture. We selected a few places to visit during each season.
Spring
Picture courtesy of Akita Tourism Federation
The cherry blossoms in Kakunodate are a must-see during spring. The Satake clan ruled Kakunodate for 11 generations since 1656. The wife of the second lord brought weeping cherry blossoms from her hometown in Kyoto. If you visit Kakunodate today, you will see a whole street lined with magnificent weeping cherry blossom trees.
Together with the Somei-yoshino cherry blossom trees in Hinokinaigawatsutsumi Park, the whole town is memorably adorned in shades of pink.

Summer
Photo by pixta
Festivals are synonmous with summer in Akita. At the large-scale Kanto Festival in Akita City, chochin lamps are attached to bamboo poles. Representing ears of rice, these poles are used to pray for good harvest and drive away evil spirits. The festival is held during the day and night. The warm, orange lights at nighttime are a mesmerizing sight to behold.
Picture courtesy of Akita Tourism Federation
The Omagari Fireworks held in Daisen is one of Japan's leading fireworks competitions. The colorful fireworks reflecting off the mountains and river are sure to rouse your spirits and make it an unforgettable night.
If you are in search of summer greenery, travel to Semboku. There, you will find the Kaminoiwa Bridge within Dakigaeri Gorge and Mikaeri Falls, whose view is best seen after passing by it first.
Fall
Picture courtesy of Akita Tourism Federation
A stroll along the path at Lake Towada during the fall will treat you to a beautiful canvas of autumn colors. Another ideal way to enjoy the scenery is to take a ride on an excursion boat.
The Dakigaeri Gorge also transforms from summer to fall. The blue hue of the Tama River contrasts with the gorge's fall foliage. The old-growth forest's red pine, Japanese zelkova, and maple trees are popular for sightseeing and during the Autumn Leaves Festival.
Winter
photo by Pixta
Boasting about 450 years of history, the Yokote Snow Festival is the perfect event to attend during the winter. Made possible by the region's snowy climate, this festival is known for the many igloos that stand beside a shrine. For a first-hand wintry experience, we recommend not only snapping a photo, but also stepping inside an igloo.
Also head to Mt. Moriyoshi for a view of the snow-covered trees. You can borrow snow shoes and socks at the mountain's ski resort. If you walk a short distance, you will see a host of trees covered in soft rime in front of you. We highly recommend a visit here as it's a fairly easy course up the mountain.
Trip Itinerary
Below is a suggested itinerary for four night, five-day trip in Akita. Presuming your flight lands at 15:30 at Sendai Airport, this plan moves you counterclockwise around Akita.
Day 1: Savor Akita's Yokote Yakisoba Noodles
It takes about 30 minutes from Sendai Airport to Sendai Station. At Sendai Station, take the Green Liner highway bus to Yokote. Each restaurant makes Yokote yakisoba with its own original sauce. Try one or a few places before heading to Akita International University's Nakajima Library.
Visitors at the university can use the library from 8:30 - 22:00 on weekdays, 10:00 - 18:00 on Saturdays and holidays, and 10:00 - 22:00 on Sundays.
Evening: Yokote yakisoba
Night: Nakajima Library
Spend the night near Akita Station
Day 2: Explore the Oga Peninsula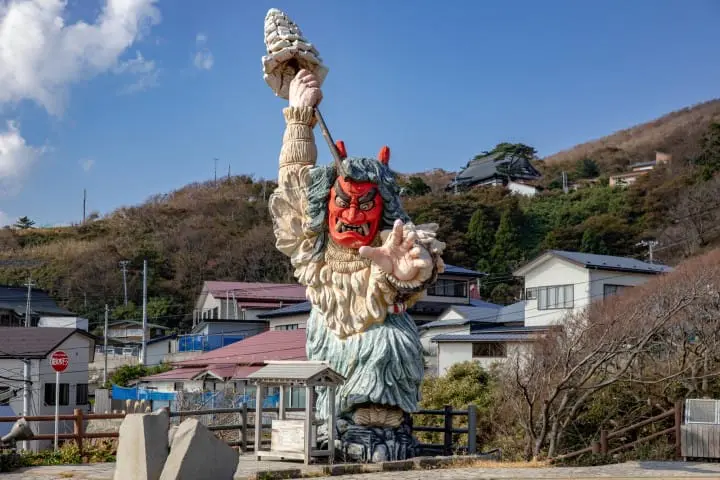 Photo by pixta
Take the JR Oga Line from Akita Station to Oga Station. On the second day of your trip, visit the Oga Aquarium GAO, the Namahage Museum, and the Oga Shinzan Folklore Museum. You can hail a taxi from Oga Station to access any of these places.
For basketball fans, take the train from Oga Station to Oiwake Station. Transfer onto the Resort Shirakami sightseeing train. Get off at Noshiro Station to reach the Noshiro Basketball Library and Museum.
Morning: Oga Aquarium GAO
Afternoon: Namahage Museum, Oga Shinzan Folklore Museum or Noshiro Basketball Library and Museum
Spend the night near Higashinoshiro Station
Day 3: Admire the Shirakami-Sanchi and Stroll the Streets of Odate
Photo by pixta
Start off your third day by getting on the Resort Shirakami at Higashinoshiro Station. Admire the view of the Shirakami-Sanchi mountains while gazing out of the train's window. At either Akita-Shirakami Station or Iwadate Station, take the Gono Line back to Higashinoshiro Station. Transfer onto the Ou Main Line for Odate.
See beautiful Akita Inu dogs at the Akita Dog Museum, Japan's only dog breed museum (open from late April through late November). Then during the evening, try some traditional kiritanpo that originated from the Odate region.
Morning: Shirakami-Sanchi
Afternoon: Akita Dog Museum
Night: Kiritanpo
Spend the night near Odate Station
Day 4: Encounter Nature at Lake Towada and Nyuto Onsen
Photo by pixta
Spend the fourth day relaxing in nature and soaking in hot springs to recover from travel fatigue. Lake Towada is roughly an hour drive or taxi ride from Odate. Take a refreshing walk along the lakeside path.
For lunch or an afternoon snack, try some sausages or croquettes made using local Momo-buta pork. We suggest visiting one of these four farms: Farm Porkland, Lake Towada Highland Farm, Farmland, or Bioland. At night, soak in the baths at Nyuto Onsen.
Morning: Lake Towada
Afternoon: Food tour around Lake Towada Highlands Pork
Night: Nyuto Onsen
Spend the night near Lake Tazawa Station
Day 5: Visit Dakigaeri Gorge or Bukeyashiki Street
The capstone of your trip should be one of the highlights of Akita—the scenic Dakigaeri Gorge or the historical Bukeyashiki Street. A twenty-minute ride on the Lake Tazawa Line (heading for Omagari) from Lake Tazawa Station will take you to Kakunodate. We highly recommend visiting both locations if time permits. In the evening, head to Sendai Airport to catch a domestic or international flight back home, including a direct flight to Taiwan Taoyuan International Airport.
Morning: Dakigaeri Gorge or Bukeyashiki Street
Afternoon: Head to Sendai Airport
Stunning Nature, Delicious Food, and Events Await in Akita
From natural scenery that can be enjoyed year-round to local cuisine and seasonal events, Akita is packed with things to do and places to go. Visit this dynamic prefecture and explore a different side of Japan.

Main image by pixta

The information presented in this article is based on the time it was written. Note that there may be changes in the merchandise, services, and prices that have occurred after this article was published. Please contact the facility or facilities in this article directly before visiting.