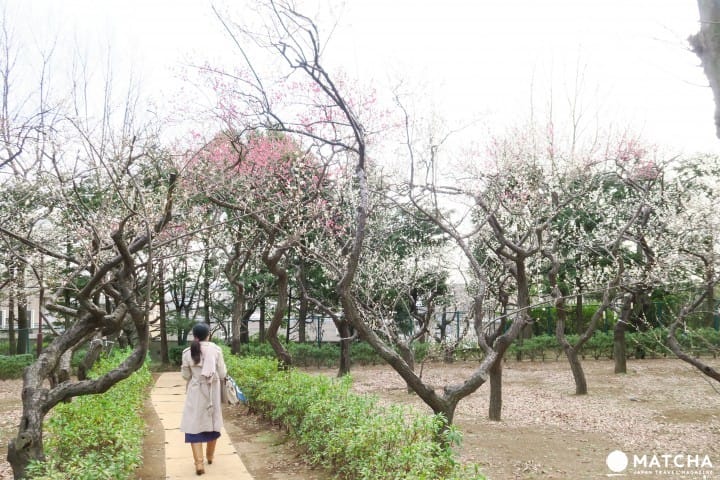 Hanegi Park - View Elegant Plum Blossoms In Tokyo!
In addition to cherry blossoms, the ume (plum blossoms) have also been enjoyed and appreciated from historic times as one of the flowers of spring. Today we take you to Hanegi Park, famous in Tokyo for its beautiful ume.
When you think of spring in Japan, sakura (cherry blossoms) usually come to mind, but in fact there's another kind of flower that represents spring. That's ume, or Japanese plum. Many of you might have heard of "ume" through such words as umeboshi (pickled plums) and umeshu (plum wine).
From early times, due to their pretty flowers and their tasteful and elegant appearance, ume often appeared in Japanese tanka poetry (*1) and also Japanese proverbs.
Today we'll introduce you to Hanegi Park in Tokyo's Setagaya ward where the ume are in full bloom when spring arrives.
*1 Tanka: A poetry style with fixed form (31 syllables) that has been practiced in Japan since ancient times. The subject of tanka often deal with nature and the expression of human feelings.
A Hill Covered With Ume in the Residential Setagaya Area
Hanegi Park is located in Tokyo's largest residential area, Setagaya ward. It's popular among local residents as a place of rest and relaxation, and when spring approaches, it attracts many visitors eager to see the quaint and elegant scenery of the plum trees in full bloom.
650 plum trees have been planted on the park grounds and there's a promenade allowing visitors to take their time while they enjoy looking at the blossoms. Famous for having such a large number of plum trees, Hanegi Park is considered to be one of the best places to look at the ume blossoms in the greater Tokyo area.
On weekends during the plum and cherry blossom season, various kinds of booths are set up, so even just going for a leisurely stroll can be a lot of fun.
In addition to the grove of plum trees there is also a row of cherry trees inside the park. If by chance the cherry trees bloom a bit early, it might even be possible to have the plum and the cherry blossoms both competing for your viewing pleasure.
Let's Go For a Stroll in a Grove of Plum Trees
Inside the park there are up to 60 varieties of plum trees, including the kobai, with their reddish-pink colored blossoms, and the hakubai, or white colored blossoms. Since the ume varieties bloom at different times, you can enjoy looking at them until the end of March.
The kobai variety are characterized by their bright and brilliant color and their shiny, glossy petals. Scattered here and there along the tree's branches, the blossoms of this ume variety have a charming appearance.
The hakubai variety have large blossoms that are clustered heavily along the length of the tree's branch, making for an exquisitely beautiful sight. The blossoms have a strong fragrance to them, so if you stand close to the branches you can take in their refreshing scent.
The park consists of hilly terrain and was purposely designed to take advantage of the differences in altitude, allowing visitors to look out at all the plum trees. Also, inside the grove of plum trees on the sloping hill, Japanese white-eye, brown-eared bulbul and other wild birds sometimes fly about, so if you're lucky you might have a chance to see them.
Access to Hanegi Park
Hanegi Park is situated right near Umegaoka Station on the Odakyu Odawara Line. The word ume is used in the station's name, making it easy to see how this is area has a deep association with plum trees.
After a short, 5 minute walk from the station, you soon arrive at Hanegi Park. Since the most of the plum trees spread out towards Umegaoka Station, you'll have no difficulties finding the park.
In Closing
From February until March, the elegant scenery of the Japanese ume spreads out before your eyes. Prior to the start of the cherry blossom season, venture out to Hanegi Park to see the exquisite ume, another seasonal flower that will absolutely dazzle you with its beauty!
View Information
Hanegi Park
| | | |
| --- | --- | --- |
| | Address | Tokyo, Setagaya ward, Daita 4-38-52 |
| | Business Time | All day |
| | Fixed holidays | Open every day |
| | Required Time | About one hour |
| | WiFi | Not Available |
| | Accepted Credit Cards | Not Available |
| | Languages | Japanese only |
| | Menu/Pamphlets in Other Languages | Japanese only |
| | Nearest station | Umegaoka Station (Odakyu Line), Higashi-Matsubara Station (Keio Inokashira Line) |
| | Access | 5 minutes on foot from Umegaoka Station (Odakyu Line). 7 minutes on foot from Higashi-Matsubara Station (Keio Inokashira Line). |
| | Price | Free of charge |
| | Telephone number | 03-3322-0415(Information counter at Hanegi Park) |
| | Website | Hanegi Park (Japanese) |