Plum Blossoms - The Original Japanese Sign Of Spring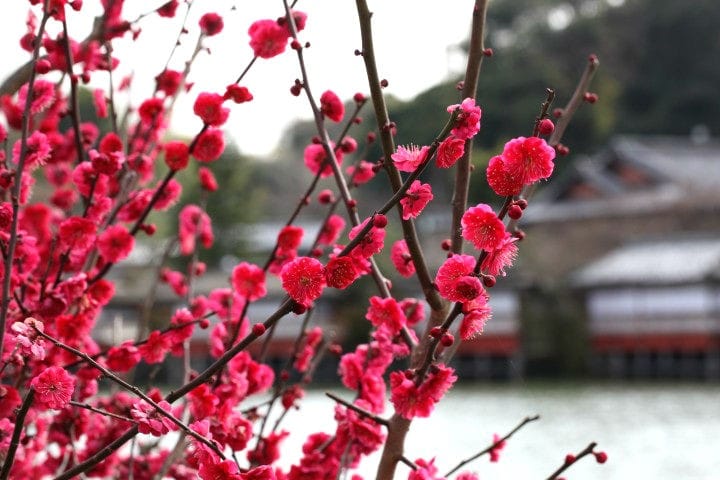 Plum Blossoms - The Original Japanese Sign Of Spring
While the sakura may be the best-known flower in Japan, the plum blossom holds a special place in Japanese tradition. This article explains the features and the history of this charming bloom.
Closer to my home
I brought them and replanted,
But to no avail;
All they do is keep me waiting,
Those lustrous flowers!
Poem by Fujiwara no Kanesuke (877-933), from the Gosenshū anthology.
The True Flower of Spring: Plum Blossoms
Although I have written extensively on the beauty of sakura, they aren't my favorite Japanese flower. Not even in my top five. My number one has always been the plum blossom, or ume, as it is called in Japanese.
Image taken from: What Is That Flower On Your Kimono?
With a blooming season that starts in early February in some parts of Japan and may last until the end of March, plum blossoms are considered by historians to be the original flower that started off the tradition of hanami (flower viewing parties) in Japan. Plum trees were initially introduced to Japan from China and were considered ornamental trees intended for the gardens of the nobility and public spaces. Associated with good fortune, plum blossoms, plums, and the trees themselves are thought to ward off evil, so you will often find them planted around shrines, temples, or other spiritual areas.
Plum blossoms are also a common kimono, obi, and Japanese fabric motif, as you can see in the photo above. They are often associated with a sense of maturity, and are also depicted in many works of art alongside the Japanese bush warbler ("uguisu" in Japanese). In fact, if you play the traditional card game hanafuda, the cards for February are illustrated with the ume and the uguisu.
JAPAN PHOTO LIBRARY ©JNTO
Ume remained the de rigueur flower of spring well into the Nara period and the earliest years of the Heian era. But by the time the Heian period had properly started, cherry blossoms had taken the place of the ume, relegating them to a much lesser position within the arts and seasonal activities as a whole.
How and Where to Enjoy the Ume
If you will be traveling in Japan during the months of February and March, be sure to keep an eye out for these flowers. Plum blossoms come in colors ranging from a pink that is almost white to deep pinkish reds, and come in five or multi-petaled varieties. Much like the cherry tree, plum blossoms have also been selectively bred and adapted into different forms over time, leading to varieties such as the yae-ume, which has multiple petals, to the shidare-ume, or weeping plum tree.
To help you tell the difference between plum and cherry blossoms, please take a look at Plum, Cherry, and Peach Blossoms - How To Distinguish Between Them. The easiest way I find to tell them apart, though, is to smell them. Plum blossoms have a strong, sweet scent that lingers just enough in the air.
If you are interested in having a 'real' hanami, then I recommend paying a visit to Koishikawa Korakuen, a public park with stunning seasonal flowers and plenty of plum trees to view. Although the weather is a little chilly to sit outside and enjoy the blossoms for long, you can get a hint of what such an event must have been like here.
And if you would like to see a stunning plum blossom festival, then by all means, visit Yushima Tenjin Shrine, which has an annual Ume Matsuri. This event will take place from February 8th to March 8th this year (2017). Sugawara no Michizane, a scholar, poet, and politician who lived during the Heian era, was exceptionally fond of plum blossoms.
According to a legend, it is said that when Michizane was removed from his high scholarly position at the imperial court and appointed to a minor official post in Kyushu's Dazaifu region, his favorite plum tree flew all the way to Kyushu to be near Michizane. After his later exile and death, Michizane became deified as the god Tenman-Tenjin, which is why all Tenjin or Tenmangu shrines across Japan are famous for their plum blossom festivals. The Dazaifu Tenmangu in Fukuoka is one of the prominent shrines that are popular as destinations for ume blossom viewing.
Final Thought
A branch of plum
Blossoms was his roost,
All completely ruined now;
To the cherry has shifted
The warbler's song.

- Author unknown, part of the Sengohyakuban Uta Awase (poetry contest in 1201)

The beautiful features of the ume, as well as the fascinating legends surrounding these flowers, make them a symbol of spring that is worth checking out if you're visiting Japan during the first months of the year.

The information presented in this article is based on the time it was written. Note that there may be changes in the merchandise, services, and prices that have occurred after this article was published. Please contact the facility or facilities in this article directly before visiting.