Yoyogi Park - A Walk Beneath Cherry Blossoms In Tokyo's Green Oasis
Yoyogi Park is a popular place in Tokyo to enjoy some time out no matter the season. In spring, it is one of the most popular cherry blossom viewing spots in Tokyo. This article introduces you to the incredible beauty of this park.
Yoyogi Park close to Harajuku Station in Tokyo is a popular place to relax and spend time with family and friends. In the springtime, it is one of the top spots to enjoy the cherry blossoms, with thousands of people visiting the lively park to admire the pink clouds floating above them.
Today I would like to invite you to join me on my walk through Yoyogi Park during the cherry blossom viewing season.
Yoyogi Park - A Brief History
Yoyogi Park boasts a long history filled with important events. In December 1910, Captain Yoshitoshi Tokugawa executed the first successful powered aircraft flight in Japan from the same area which is now known as Yoyogi Park.
After being one of the important venues of the 1964 Tokyo Olympics, most of the area was turned into Yoyogi Park in 1967. Nowadays, the park is mainly known as a popular place to relax with family and friends or for people who like to exercise in nature.
Let's Go for a Walk Through Yoyogi Park
Take the main exit of Harajuku Station and walk over the bridge to your right side. Instead of walking towards Meiji Shrine, make a left turn in front of the entrance and another right turn as soon as the walkway ends.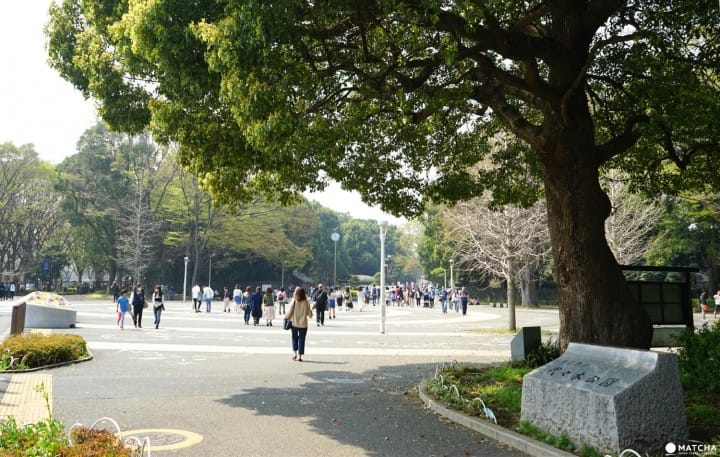 We have already arrived at the main entrance of Yoyogi Park.
Before entering, do take a quick look at the rules. Please refrain from any kind of activities which could accidentally hurt or bother other people in the park. Also, please don't feed the animals and don't pick the flowers in the park.
Let's enter Yoyogi Park through the main gate. Inside you'll find a map of the park. If you want to meet someone at a particular place, it's better to take a look at this map as the park stretches over a very big area.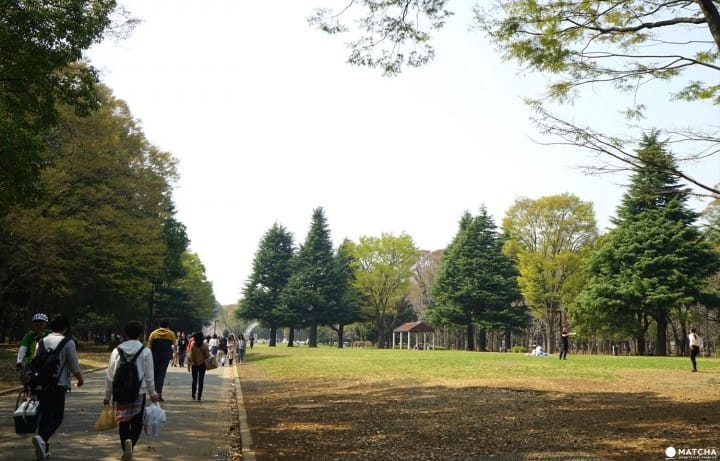 There is only one walkway from the main gate towards the center of Yoyogi Park. It will split into many different directions from the center but, don't worry, it's nearly impossible to get lost in Yoyogi Park. The trees are not planted very close together and you can easily see far from wherever you are in the park.
After a short walk, you will notice a white, round gateway. This is the entrance to the center of Yoyogi Park.
Of course, cherry blossoms are not the only flowers blooming in the spring. This little tree right beside the gateway is surrounded by various colorful spring flowers.
We have arrived at the center of the park with its white fountains. If you want, you can sit down and relax around these fountains before you go on your way.
There is no right or wrong way in Yoyogi Park. Just follow the path you like the best. How about following this beautiful cloud of cherry blossoms? Let's keep walking straight.
These small huts you will see everywhere are actually the restrooms. Everything in Yoyogi Park is very carefully designed to pair well with the surroundings.
Even on weekdays, the park is very crowded during the cherry blossom season. Some people will take a day off from work to enjoy "hanami" (cherry blossom viewing).
Wherever people find a cherry tree in full bloom, they will gather to enjoy it. However, many people stay in the areas close to the entrance because they don't want to walk too far or because they have friends joining them later. You don't want your friends to walk very far to find you, right?
For this very reason, you will realize it's getting less crowded the further you walk away from the main entrance even though there are still some cherry blossom trees in this area. If you prefer a to watch cherry blossoms in a more relaxing atmosphere, I recommend to just keep on walking to get away from the crowds.
In this area, there is also a wider variety of different trees which can be quite charming. Don't the red-leaved trees and the cherry blossoms look like autumn and spring together?
This lonely cherry tree doesn't have anyone enjoying it. Maybe it's waiting for someone to come and relax under its protective branches.
Since we kept to the right when walking we eventually end walking in a circle so we are now back to the center of the park. This small pond is a very popular place to meet and relax, no matter what time of the year it is. Let's take a look around the area.
There is a large open area around the pond and, from the right point, you can witness nature and the city becoming one. There are just a couple of cherry trees surrounding the area but the open space invites you to relax and enjoy the gentle sun of spring.
Besides the pond is another very popular place. In summer, some people even like to dip their feet in the water.
We arrived at our starting point so let's head back now.
The white gateway will lead us to our way back to the main entrance. Look at all of these majestic trees surrounding it. Cherry blossoms aren't the only beautiful trees in Yoyogi Park. Don't forget to enjoy all the other beautiful nature sights during your walk as well.
Enjoy A Green Oasis in the Heart of Tokyo
Yoyogi Park is located really close to Harajuku and Shibuya, two of the busiest places in Tokyo. It's the perfect place to go if you want to take a break from the hustle and bustle of the city but don't have the time to travel far.
Why not take a walk in Yoyogi Park next time you are in Tokyo?


The information presented in this article is based on the time it was written. Note that there may be changes in the merchandise, services, and prices that have occurred after this article was published. Please contact the facility or facilities in this article directly before visiting.