Ame-yoko: An Old Shopping Street With Amazing Discount Prices!
If you are looking to experience the authentic air of an old Japanese shopping street, then a trip to Ame-yoko is in order! Here you can find amazing Japanese products of all kinds, and even bargain for a discount too.
Ame-yoko is the historical shopping street that connects JR Ueno Station and Okachimachi Station, along the viaduct. While it may not seem like an exciting place at first, this is a fantastic shopping area, where you can find incredible deals on Japanese foods, clothing, jewelry, leather goods, daily necessities, and many, many other surprising items all in one market. The formal name of this area is the Ame-yoko Shopping District Association, which is affectionately shortened to Ame-yoko by residents, shop staff, and customers alike.
In the photo above you can see the signboard above the alleyway, with "Ame-yoko" written in Japanese characters. This is only a small portion of the market; there are many more shops to see along the street.
If you head out of the Shinobazu exit, you will find yourself almost at the market street.
In the middle of this photo, you can see the signboard indicating the entrance to Ame-yokocho.
The Post-War Black Market
After the end of the Second World War, there were incredible food shortages in Japan, and many people suffered and starved as a result. Although there was a food distribution system in place, the infrastructure had been severely damaged by the wartime bombing, and, in many ways, food could simply not get to where it was needed. In order to combat this, people began to buy and sell valuable foodstuffs by themselves - without official licensing from the acting government of the time. One of the largest black markets of the time was here in Ueno, and was the origin of Ame-yoko itself.
There are several theories as to the origin of the name 'Ame-yoko' as well. The two with the most supporting evidence are as follows:
1. American Yokocho - the street was originally called American Yokocho, or American shopping street, because people were able to buy American army supplies here, or that this was where the Americans came to shop.
2. Ame Yokocho - 'ame' in Japanese can mean 'candy', and as candies (or any food with sugar in it) were quite valuable at the time, it is said that these were one of the best selling items in the black market. In fact, according to records, there were about 200 different candy stores here at that time.
While the area has long since stopped being a black market, the great prices and friendly sales style still persist. During the preparations leading up to the New Year, roughly 500,000 people come to shop for the best deals on the ingredients needed to make osechi and other holiday foods.
Haggling is Encouraged!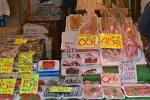 There are also a number of shops that sell perishables, such as fresh meat, seafood, and fruits and vegetables. The shop staff are quite friendly, and might call out to you as you walk by. It is a well-known fact that customers can negotiate the prices here, so if you are looking for something in particular, and can haggle, then why not give it a try?
A shopping street largely unchanged since the mid-20th century. If you'd like to step back in time and see some truly incredible shops, and find low-priced items of all kinds, then please take a trip to Ame-yoko. You won't regret it!
Information
Ame-yoko Shopping District Association
Address: Tokyo, Taito, Ueno 6-4-6
Hours: 8:00-20:00, depending on the shop
Nearest Station: JR Ueno Station, Okachimachi Station
Access: directly outside JR Ueno Station Central Gate, or the North Exit of Okachimachi Station
Phone Number: 03-3832-5053
Website:Ame-yoko (Japanese)

The information presented in this article is based on the time it was written. Note that there may be changes in the merchandise, services, and prices that have occurred after this article was published. Please contact the facility or facilities in this article directly before visiting.