Ueno's Shinobazu Pond: A Relaxing Urban Oasis
In a city that's always moving, sometimes we need a break, some time and space to take a breather. Head over to Tokyo's urban oasis, Shinobazu Pond when you want take a step back and relax.
Head Out Early and See the Magnificent Lotus Pond
Shinobazu Pond is a large natural pond located in Ueno Park, and is one of the many charming green oases in Tokyo.
The surface of the pond is blanketed in lush greenery, so thick in places that you cannot even see the water itself. This is a lotus pond. The lotus flower is associated with purity and beauty in Buddhist and Hindu cultures, respectively. It gives the flower a sort of exotic and majestic mystique.
Lotus flowers reach their blossoming peak in July thru August, but only open up from around 7:00 to 9:00 in the morning. This means that all the flowers close themselves come noon. So if you would like to see them for yourself, you will definitely need to wake up early, but the view is well worth the effort!
Shinobazu Pond Has 3 Sections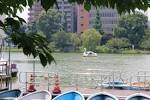 The lotus pond is not the only sight to see at Shinobazu Pond. The natural pond covers an area of roughly 110,000 square meters and can be divided into three major sections. The first section consists of the lotus pond, the second section is the duck pond, which provides a habitat for ducks and other waterfowl, and the third constitutes a boat pond where visitors can enjoy paddling small boats.
Right around the center of the pond, you will find an islet on which rests a Buddhisttemple called the Bentendo.
Around the temple, you can find hochozuka (for knives) or megane-no-hi (for glasses), among other unique monuments, where people symbolically bury personal belongings. These monuments are characteristic of Shinobazu Pond, and even if you can't read what they say, try asking one of the locals nearby to see what other interesting monuments there are. A few of the monuments do have explanations carved into the stones in English.
Paddle About in the Boating Area
Right on the border between the lotus and boat ponds, you can find the entrance to the boat rentals. So, if you're looking for some physical activity, why not give boat paddling a try!
There are three kinds of boats available. Choose the plan that best suits you.
1. Rowing boats
Capacity: Up to 3 adults
Rental Fee: 700 yen/hour (300 yen for each additional 30 minutes)
2. Cycling boats
Capacity: Up to 2 adults and 1 child
Rental Fee: 600 yen/half-hour (600 yen for each additional 30 minutes)
3. Swan boats
Capacity: Up to 2 adults and 2 children
Rental Fee: 700 yen/half-hour (700 yen for each additional 30 minutes)
A Green Paradise at Shinobazu Pond
Though the height of the lotus pond viewing season is in summer, Shinobazu Pond is replete with sights to see all four seasons throughout the year. Shinobazu Pond has served as the subject to a number of Japanese works of art and has enjoyed the attention of Japanese people for ages.
If you're looking to tour around Ueno, then don't miss out on visiting Shinobazu Pond.
Information
Shinobazu Pond
Address: Ueno koen, Taito-ku, Tokyo
Ueno Park Hours: 5:00–23:00
Ueno Park Official Website: Ueno Onshi Park (Japanese)
The information presented in this article is based on the time it was written. Note that there may be changes in the merchandise, services, and prices that have occurred after this article was published. Please contact the facility or facilities in this article directly before visiting.