7 Things You Should Do In Ueno!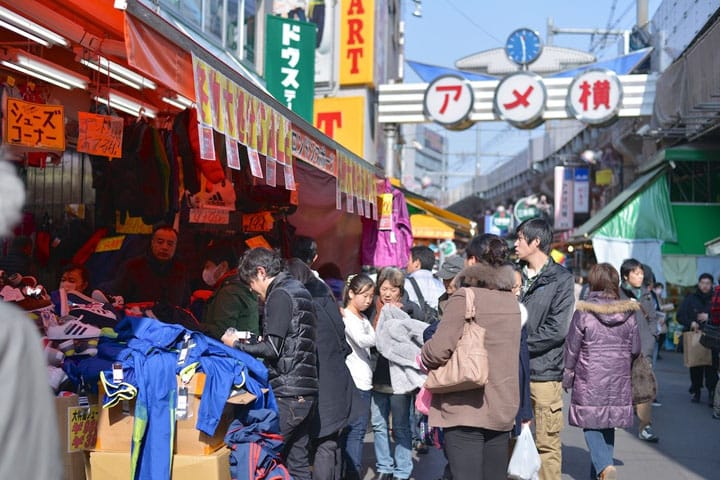 Ueno is filled with things to see and do. Learn 7 must-try activities in Tokyo's old downtown neighborhood, from Ueno Park to museums and discount shopping.
Ueno: Things to Do in the Center Old Downtown Tokyo
Ueno is easily accessible from Narita Airport, Tokyo, Asakusa, and Akihabara, making it an important hub for tourists from abroad.
Yet, Ueno is more than just a place to switch trains! Many tourist attractions in Ueno's streets remain undiscovered.
In this article we will introduce seven different activities you can do only in Ueno.
1. Relax in Ueno Park
Picture from 13 Things to Check Out at Ueno Park
Ueno Park is a spacious park in the Ueno area. Many trees and plants are grown here, providing a relaxing environment for both locals and tourists.
There is a Starbucks cafe, restaurant and water fountain here. During the weekends, street performers gather to hold entertaining shows. Also known as a popular spot to view cherry blossoms, Japanese people flock here during spring every year.
It is an ideal place to take a break during your trip.
2. Meet Animals in Ueno Zoo
Picture 8 Animals You Absolutely Must See At Ueno Zoo!
Inside the park is Ueno Zoo, the first zoo in Japan. Also, it has the largest number of visitors in Japan so it is a familiar spot for Japanese people.
While it is not a typical tourist spot, you can see the Japanese serow (a goat-antelope that is seen as a national symbol of Japan), Lidth's Jay (a colorful bird), and other animals native to Japan here. A highly recommended spot for animal lovers.
3. Immerse Yourself in Museum Arts
Picture from The 6 Museums of Ueno Park
Ueno is also known as a cultural district since there are many museums here.
The Tokyo National Museum exhibits many Japanese and Asian artworks. In addition, the National Museum of Western Arts exhibits impressionism works, and Ueno Mori Museum is known for its anime or comic arts. For Japanese art lovers, these are places that you shouldn't miss.
Immerse yourself in the beauty of arts here in Ueno.
4. Take a Stroll Down the Lively Shopping Street, Ameyoko
Eating while walking around shopping streets in Japan is one of the most fun experiences for visitors. The extremely lively Ameyoko in Ueno is popular for this particular experience.
There are seafood, fruits, bags and clothes sold on the street. Shop employee attract customers by waving their products, shouting in loud voices and trying to stop people. It can be a very interesting experience even if you don't plan to buy anything here.
There are also many affordable ramen and sushi restaurants, where you can rest up and revitalize yourself.
5. Get in Touch with Traditional Japanese Culture at Shrines and Temples
Shrines with more than 100 years of history such as Kan'ei-ji, Tosho-gu Shrine, Hanazono Inari Shrine, and Shinobazu Pond's Benten-do are all within walking distance in Ueno.
There are small shrines and Rakugo (Japanese traditional storyteller) theaters hidden within this modern business district. Ueno is the perfect place to get in touch with traditional Japanese culture.
6. From Luxury Brands and Electronics to Japanese Souvenirs. Things You Can Buy in Ueno
Picture from Takuya: Tokyo's Well Kept Shopping Secret
There are plenty of souvenir shops in Ueno as well.
Ueno is a historic district so traditional Japanese sweet shops can be found everywhere; giant electronics shops and department stores that offer luxury brands are also available.
The popular tourist spot, Takeya, offers a range of products that are cheap, with tax-free services available as well; truly a store catered to tourists. Yamashiroya stocks anime and manga character goods, and is another place that otaku culture lovers shouldn't miss.
7. A Hub for Your Tokyo trip
Picture Candeo Hotels Ueno Park: Ideal Lodging for Visiting Ueno, Akihabara, and Asakusa
Ueno is located right between Asakusa and Akihabara. If you intend to visit the both of them, setting your base in an Ueno hotel is a good idea.
Not only limited to Akihabara and Asakusa, Tokyo Station and Shibuya Station can be accessed with just a one-train ride from Ueno, making it a base for your Tokyo trip. There are plenty of accommodation options, and hotels outfitted with services catering to overseas visitors are ever-increasing.
Let's Have Fun in Ueno
Shopping malls, restaurants, parks, museums and also temples and shrines; you can find all these in Ueno!
Find More Ueno Activities
Taking part in a tour or doing a guided activity in the Ueno area will add to the fun of this downtown neighborhood. Consider reserving the activities below for a memorable time:
Classic Bento Lunch Cooking Class in Ueno
Asakusa and Ueno Walking Tour
Ueno, Sendagi, and Yanaka Downtown Walking Tour

The information presented in this article is based on the time it was written. Note that there may be changes in the merchandise, services, and prices that have occurred after this article was published. Please contact the facility or facilities in this article directly before visiting.