25 Things To Do In Tokyo For Free
Visiting Tokyo can be quite expensive, but the metropolis also offers many activities and places you can enjoy for free! This article introduces you to 25 things you can enjoy in Tokyo without spending any money.
Visiting Tokyo can be a very expensive experience, but you might be surprised to hear that the metropolis also offers a variety things you can enjoy for free. Let us introduce you to some of them here.
1. Hanabi - Japanese Fireworks
From: 1000 Fireworks In 5 Seconds! The Colorful Edogawa Fireworks Festival
You can watch fireworks all over the world but there is something special about the beauty of hanabi. July and August are known as hanabi season and offer the largest variety of fireworks.
However, you will be able to find off-season firework festivals as well. The Hanabiryujon in Chofu held in autumn is just one example.
Fireworks are very popular in Japan, and attract crowds of people, so make sure to come early in order to secure yourself a good spot.
2. Matsuri - Japanese Festivals
From Sanja Matsuri - Asakusa's Greatest Festival! 2017 Schedule And Highlights
Matsuri (festivals) have a long tradition in Japan. Most of them are held in the summer and autumn, but you will be see them at any time of the year. Nearly every shrine celebrates its own festival. They can range from very small to large scale celebrations.
Joining is free and, if you have a little bit of change, you can spend it on some delicious festival treats.
3. Watch a Sumo Practice
From: Watching A Sumo Practice Session At Musashigawa-Beya
Some of the sumo training facilities in Tokyo allow visitors to watch the sumo wrestlers during their practice sessions. The training takes place early in the morning. Because it can get very crowded, we recommend arriving as early as possible.
You'll be impressed to see these practice sessions which reveal a lot about the wrestlers' strength. It is an experience you can only enjoy in Japan.
4. Suntory Musashino Free Brewery Tour
From Tour Suntory's Musashino Brewery and Sample Beer For Free!
One of Japans most popular beer brands, Suntory is offering free brewery tours including beer tasting. Every tour is 70-minutes long. It consists of a 40-minute tour through the factory and 30 minutes of beer tasting.
Don't worry if you don't speak Japanese, the staff will provide you with English audio guides.
5. Toyosu Fish Market
From How to See the Tuna Auctions at Tokyo's Tsukiji Fish Market
Tsukiji Fish Market recently moved to its new location in Toyosu but it is still is the largest fish market in Japan. They also reopened the free tuna auction tour in January 2019. Here you can experience watching these large fish being auctioned off and then cut into pieces on the spot.
The tour is limited to 120 people each morning (2 tours with 60 people each). Once the limit is reached, the registration is closed. We recommend arriving as early as possible to avoid disappointment.
6. Visit Public Parks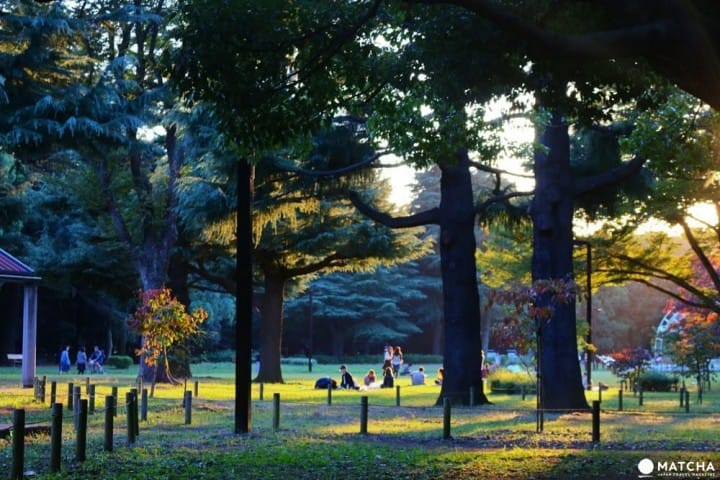 From: Yoyogi Park: Harajuku's Secret Sanctuary
Public parks have their own unique beauty. In spring, everything gets covered by a fluffy pink and white cherry blossom cloud. Autumn tints the parks in deep, rich reds, emeralds and golds. You will feel like you're walking into a painting!
On the weekends, public parks are always a place where people meet, drink, eat and play games. They are also great places to enjoy nature and meet new people.
We especially recommend Yoyogi Park, Ueno Park, Inokashira Park and the year-round blooming Showa Kinen Park.
7. The Imperial Palace East Garden
Most of the area within the Tokyo Imperial Palace is not available for public, you can visit the East Garden. It is open to the public year-round and the entrance is free.
This beautiful garden is full of historical artifacts and it will take you on a little time travel. Depending on the time of the year, the gates close at 4 PM or 5 PM.
It's recommended you arrive at the garden before noon, so that you have enough time to enjoy the whole area.
8. Meiji Shrine and Harajuku
From: Meiji Jingu: Harajuku's Stunning Shrine
Just a short walk away from Harajuku Station you can find the famous Meiji Shrine. Located inside Yoyogi Park, it is a place of tranquillity in the heart of the city.
On the other side of the station is the Harajuku shopping area - a haven for creative people and places and one of the most individual places in Tokyo. Strolling along the alleys with small shops and enjoying all the odd little bits and bobs you can only find in Harajuku will inspire and entertain. Window shopping is free and there is no better place to do it.
If you do want to spend a little money you will find many one-of-a-kind treats like Cotton Candy Icecream or the famous Japanese Crepes.
9. Sensoji Temple in Asakusa
From Asakusa Travel Guide: Savor The Past In The Historical Center Of Tokyo
Sensoji Temple is a Buddhist temple with a history spanning back over 1300 years. Japan's oldest shopping street, Nakamise-dori, will lead you up to the temple. Even if you don't buy anything, you can enjoy seeing lots of traditional snacks and gifts which you can hardly find anywhere else.
In Asakusa,you can provide yourself with a little history lesson at every corner, free of charge.
10. Take a Walk On The Rainbow Bridge in Odaiba
From: Walk Across Rainbow Bridge and Enjoy the View over Odaiba
Odaiba is a very popular amusement area. Its symbol, the Raibow Bridge, shines the brightest at night. It is covered in all kind of lights and you can watch the restaurant ships floating on the water lit up various colors as well.
In the dark, you can also see why the bridge is called "rainbow bridge". It glows brightly in all the colors of the rainbow after dark. Taking a walk along the rainbow bridge at night is a beautiful experience that won't cost you anything.
The information presented in this article is based on the time it was written. Note that there may be changes in the merchandise, services, and prices that have occurred after this article was published. Please contact the facility or facilities in this article directly before visiting.