Popular Places in Tokyo: Shibuya, Shinjuku, Asakusa, Ginza and More!
The cosmopolitan world city of Tokyo is a place where cultures intersect. For travellers wondering "What kind of place is Tokyo?" we introduce here the must-see areas of the city!
What Kind of Place is Tokyo?
The capital city of Japan, Tokyo. This city, known for being an intersection of cultures from around the world, boasts the youth-centric areas of Shibuya and Harajuku and the good old traditional streets of Asakusa and Ueno in its "Shitamachi" area, making this metropolis one that exhibits charms of all different stripes and drawing visitors from every corner of the globe year-round.
From Tokyo Disneyland, a popular destination for family vacations, to Tsukiji Market where one can find all the bounties of the sea, and even atop the 450 tall Skytree where visitors can get an amazing view of the enormous city, there are a nigh uncountable number of great sightseeing spots that this city has to offer.
In addition to shopping and sightseeing, the city is also home to world heritage sites such as the National Museum of Western Art, the home of animation studio Studio Ghibli, whose museum can be visited in the Mitaka area, and plenty more places brimming with culture.
Public Transportation in Tokyo
With a public transit system so vast that putting them all onto one map together would create an incomprehensible mess, newcomers to Tokyo may take a little time getting adjusted to the rhythms of getting around the city. That said, once you master the public transit system, then you'll be sightseeing like a pro in no time.
We suggest making use of multiple discount tickets. The Japan Rail Pass is indispensable when riding JR trains, but using the subway, metro in Tokyo are also necessary to get around smoothly. Due to this, the Tokyo Subway Ticket, available in 24-, 48-, and 72-hour lengths, is also recommended. prices for different trains and busses differ depending on the company and the distance traveled, it's best to come up with a plan for where you want to go, how much time you have to spare getting around, and how much your wallet is willing to support your train hopping in advance.
Details and Reservations: JR Pass, Tokyo Subway Ticket
Subways and Trains
If you are traveling the city by train, then you have the Tokyo Metro (subway) made up of 9 different train lines; the (standard above ground) trains that form the main transit infrastructure of the city, JR or Japan Railways, and the privately owned and operated Shitetsu (above-ground trains). These trains all run throughout the city and overlap with one another, which is one point you want to keep in mind when visiting Tokyo.
In order to help train riders, the train lines are color-coded, and each station for each line is listed with a distinct number to differentiate it from others. The Japanese pride themselves on keeping to a strict train schedule, so if you have an important appointment to keep, we recommend taking the train.
Buses and Taxis
On the other hand, if you're only traveling a short distance, you can take either a bus or a taxi. If you're in a rush, these can sometimes get you where you need to go a little faster than the trains can. However, depending on traffic, it can also sometimes take awhile to get where you want to go if you take to the streets, so be wary. It can also be expensive.
Shinkansen
If you're looking to travel outside of Tokyo and go to Osaka or Kyoto, we recommend taking a Shinkansen or bullet train.
As mentioned above, be sure to get the Japan Rail Pass, which are only available to those coming to Japan on a tourist visa.
As long as you have this pass on you (and it's valid of course), then you can ride the Shinkansen and any other JR trains wherever you please, as many times as you please, during a set period of time.
Recommended Areas in Tokyo
1. Shibuya
Shibuya, bursting with youngsters on every corner, is a bustling hub of the city day and night. In front of the train station you have the famous Scramble Crossing, surrounded by clothing stores targeted at youth and skyscrapers brimming with tons of different shops within. Shibuya, also known for its many stylish cafés, restaurants, and bars, provides a stimulating shopping experience you're not soon to forget.
2. Harajuku
Starting with Lolita fashion and the pop idol Kyary Pamyu Pamyu, Harajuku is an area in Tokyo that has birthed a number of different trends and subcultures. Taking that first step outside of the station, one is greeted with the wild colors of the latest Japanese fashion trends and stores selling richly unique garments. Harajuku manages to draw visitors who come to just people watch and window shop. Stroll through the shopping centers such as Takeshita-dori and Laforet Harajukuand don't miss all the crazy latest trends that Japan has to offer.
3. Shinjuku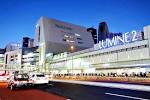 The true downtown of Tokyo, Shinjuku is full of people of every age, color, and background. Home to the narrow streets of Shinjuku Golden Gai, the former black market turned into a drinking quarter (though Shinjuku proper is certainly not at a loss for bars), one can see swarms of business people cutting loose and enjoying a round of drinks after work.
However, Shinjuku is also home to department stores that deal in sophisticated products for the more mature consumer as well as enormous fashion centers popular among younger shoppers, all connected directly to the station. With lodgings, restaurants, and movie theaters galore, Shinjuku is bursting at the seams with entertaining things to do and see, which is the reason why you can go there at any time of day and find people cutting loose and having a good time.
4. Asakusa
If you're looking for Japanese culture that practically seeps out of the streets, look no further than Asakusa. With its long history and plenty of traditional places to see and visit, Asakusa is also home to the city's oldest Buddhist temple, Sensoji, that might perhaps be even better known by its front gate: Kaminarimon (Thunder Gate). Right behind the giant red gate (and an sea of tourists, photographers, and rickshaw drivers), you'll find one of Japan's oldest shopping streets, Nakamise-dori.
Nakamise-dori, lined with lots of old stores and Japanese confectionery stalls, is a great place in Tokyo to look for a souvenir. Asakusa is not just home to Sensoji however; Asakusa Jinja (Shinto Shrine) and Asakusa Hanayashiki (an amusement park) are also located here, and with the Tokyo Skytree just a 15 minute walk away, for tourists looking to experience traditional Japanese culture and Buddhism, accept no substitutes.
5. Ginza
Home to department stores providing the utmost in service and home to many high class brand name stores, Ginza is the most sophisticated area in Tokyo. Ginza, with its long history, is home not just to boutiques and clothing stores, but also famous Japanese confectionary shops as well as galleries specializing in Japanese woodblock prints among plenty of other hidden charms. Once the sun sets on the Ginza, neon signs illuminate the dark streets from every angle, and adults share toasts in a part of town that transforms at dusk.
6. Akihabara
Akihabara is home to not only electronic emporiums, idol group concert venues, and maid cafés, but also serves as the holy land of "otaku culture," often being touted as such by foreign media outlets. For visitors looking to get quality electronic goods at cheap prices, or those interested in anime and manga or idol singers, then this is the place for you.
7. Disneyland
The American theme park does the Far East. Tokyo Disneyland is located 17 minutes away from Tokyo Station by train near Maihama Station. Day after day, families and young couples come here and keep the place busy all year round. Next to Disneyland is the Japan-only theme park DisneySea where you can catch a glimpse of people riding gondolas that float through rivers cutting across its many walkways, affording visitors a mysterious sensation of having stepped into a whole different country.
Both Disneyland and DisneySea offer shows, attractions, and souvenirs limited to Japan only, so come and let your dreams come true at the most wonderful place on earth this side of the Pacific.
You can purchase tickets online to Tokyo Disneyland and Tokyo DisneySea via Voyagin, the online travel reservation website.
Read also:
8. Odaiba
Home to huge shopping malls, amusement parks, movie theaters, and all sorts of other entertainment-oriented facilities, Odaiba is a popular hangout for families, friends, and makes a great date spot. Also home to Fuji Television's main headquarters (though the architecture sure doesn't look like an office), Odaiba is a great place to visit any day of the week with attractions and live performances galore. One final note to close out a day at Odaiba is the beautiful Rainbow Bridge, lit up gorgeously after the sun goes down.
9. Tokyo Skytree
Tokyo Skytree is a radio tower but also doubles as a tourist attraction as well. Complete with a viewing deck 450 m above the ground, after looking down on the vast expanse of Tokyo, you can get your fill of shopping in Solamachi, enjoy some time at the planetarium and the aquarium, all without leaving the area around the giant tower. You're sure to leave with fond memories that you'll never forget.
10. Tokyo Souvenirs: Where's the Best Place to Go?
Nobody can say that Tokyo is lacking when it comes to places to shop, but for those of you daunted by the prospect of "too much to choose from," you're not alone.
When it comes down to it, each area of Tokyo has its own special flavor and characteristics that are reflected in the souvenirs it sells, so if you're looking for something smaller and more traditional, try Nakamise-dori in Asakusa; if you want something a little more modern and convenient, try the Loft or Tokyu Hands stores located in both Shinjuku and Shibuya for everyday bits and bobs; if you're looking for the highest quality Japanese goods and foodstuffs, try the department stores of Ginza; and finally Akihabara for all of your electronic needs.
Also, you can always check out the world-famous discount shop Don Quijote for clothing, cosmetics, everyday necessities, and even electrical appliances, all made available at fair prices at the chain's convenient locations around the city.
Tokyo is positively overflowing with things to see and do, so make sure you keep this article handy when planning your next trip to the capital of Japan.

The information presented in this article is based on the time it was written. Note that there may be changes in the merchandise, services, and prices that have occurred after this article was published. Please contact the facility or facilities in this article directly before visiting.