15 Unusual Things To Do In Ginza
While most people will immediately equate Ginza with luxury shopping, there is so much more to see and do here than you may initially think! Here are 15 of the best, and some little known, things to do in Ginza.
Built upon a former swampland, Ginza was named for the old Japanese silver mint that stood in this area in the 1600s. Now Ginza is known round the world as a luxury brand shopping haven, and throngs of visitors come here every day looking for the very best in both Western and Japanese fashions, home goods, and beauty items.
From: How To Watch A Kabuki Play At Kabukiza Theater
It's also where you will find Kabukiza, the famous Kabuki theater that was rebuilt in 2013, and which has existed on this site for over 120 years, and is within walking distance from Tsukiji Fish Market, the largest fish market of its kind. While there are plenty of famous spots to see and shop at in Ginza, there are also some lesser known things to do that you shouldn't miss out on here either.
1. Ginza Yonchome - Appreciate the Architecture
Ginza Yonchome is essentially the fourth block of the overall Ginza area, and is one where you will find some of Japan's oldest and most loved department stores. This building, in particular, is interesting for architecture fans - Ginza Wako and its clock tower, have been standing guard over the Ginza Station area since 1932. This was originally a watch store, but grew into a department store in 1947 after taking over an earlier store that had been in business since the late 1800s.
Across the street from here, you will also find Mitsukoshi, another historical department store, and one that has secrets of its own to discover.
2. Ginza Mitsukoshi - See a Mysterious Jizo Statue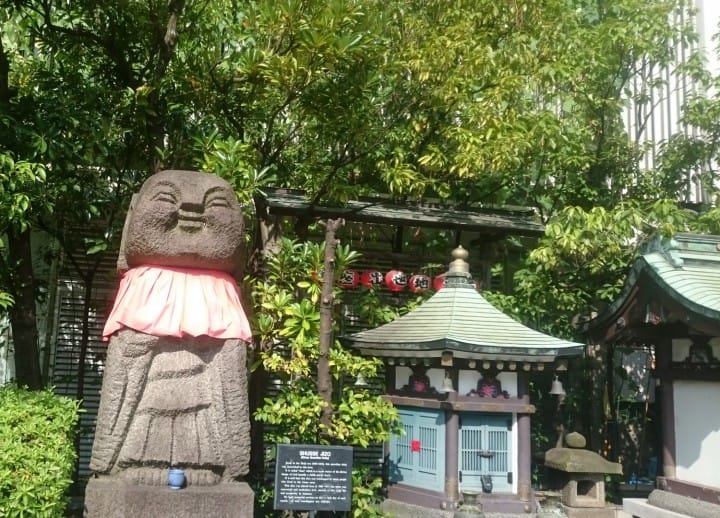 At Ginza Mitsukoshi you can shop for practically anything, but something that not many people know about this department store is that on its ninth floor, out on the Ginza Terrace, you will find the Ginza Shusse Jizoson, a statue of Jizo, that is said to grant luck in getting ahead in life. This statue is also a registered Tangible Cultural Property of Chuo ward, where Ginza is situated.
This statue was first excavated in what is now Ginza Yonchome just after the start of the Meiji Period, and stood on the roadside here until 1968, when it was moved to Ginza Mitsukoshi. The name, Shusse Jizo, refers to its "moving up" from being a roadside statue to one on a rooftop, and because of this, it is said to help those who are looking to advance their careers or move ahead with their life goals.
3. National Film Center - Learn About Japanese Cinema
From: The National Film Center - A Gate To The World Of Japanese Cinema
The National Film Center is part of The National Museum of Modern Art, Tokyo, which also includes the art museum, the film center, and a craft gallery.
The National Film Center has both special exhibitions and a permanent collection, which displays the history and flow of Japanese film from the 1910s until about the 1960s, and features items such as vintage posters, movie pamphlets, film props, and even classic cameras too. What makes this museum so worthwhile is that all of their displays are written in both Japanese and English, so that even those who can't speak a word of Japanese can appreciate the history of film too.
This center is also part of the International Federation of Film Archives (FIAF), and has taken on the task of acquiring missing films of historical value from around the world and restoring and preserving these cultural artifacts.
4. Free Galleries in Ginza - Learn About Traditional and Contemporary Japanese Art
From: A Gallery Tour In Ginza - See Contemporary Art And Ukiyo-e For Free!
There are many small, hidden art galleries to discover in Ginza, and many of them have free (or very reasonably priced) exhibitions. There is Gallery Shukado, which exhibits traditional Japanese art work, and has a catalogue available in English, and in the photo, you can see the Okuno Building, an entire building built in the 1930s that was one of Japan's first singles apartments, and is now home to 20 different small galleries. This photo is of Room 306, one gallery that those interested in Japanese contemporary art and history definitely should not miss out on.
5. Tour the Ginza Hatcho Shrines
While undertaking a shrine pilgrimage might not sound like something you can do in the city, there is one such challenge available in Ginza - and it takes a lot of careful searching to reach all of the targets. The Ginza Hatcho Shrines are a group of about ten small Inari shrines scattered throughout the greater Ginza area.
What makes this such a challenge is that these Inari shrines are not large buildings, but rather small shrines tucked away in alleys, inside other buildings, on rooftops, or even in areas that seem impossible to enter. The Ginza Shusse Jizo mentioned earlier is a part of the extended version of this pilgrimage, and is probably one of the easiest of the sites to find. If you'd like to learn more about this tour, take a look at the official homepage of the Ginza area; in autumn 2016 they had a special stamp rally, where those who collected stamps from each shrine in a special booklet could receive a free gift.
6. Toyoiwa Inari Shrine - Test Your Luck
From: Toyoiwa Inari Shrine - A Hidden Shrine in Ginza
If you don't have the time to check out all ten of the Ginza Hatcho shrines, then just visiting Toyoiwa Inari Shrine is enough. This is perhaps one of the easiest and yet hardest of the shrines to find, but when you do, you will be surprised by how otherworldly it feels. Hidden away between two buildings, the very air around Toyoiwa Inari Shrine feels both mystical and ancient.
7. Hakuhinkan Toy Park - Unleash Your Inner Child
From: Visit Hakuhinkan Toy Park - Ginza's Incredible Toy Shop
Ginza is well known for its numerous brand name and luxury brand stores, but there is one place that will surely appeal to kids of all ages. Hakuhinkan Toy Park is Ginza's answer to New York's old FAO Schwarz, a toy store that carries everything from traditional games and toys, to the latest items for international film and TV series, and of course, Japan-limited exclusive items too. At any given time, there are about 200,000 kinds of toys available here.
While there are branch stores of this chain in most of Japan's major airports, you have to visit their main store in Ginza to truly appreciate just how incredible this toy store can be. Taking up its own building, within the walls of Hakuhikan, you will not only find wall to wall toys, but also a toy car race track, a theater, and even restaurants too. If you want to indulge your inner child or find souvenirs for a youngster, then this is the place to check out.
8. Hibiya Park - Enjoy a Concert or Just the Natural Setting
Although not technically located in the immediate Ginza area, Hibiya Koen or Hibiya Park, is one spot that you won't want to miss out on in the area. A famous concert and event venue, Hibiya Park is also home to tennis courts, fountains, and even a Japanese style garden that is sure to please anyone looking for nature in the city.
If you feel like taking a break from sightseeing or shopping, why not pick up some lunch or a snack, and find yourself a nice sunny bench in the park?
9. Edo Kiriko Glassware from Kagami Crystal - See Japanese Elegance Up Close
From: Edo Kiriko Glassware - An Exquisite Japanese Souvenir From Ginza
Edo Kiriko is a type of colorful, carved or etched crystal glass said to have been first produced in the Nihonbashi area of Edo (old Tokyo) during the late Edo Period. Thanks to the delicate beauty and exceptional craftsmanship that Edo Kiriko glass works demand, they were recognized as one of Tokyo's traditional handicrafts in 1985, and have been a popular gift given to world leaders and special someones ever since.
Kagami Crystal Ginza Shop is the flagship store for Kagami Crystal, a brand that was the first to produce these crystal glasses commercially, established in 1934. Not only do they sell original Edo Kiriko items, but also those created by certified traditional artisans too. This shop is a must for those who are interested in Japanese handicrafts, or for those wanting to see a part of Tokyo's history.