Edo Kiriko Glassware - An Exquisite Japanese Souvenir From Ginza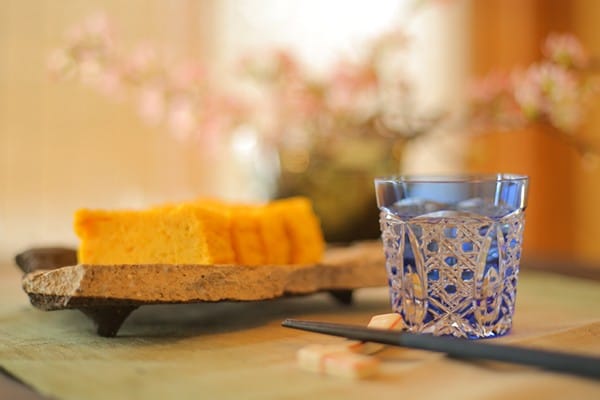 Edo Kiriko glassware is a traditional Japanese craft consisting of beautifully designed glass art. This perfect souvenir from your trip to Tokyo can be found in Ginza at Kagami Crystal, a shop specialized in exquisite Japanese crystal glassware.
What Is Edo Kiriko Glassware?
Edo Kiriko is a type of glasswork which is said to have been established in the Nihonbashi area of Edo (the old name for Tokyo), in the late Edo Period, boasting over 180 years of history. The patterns are carved on the surface of a multi-layered glass, so the users can enjoy both the transparency and the beautiful design.
Because of its delicate beauty and high craftsmanship, Edo Kiriko glasswork has been recognized as one of Tokyo's traditional craftworks in 1985, and also as one of Japan's traditional crafts in 2002. At the Japan-US summit in April 2014, the former president of the USA, Barack Obama, was presented with a set of Edo Kiriko glassware. This shows that the Tokyo-local Edo Kiriko is regarded as a national craft of top quality.
If you wish to learn more about Edo Kiriko, please take a look at our article: Get to Know the Beautiful World of Edo Kiriko, a Symbol of the Japanese Mind.
Edo Kiriko Sake Vessels - The Perfect Glassware for Your Party Guests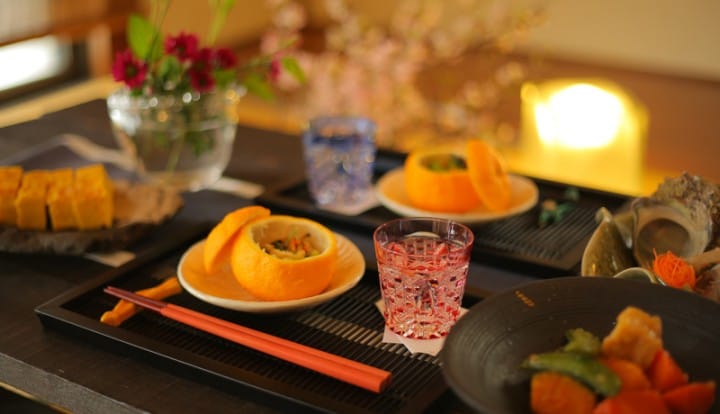 A Red Cold Sake Glass (Designed by Kimura Akio): 12,000 yen (without tax)
There are various types of Edo Kiriko glassware, but sake vessels, such as sake glass cups and tokkuri (sake bottle), are the most popular. Their clear beauty goes well with sake and brightens the tabletop. A set of Edo Kiriko glasses will surely be convenient at party occasions.
If you take some Japanese food and sake back home, you can invite your friends to a wonderful party where you'd be able to use the Edo Kiriko glasses.
Glasses with a Beautiful Design
Edo Kiriko glasses are also fit for daily use. It will turn an ordinary drink into something special.
They look beautiful when viewed from a distance, but after a drink, the inside of the glass shows another kind of beauty.
You can appreciate the beauty of an Edo Kiriko glass while enjoying your favorite drink. Give it to someone special, and they can also enjoy this feeling.
Buy the Edo Kiriko in Different Colors
Front Row: A Cold Sake Glass Set (Hexagonal Basket-Weave Pattern) 10,000 yen (without tax)/Back Row: Tumbler Set (Square Basket-Weave and Pleats Pattern) 20,000 yen (without tax)
Edo Kiriko glassware includes a wide variety of items such as saucers, vessels, vases and accessories.
In addition to red and blue, this elegant type of glassware comes in various other colors such as yellow, green and purple. If you are buying more than one piece, it would be better to buy them in different colors. The colorful pieces would be more fun to use, and they will look better even when they are on the shelf.
Kagami Crystal Ginza Shop: The Place to Look for Authentic Edo Kiriko
Kagami Crystal Ginza Shop is the flagship store for Kagami Crystal, established in 1934 as the first Japanese company to manufacture crystal glasses. The shop handles a wide variety of items, from originally designed Edo Kiriko to items created by certified traditional artisans.
A cold sake glass set costs 10,000 yen and up (without tax). If you're looking for an Edo Kiriko souvenir, This is the place to go.
Kagami Crystal's Strong Point 1: Edo Kiriko made with Crystal Glass
Tumbler (Designed by Kimura Akio): Red 20,000 yen (without tax)/Black 18,000 yen (without tax)
Unlike other manufacturers, Kagami Crystal's Edo Kiriko is made with crystal glass.
By using a highly transparent, high-quality crystal glass, the refractive index of the light increases, and the Edo Kiriko pieces shine more brightly.
Tumbler Set (Square Basket-Weave and Pleats Pattern) 50,000 yen (without tax)/The price for a single red tumbler is 12,000 yen (without tax), and the other colors are priced at 10,000 yen (without tax).
The Kagami Crystal Edo Kiriko not only has a wide variety of colors, but the colors are clear and beautiful, as well. These colors are created not by painting, but by adding colored glass on top of a transparent glass. The patterns are carved into this multi-layered glass, so the contrast between the two stands out.
While all the colors are attractive, the red color is something special. This color with a pink hue is created by adding pure gold. This particular way of creating the colors exemplifies the high craftsmanship of Kagami Crystal.
Kagami Crystal's Strong Point 2: Exquisite Wrapping
If you're going to give someone a set of Edo Kiriko glass, the gift should be presented in a special package. The wrapping service at Kagami Crystal can be used free of charge.
The lustrous bag, designed in the image of light reflecting on glass, stands out among the other shoppers in Ginza.
Kagami Crystal's Strong Point 3: Duty-Free Shopping
Kagami Crystal Ginza Shop is located at a five minute walking distance from the Tokyo Metro Ginza Station. There are department stores and famous brand shops nearby, so the visitors can browse through them as well.
The shop offers duty-free shopping and closes at 7:30 PM on weekdays. In other words, you can visit them after a day of sightseeing.
For access, location and business hours, please click the information tab below.
To appreciate the delicate beauty of the crystal glass Edo Kiriko, you must actually see the items at the shop. If you have the chance to visit Tokyo, be sure to list the shop on your itinerary.
Official Site: Kagami Crystal
Product photos by Jun'ichi Higashiyama/Sponsored by Kagami Crystal
*Please note that the information in the article, including the prices, is actual as of July 2017.

The information presented in this article is based on the time it was written. Note that there may be changes in the merchandise, services, and prices that have occurred after this article was published. Please contact the facility or facilities in this article directly before visiting.