Onitsuka Tiger GINZA Store - Newly Open! Exclusive Shoes And Discounts
This service includes sponsored advertisements.
A new Onitsuka Tiger store will open in the Ginza district of Tokyo on February 10th, 2018. Read on to learn about the exclusive items on sale only at this store, about the discounts available, as well as information on how to access the store.
From: Ginza - Let's Head Over To Tokyo's High Class Shopping District!
Many people consider Ginza to be Tokyo's iconic, high class shopping area.
Famous brand shops line up along the streets, with the Ginza Mitsukoshi and Matsuya Ginza department stores handling high-quality items.
GINZA SIX and Tokyu Plaza Ginza, where visitors can enjoy both shopping and dining, are also located in this area, so Ginza is a popular spot, always full of visitors.
On February 10th, 2018, Onitsuka Tiger, a world-renowned Japanese sports fashion brand, will open a street level store in Ginza.
This article introduces information on how to access to the Onitsuka Tiger GINZA Store, as well as on exclusive items sold at this store and a special discount available only in Japan.
If you plan to go shopping in Ginza, don't miss the Onitsuka Tiger GINZA Store.
Onitsuka Tiger GINZA Store - Access Information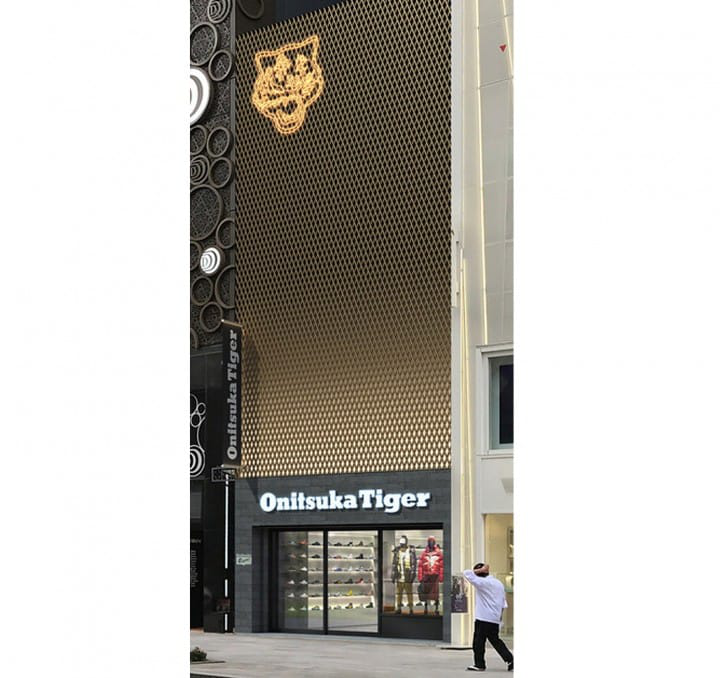 The Ginza Store is located diagonally across the street from GINZA SIX, a shopping complex which opened in April 2017. It is also a two minute walk from the intersection where Ginza Wako, famous for its clock tower, and Ginza Mitsukoshi are located.
As the store faces Ginza Chuo Dori, access is quite easy.
The Ginza Store consists of three floors: a basement floor and two floors above ground. Just like the Omotesando Flagship Store and the large-scale Shibuya Store, the interior is a fusion of traditional elements and futuristic atmosphere, as well as of Eastern and Western styles, creating a space where the visitors can experience the Onitsuka Tiger world.
Onitsuka Tiger brand shoes are on the first floor, with clothing and accessories on the second floor. The complete lineup of NIPPON MADE, a high-end line of shoes, is displayed on the basement floor.
This store offers items that may not be available in the stores overseas, at a special discount price! So if you're interested, make a visit.
Business hours are from 11:00 to 21:00, so it might be fun to enjoy an early dinner in Ginza, which is famous for the wide variety of restaurants to choose from, and go shopping afterwards.
Exclusive Items Available at the Onitsuka Tiger GINZA Store
The picture above shows the Coleson Lo, priced at 24,000 yen (excluding tax). Only 300 pairs will be on sale at the Ginza Store, and visitors from abroad will be able to purchase these pairs of shes at a discount price.
This is a limited color version of Coleson Lo. To celebrate the opening of the Ginza Store on February 10th, 300 pairs of these limited edition shoes will be on sale.
Coleson Lo are low-cut shoes, inspired by a classic basketball shoe line made by Onitsuka Tiger.

Onitsuka Tiger Stripe, a symbol of the brand, can be recognized by their stylish design that makes use of pierce punching.
Coleson Lo is designed simply, so it should fit all types of clothing, adding another dimension to your fashion.
This is a comfortable shoe with an elegant design, and also easy to walk in. If you purchase these shoes in Japan, you will most surely want to wear them during your trip.
Only 300 pairs will be available, so don't miss them out!
A Special Discount on Onitsuka Tiger Shoes in Japan
The Onitsuka Tiger Stores in Japan offer a tax exemption service for purchases over 5000 yen. If you present your passport, an additional five percent will also be deducted from the duty-free price.
This discount applies to all the Onitsuka Tiger items and is available only in Japan.
So how about visiting the new Onitsuka Tiger GINZA Store, purchase a pair of Onitsuka Tiger shoes, and show off to your friends?

In March, the second Onitsuka Tiger store in western Japan, following the Shinsaibashi Store, opens in Osaka's Namba area. The opening will be announced on their official site, so stay tuned!
** For other MATCHA articles about Onitsuka Tiger, take a look at this page.
Onitsuka Tiger Official Site: OT Magazine
** Please note that the duty-free price and the additional discount service are only available for tourists from abroad. Japanese and foreign residents cannot use these services.
Photos courtesy of ASICS Corporation.
Sponsored by ASICS corporation.
Written by

MATCHA's promotional account for corporate and local government advertising. We aim to provide useful information to our readers in an enjoyable manner.

The information presented in this article is based on the time it was written. Note that there may be changes in the merchandise, services, and prices that have occurred after this article was published. Please contact the facility or facilities in this article directly before visiting. Some of our articles contain affiliate links. We kindly ask our readers to exercise careful judgement when making a purchase or booking a service online.