Get ASICS Shoes In Japan! Great Services At The Tokyo And Osaka Stores
This service includes sponsored advertisements.
ASICS is a Japanese sportswear brand famous worldwide, renowned for high-quality shoes worn regularly by athletes.
ASICS - A Shoe Brand Loved by World Class Athletes
Isn't running one of the simplest sports to start?
However, finding shoes that fit your feet isn't easy. Those who are not accustomed to running may fear that they will injure themselves with ill-fitting shoes or by running unproperly.
ASICS shoes are what we want to recommend to those worried about which shoe brand to choose.
ASICS is a Japanese sports shoe brand that strives for comfort as well as performance for various competitions. The company has continually researched and developed their products for years and are now a brand recognized by athletes across the world.
A feature of this brand is their wide assortment of shoe models, ranging from shoes for beginners to shoes for professional athletes. You may be able to expand your potential and run at a more professional level by wearing ASICS shoes!
The Start of a Legend
Kihachiro Onitsuka launched his sports shoes company in 1949 based on his desire to contribute to the reconstruction of Japan after World War II and to nurture the youth through sports.
The company then merged with two additional companies in 1977, leading up to its current state as the general sporting goods manufacturer ASICS Corporation.
The first marathon and basketball shoes
The brand continues to be rated highly by athletes and sports enthusiasts internationally while making cutting-edge products, which continues to remain a priority since the company's establishment. ASICS' renowned athletic goods, including running shoes that emphasize functionality, are created based on a vision of "creating a high-quality lifestyle through intelligent design fostered by sports."
Products are also made for the sports fashion market with ASICS brands like Onitsuka Tiger and ASICSTIGER. The company also offers numerous services including running and fitness tools that analyze your running with advanced technology.
Shoes with an Edge in International Competition
The shoes created by ASICS' development technology are made not only for functionality but also prioritize the safety and comfort of the wearer.
For example, the GEL™ Technology, a symbol of ASICS shoes, reduces impact from landing on your feet. FLYTEFOAM™ Technology has a lightweight midsole with generous cushioning, lessening the burden on your feet even during long distances and improving performance when kicking off the ground.
The fact that famous athletes from around the world also wear ASICS shoes for important matches further demonstrates the high performance of this footwear. Many athletes choose ASICS shoes for events such as the Tokyo Marathon and the Olympic Games.
Like pictured above, Novak Djokovic, a professional tennis player, competes in top world tournaments in ASICS shoes. We're sure that ASICS will make their appearance at the Tokyo 2020 Olympics and Paralympics held soon.
Tokyo and Osaka ASICS Stores
ASICS stores are located throughout Japan, but the ASICS Harajuku Flagship and ASICS Osaka Shinsaibashi are two stores with great access for travelers and are equipped with an assortment of services.
Tokyo: ASICS Harajuku Flagship
The ASICS Harajuku Flagship is located on Harajuku's Takeshita Street, the center of youth culture in Tokyo. Here, you'll find one of three of the only ASICS flagships in the world and the brand's largest store in Japan carrying ASICS and ASICSTIGER products.
When you visit you'll be able to try on and purchase a wide variety of products from the latest ASICS releases to basic, standard shoes.
The store offers special services, like the ASICS RUNNING LAB, which analyzes your running efficiency through a specialized measuring device. You will also receive a training course and running plan fit for you.
Another service is the ASICS FITNESS LAB, a program designed specifically for female customers. (Advanced reservations must be made through the official website. The website is scheduled to add English support within a few days).
■ ASICS Harajuku Flagship
Address: Tokyo, Shibuya, Jingumae 1-5-8 1F Jingumae Tower Building Google Map
Business Hours: Monday – Friday 11:00 – 21:00 / Weekends and holidays 10:00 – 20:00
Access:
- 3-minute walk from Exit 5 at Meiji-Jingumae Station
- 6-minute walk from the Omotesando Exit at Harajuku Station
Osaka: ASICS Osaka Shinsaibashi
ASICS Osaka Shinsaibashi is situated in the heart of Osaka in the energetic shopping district of Shinsaibashi. Specializing in running and training shoes, this store also handles ASICSTIGER shoes.
At the Shinsaibashi location, you can try services such as the ASICS FOOT ID, a system that measures your foot movement while running to help you choose the perfect pair of shoes.
■ ASICS Osaka Shinsaibashi
Address: Osaka, Osaka, Chuo, Shinsaibashisuji 1-8-1 Shinsaibashi Kawachi Building 1F Google Map
Business Hours: 11:00 – 21:00
Access:
- 1-minute walk from Shinsaibashi Station
- 9-minute walk from Namba Station
Get ASICS at a Discount
Japan-Only Coupon and Tax-Free Service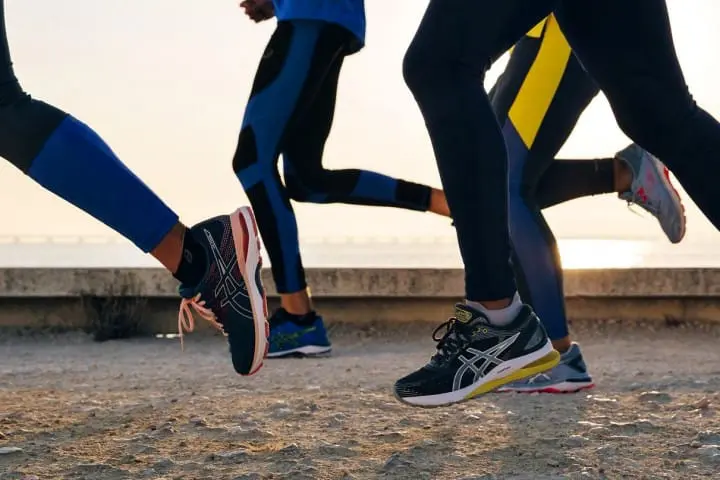 By visiting ASICS stores in Japan, you can select a pair of shoes from an abundant lineup that includes popular models such as the GEL-KAYANO 25 and GEL-NIMBUS 21 and other in-store only models. You can also be able to find the ideal pair of shoes that will make you enjoy running even more with services such as the ASICS RUNNING LAB and ASICS FOOT ID.
However, that's not all! Visitors can receive a discount when they make a purchase over 5,000 yen (before tax) to receive an 8% tax exemption service instore. You'll need your passport to receive these tax-free services, so remember to bring it with you.
Pictures courtesy of ASICS Corporation
Sponsored by ASICS Corporation
Written by