11 Recommended Shopping Spots To Visit When You're In Osaka
Osaka is the perfect place to taste delicious foods and purchase Japanese souvenirs unique to western Japan. This article introduces the main shopping areas in Osaka - from traditional shopping streets to the latest contemporary facilities.
Osaka: Where the Shopping is Cheap and Great!
Osaka is the largest city in the Kansai region, and boasts the second highest population in the country, second only to Tokyo. A vital transportation hub, Osaka is also a convenient home base when you're traveling to other Kansai cities like Kobe and Kyoto. In addition, as the site of the Kansai International Airport (KIX), travelers from overseas can fly directly into Osaka.
Osaka has a reputation as a city with inexpensive yet excellent shopping, so it's the perfect destination for overseas shoppers. This article will introduce the main areas in Osaka City, and recommend 11 places where you can pick up the best souvenirs for your friends and family back home.
Also read:
The Differences Between Osaka's Major North and South Areas
Osaka has two major areas: the north (Kita) and the south (Minami). We'll discuss them both here.
Kita, Centered Around Umeda: Enjoy the Latest Trends
The Kita region centers on the bustling Umeda area, located around Osaka Station. This neighborhood is known for creating the latest art and fashion trends. With the developing traffic network, it can be accessed from anywhere in the city.
If you want the latest trendy items, head to Kita!
Minami, Home to Shinsaibashi and Dotonbori: Authentic Osaka Atmosphere
Namba is at the heart of the Minami area, which is filled with bustling shopping districts. In Minami, you can find Dotonbori, which has plenty of restaurants and leisure spots, as well as Shinsaibashi, a hotbed for youth culture, among other fascinating spots to visit.
If you want to experience the true Osaka vibe, you have to visit Minami.
Osaka also has plenty of places to shop in the areas outside Kita and Minami, with many shopping centers and shopping districts. Here we'll introduce you to 11 shopping spots located all over Osaka (including Kita and Minami) which we particularly recommend.
1. Herbis Plaza ENT: an Array of Famous Brand Items
Herbis Plaza ENT is close to Umeda Station, and contains rows of famous fashion outlets, including domestic brands.
The B2 F floor has Japanese and Italian restaurants, too. You can relax even if you're staying for a long period of time.
2. Grand Front Osaka: a Shopping Facility Right by Osaka Station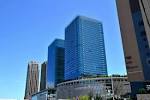 Grand Front Osaka is a shopping facility located right by Osaka Station's north exit. The north and south buildings, separated by Umeki Plaza, contain 266 stores.

With a rooftop garden, Grand Front Osaka has a splendid atmosphere where you can feel in touch with nature. If you're tired from shopping, take a break and enjoy the greenery and water.
3. Hep Five: You've Got to Check Out the Rooftop Ferris Wheel
Hep Five is a multipurpose complex by Umeda Station. There are youth-oriented fashion outlets and accessory shops among its many stores.
The red Ferris Wheel, located on the 7th floor, is an Umeda area landmark. You can get an excellent sweeping view of the Osaka cityscape from inside the Ferris Wheel.
4. Namba Marui: Get Your Hands on the Latest Fashion Crazes
The Namba Marui building is a short walk away from Namba Station. The multipurpose complex is replete with fashion floors for men and women, movie theaters, and more.
Many of the shops at Namba Marui handle the latest fashions. You'll want to visit here to pick up trendy Osaka items.
5. Hoop: a Shopping Center with a Beautiful Light Display at Night
Hoop is a fashion outlet located in the Tennoji area. A "hoop" can also refer to "a barrel," which is the shape of the building. Hoop contains a lineup of up to 60 stores.
When night falls, the building illumination lights up, adding more color to Osaka at night. Stop by Hoop when you visit the Tennoji area.
6. Shinsaibashi OPA: a Minami Landmark
Shinsaibashi OPA is a shopping facility in Shinsaibashi. The shops at OPA handle a wide variety of fashion items, from casual wear to high-class boutique items to secondhand clothes.
The front of the building, where the OPA logo is displayed, is often used as a meet up spot by young people. When you visit Shinsaibashi, by all means, drop by.
7. Tennoji Mio: the Modern Building Above Tennoji Station
Tennoji Mio is a shopping facility which was built atop Tennoji Station. Boasting 251 stores, which are primarily focused on fashion, Tennoji Mio deals in items that suit the needs of a wide variety of customers.
The building underwent renovations in 2013, and got a new lease on life with an updated modern look. It's gotten a lot of attention as a new shopping spot in the Tennoji area.
8. America Mura: Procure Uniquely Individual Fashion Items
America Mura, or the American Village, is located in the western part of Shinsaibashi. Typically called "Amemura," this area has shops which deal in unique fashion items and restaurants which specialize in quick bites for you to eat while strolling around.
With many secondhand and import shops, Amemura is also known as the Harajuku of Osaka. Definitely stop by here when you're in Shinsaibashi.
9. Namba Parks: Go Here if You're Shopping in Namba
Namba Parks is a shopping center close to Namba Station. The lineup of more than 240 stores doesn't just have trendy fashion boutiques; there are also home interior decoration shops and variety stores.
There is a large park set up on the roof, which is an oasis in the heart of the city. You should definitely visit when you go shopping in Namba.
10. Shinsaibashi-Suji Shopping Street: a Shopping Street with a Long History
The Shinsaibashi-Suji Shopping Street, which stretches from Shinsaibashi to Namba, is a 600-meter-long shopping arcade with about 180 stores.
Replete with services for overseas visitors, the street has pamphlets in English, Korean, and Simplified and Traditional Chinese, along with shops with free Wi-Fi and tax-free goods. The street is both historic and a comfortable spot to enjoy some shopping time.
11. Abeno Harukasu: See Out Over all of Osaka from the Tallest Building in Japan
Abeno Harukasu, completed in March 2014, is a still-new multipurpose business facility. It was built in the Abeno ward of Osaka. As the tallest building in Japan, with a height of 300 meters, you can see not just Osaka but Kyoto and Nara from the glass-sided 360-degree viewing platform.
Abeno Harukasu contains famous brand shops, and you can pick up all sorts of cosmetics and clothes here. There are also salons set up specifically for international visitors, as well as tax-exemption procedures, foreign currency exchanges, and other services on offer.
Osaka is a popular tourist destination, with its own unique deep-rooted culture, so enjoy all the shopping you can do in Osaka, from the major outlets down to the local stores.