Explore Osaka's Lively Downtown! Top 10 Spots To Visit In Namba
Namba, located in Osaka's lively downtown area of Minami, is full of shopping, local food, and sightseeing, offering visitors the best of Osaka. Check out these 10 recommended locations in this easy-to-understand guide.
About Namba, Osaka's Popular Sightseeing Area
Namba, a major entertainment district in Osaka, is full of charm, brimming with shopping, entertaining sights, and tasty food. Namba is situated in the Minami part of Osaka. Minami ("south" in Japanese) received its name from its location at the southern end of Midosuji, the main street, down from the Umeda area in Kita (north).
Namba is in central Minami, where stations for JR trains, private railways, and subways all converge. The limited express trains from Kansai International Airport (KIX) stop in Namba also, providing visitors with excellent access to public transportation. Popular sightseeing spots like Dotonbori and Shinsaibashi, as well as Shinsekai, are concentrated in Minami. As you walk around you will be amazed by how many restaurants are here, all competing with each other on price and flavor.
We've compiled an easy-to-understand list of 10 spots you should check out when you visit Namba. We hope that the information presented here will be useful for you!
1. Dotonbori and Shinsaibashi for Popular Sightseeing in Osaka
Picture from 10 Things To Do In Shinsaibashi And Dotonbori To Have Fun In Osaka!
Recently the areas of Dotonbori and Shinsaibashi have become especially popular areas for travelers.
Dotonbori is to the downtown area that runs along the Dotonbori river. The south of the river in particularly is lined with rows of garish, giant restaurant signs advertising takoyaki, ramen, crab and more, showing off a sweeping view of Osaka-esque scenery. There are always crowds of people on the Ebisubashi bridge taking photos in front of the neon Glico (a confectionery manufacturer) sign.
Shinsaibashi is a shopping area with rows of established department stores and high-end brand name boutiques. As the Shinsaibashisuji Shotengai shopping street connects to Dotonbori, there are many tourists going back and forth.
2. Tsutenkaku and Shinsekai - Experience Local Culture
Picture from 15 Must See Sightseeing Spots In Osaka - Both Famous And Little Known
There is a tower in Minami many people consider symbolic of Osaka, known as Tsutenkaku. Tsutenkaku is also referred to as Osaka's Eiffel Tower. Shinsekai, the downtown area around the foot of the tower, has plenty of budget-friendly restaurants that you can casually drop into. There is a notable concentration of restaurants specializing in kushikatsu (deep-fried skewered meat and vegetables), an Osaka specialty.
In addition, Janjan Yokocho, a street with a traditional Osaka townscape, as well as the popular Spa World, which has public baths and pools that recreate popular hot springs around the world, are famous in Shinsekai.
3. Hozenji Yokocho - Take a Trip Back in Time
Picture from Namba's Hozenji - A Temple WIth A Dreamy Atmosphere And Lively Alleys
Distance yourself from Dotonbori dining establishments and head through the secluded back alleys to find Hozenji Yokocho, a restaurant quarter with rows of kappo restaurants and bars frequented by locals. It is particularly atmospheric at night when the lamps become illuminated.
This area is also home to Hozenji Temple, where a moss-covered jizo statue is venerated. Visit here and pray for good fortune in business and relationships. You will find meoto zenzai, a local zenzai specialty, sold at a dessert shop next to Hozenji. It got its name from the way it's served: one serving is divided into two bowls ("meoto" in Japanese means husband and wife). According to legend, couples who eat meoto zenzai will become closer to each other.
Hozenji Yokocho is located past Ukiyo Alley, a narrow back street with a retro vibe. Located right next to Ukiyo Alley is Dotonbori Imai, known for its udon(*1) noodles, which we suggest stopping by!
*1: Udon is different across different regions in Japan. Udon in Osaka is known for being soft and is prepared with dashi stock extracted from kombu and small fish.
4. Traditional Shopping Street - Hunt for Japan-Made Souvenirs
Picture from 11 Recommended Shopping Spots To Visit When You're In Osaka
There are various shotengai (shopping streets) throughout the Minami area, but we'll introduce two shotengai that are fun to explore.
First is Shinsaibashi Shotengai. Over 180 stores are concentrated here, extending from Dotonbori to Shinsaibashi. Established Osaka department store Daimaru, selling both domestic and international fashion brands, is also on the corner of this shotengai. Many employees here speak English, and there are also English signs and displays, so you can shop with peace of mind.
One more shotengai contains many restaurants unique to Minami. The Sennichimae Doguyasuji shotengai is a three-minute walk from Namba Station (use the Osaka Metro Midosuji or Yotsubashi Line). Here you will find rows of specialty shops with everything you need in for a restaurant, such as knives, pots, and bowls. There are also places where you can create the food samples seen at the entrances of restaurants in Japan. Some shops will even let you make your own samples, making this the perfect place for obtaining memorabilia from your trip.
5. Namba Yasaka Shrine - Marvel at the Giant Object Art
There is an interesting shrine about an eight-minute walk west of the Nankai Namba Station.
Thought to have a history of more than 900 years, Namba Yasaka Shrine, has a spiritual atmosphere while being located in the heart of the busy downtown. Pass through the torii gate and you will soon see a 12-meter tall giant lion head.
This spectacular lion has eyes that light up and a snout that is a speaker. During the New Year and the July summer festivals, dances are performed inside its mouth. The lion's giant mouth is said to bring luck in financial matters and competition, so many people come to visit.
6. Kuromon Market - Explore Namba's Kitchen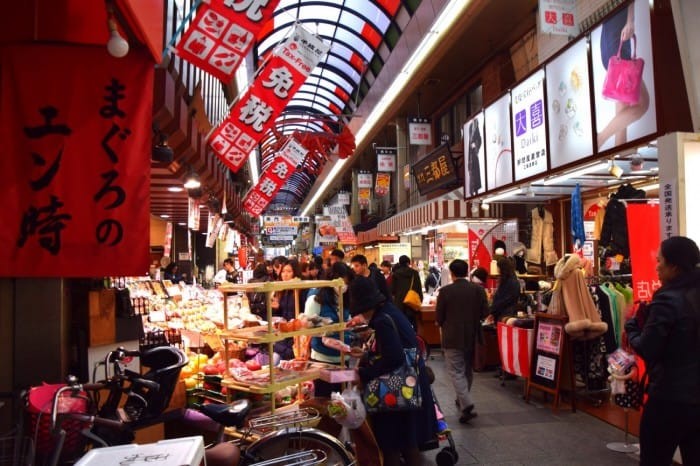 Picture from If You're In A Seafood Mood, Visit Osaka's Kuromon Market!
Kuromon Market has plenty of local Osaka food available to try and is clustered with shops selling everything from fresh vegetables and fruit to seafood. Kuromon Market is close to the Nipponbashi subway station and is walkable from Namba.
Originally a market where many Namba restaurants would purchase supplies, the number of shops where anyone can freely buy items has grown, and visitors from overseas have increased as well. Sashimi and sushi made from tuna and fugu (puffer fish) are particularly popular. Some establishments will even prepare the fish you bought so you can eat it on the spot.
7. America-mura - Trendy Fashion and Fun Desserts
Picture from Experience Takoyaki and Beer in Americamura's Triangle Park!
America-mura is home to many trendy fashion boutiques and restaurants targeted towards young people, including places like the OPA fashion complex in western Shinsaibashi. The area got its America-mura nickname because there are also many vintage and import clothing retailers here.
The center of America-mura is a small park known as Triangle Park. In addition to takoyaki, there are plenty of photo-worthy treats to try, such as giant servings of soft serve ice cream piled 40 centimeters high, and adorable cotton candy. Enjoy some snacking as you peruse the shops here.
8. Abeno Harukas, Japan's Tallest Building
The tallest building in Japan towers over Minami. The Abeno Harukas skyscraper, which opened in 2014, is 300 meters high. You have to pay an admission fee, but climb up to the glass-paneled observation deck for sweeping views of the Kansai area.
This skyscraper contains the Kintetsu department store and restaurant area, a hotel, and an art museum. It is directly connected to Kintetsu Osaka Abenobashi Station and both JR and Osaka Metro Tennoji Station, making it a perfect area to base your travel adventures.
9. Osaka Shochikuza - Take in a Kabuki Performance!
©Osaka Convention Tourism Bureau
As you walk through Dotonbori, you will find a western-style building amidst rows of restaurants. This is Osaka Shochikuza, which was built in 1923. Regular performances of kabuki, the traditional Japanese art form are held here.
This area actually once had several theaters where patrons could enjoy stage performances and movies. Numerous dining establishments with the aim of drawing in those customers began operating here, developing into what is now Dotonbori. This retro-modern building helps visitors imagine Osaka's past.
10. Nipponbashi Denden Town, the Leading Otaku Mecca in Western Japan
Picture from Nipponbashi: An Otaku Town in Kansai
The popular Denden Town in Nipponbashi, just south of Kuromon Market, is home to an endless number of businesses selling electronics and appliances. With many shops that offer products like computer parts, games, and anime merchandise, Denden Town's electronics district rivals that of Akihabara in Tokyo.
On the west side of Nipponbashi Denden Town, the area called Ota Road is clustered with figurine and cosplay shops, as well as maid cafes. It is just as much of a haven for otaku as Akihabara.
Taste Must-Eat Local Osaka Food in Namba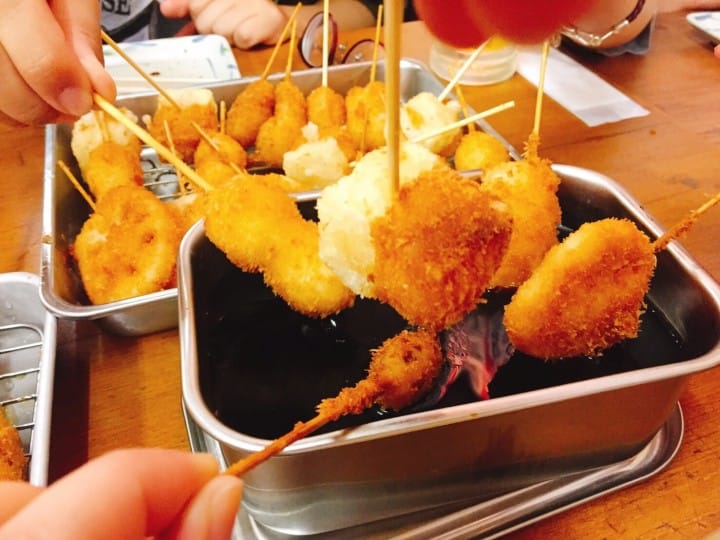 You will definitely see kushikatsu while strolling around the restaurant districts in Dotonbori and Shinsekai. Kushikatsu is meat and vegetables that has been battered and fried, and eaten after being dipped in sauce. Ganso Kushikatsu Daruma and Yokozuna are popular kushikatsu places.
There are also many places to eat takoyaki and okonomiyaki (a savory pancake which can be considered one of Osaka's soul foods) in the Minami area. Wanaka and Dotonbori Akaoni, which specialize in takoyaki, are listed in the Michelin guide. For okonomiyaki, we recommend Okaru, where the staff will draw pictures on your okonomiyaki with Japanese mayonnaise, and Fukutaro, which has its main branch in Namba.
Since Osaka is famous for its delicious dashi stock, udon is also a specialty here. For kitsune udon (*2), head to Dotonbori Imai, and for nikusukui (*3) and udon with meat, you must check out Chitose.
*2: Kitsune udon is udon topped with slices of abura-age (deep-fried tofu simmered in sweet sauce).
*3: Nikusukui is a bowl of beef udon soup, sans noodles. People typically mix an egg into the broth and eat it with rice.
Places to Stay in Namba
Minami has numerous lodging options, from three-star hotels to guesthouses. Accommodations located near train stations with easy access to sightseeing areas are very popular and may be hard to reserve at times.
Shimanouchi on the east side of Shinsaibashi and Dotonbori is a lesser-known neighborhood. In recent years, hotels and guesthouses have opened here. Shimanouchi is a comparatively peaceful and quiet area despite being walking distance from downtown, making it popular.
Another lodging option, known for its compactness, is the capsule hotel. Osaka actually innovated the concept. Shinsaibashi and Dotonbori have many capsule hotels. Numerous women-only hotels and hotels with trendy shared spaces operate here as well.
Venture into Namba
Nestled in the center of Namba, the unique downtown of Minami is an area iconic of Osaka, the city of "kuidaore," or eating and drinking to your heart's content. The area's appeal lies in its diversity and lively atmosphere. Please have fun shopping and sightseeing as you walk through this city and savor all the delicious food offered here!

The information presented in this article is based on the time it was written. Note that there may be changes in the merchandise, services, and prices that have occurred after this article was published. Please contact the facility or facilities in this article directly before visiting.